The February 2021 Bake Off Box challenge was the Signature Chocolate Cake – a rich chocolate cake smothered in chocolate ganache and topped with fresh raspberries!
As you can imagine, a lot of baking happens in my house 😜 I love baking of course but I mostly bake for blog purposes these days, alongside my full-time job as an optometrist!
Therefore, when I found out about The Bake Off Box I thought it would be a fun way of switching off from blog baking and doing some baking just for me! My partner then suggested I share a little related post each month, so here it is 🙂
The Bake Off Box is a monthly subscription service where you receive a box containing a recipe card and all the pre-measured dry ingredients of something different every month. You also receive some kind of baking equipment – this month it was a cake stand!
The February 2020 box contained almost everything I needed to make the Signature Chocolate Cake. That's the cake from the Great British Bake Off intro! I just needed to supply the wet ingredients.
(This is not a sponsored/affiliate post so I don't get anything for sharing this blog post – it's just me sharing my experience!)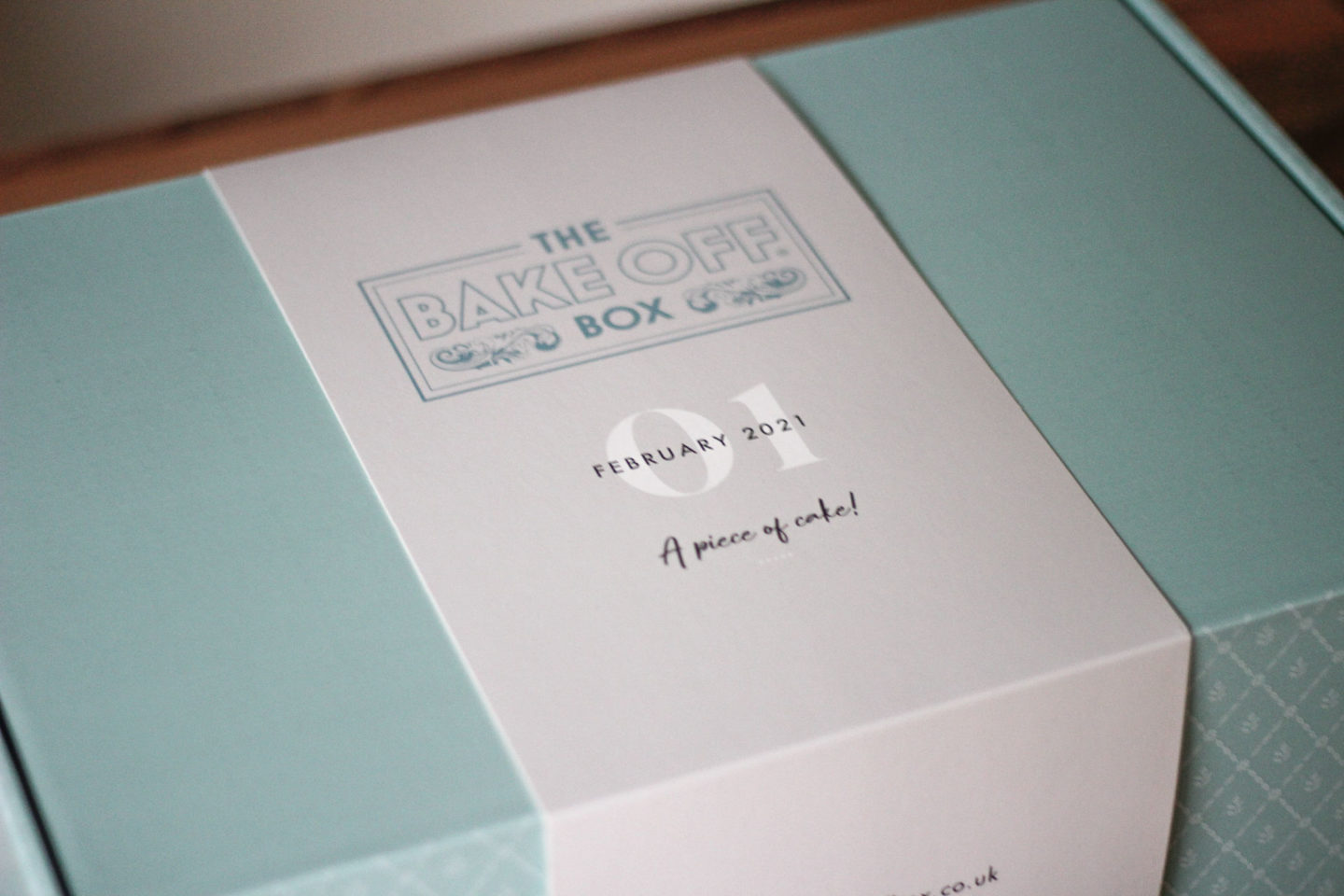 The February Bake Off Box Contents
This month my box contained the following:
Recipe card
Pre-measured dry ingredients for the recipe (I needed to supply salt, milk, vegetable oil, eggs, butter, double cream and fresh raspberries)
A beautiful blue bamboo cake stand!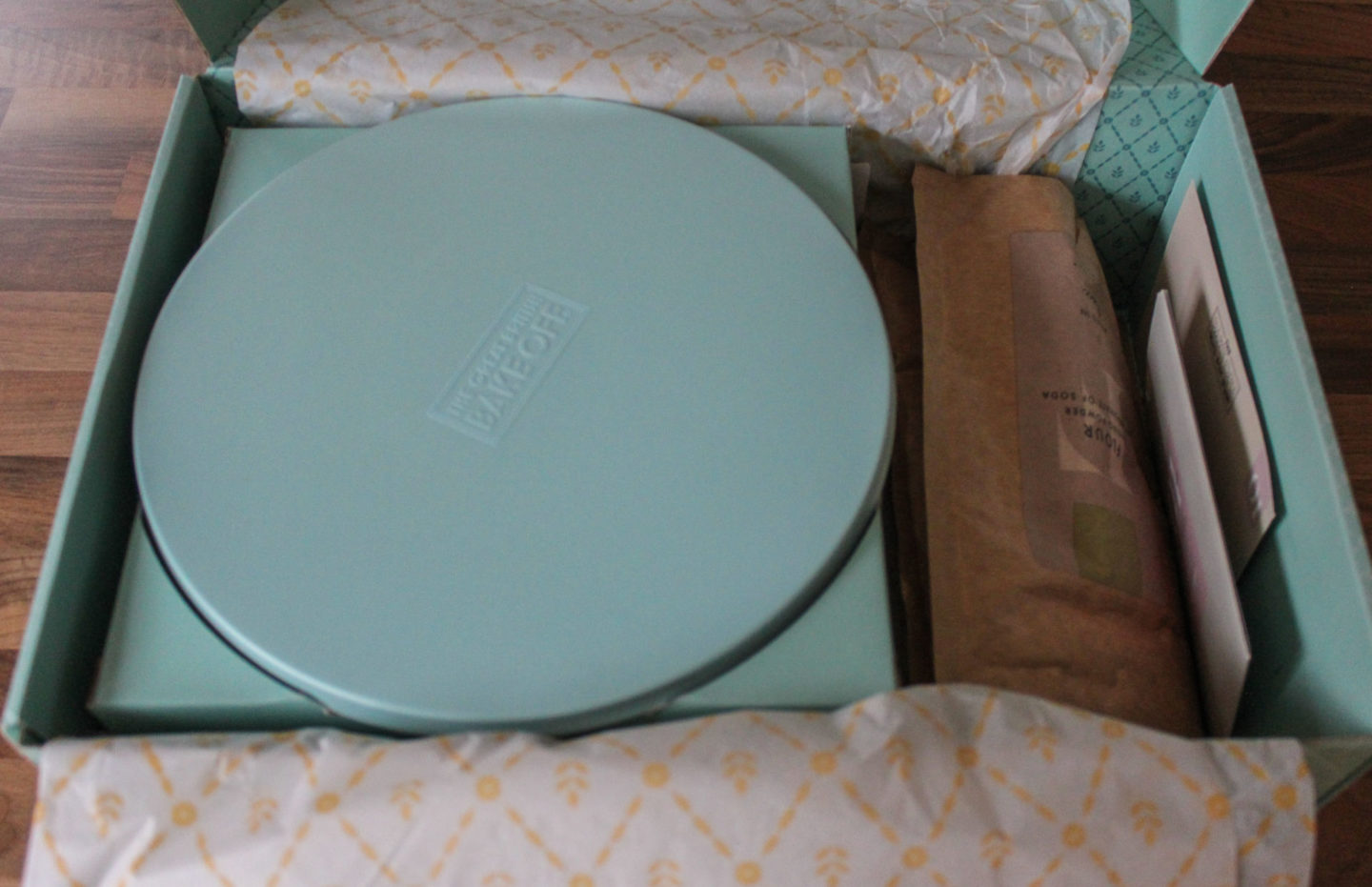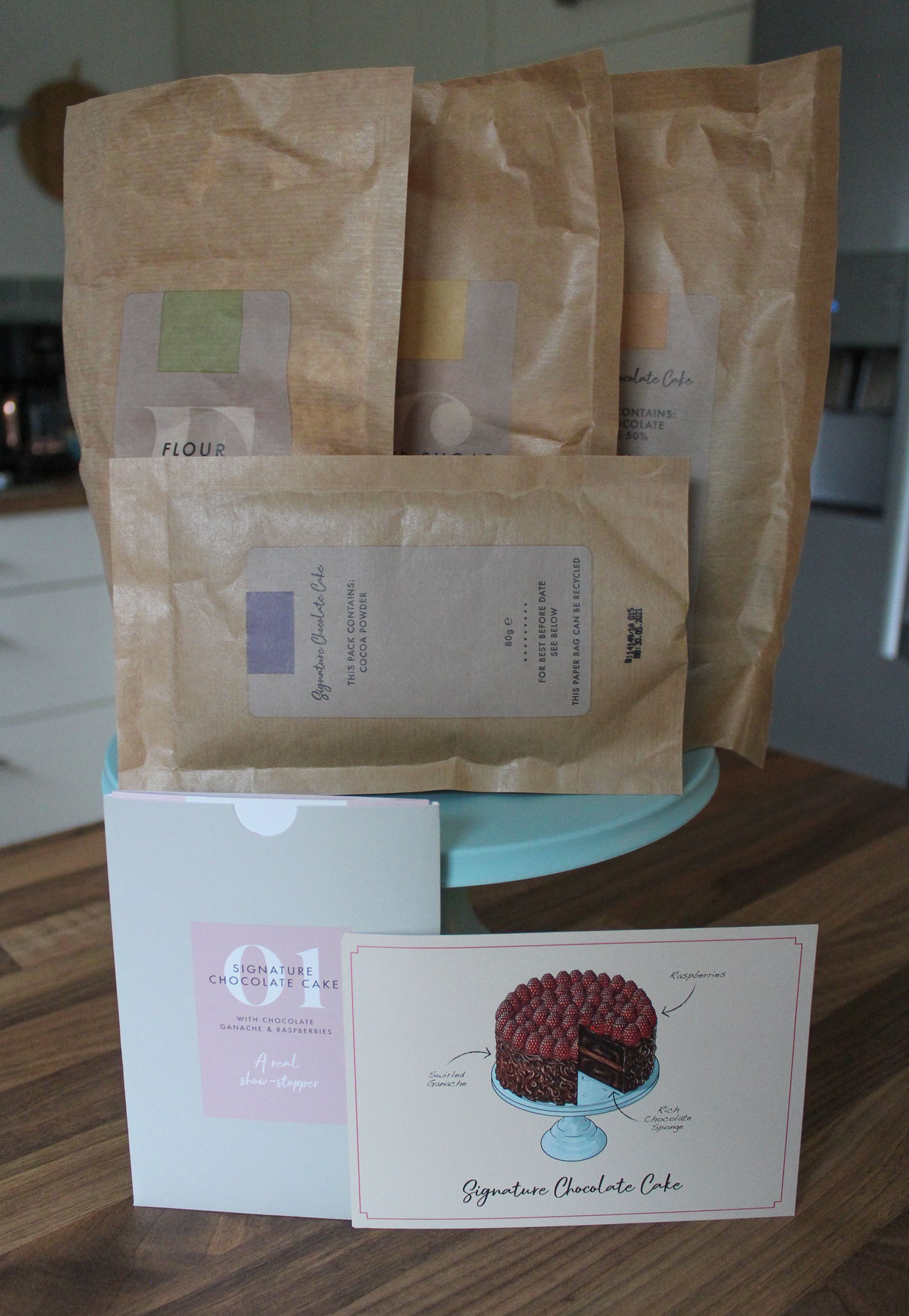 February Bake Off Box: Signature Chocolate Cake
The cake was very easy to make with no electric mixers needed, just two mixing bowls and a whisk. You'll need two 20cm/8in sandwich/cake tins for this recipe, which you line with baking or parchment paper.
I've typed up the full recipe and instructions (recipe created by The Great British Bake Off, not myself) – you can find it at the bottom of this post!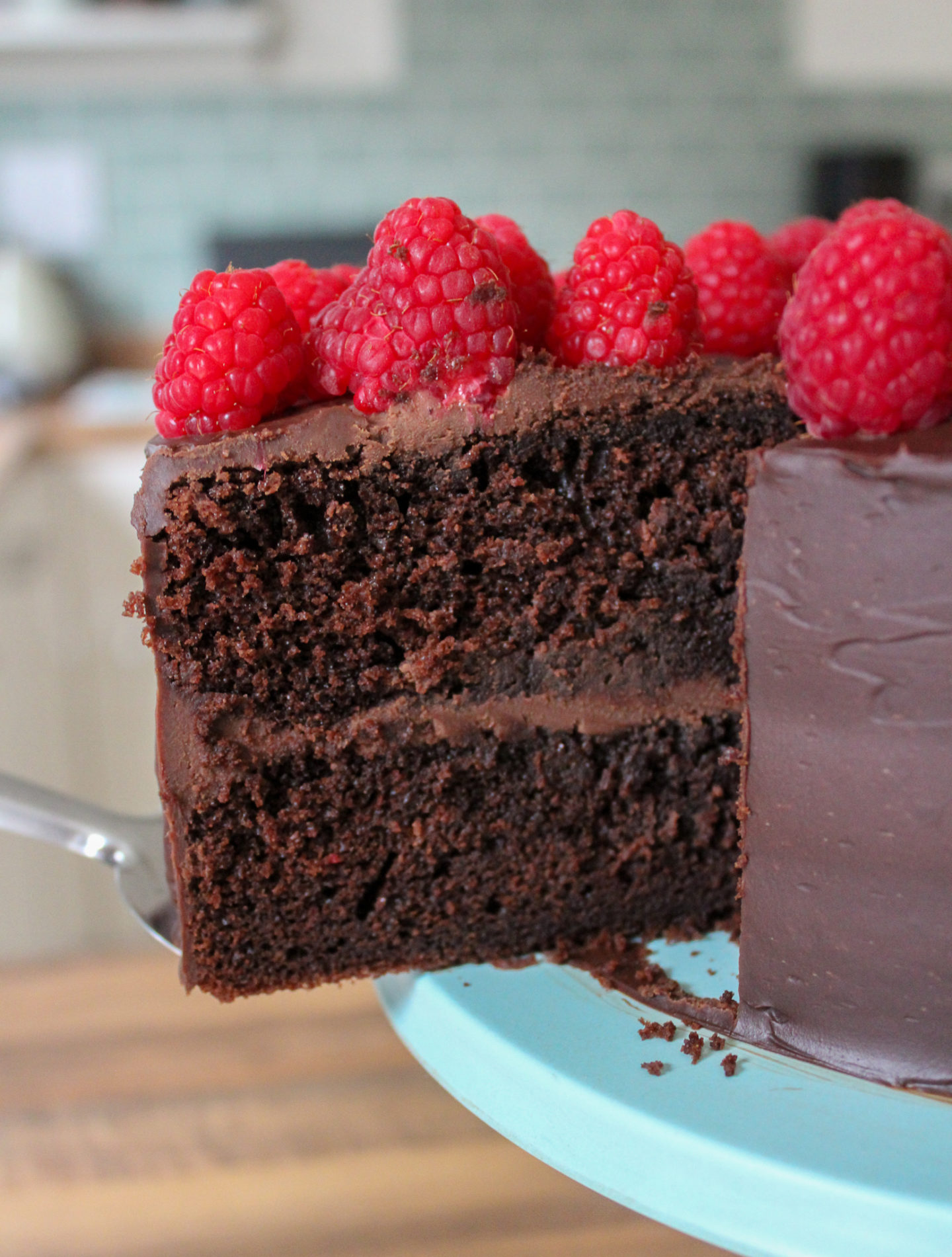 Bake Off Box Signature Chocolate Cake: My Verdict
Overall I found the cake fun and easy to make! The cake is quite dense but moist and rich. The ganache is delicious but I felt I would have liked more to create a thicker layer of ganache around the outside.
I love how the simple addition of raspberries on top really sets this off and makes it look so pretty!
I'll definitely keep my subscription for now to see what other recipes I receive in the post – I believe next month it's mini banana loaves with a special pan included to make them!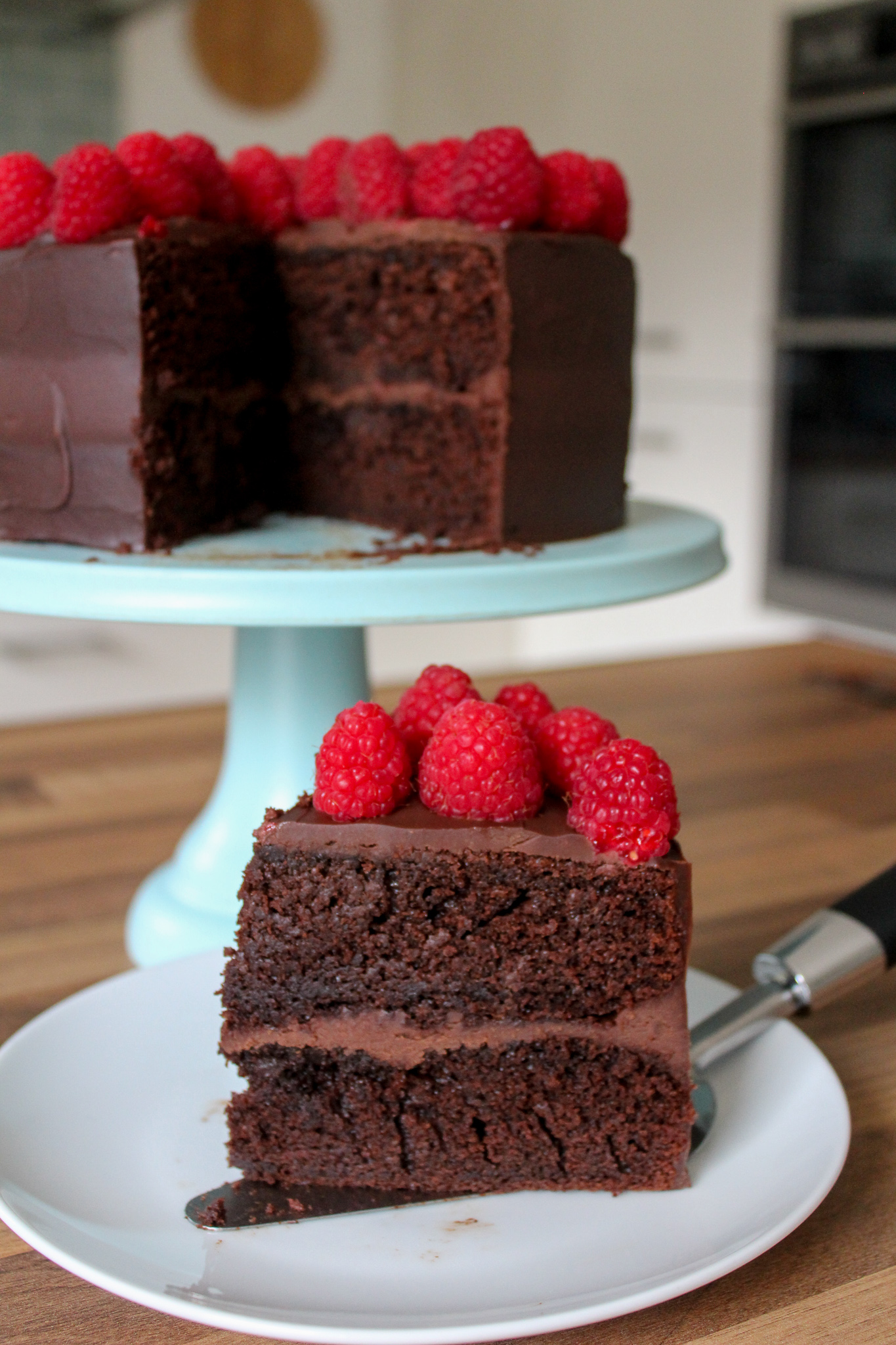 Baker Jo Layer Cake recipes to try: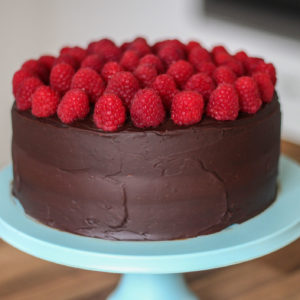 The Bake Off Box: Signature Chocolate Cake
The February 2021 Bake Off Box challenge was the Signature Chocolate Cake – a rich chocolate cake smothered in chocolate ganache and topped with fresh raspberries!
Equipment
Baking/parchment paper

20cm/8in sandwich/cake tins

2 large mixing bowls

Sieve

Whisk

Medium saucepan

Wooden spoon

Palette knife or spatula
Ingredients
Chocolate Cake
245

g

plain flour

1/2

tsp

baking powder

1

tsp

bicarbonate of soda

400

g

caster sugar

1/2

tsp

salt

80

g

cocoa powder

250

ml

whole milk

130

ml

vegetable oil

230

ml

warm water

2

medium

eggs
Chocolate Ganache
200

g

dark chocolate

finely chopped

10

g

unsalted butter

300

ml

double cream

2

tsp

caster sugar
Instructions
Chocolate Cake
Heat the oven to 180C/160C fan/Gas 4. Grease two 20cm solid-base sponge tins with a little oil and line the bases with baking paper.

Sift the plain flour, baking powder, bicarbonate of soda, sugar, salt and cocoa powder into a mixing bowl and set aside.

In a separate mixing bowl, whisk together the milk, oil and warm water, then lightly beat in the eggs.

One third at a time, add the dry ingredients to the wet ingredients, mixing well between each addition. Make sure the mixture is smooth with no pockets of flour.

Divide your mixture equally between the two sponge tins. Bake for 30-35 minutes, until a skewer inserted into the centres comes out clean.

Once baked, cool in the tins for 10 minutes.

Carefully turn the sponges out onto a wire rack, remove the baking paper and leave to cool completely.
Chocolate Ganache
Place the chocolate and butter in a clean mixing bowl and set aside.

Pour the cream into a medium saucepan with 2 teaspoons of sugar, stir with a wooden spoon, and slowly bring just to the boil.

Remove the cream mixture from the heat and pour it over the chocolate and butter. Leave the chocolate to melt for 1 minute, without stirring.

Stir with a wooden spoon until smooth and glossy. Leave to cool and thicken (at least 20 minutes) before decorating.
Decoration
Place one sponge on your cake stand and spread about 4 tablespoons of ganache over the top, smoothing with the back of a large metal spoon or palette knife.

Place the second sponge on top, with the flat side facing upwards, and gently press down. Cover the top and sides with the remaining ganache.

Make swirls in the ganache with your knife to create some texture (I chose keep my sides smooth), then arrange the raspberries on top of the cake to cover.

Leave to set for 30 minutes before serving.
Notes
The recipe and instructions above are exactly as written on the recipe card provided with The Bake Off Box. This is not my own recipe!