A delicious combination of light yet moist lemon cake, freshly whipped raspberry cream, fresh raspberries and sweet meringue kisses. A beautiful yet easy lemon layer cake recipe!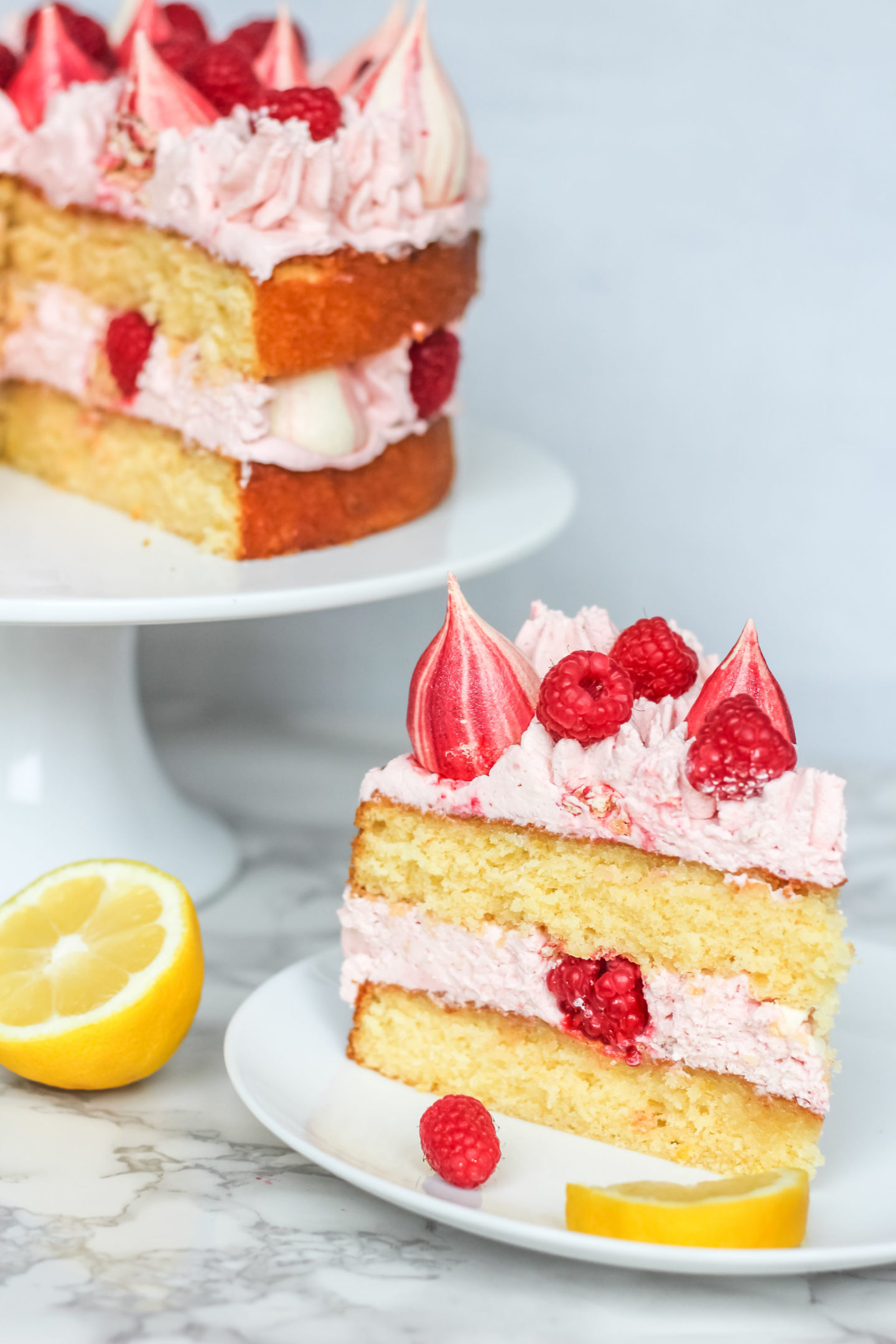 This post may contain affiliate links. For more information, see my Full Disclosure.
---
As my very first Baker Jo recipe, I thought it only fitting to make a cake suitable for a special occasion! This lemon raspberry cream cake is full of fresh flavour from the lemons and raspberries. Plus it's complimented beautifully by the freshly whipped cream and the sweet and adorable marbled meringue kisses!
When finally deciding to venture into the realm of recipe testing, I realised that a lemon cake would be a good place for me to start, as lemon is probably my favourite cake flavour. I've baked a lot of different lemon cake recipes over the years!
There were none that I disliked but I always felt like I wanted just a bit more lemon flavour and a slightly more moist crumb. This was my chance to create my ideal lemon cake!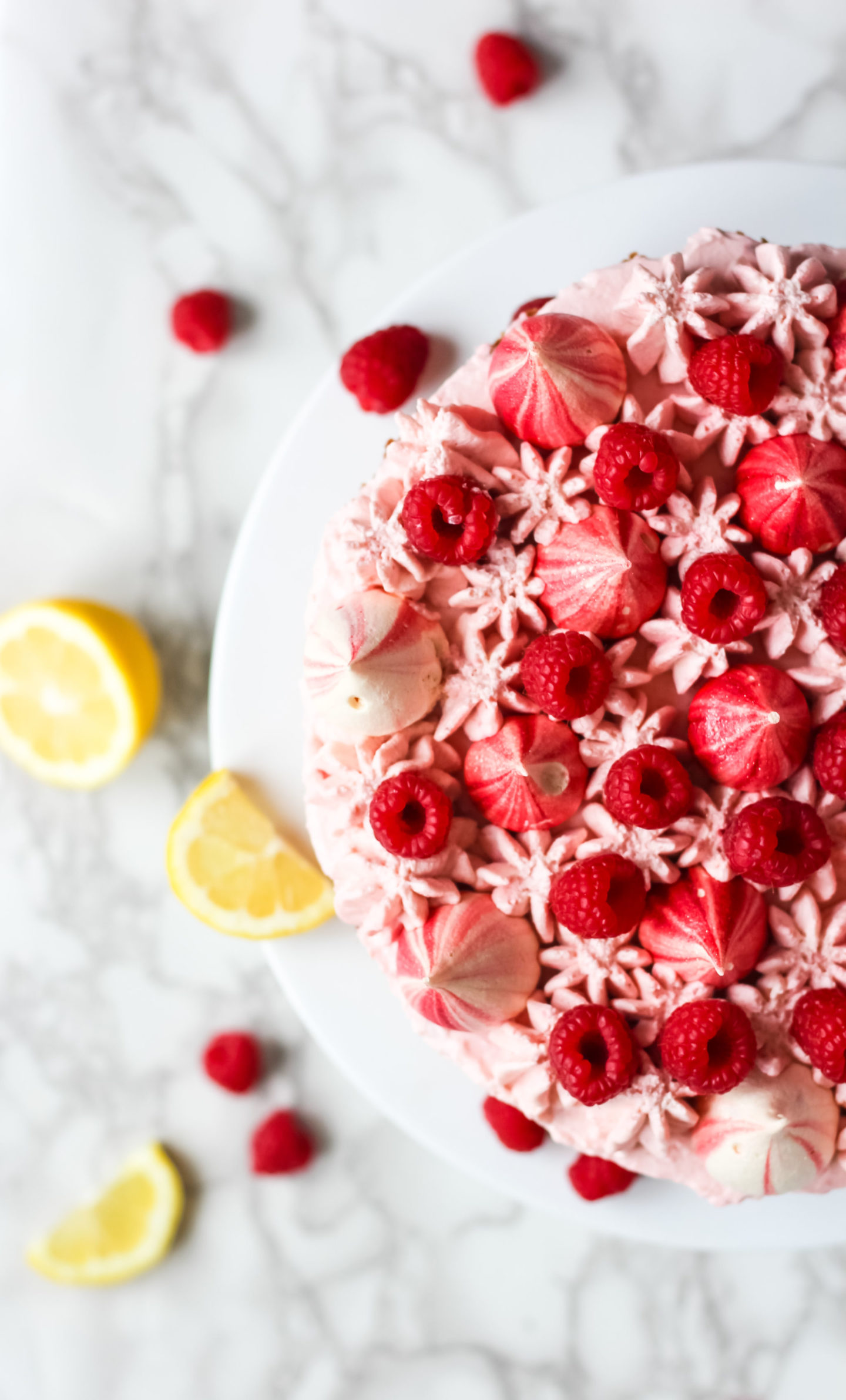 How to convert to a gluten-free lemon drizzle layer cake
I decided to test this recipe just before my mum's birthday, so I wanted to take it next level to make it extra special for her. This is where the fresh raspberry whipped cream and decorative meringues come in!
I developed the lemon cake a couple of months ago. I made it slightly more challenging for myself by creating it for a colleague with gluten intolerance. With some slight alterations, I couldn't believe that my first ever recipe experiment worked. Plus it wasn't dry or weird in texture!
My colleague said it was genuinely one of the nicest gluten-free cakes she'd tried and that it didn't have the texture of a gluten-free cake. As you can imagine I was ecstatic about this! However, for this cake, we're sticking with normal plain flour, as I wanted to make sure this recipe was easily interchangeable from gluten-free.
(P.S. I've added instructions in my notes below on how to make this gluten-free!).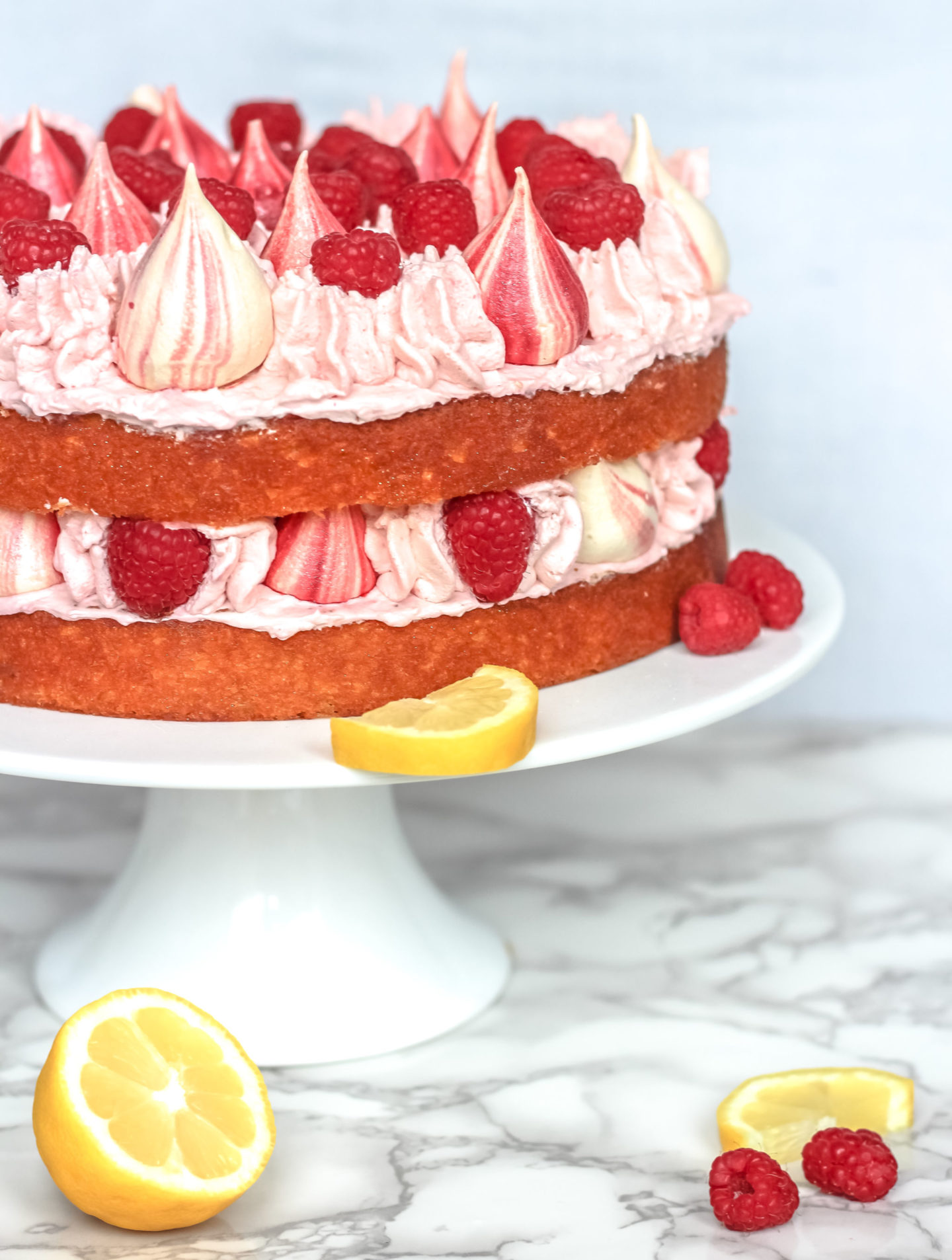 Moist Lemon Drizzle Layer Cake
I started by sticking with the basic cake ratio of equal parts flour, eggs, sugar and butter. I also wanted to make it as moist as possible! So my recipe replaces some caster sugar with light brown sugar, and I substituted part of the butter for buttermilk.
Believe me when I say one of the most useful things I've learned along my baking journey is the magic of buttermilk and the moisture it brings to a cake (it also creates super moist muffins!). Normal milk just doesn't compare; it gives a more delicate crumb. The juice of one lemon adds a touch more moisture as well as more lovely lemon flavour!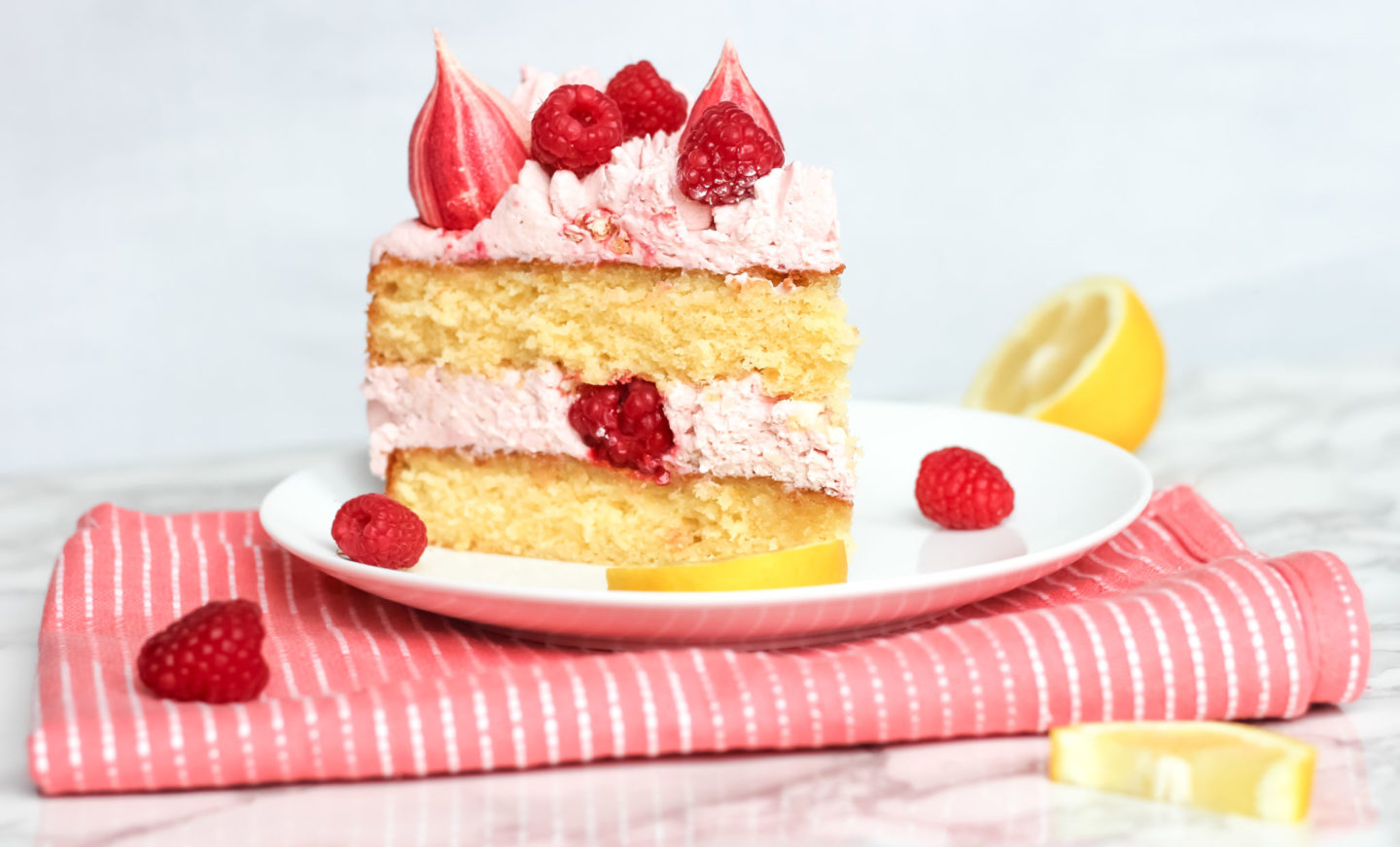 The best lemon drizzle layer cake recipe
Eggs help in several ways in baked goods, from texture, stability and flavour. My reasoning behind the use of an extra egg yolk alongside the four whole eggs? I didn't want any extra liquid from the egg white at this stage but the yolk helps to give a more tender crumb, some stability, flavour and a little extra colour too!
My recipe does include a lemon syrup drizzle which I like to add once the cake is baked and still warm. I use a cake skewer to poke several holes in the top of the cake, then pour the warm drizzle over for added lemon zing!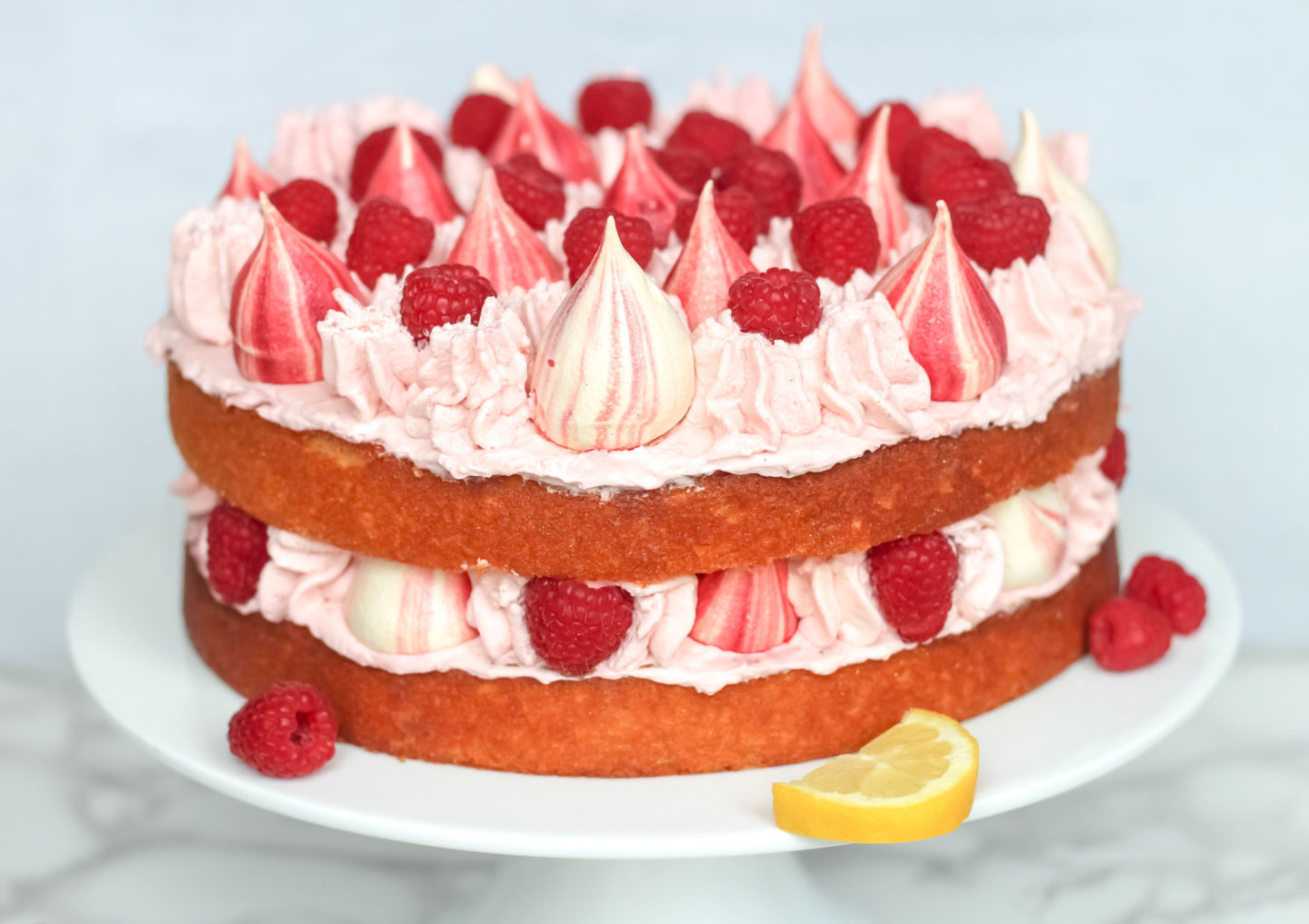 How to make raspberry Whipped Cream Filling
I usually make buttercream for my cake fillings but for this recipe, it felt right to use freshly whipped cream. Plus I added fresh raspberry purée to the whipped cream. I feel this balances the tartness of the raspberries and lemon and the sweetness of the cream.
Testing this out was worrying as I was convinced it would end up a big sloppy mess from the amount of purée liquid. I'm glad to say I was proven wrong and I ended up with a pipeable whipped cream! The process is quite simple; I blended the fresh raspberries in a food processor and then strained them through a sieve to get rid of all of the seeds (I highly recommend not skipping this step!).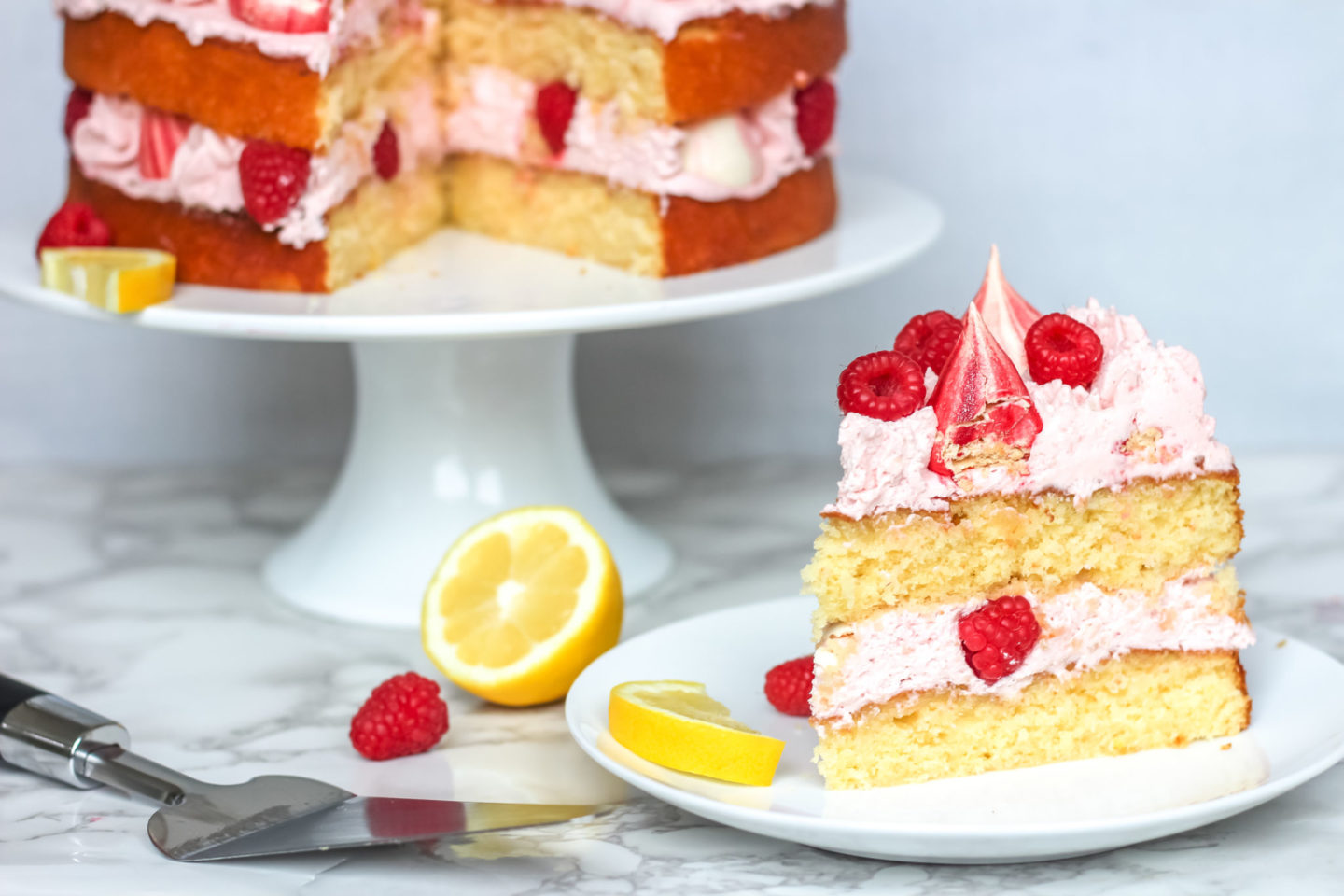 How to make easy Marbled Meringue Kisses
The idea of meringue kisses came to me when I didn't want to waste the leftover egg white from the yolk used in the cake. I figured I'd see how much meringue I could make out of it. It turns out it makes enough to pipe several meringue kisses for decoration!
For the marbled effect just use a spoon edge dipped in red gel food colouring and draw lines inside the piping bag before adding the meringue mixture. I'm so happy that the leftover egg white found such a pretty purpose in this cake!
Easy lemon and raspberry layer cake recipe
The meringues actually end up helping a lot when it comes to layering this cake. The whipped cream would struggle to hold the weight if it weren't for the meringues and raspberries I added in between them.
So there we have it, my first official Baker Jo recipe. I'm so proud of this lemon raspberry cream cake with meringue kisses and I hope you are tempted to make it too!
If you try this recipe I'd love to see! You can show me by tagging me @bakerjoblog or using #bakerjoblog!
Other cake recipes to try:
Other lemon recipes to try: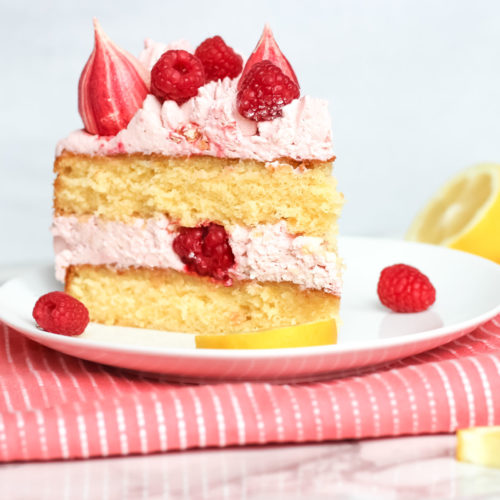 Lemon Raspberry Cream Cake with Meringue Kisses
A delicious combination of light yet moist lemon cake, freshly whipped raspberry cream, fresh raspberries and sweet meringue kisses. A beautiful yet easy lemon layer cake recipe!
Ingredients
Lemon layer cakes
275

g

plain flour

2

tsp

baking powder

1/2

tsp

salt

200

g

butter

softened to room temperature

200

g

caster sugar

75

g

light brown sugar

sifted to remove lumps

4

medium eggs

room temperature

1

medium egg yolk

room temperature

1

tsp

vanilla extract

zest of 2 lemons

juice of 1 lemon

room temperature

60

ml

buttermilk

room temperature
Lemon drizzle syrup
90

g

caster sugar

juice of 1 lemon
Raspberry whipped cream
300

g

fresh raspberries

(200g for whipped cream purée – keep 100g for decorating)

600

ml

double cream

2

tbsp

sifted icing sugar

heaped
Meringue kisses
1

medium egg white

room temperature

60

g

caster sugar

Red gel food colouring
Instructions
Lemon cakes
Preheat your oven to 180°C/160°C fan. Grease two 20cm sandwich tins with butter or non-stick spray and line the base with a circle of baking paper.

In a medium sized bowl whisk together the flour, baking powder and salt, and set aside.

In the bowl of a stand mixer with a paddle attachment (or large bowl if using a hand whisk), beat the softened butter on medium speed for around 30 seconds, to soften it a little more. Then add both sugars to the butter and beat on medium-high speed for 3 full minutes, until very pale and fluffy.

Next add the eggs one by one, mixing on low speed for around 20 seconds between each addition, finishing with the egg yolk. Then add the lemon juice, lemon zest and vanilla extract and beat for 20 seconds until just combined.

Add 1/2 of the dry ingredients, mix on low until just combined, then add 1/2 of the buttermilk, and again mix until just combined. Repeat these steps until all added, finishing with the buttermilk. Do not over-mix!

Pour the batter evenly into the two prepared sandwich tins and level the batter with a spatula or palette knife. They will each be about 2/3 full and the mixture will be slightly thick.

Bake on the middle shelf of your preheated oven for 25 minutes until golden brown, slightly shrinking away from the sides of the tins and a skewer inserted into the middle of each cake comes out clean. Do not open the oven door before this time or they may sink in the middle.

Place the cakes onto a cooling rack and then reduce the oven temperature to 120°C/100°C fan, ready for the meringue kisses.
Lemon drizzle syrup
Place the caster sugar and lemon juice in a small saucepan and place on a low heat, stirring gently and continuously with a heatproof spatula until the sugar has dissolved (where you can no longer feel any grains of sugar when stirring).

Poke several holes all over each cake with a cake skewer then pour the lemon syrup as evenly as possible over each cake. Once you've poured it all on use a pastry brush to spread it more evenly. Leave the cakes to cool completely in the tins.
Meringue kisses
Whisk the egg white on medium speed for 1 minute until slightly bubbly. Then whisk on high for around 2 minutes, until stiff, foamy peaks are formed. Now add the caster sugar a tablespoon at a time, with the mixer still on high. Once all the sugar has been added continue mixing for around a further 20 seconds to make sure it is fully incorporated. You can tell if the meringue is ready by taking the whisk attachment off and holding it upright; the meringue should hold its shape (I'm not brave enough to try the bowl-over-head method!)

Line a baking tray with baking paper (I use a silicone baking mat and line with baking paper also). Prepare a piping bag fitted with a 1cm round piping nozzle and using a spoon/fork/cocktail stick, dip into the red gel food colouring and draw lines/streaks inside the piping bag (don't worry about being too neat, my lines weren't straight at all!). Now add the meringue mixture to the piping bag, and pipe 1-inch mounds onto the baking paper; don't worry about leaving a lot of space between them as they won't spread as they bake.

Place the baking tray into the preheated oven on the medium shelf and bake for 1 hour. After one hour, turn the oven off but leave the baking tray in the oven and allow the oven to cool completely before removing.
Raspberry whipped cream
First add 200g of the fresh raspberries to a food processor (keep the remaining raspberries for decoration) and blend to a smooth liquid with no large lumps (this took around 20 seconds in my food processor). Pour the liquid through a sieve into a bowl and use the back of a spoon to help push the mixture through the sieve. This is to remove all of the seeds and any remaining lumps to leave you with a smooth raspberry purée. This yields around 130ml of purée.

Next, using the whisk attachment on your stand mixer (or hand mixer), whisk the double cream with the sieved icing sugar on medium-high speed for around 1 minute until the cream has just started to thicken slightly but is too runny to pipe. Now gently fold in the raspberry purée by hand using a rubber spatula, until incorporated evenly. It will thicken as you do this.
Assembling the cake
Place the first cake layer onto your serving plate; I place it drizzle side up. Add a thin layer of whipped cream with a palette knife and then add some of the meringue kisses, first adding around the edges then filling the middle. Space the meringues as evenly as possible as they are the main support for the top cake layer (I snap the tips off of these meringue pieces so that the top cake layer has more stability!). Pipe rounds of whipped cream in all remaining spaces between the meringues, including around the outside edge. Then add several raspberries evenly on top/between the whipped cream, keeping enough to do the same with the top of the cake.

Now add the next layer of cake and repeat this process if you wish, or make your own design on top using your remaining meringue kisses, raspberries and whipped cream!

Keep refrigerated and serve on same day of assembling. I'd advise to eat within three days.
Notes
You can easily make this gluten-free by just substituting the plain flour with the same amount of GF flour, and adding 1/2 tsp Xanthan gum – same bake time!
If you've tried this recipe, tag @bakerjoblog on Instagram, Facebook, Pinterest or Twitter and/or use #bakerjoblog!