These chewy homemade brownies are stuffed with delicious Nutella. Made in one bowl with no mixer needed, these Nutella brownies are dangerously easy to make!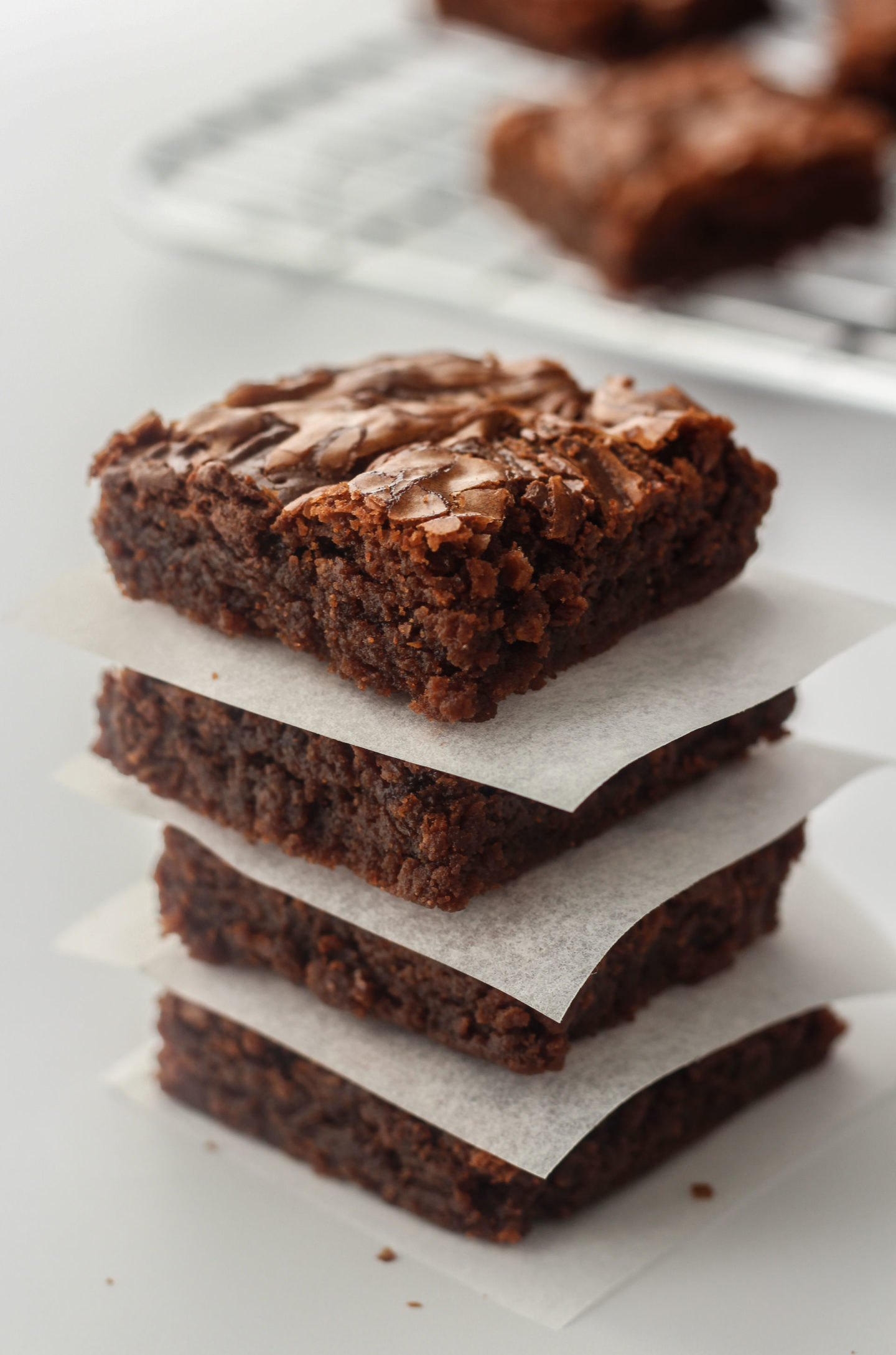 This post may contain affiliate links. For more information, see my Full Disclosure.
---
I'll get straight to the point. I am so excited to share this recipe with you all! A recipe with the word "Nutella" in is bound to be good, because who doesn't like Nutella, right? (well my partner actually, but he's obviously from another planet). But Nutella brownies? I knew I had to make this recipe!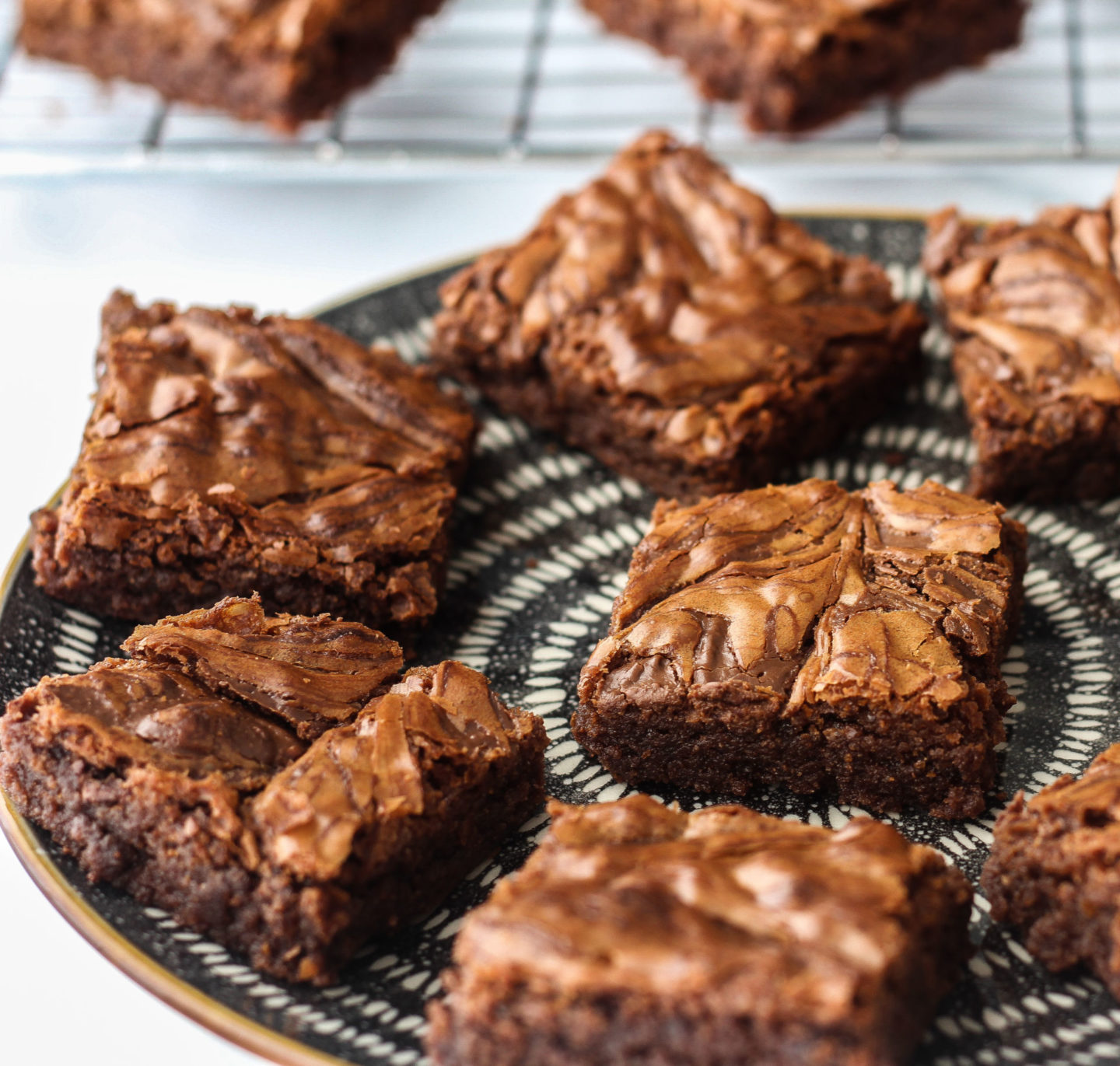 Easy Nutella Brownies Recipe
I started with my Chewy Homemade Brownies recipe as a base to work from. My first attempt involved replacing some butter and all of the melted chocolate for Nutella. I left the cocoa powder out too.
However, I realised that adding Nutella to brownies wasn't so simple. Nutella's consistency is thicker than melted butter and chocolate. I ended up with some cakey, dry brownies. The worst, right?
My final batch contained a lot more butter, less flour, no cocoa powder and all caster sugar. Oh, and more Nutella! The result? Well, see for yourself: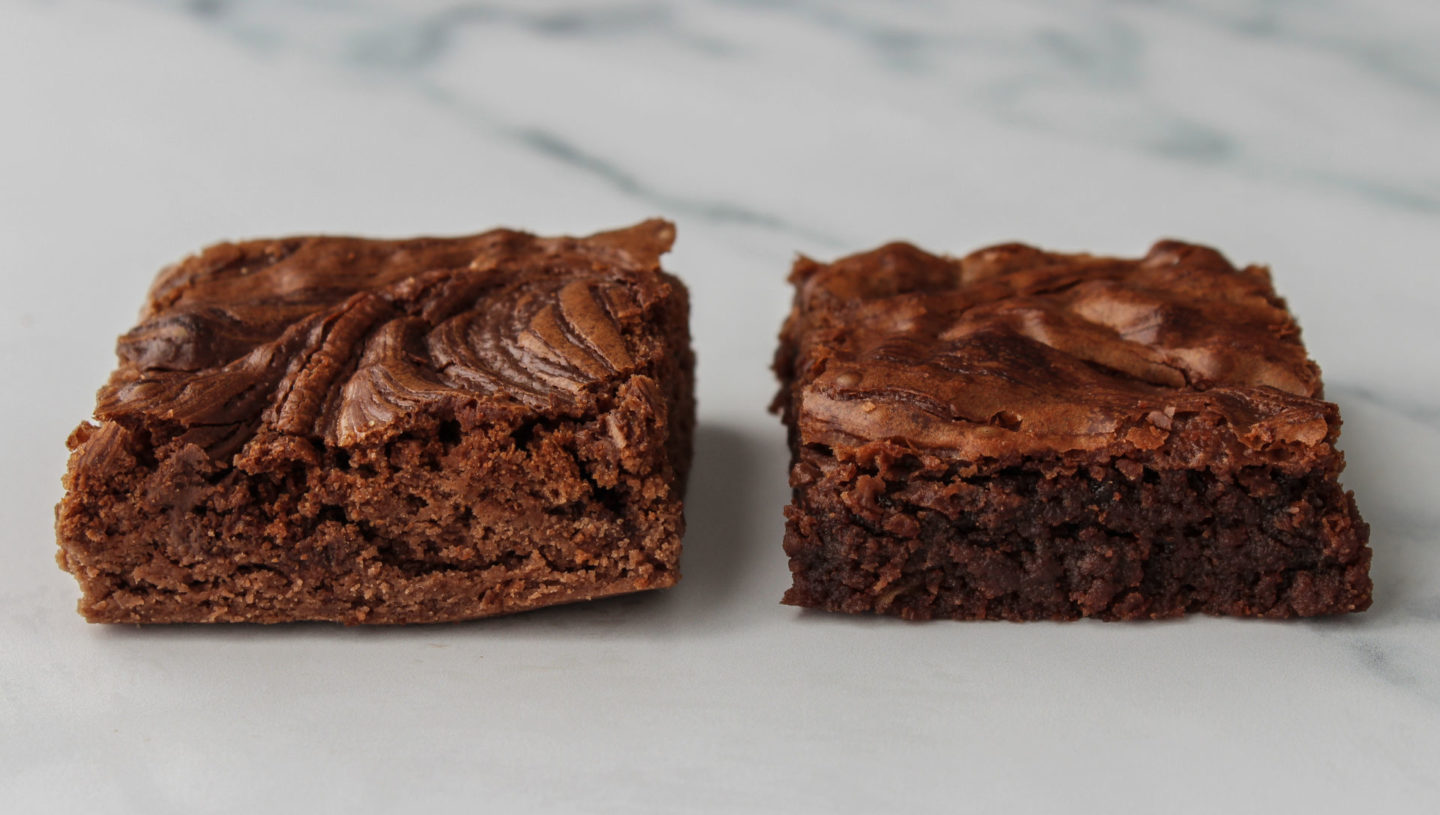 This final batch of brownies were so chewy and fudgy, with so much more Nutella flavour. I was so excited taking my first bite, I squeeled!
Don't get me wrong, I love my Peanut Butter Brownies and Banoffee Brownies, but I think this Nutella brownies recipe is my new favourite!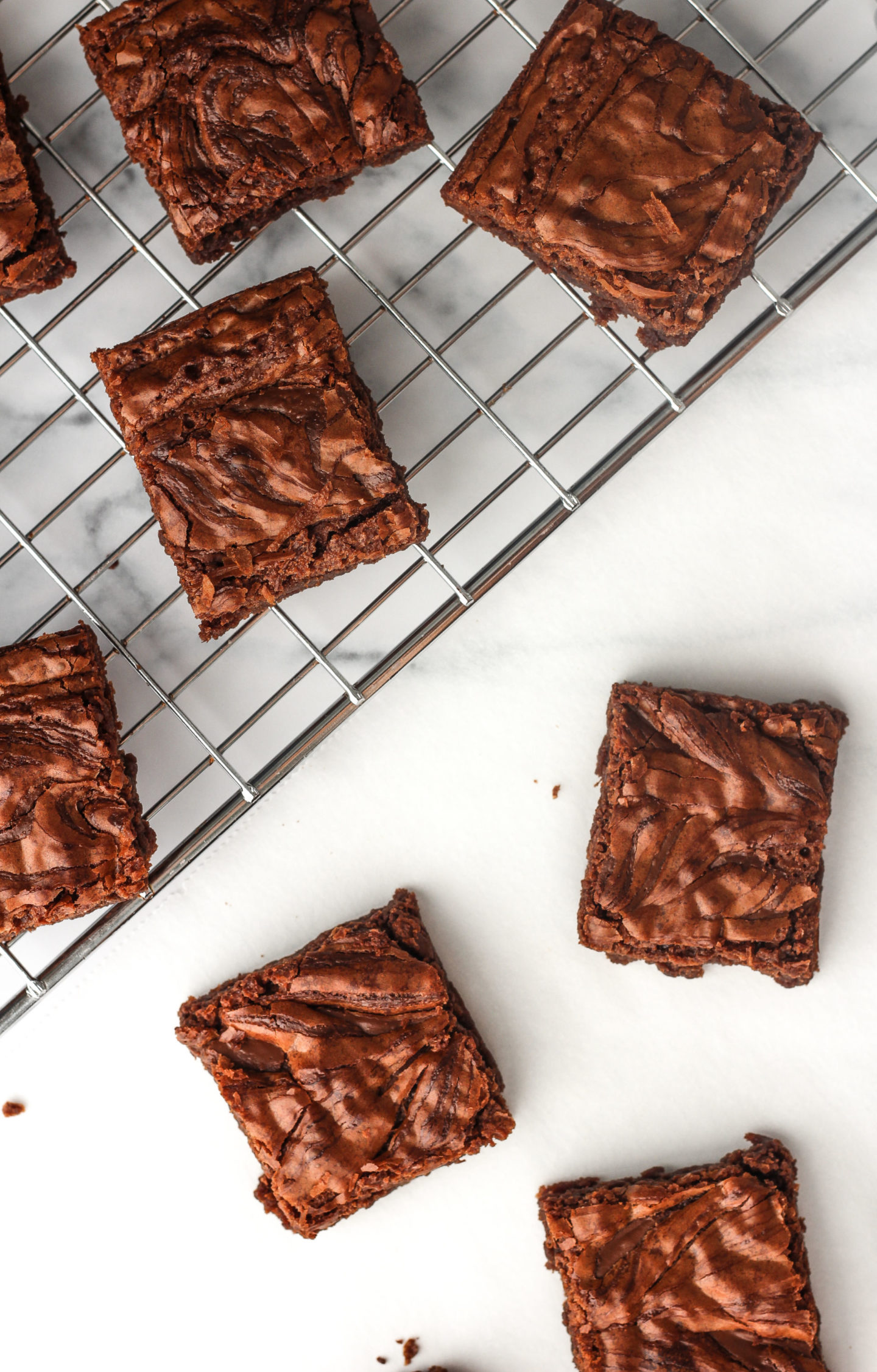 Ingredients for Nutella Brownies
Full amounts and recipe instructions are at the bottom of this post, but here is a summary. These simple Nutella brownies contain just 6 ingredients:
Plain flour for structure, though as little as possible to prevent cakey brownies
Salt to enhance the taste (you won't taste it)
Caster sugar for sweetness, plus it helps create those shiny brownie tops!
Melted butter for flavour and chewiness
Eggs for structure
Nutella for that irresistible hazelnut flavour. And this recipe calls for almost an entire jar's worth of Nutella!
How to make Nutella Brownies from scratch
As with many brownie recipes, these Nutella brownies are very quick and simple to make. You don't even need an electric mixer for this recipe, just a whisk and spatula.
Also, all the ingredients are added to the same large bowl so there is limited washing up!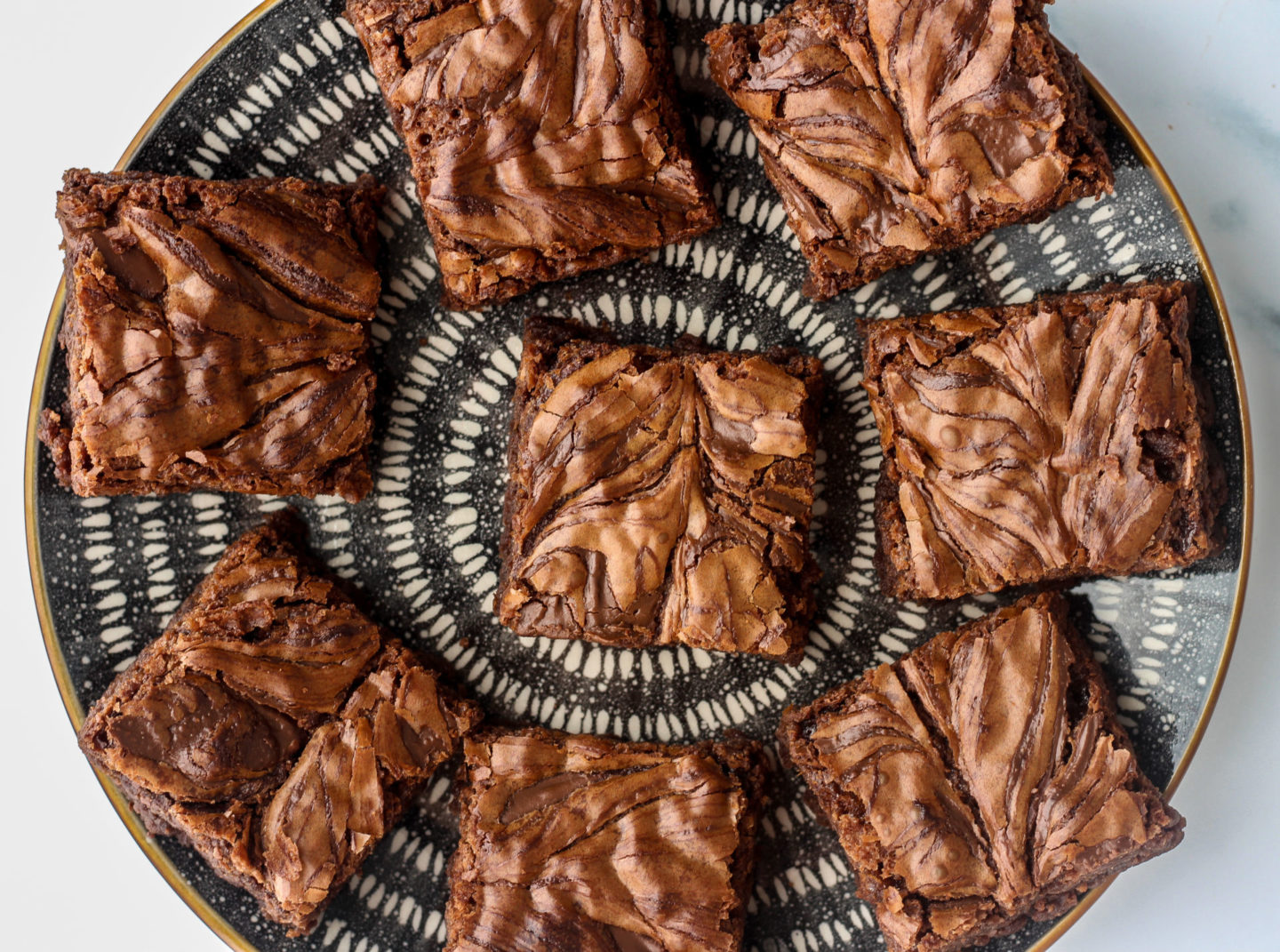 Here's a summary of the method:
Measure out the caster sugar into a large mixing bowl
Add the melted butter to this bowl and whisk together
Add the eggs, one at a time to this bowl and whisk together
Pour warmed Nutella into this bowl and whisk together
Fold the flour into this bowl with your spatula until just combined
Pour the mixture into your 12″ x 9″ traybake tin
Add extra warmed Nutella on top of the mixture and create a swirl pattern with a knife (see images in recipe instructions below)
Bake for 25 minutes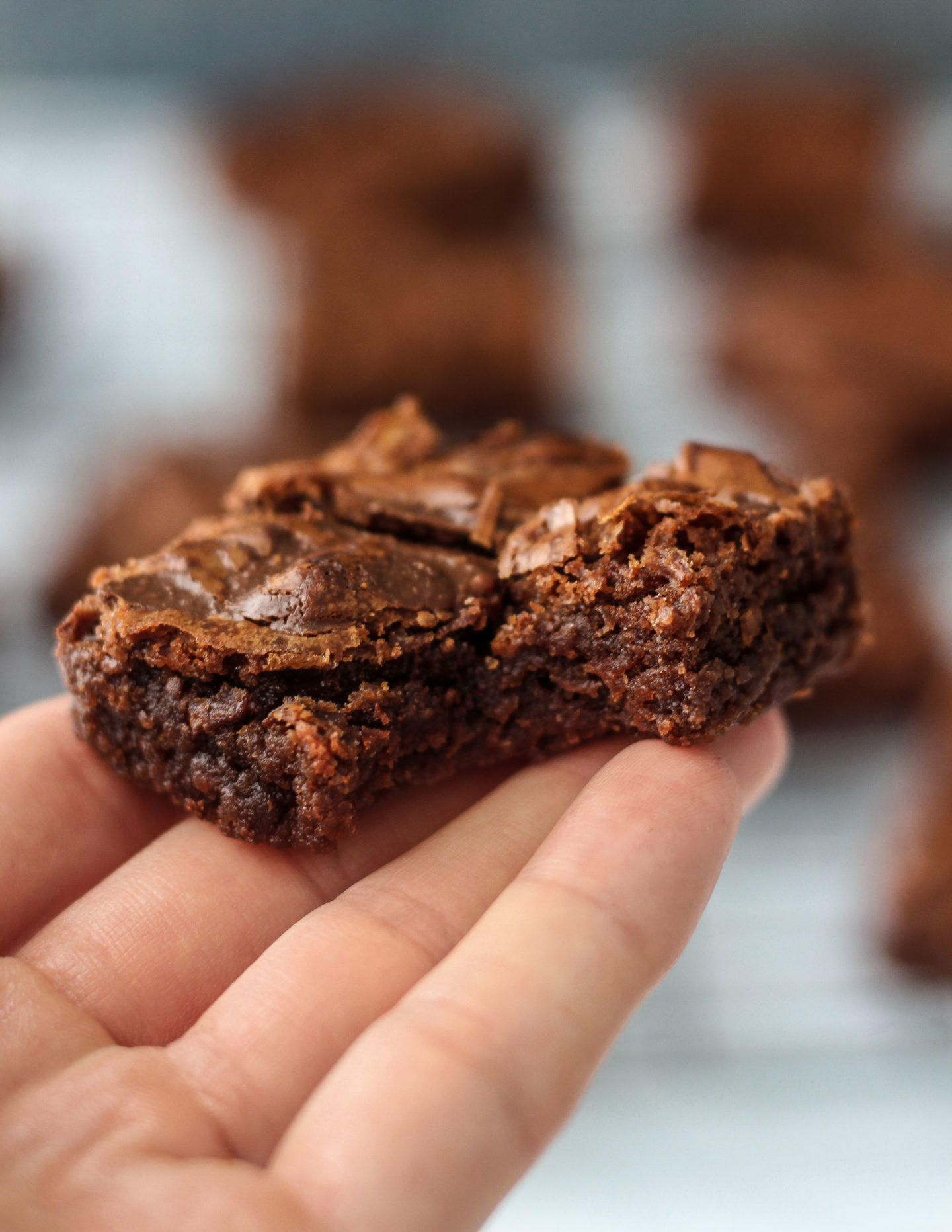 This recipe doesn't contain cocoa powder or vanilla extract as I really didn't want to risk toning down the Nutella flavour. I wanted that to be the predominant flavour.
300g of Nutella is used for the brownie batter, and a further 50g is used for the Nutella swirl on top. So don't worry Nutella lovers, the delicious hazelnut flavour definitely stands out in these brownies!
I chose not to add chocolate chips to this recipe as in my Chewy Homemade Brownies recipe. This is because I wanted the full impact of the chewy Nutella filling without chocolate chips interfering. I was worried they would take away from the Nutella flavour!
However, you can absolutely add chocolate chips if you wish. I'd recommend using around 100g. Or maybe some hazelnuts to really increase the flavour and add texture!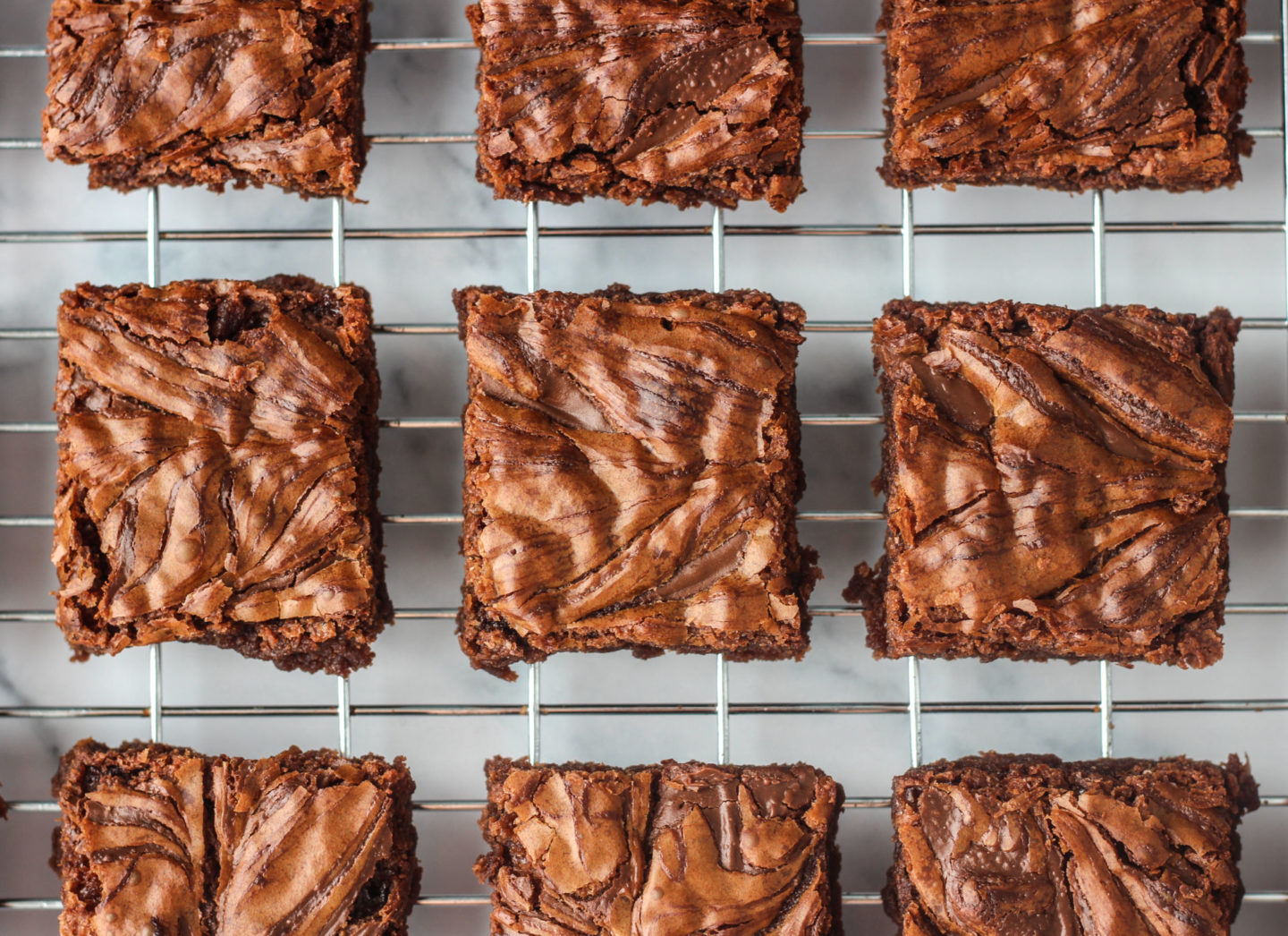 How do I know when brownies are done?
Inserting a skewer into the centre of the brownies is a good way to check if they're baked. However, unlike other cake recipes that suggest the skewer should come out clean, with brownies it's better for it to come out almost clean, with just a few moist crumbs.
This shows the brownies are still moist and chewy inside! If it comes out with wet mixture, however, this shows the brownies are underbaked. Just place them back in the oven for a few more minutes before checking again.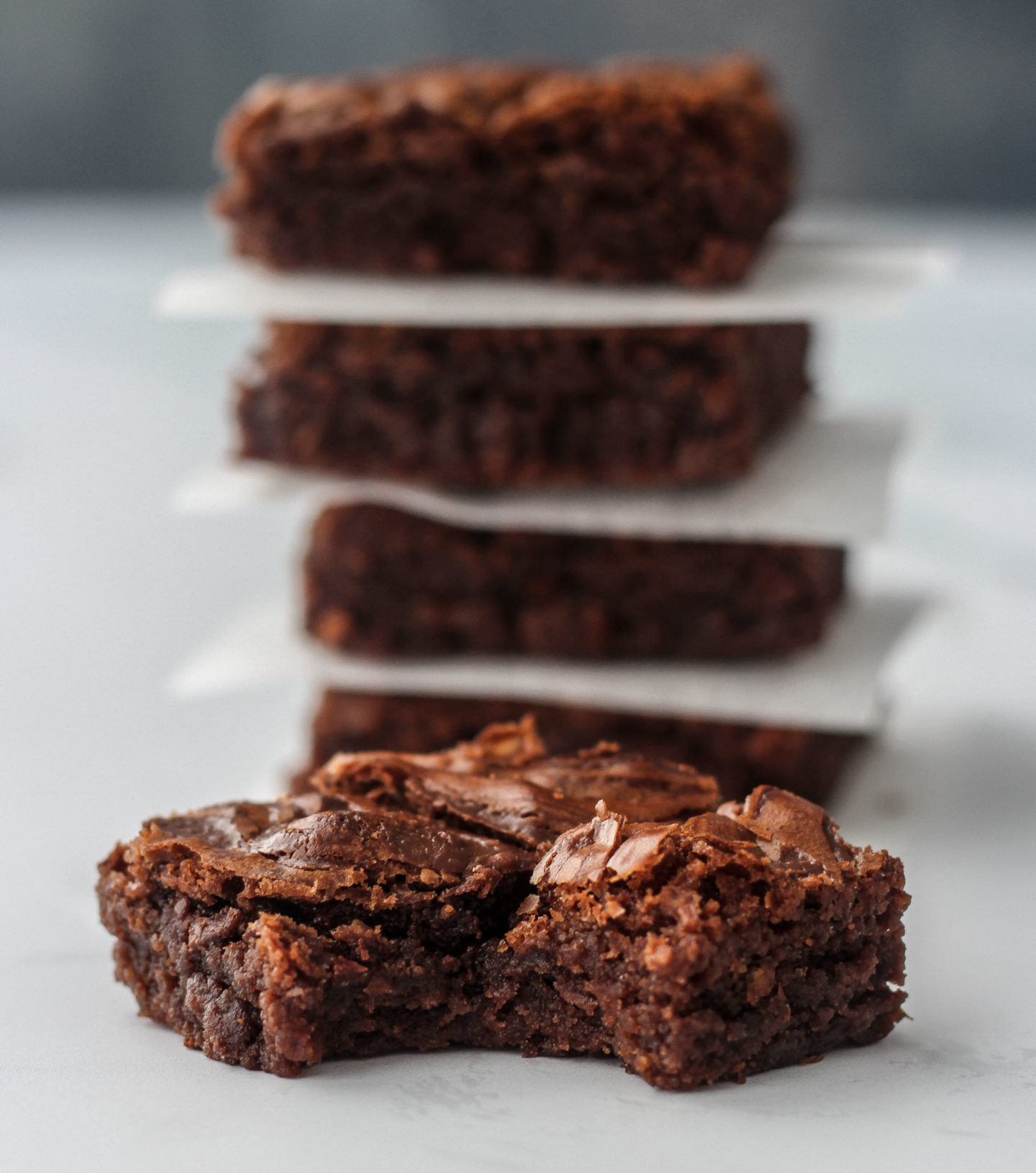 Why are my brownies underbaked?
This can happen for a few reasons. Your oven temperature may be too low, meaning they'll need longer in the oven to bake through. To prevent this and feel more confident in your bake times, I highly recommend using an oven thermometer. They are cheap and are a must for bakers, as temperature differences can make or break some bakes!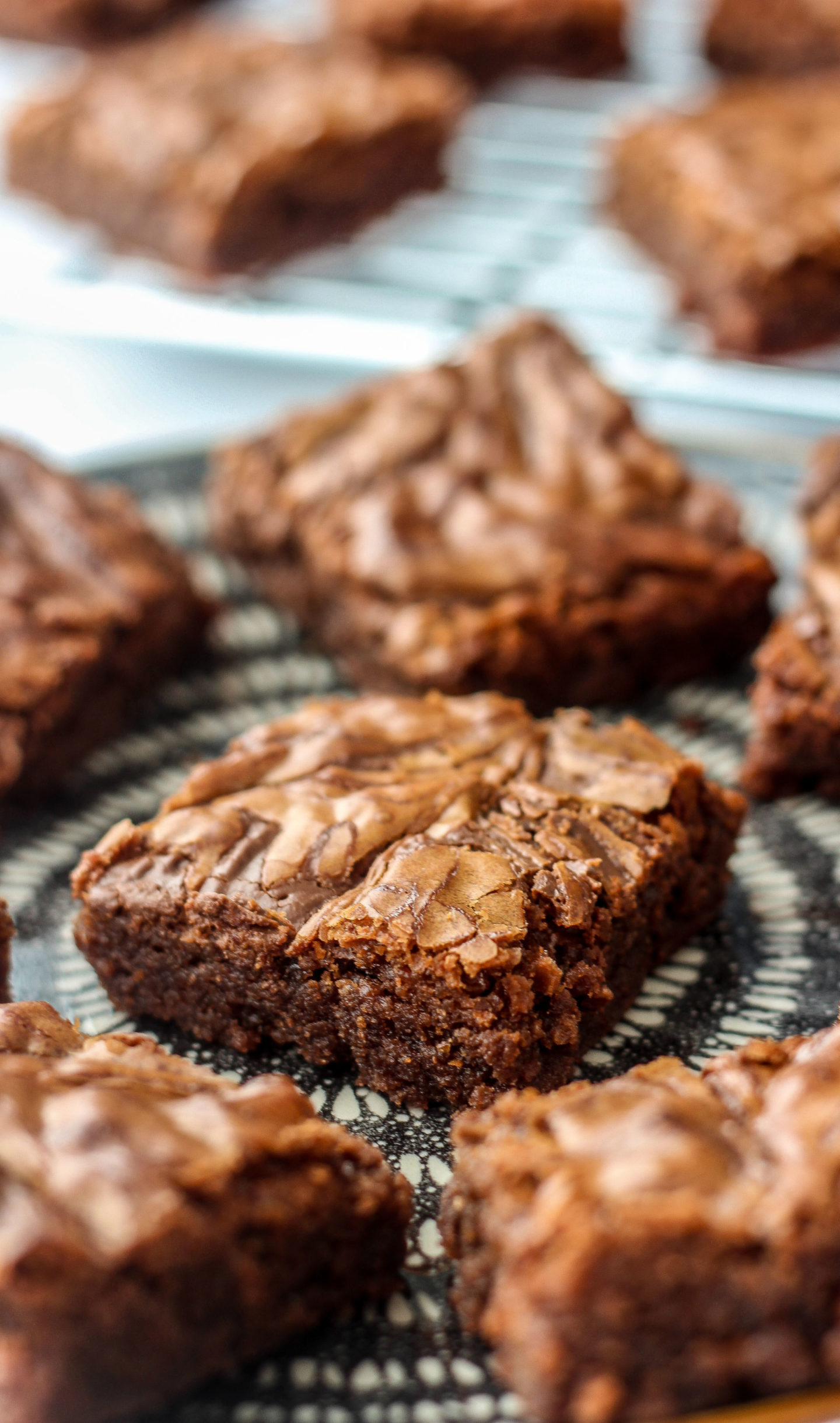 Another cause could be using the wrong sized pan. If you use a pan which is smaller than suggested, the brownies will be thicker meaning they'll need longer in the oven. Check every 5 minutes after 25 minutes using the skewer technique.
Conversely, overbaked brownies can occur if your oven temperature is too hot, or if your pan is too large, as the mixture will be thinner so they'll bake through quicker.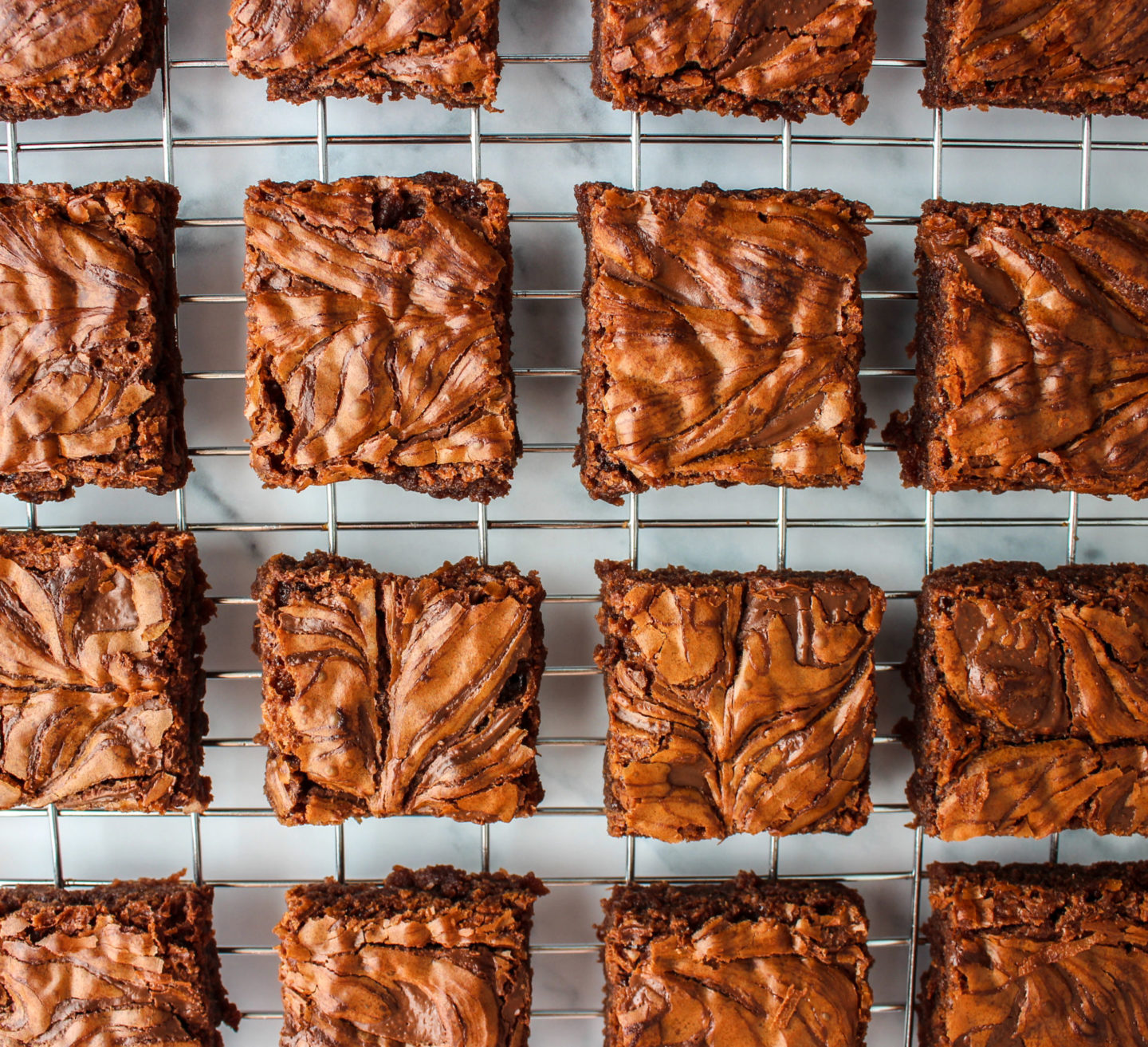 Do I have to wait for brownies to cool before cutting?
Yes, I highly recommend this as they set more firmly as they cool. If you cut into them while they're still warm, you won't get a clean slice and it'll be too soft to handle. It's difficult but have patience!
How long will brownies stay fresh?
As brownies tend to be more moist than other types of cake, they stay fresher a little longer. Brownies can keep for up to a week, but I'd say they're at their best the first 3-4 days.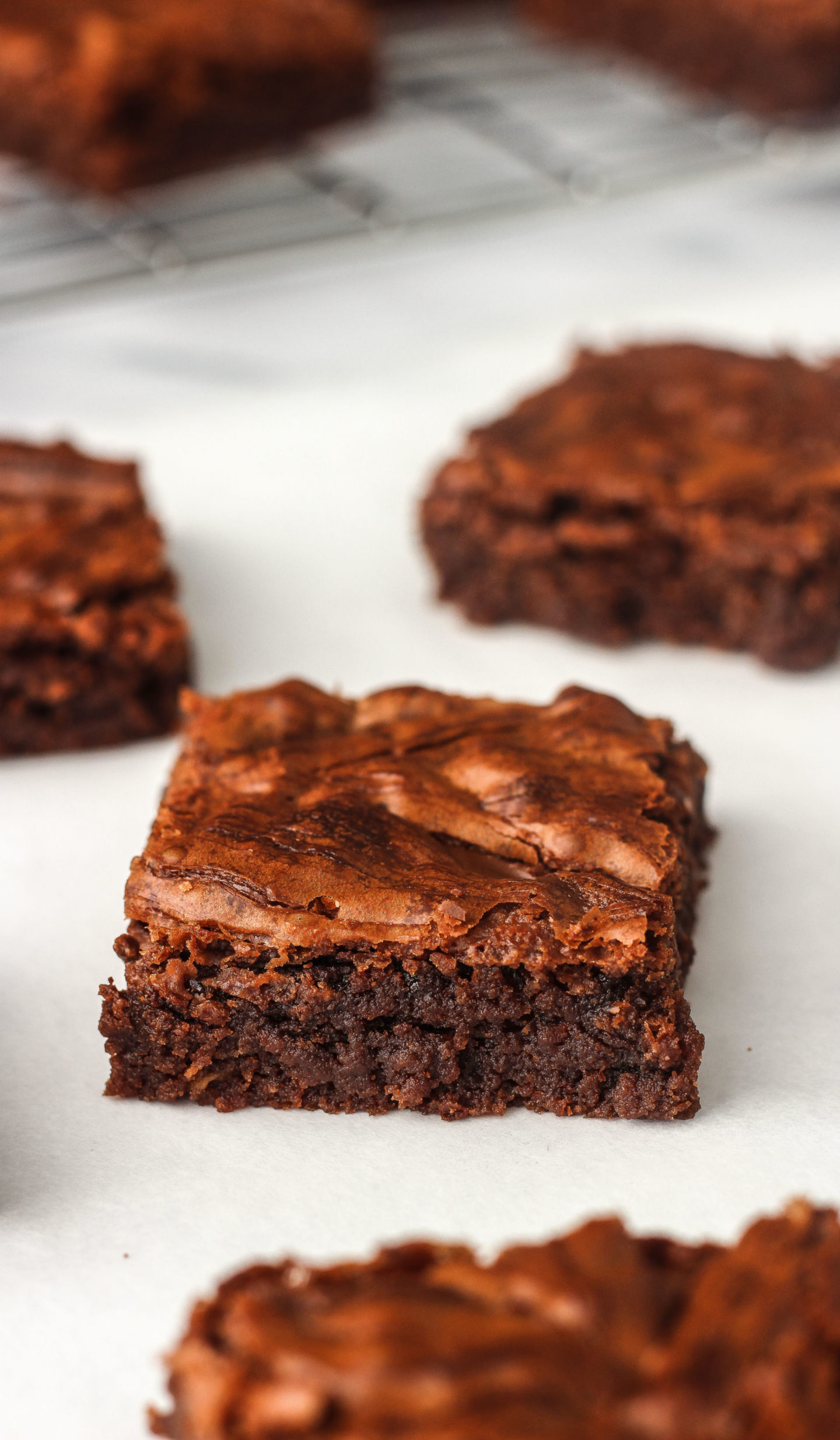 Should I keep brownies in the fridge?
No, they are best kept at room temperature in an airtight container. The fridge will dry cake out more quickly.
Can you freeze brownies?
Yes, just wrap them in film and store in an airtight container. They'll keep well for around 6 months.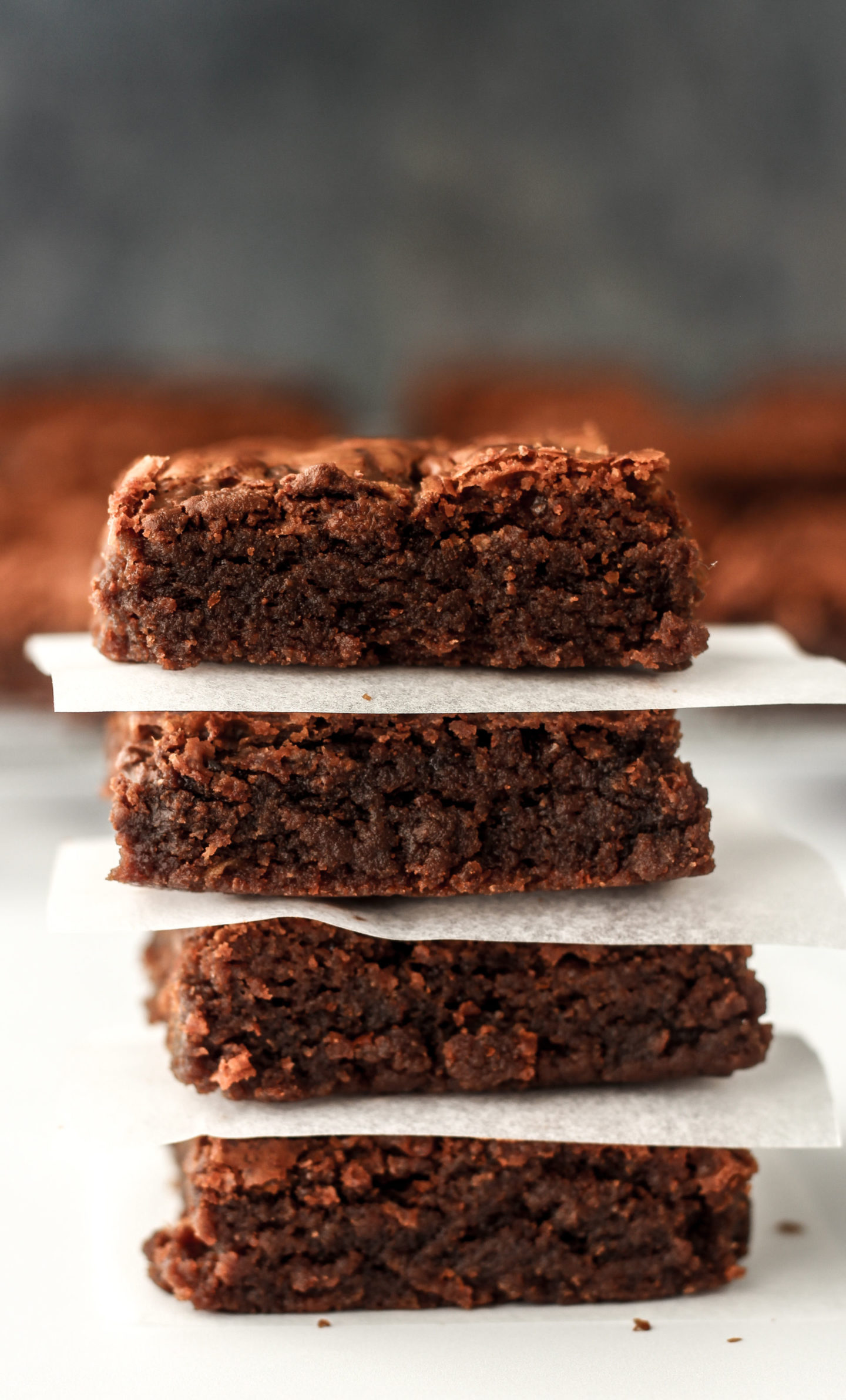 So, in summary, these delicious Nutella brownies are:
Genuinely simple, quick and easy to make with only 6 ingredients
So chewy and fudgy
Packed full of Nutella flavour
Suitable for freezing
Tasty and moist for up to 1 week (as if they'd be around that long!)
If you try this recipe I'd love to see! You can show me by tagging me @bakerjoblog or using #bakerjoblog!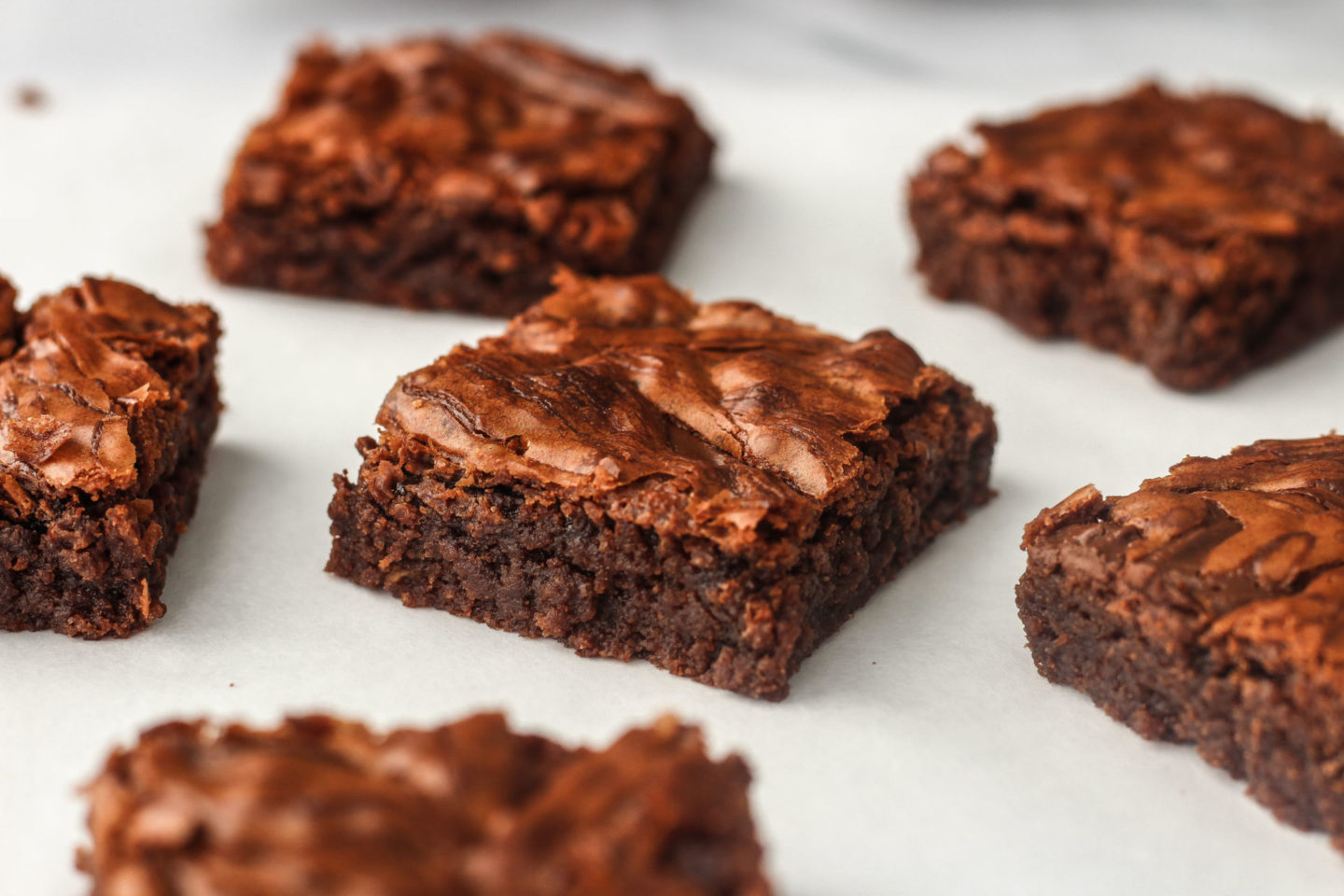 Other traybake recipes to try:
Other chocolate recipes to try:
Other cake recipes to try: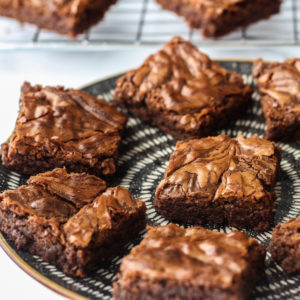 Nutella Brownies
These chewy homemade brownies are stuffed with delicious Nutella! Made in one bowl with no mixer needed, these Nutella brownies are dangerously easy to make!
Equipment
12" x 9" traybake/brownie tin

Large mixing bowl

Small bowl

Whisk

Spatula
Ingredients
120

g

plain flour

1/2

tsp

salt

level

200

g

caster sugar

120

g

melted butter

3

medium

eggs

room temperature

350

g

Nutella, separated

300g for brownie batter, 50g for Nutella swirl on top
Instructions
Preheat your oven to 170°C/150°C fan. Grease a 12″ x 9″ traybake tin with butter or non-stick spray and line with foil/baking/parchment paper. If using foil, spray it again with non-stick spray once lined. Leaving some overhang of foil/baking paper makes it easier to lift the brownies out to slice later.

To a small/medium bowl add the flour and salt. Whisk to combine and set aside.

To your large bowl add the caster sugar.

Next add the melted butter to the caster sugar and whisk to combine.

Add the eggs, one at a time to the large bowl, whisking until combined after each addition.

Warm 300g of Nutella briefly in the microwave (20-30 seconds) and then add it to the large mixing bowl, whisking until combined (warming it makes it easier to mix together with the other ingredients).

Now add the dry ingredients to the large bowl. Using your whisk, spatula or wooden spoon, gently mix the dry ingredients into the batter, until no pockets of flour remain. It will feel quite thick to start but the more you mix it the smoother it will become.

Pour the brownie batter into your prepared traybake tin. The mixture is quite thin so you can tilt the tin to spread the mixture into the corners, making sure it is level.

Warm up the remaining 50g of Nutella in the microwave, again for around 30 seconds until it's less thick and more pourable. Using a spoon, drizzle the warmed Nutella on top of the brownie mixture, in different directions to cover the whole area.

You could leave it with the drizzle pattern, or you could do as I have done and swirl it horizontally and vertically with a butter knife to create this pattern. It looks quite subtle here but as it bakes the pattern will become more prominant, thanks to the pockets of Nutella you've swirled through!

Place the traybake tin in your preheated oven for around 25 minutes. You will know it is baked when a skewer inserted into the centre comes out almost clean with a few moist crumbs (but no wet cake mixture).

Leave the tray to cool completely on a wire rack. Try to resist the urge to cut the brownies before they're cooled or they won't hold their shape well.

Brownies keep well for up to a week, but they're at their best within the first 3-4 days. Store in an airtight container at room temperature.
Notes
If you've tried this recipe, tag @bakerjoblog on Instagram, Facebook, Pinterest or Twitter and/or use #bakerjoblog!