Packed with real strawberry flavour and white chocolate chips, these cookies don't require any extracts or flavourings to give that true strawberry taste!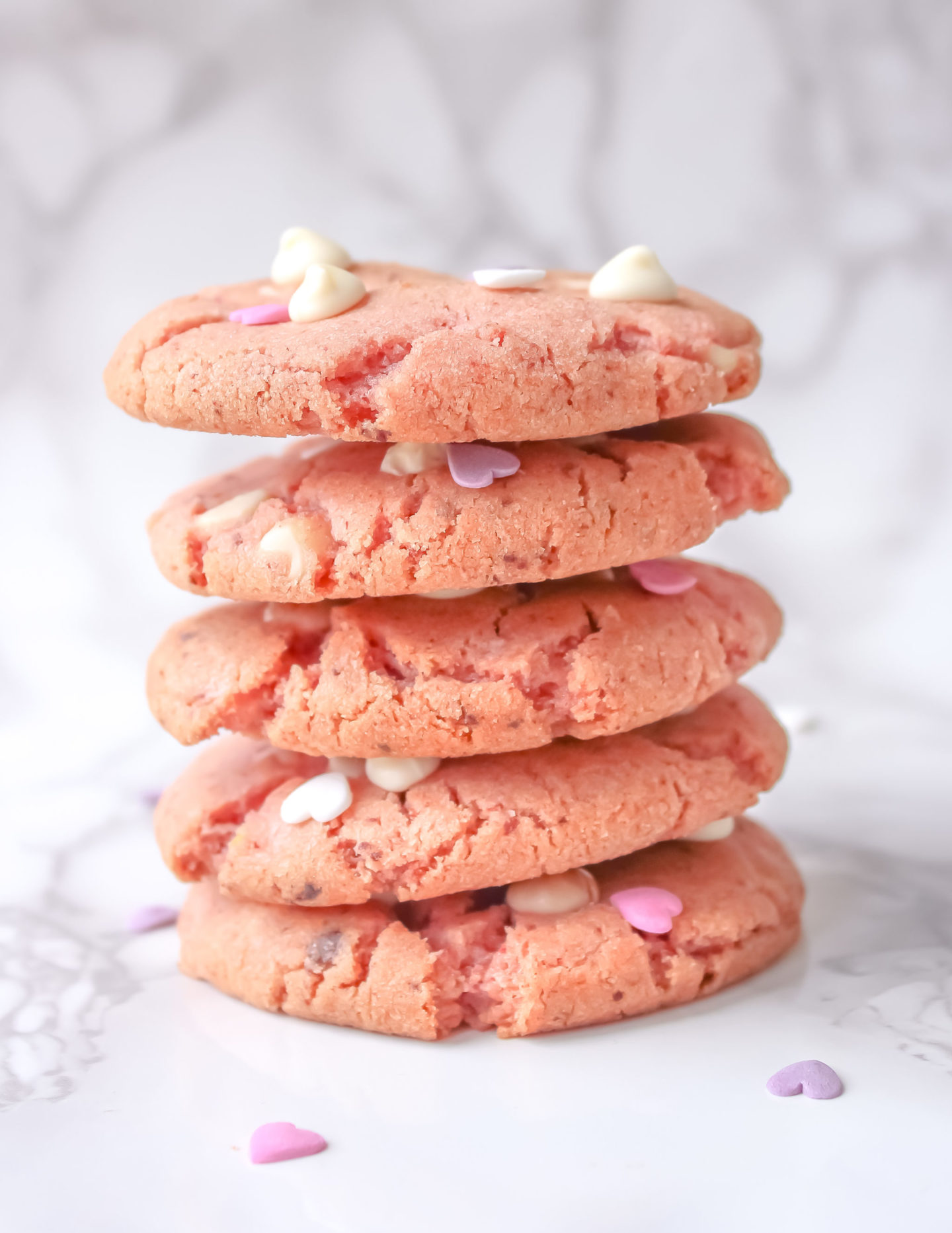 (As an Amazon Associate, this post may contain affiliate links to genuinely recommended products)
---
I've been working on a classic chewy chocolate chip cookie recipe over the last few weeks. Today's strawberry white chocolate cookies were developed from that recipe, but I felt I had to post these first as they are perfect for Valentine's Day!
This recipe was much more challenging than I was expecting, mainly due to wanting to flavour them naturally with real strawberry flavour. No extracts or flavourings here!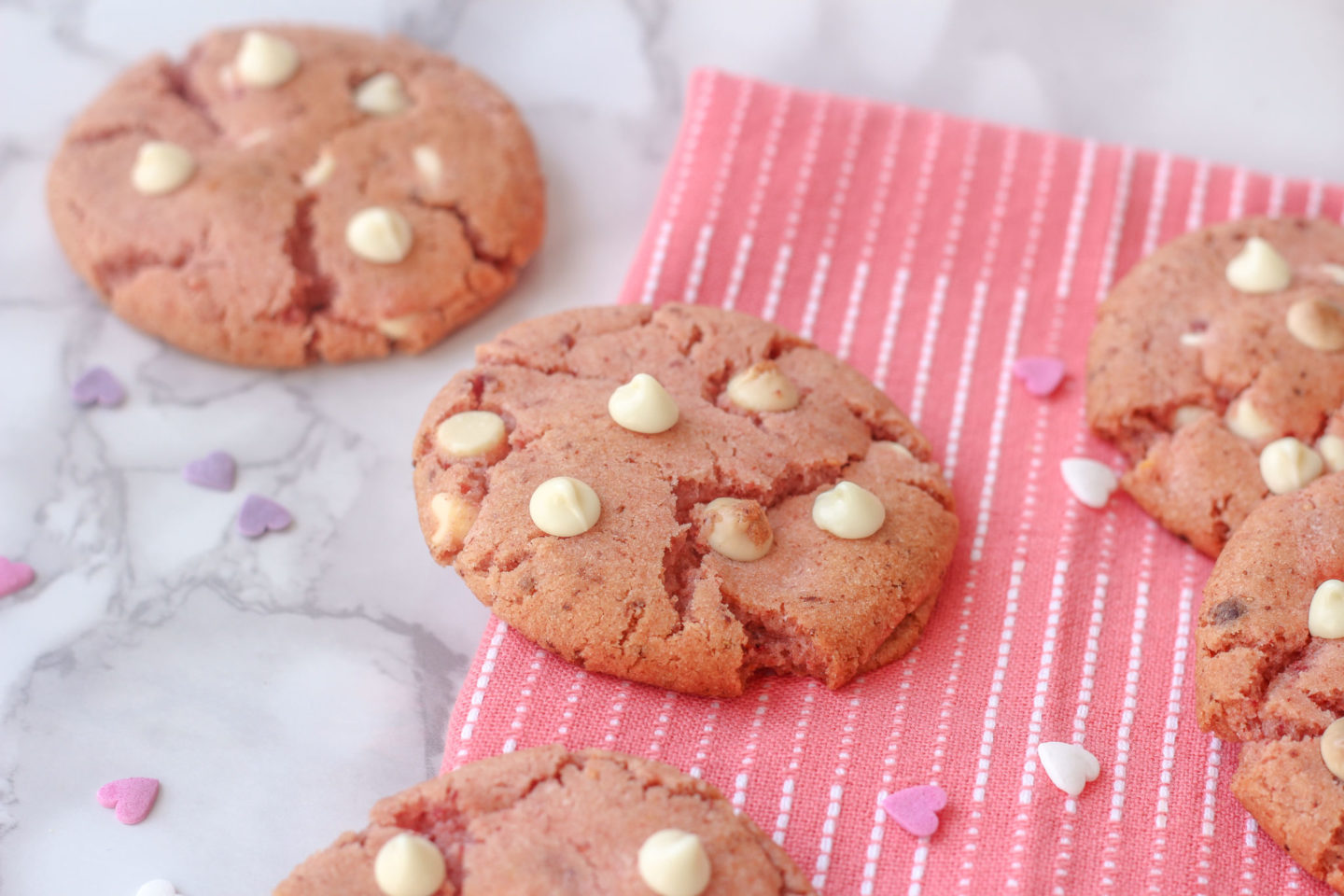 Real Strawberry and White Chocolate Cookies
My first few test batches involved the use of strawberry jam, but no matter how much jam I added, the flavour was non-existent. I did consider reducing some real strawberries down to make a purée but worried the moisture would prevent a chunky cookie.
Then I considered what turned out to be the winning ingredient – freeze-dried strawberries!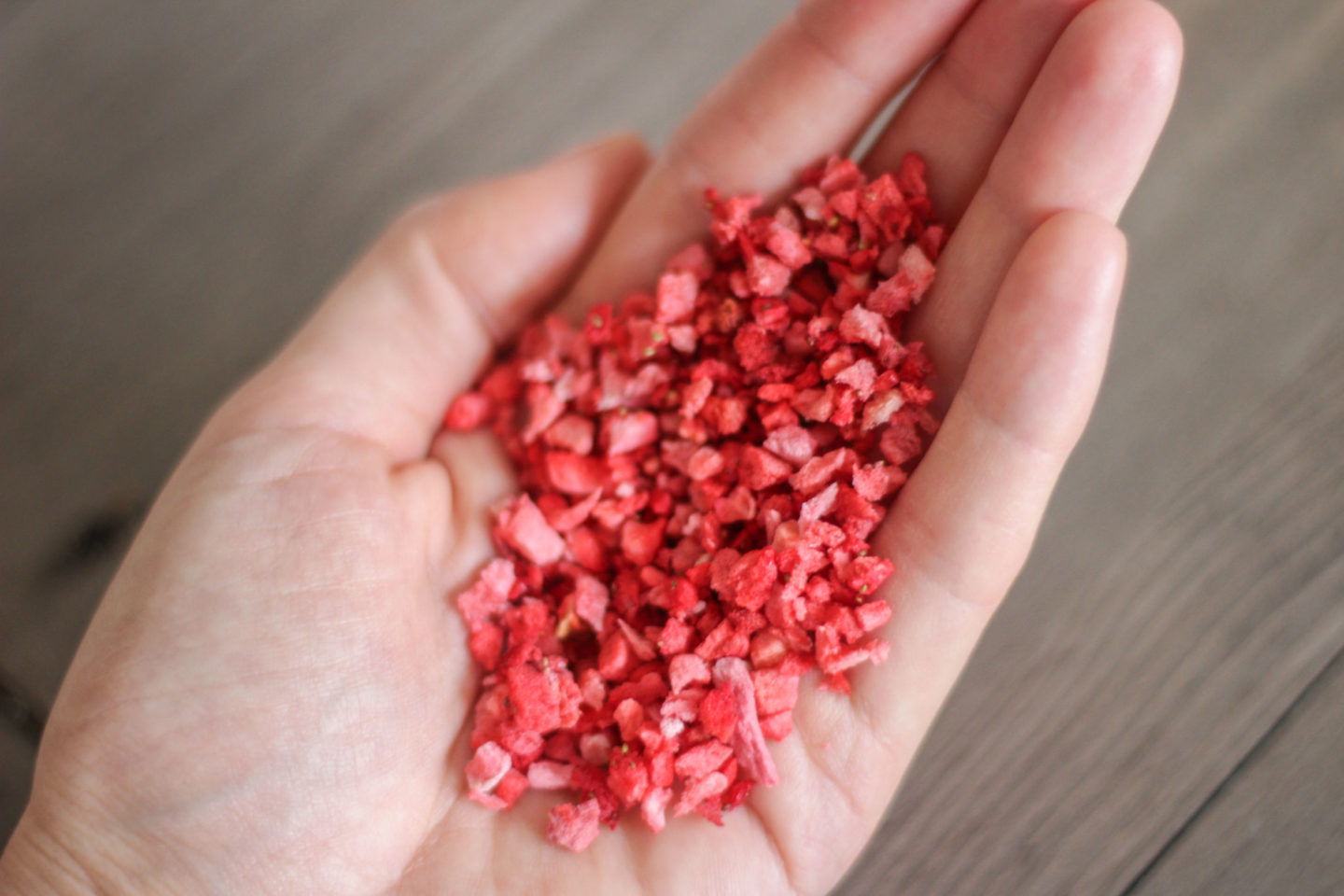 This suddenly made so much sense! They are real strawberries with the authentic flavour I was after. By blending them in my food processor they turned into strawberry dust which incorporated brilliantly into my cookie dough. It took a few batches to work out exactly how much strawberry dust I needed but I got there. I'm so happy with them!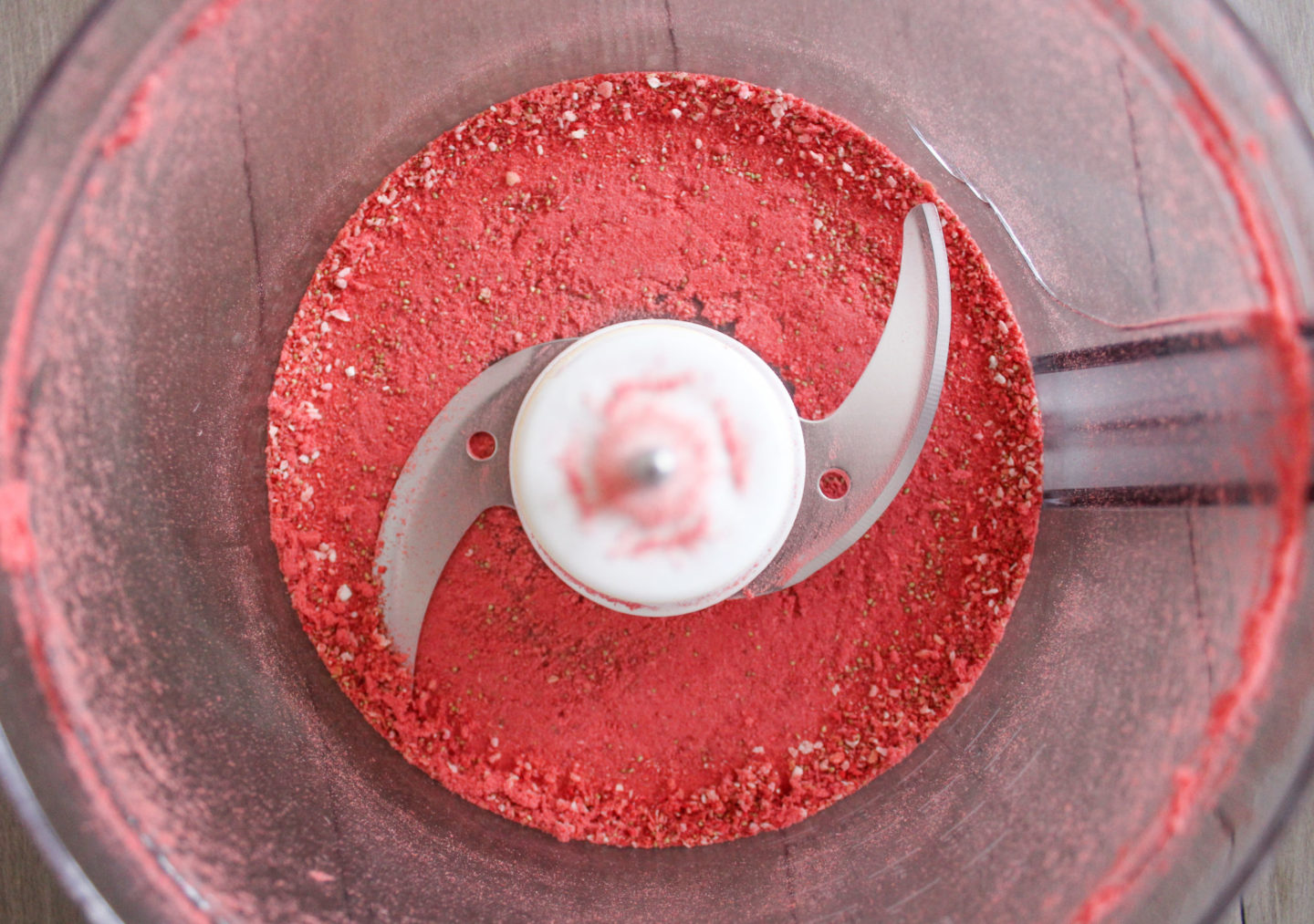 Freeze dried strawberries in cookies
Don't get freeze-dried and dried strawberries confused! We're not using the soft, jelly-like strawberries here. I was a little concerned about the ease of finding this ingredient as I want this recipe to be user-friendly.
I bought a large bag as I needed a lot for recipe testing. But after some research, I found freeze-dried strawberries are available in supermarkets such as Sainsbury's, Waitrose and Tesco, usually in 7g packs. I've found the cheapest to be Tesco, where I found 7g packs for £1 each.
However, I bought a 100g bag from Amazon for around £10, and it has a good expiry date. So if you think you'll use them for other things (great sprinkled on cereal!) then this may be more cost-effective for you!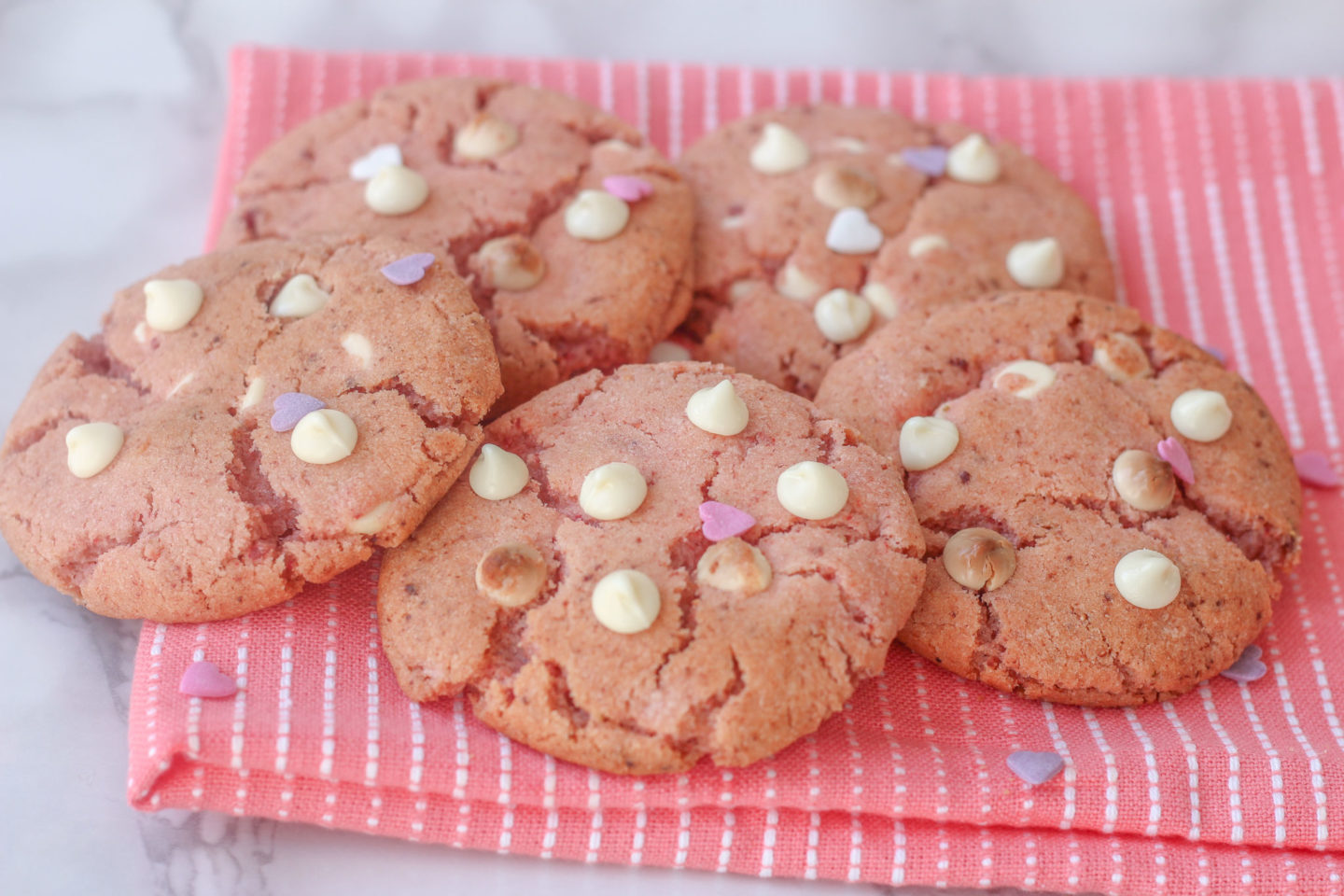 Chewy strawberry white chocolate cookies
I wanted a slightly chunky cookie with a soft, chewy centre. The edges are slightly crisp though which I personally love. I talk more about my cookie development process in my chewy chocolate chip cookies post!
My recipe uses only egg yolks and no whites, to help with the chewiness. I also use some cornflour which makes a softer cookie. I haven't used any vanilla extract here as I felt it was interfering with the strawberry flavour.
Bicarbonate of soda helps to leaven the cookie which also makes it a bit thicker and softer. Creaming the butter and sugar helps with this too. Then just a touch of salt to bring out the flavours and just enough sugar to not make them overly sweet!
Oh, one more thing. The dough doesn't require any chilling before baking! These cookies come together so quickly, you could make a few batches before Valentine's Day. To test them out, right?
(If you want extra chocolatey cookies, check out my Chewy Triple Chocolate Chip Cookies. Or, for a delicious chocolate and nut combination, try my White Chocolate Macadamia Nut Cookies)!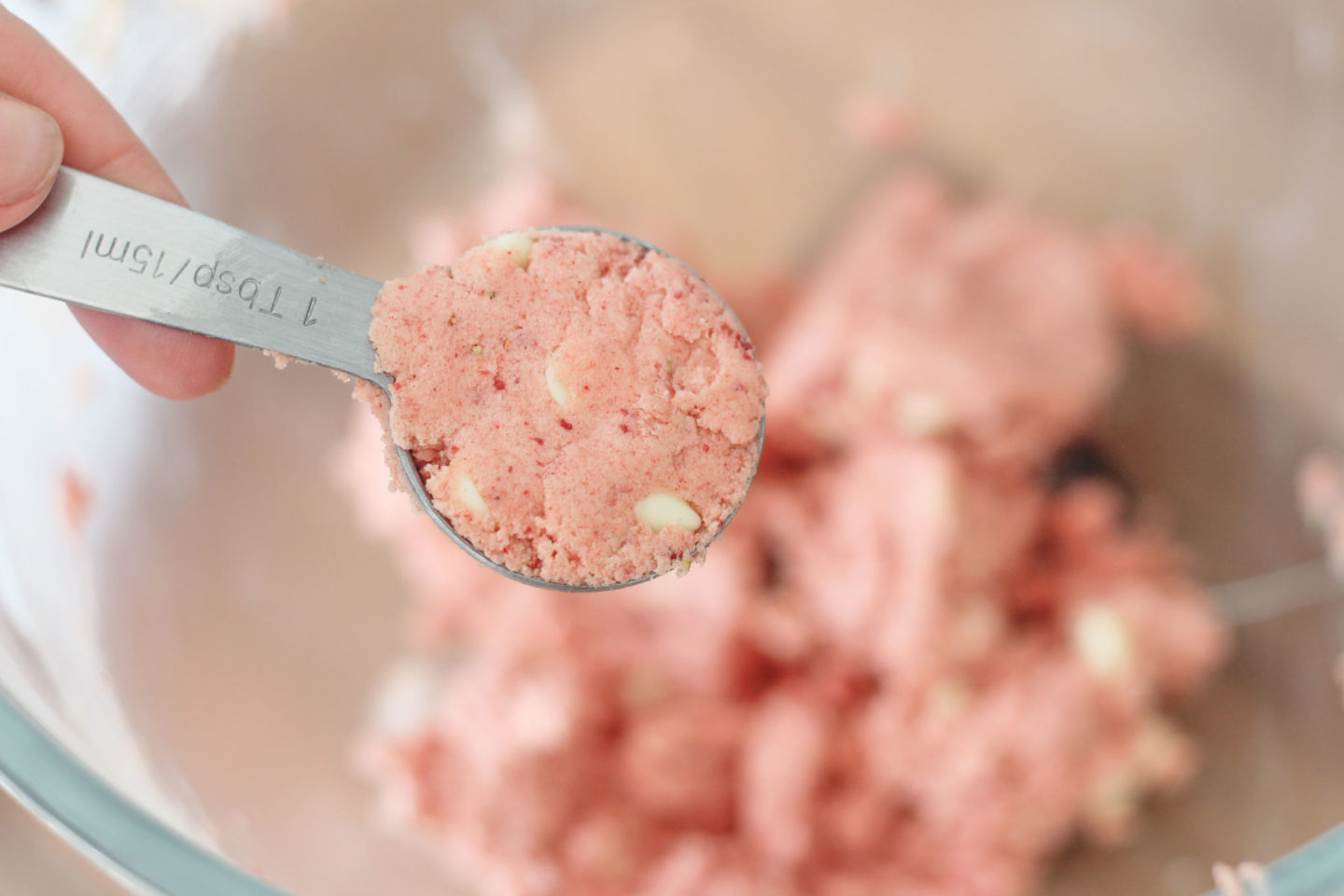 Cookie recipe tips
Two level tablespoons of dough make the perfect medium-sized cookie. You could add an extra tablespoon for a bigger cookie, but remember it may need one or two more minutes in the oven.
In terms of adding colour to these cookies, I definitely recommend only using gel food colouring. If you use a liquid type you risk ruining the consistency of the dough. This will result in a flatter, thinner cookie.
For my batch, I dipped a cocktail stick in my red gel food colouring once and it gave a pale pink colour. I did test it with three cocktail sticks of colouring and they were more of a hot pink colour! I love the subtle pastel colour but feel free to go bolder! The strawberry dust will add some colour too so just keep that in mind when adding your gel colouring.
I'd recommend using a silicone baking tray if you can, as they distribute heat more evenly resulting in more evenly baked cookie batches! I personally use one almost identical to this one pictured below: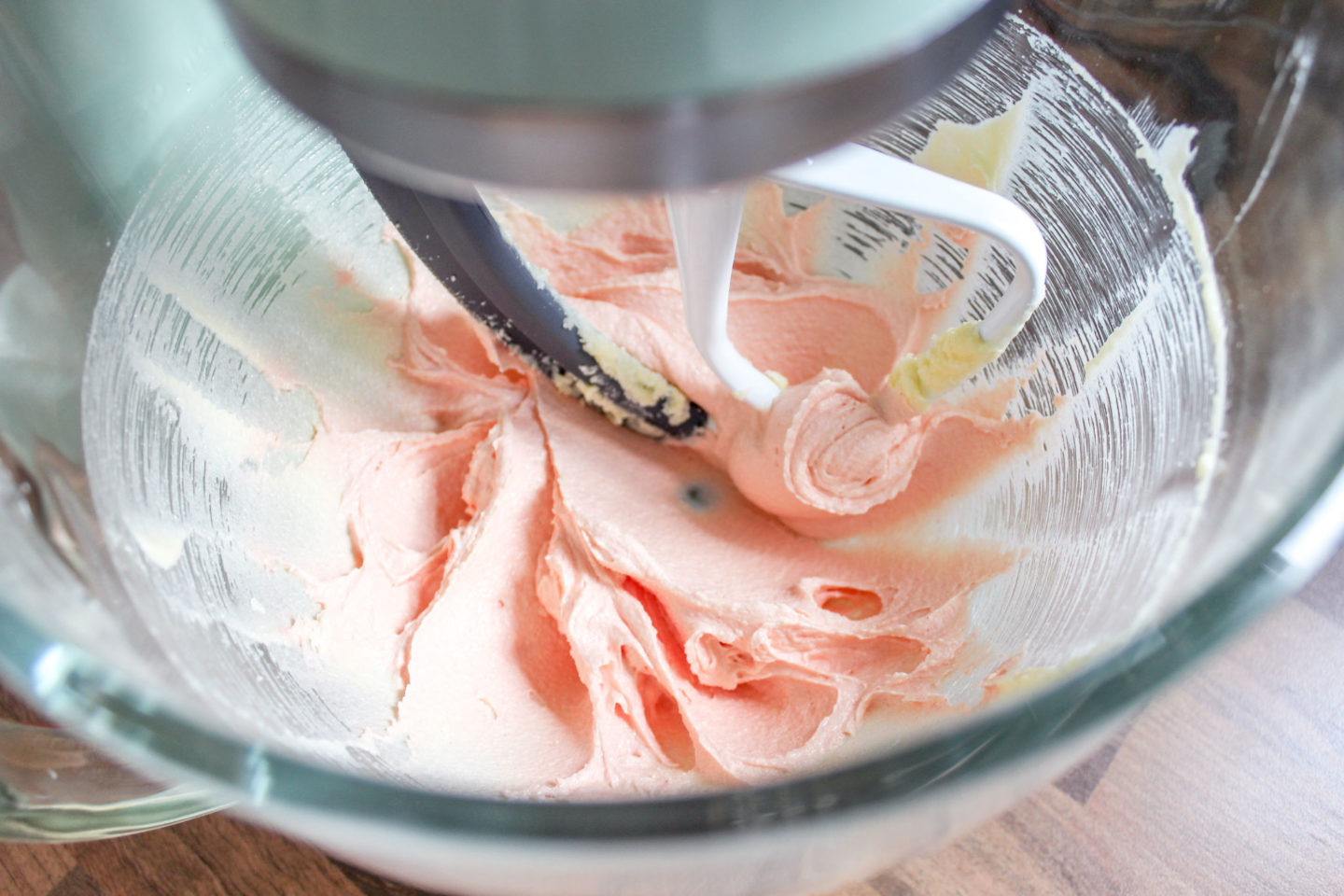 So, to summarise, these cookies are:
Soft and slightly chewy with a crisp edge
Full of real strawberry flavour
Packed with white chocolate chips
Quick and easy to make
Ready to bake straight away without chilling the dough
A perfect Valentines Day treat!
I hope you love them as much as I do!
If you try this recipe I'd love to see! You can show me by tagging me @bakerjoblog or using #bakerjoblog!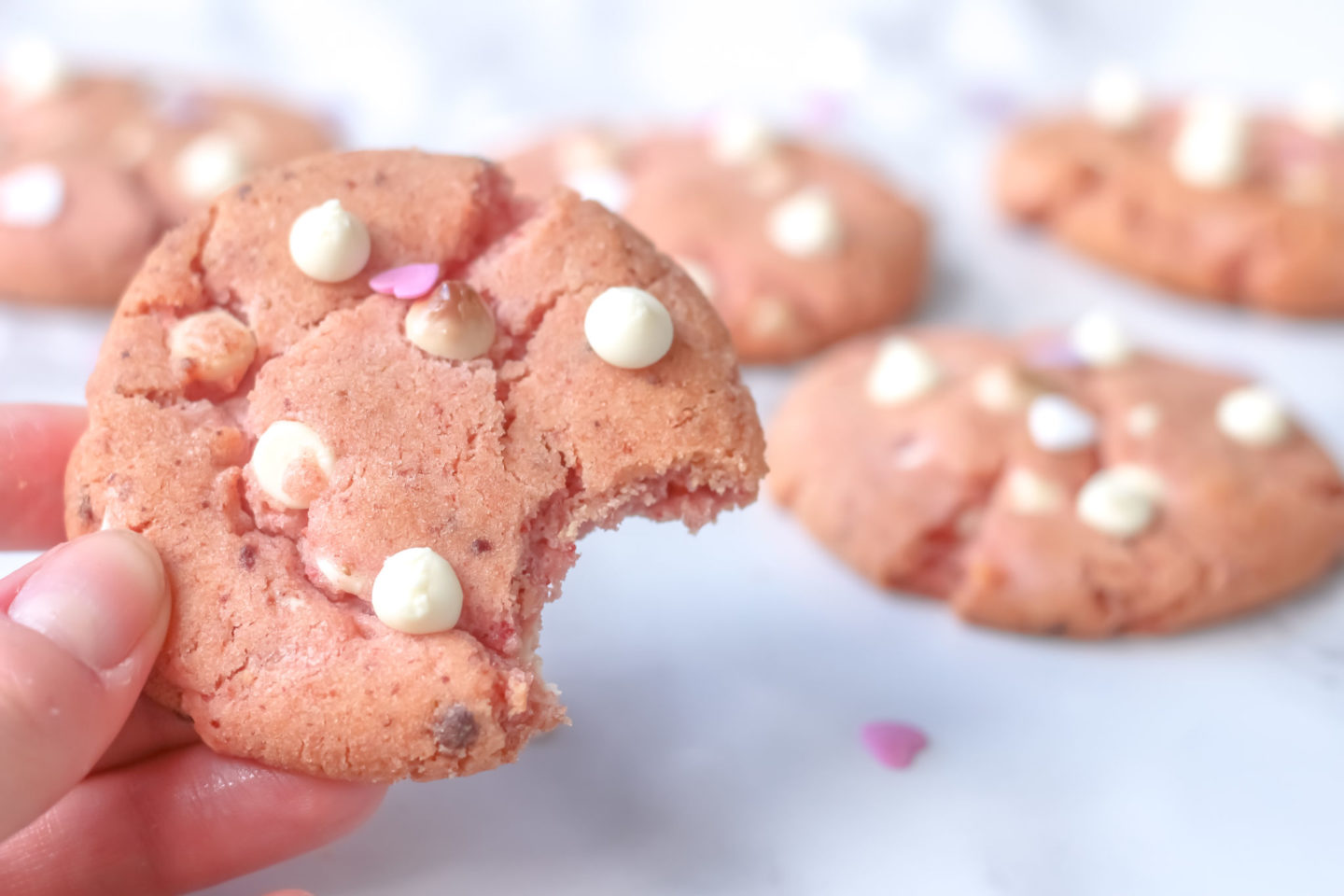 Other cookie and biscuit recipes to try:
Other chocolate recipes to try: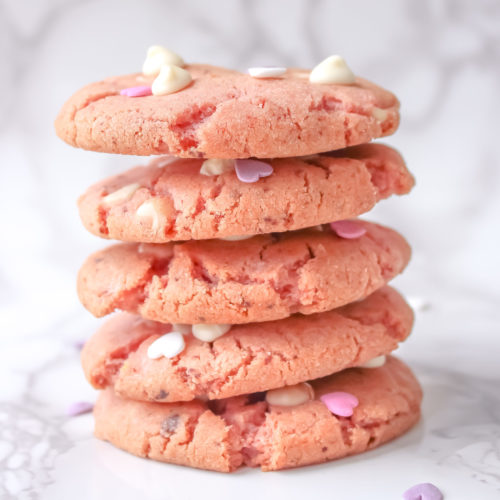 Strawberry White Chocolate Cookies
Packed with real strawberry flavour and white chocolate chips, these cookies don't require any extracts or flavourings to give that true strawberry taste!
Ingredients
260

g

plain flour

2

tsp

cornflour

1

tsp

bicarbonate of soda

1/4

tsp

salt

28

g

freeze-dried strawberries

food processor required to blend to a strawberry dust

190

g

butter

softened

230

g

caster sugar

2

medium

egg yolks

room temperature

1-3

cocktail stick dips of

red gel food colouring

1 dip = pastel pink, 3 dips = hot pink

140

g

white chocolate chips

plus extra to add once baked (optional, I think it makes them look a bit prettier!)
Instructions
Preheat oven to 180°/160° fan.

In a food processor, blend the freeze-dried strawberries into fine strawberry dust. I stopped to scrape from the edges of the bowl 2-3 times (with the machine turned off!) to ensure it was blended as much as possible. I had some slightly larger bits of strawberry remaining in my powder but this is ok.

Sift the plain flour, cornflour, bicarbonate of soda and salt

into a small bowl. Add the strawberry dust and whisk together. Set aside.

In the bowl of a stand mixer fitted with a paddle attachment (or a medium/large bowl if using an electric hand mixer), beat the softened butter and sugar on medium speed for 1 minute. It will look slightly paler in colour and will be a little fluffy.

Add the egg yolks and your chosen amount of red gel food colouring and beat on medium speed until incorporated (about 10-15 seconds).

Add half the dry ingredients and beat on low speed until just combined, then repeat with the remaining half.

Add the white chocolate chips and beat on low speed until just combined (around 10 seconds).

Scoop 2 level tablespoons of dough per cookie. Press each tablespoon together and then roll into a ball. Place 6 balls evenly spaced on a baking tray (ideally a silicon baking tray or if not, a baking tray lined with baking/parchment paper).

Place the tray into the oven for 10 minutes. I turn my baking tray after 5 minutes to prevent them from baking unevenly as my oven has a hotspot. Do this as quickly as possible to avoid losing too much heat from the oven.

Once removed from the oven, place the tray on a work surface for 5 minutes (not a wire cooling rack just yet) as they will continue to bake on the tray. While they're still warm, lightly press or just place a few extra white chocolate chips on top. This is optional but I think it makes them look prettier.

After 5 minutes, remove cookies from the tray and place on a wire cooling rack to cool completely.

Store in a tin at room temperature. Best eaten with 3 days.
Notes
If you've tried this recipe, tag @bakerjoblog on Instagram, Facebook, Pinterest or Twitter and/or use #bakerjoblog!