Rich, buttery shortbread filled with mixed fruit and all the flavour of a Welsh cake. A great alternative to Welsh cakes if you don't own a bakestone!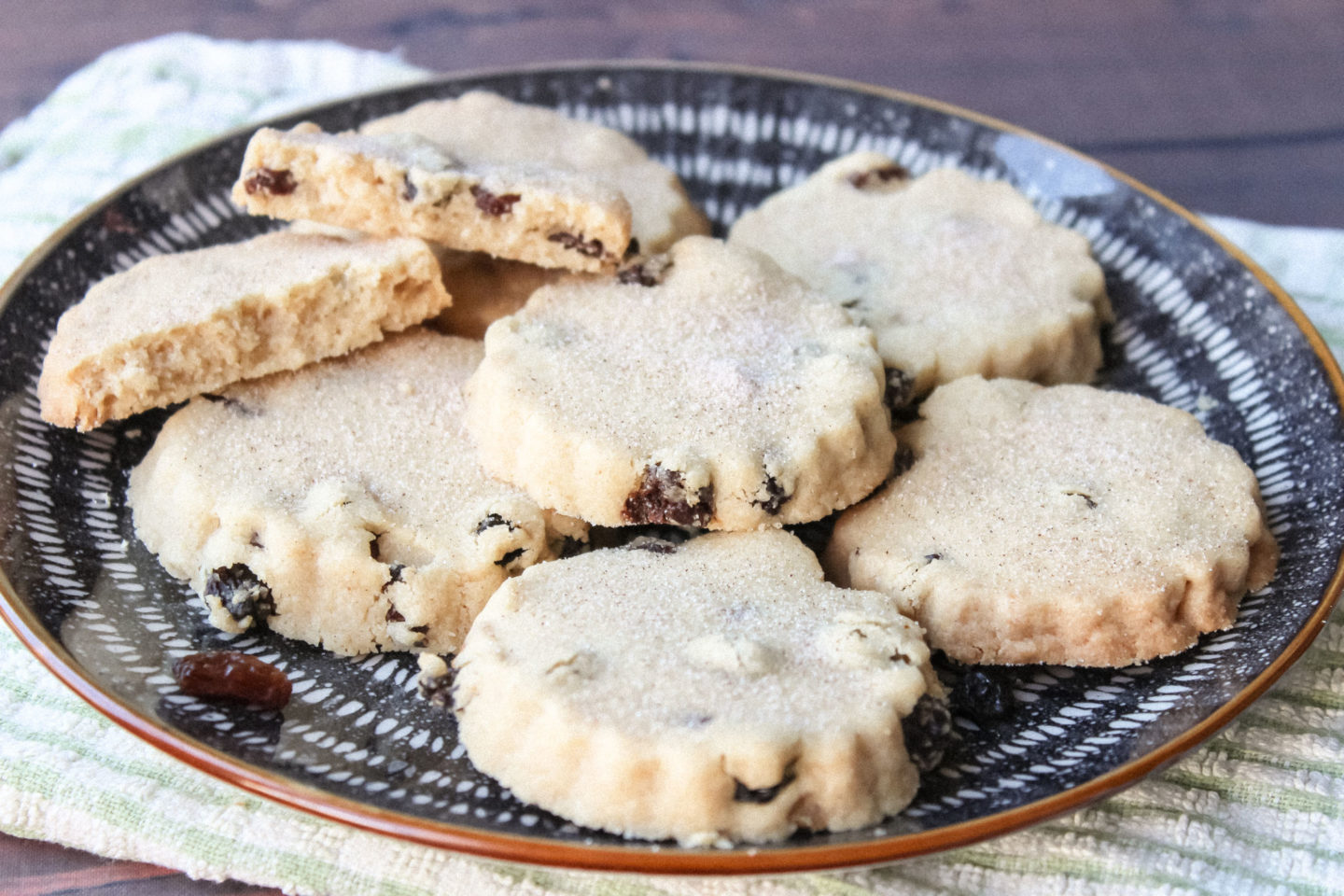 With St. David's Day approaching, as a Welsh baking blogger I felt I should post a Welsh recipe for the occasion. So I developed these shortbread biscuits with the flavours of a Welsh cake!
A few years ago when Paul and I were renting a house, we didn't have a gas hob so couldn't make Welsh cakes using a bakestone. Then when we bought our home just over two years ago, we finally had a gas hob so a bakestone was one of my first kitchen purchases!
I love making Welsh cakes at home but I wanted to create a recipe that anyone could make, without the need for a bakestone. The dough comes together really quickly and only needs a relatively short amount of chill time in the fridge before baking. I do highly recommend chilling the dough as during testing the unchilled dough spread a lot in the oven and lost its fluted edges!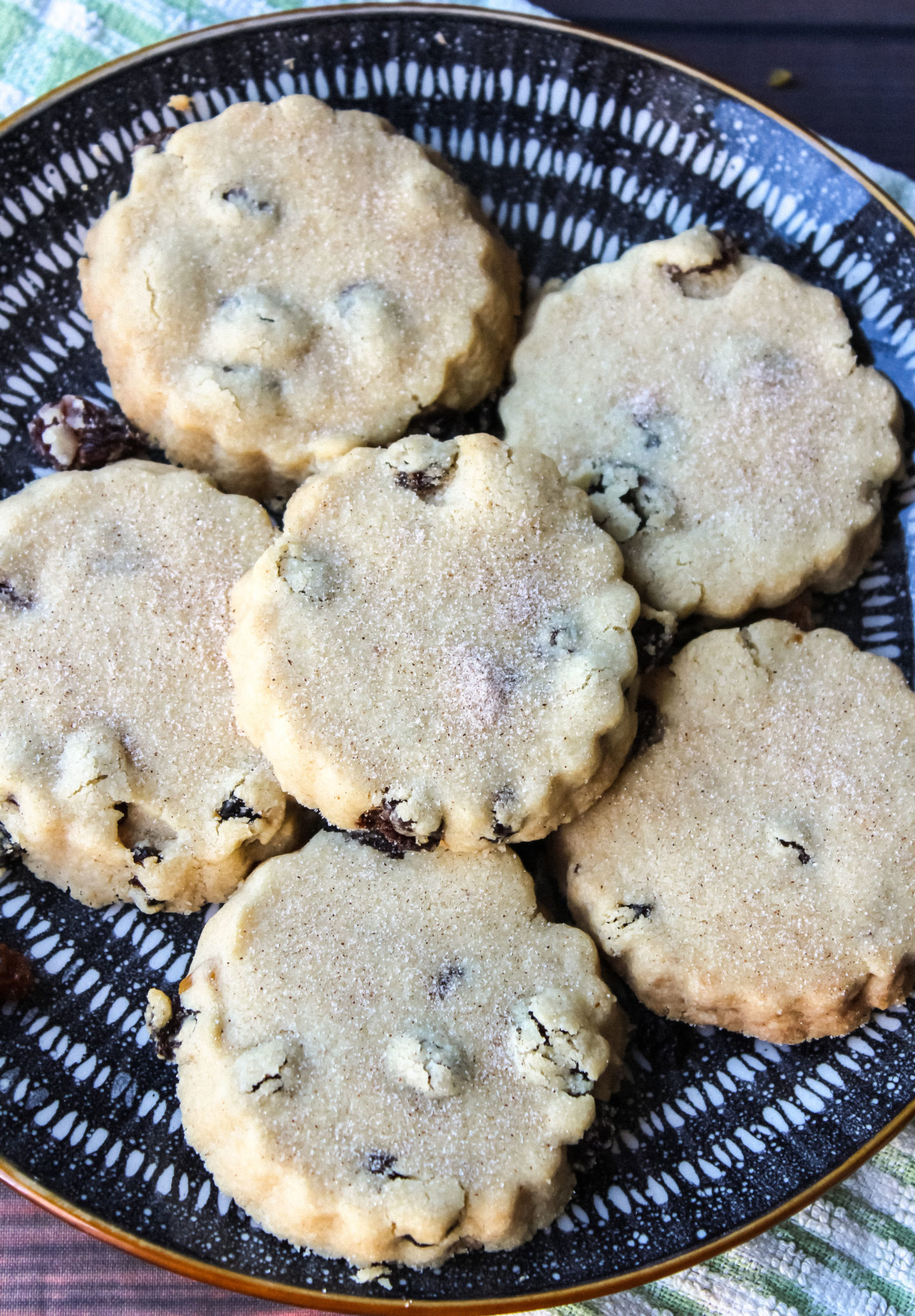 Be really careful not to over-bake these! As I learned from many different test batches there is a very fine line between over-baked and under-baked shortbread. The over-baked biscuits were too crumbly and dry, missing the melt-in-the-mouth texture. I finally found that making sure they were exactly 1cm thick and cut using a 6cm fluted cutter, they baked well and really resembled actual Welsh cakes, in both appearance and taste!
My most important piece of advice? Please use the firmer, block butter and not spreadable butter! Wow, what a difference this makes. Unfortunately, if you use spreadable butter the dough is too soft, and not only is it almost impossible to move your cut-outs onto your baking tray in one piece, they spread a lot once in the oven. Learn from my mistake!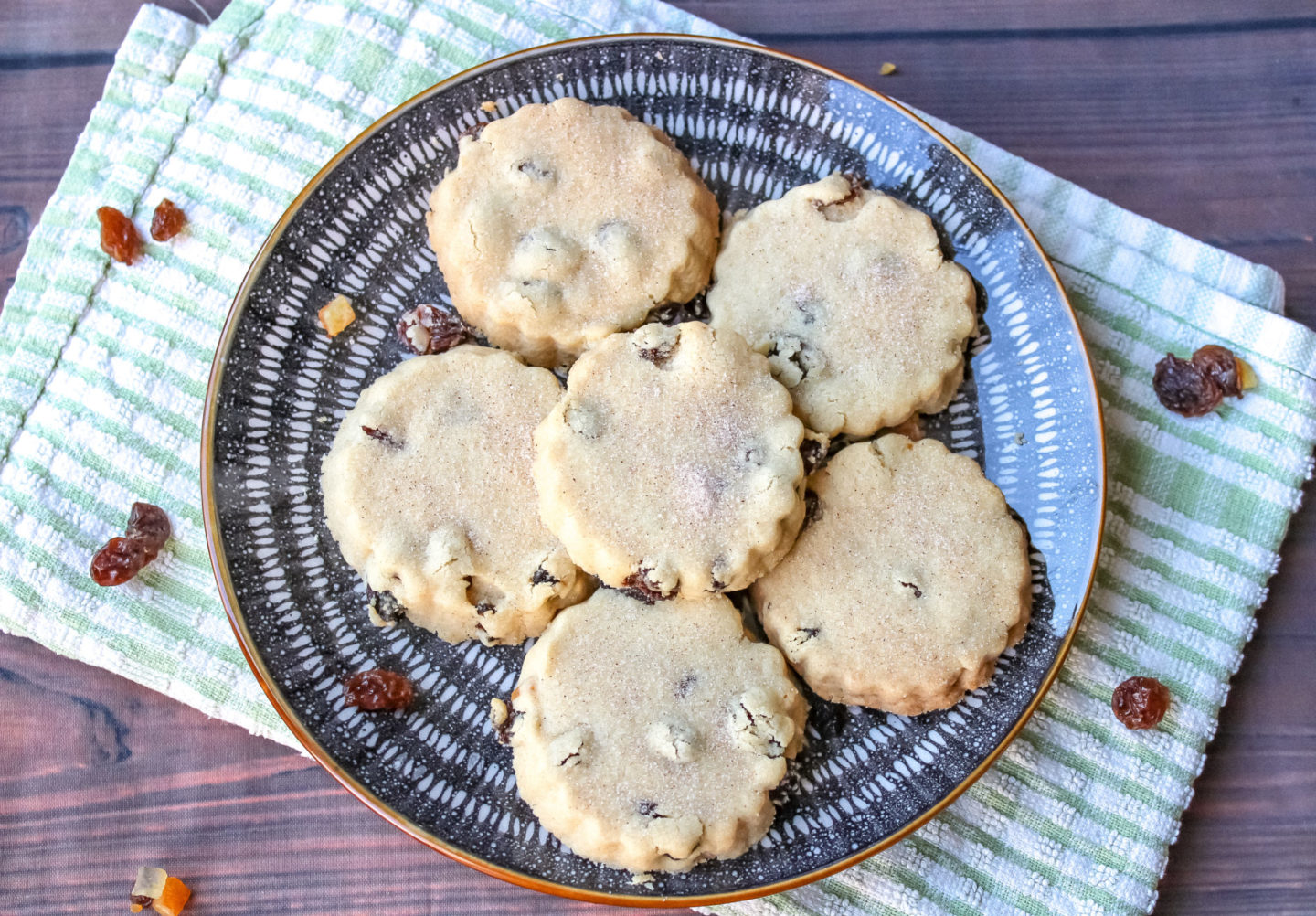 Following all of my advice you should end up with thick, buttery shortbread flavoured with mixed spice and full of mixed fruit. They would be great fun to make with kids too as they'll enjoy cutting the shapes!
My final addition to these shortbread Welsh cakes is a sprinkling of cinnamon sugar. You could just dust them with caster sugar if you'd prefer, but I am just a little obsessed with cinnamon sugar. It really finishes these off beautifully. The perfect blend of sugar and spice!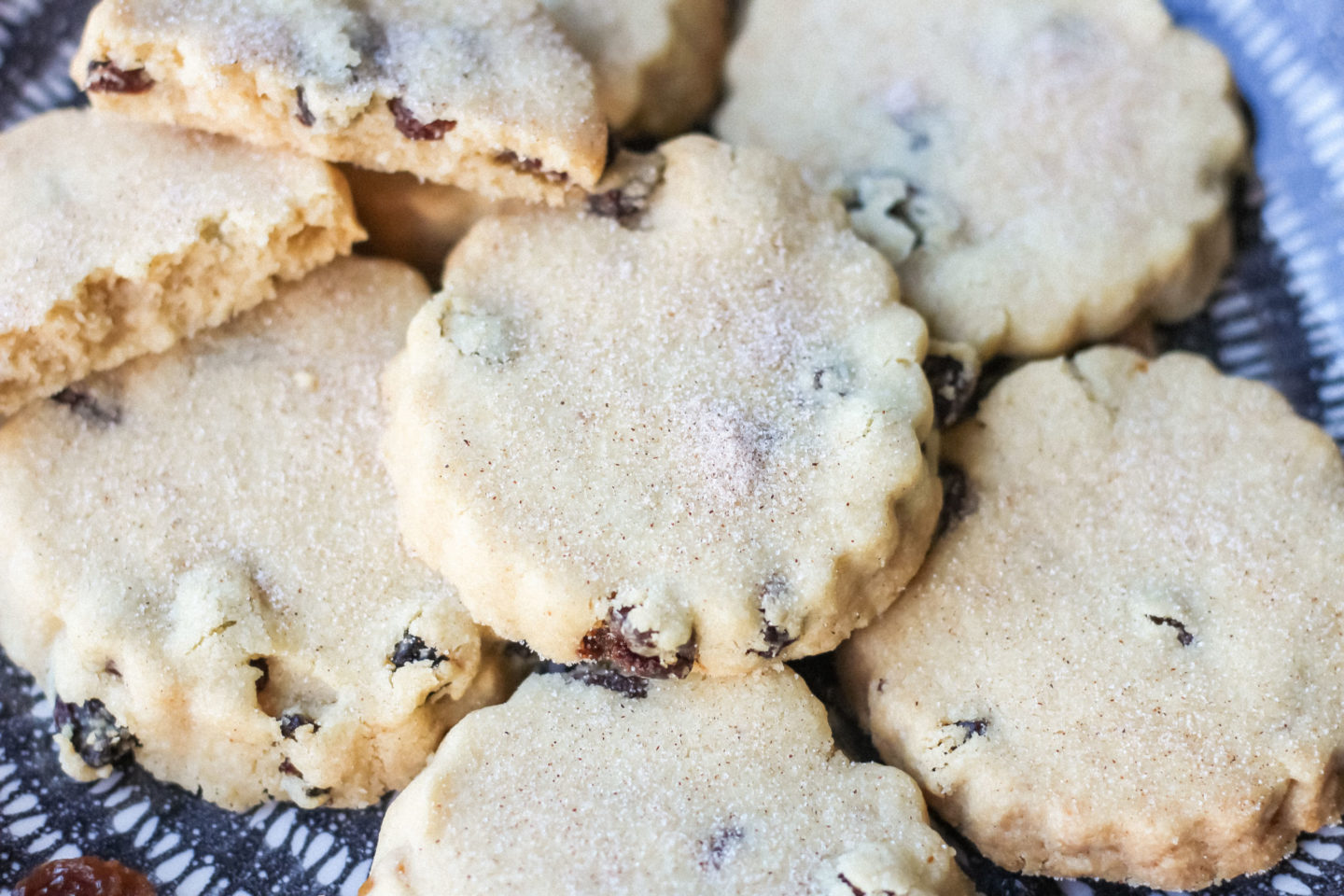 Whether you're looking for a St. David's Day recipe, a different shortbread recipe or don't know what Welsh cakes taste like and are intrigued, I really hope you get the chance to try this recipe.
Enjoy! Or, mwynhewch!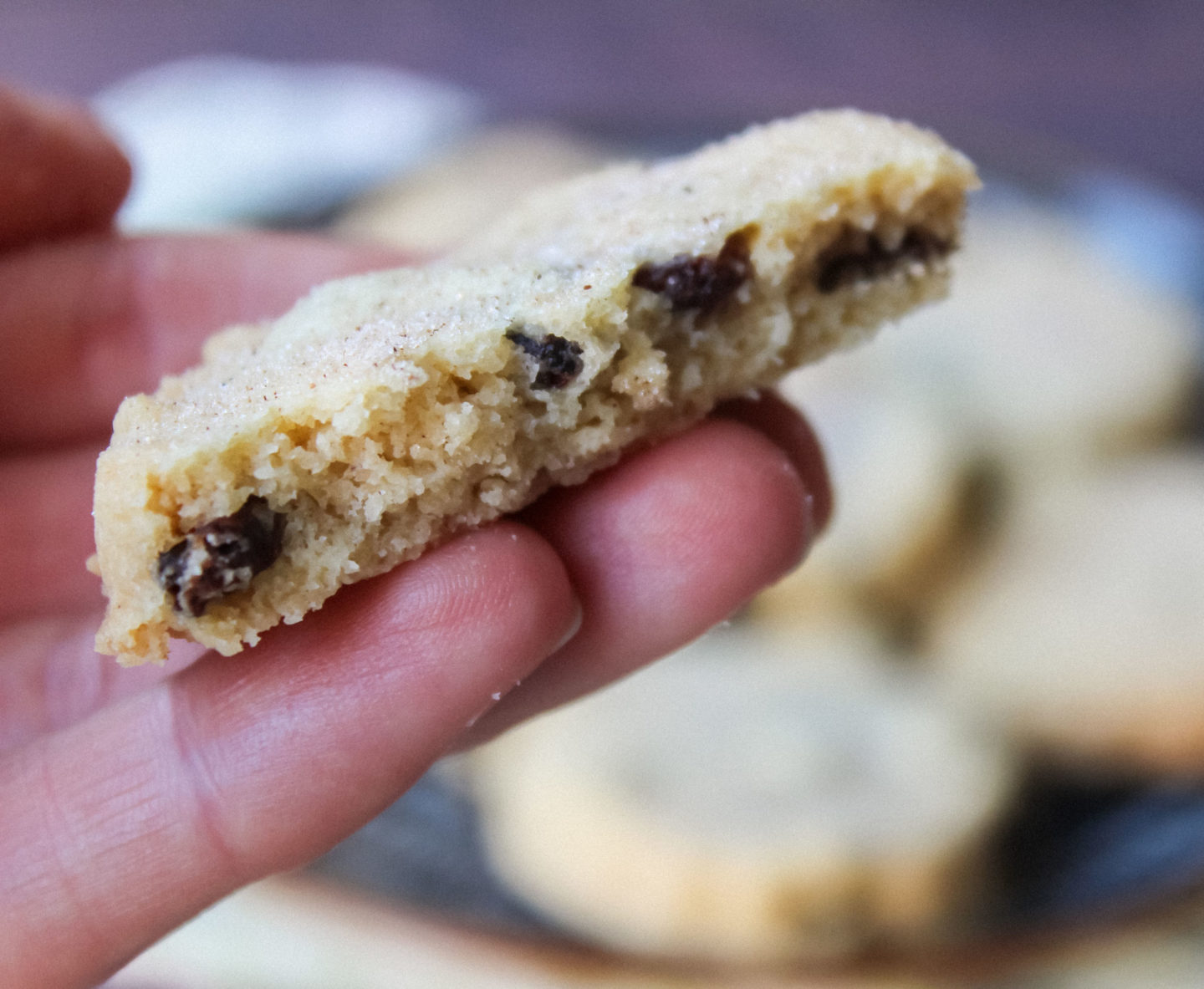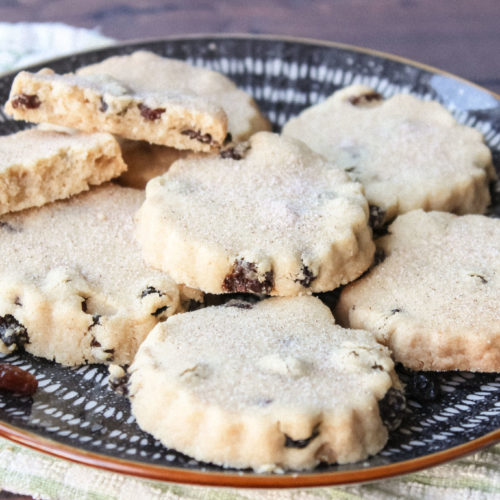 Print Recipe
Welsh Cake Shortbread
Rich, buttery shortbread filled with mixed fruit and all the flavour of a Welsh cake. A great alternative to Welsh cakes if you don't have a bakestone!
Ingredients
Shortbread
250

g

plain flour

50

g

cornflour

1

tsp

mixed spice

1/2

tsp

salt

210

g

block butter

cubed and softened slightly

50

g

caster sugar

50

g

light brown sugar

120

g

dried mixed fruit
Cinnamon Sugar
1/4

tsp

cinnamon

10

g

caster sugar
Instructions
Measure the plain flour, cornflour, mixed spice and salt into a medium bowl. Whisk until all combined and then set aside.

In the bowl of your stand mixer (or a large bowl if using an electric hand whisk), beat the butter and both sugars on medium speed for a full 2 minutes. It will look smooth and slightly paler in colour.

Pour the dry ingredients into the large bowl and beat on lowest setting until just combined – it's very important not to over-mix here. Add the dried mixed fruit and again mix on lowest setting until just combined.

Press the dough into a ball with your hands, and avoid overworking it. It will feel a little sticky due to the high butter content. Place the dough ball onto a piece of cling film, flatten it with your hands into a thick disc shape (easier to roll later), wrap tightly and chill in the fridge for at least 1 hour. If you skip this chilling stage the biscuits will spread and lose their shape in the oven.

Preheat your oven to 160°/140° fan ready for when your dough has chilled for 1 hour (the timing of this obviously depends on how long your individual oven takes to preheat!)

Remove the dough from the fridge, cut off half a piece of the dough, and return the other half to the fridge to keep cold. I like to use a sheet of baking paper to roll my dough out to avoid it sticking to the counter top. Dust the baking paper, rolling pin and top of the dough with flour (again, due to the high butter content the dough tends to be a little sticky, especially as it gets warmer so the extra flour helps with this).

Roll the dough out until it is 1cm thick. I use a ruler here as the thickness makes a big difference. Too thin and you'll over-bake them, too thick and they'll be under-baked.

Using a 6cm round fluted cutter, cut shapes and place them onto a baking tray, leaving around 2cm in between each biscuit. Make sure you press really hard for each shape to cut through any pieces of dried fruit.

Press any leftover dough pieces together and re-roll to cut more shapes. In between bakes, try not to keep the unused dough out at room temperature. If you have more than one baking tray, place the cutouts onto the tray and place the tray in the fridge while waiting for the others to finish baking. It's so important to keep the dough as cold as possible to prevent the biscuits from spreading in the oven!

Place the baking tray in the middle shelf of your preheated oven and bake for 18-20 minutes.

When baked, remove the tray from the oven and place it on your kitchen counter for 5 minutes as the biscuits will continue to bake on the tray. At this point sprinkle your cinnamon sugar/caster sugar on to the warm biscuits. After 5 minutes remove the biscuits and place on a wire cooling rack to cool completely.

Once cool place the biscuits in an airtight container to prevent them drying out. They should keep fresh for 4-5 days.
If you try one of my recipes please use #bakerjoblog or tag me @BakerJoBlog on Instagram or Twitter as I'd love to see!