This white cob loaf is made with simple ingredients and no tin is required as it is shaped by hand. A great first bread recipe for beginners!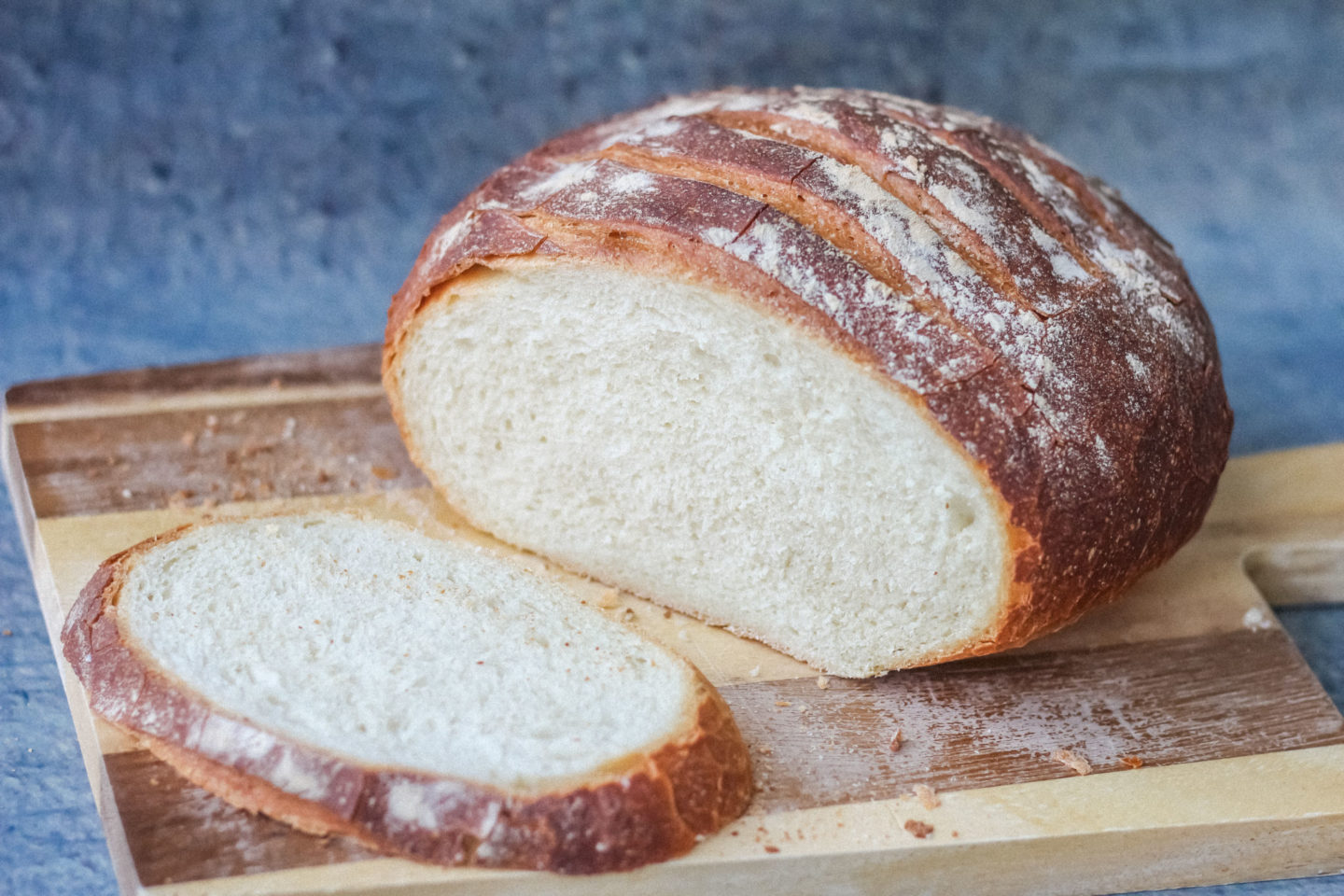 This post may contain affiliate links. For more information, see my Full Disclosure.
---
I wanted to start my bread recipe posts with something simple and unintimidating. I say this from experience as a simple white cob loaf was the first bread I attempted when I started baking!
It felt amazing seeing this big, round loaf and knowing I somehow made it! So rest assured, if you are new to bread making this is the perfect beginner's loaf.
Although it seems like a long-winded process, each stage doesn't actually take that long. The longest part is waiting for the dough to prove! I find this is a great bake for when I'm home all day and can come back to it in-between doing other things.
Easy cob loaf recipe with simple ingredients
The ingredients for this white cob recipe are so simple and most you should have already. Strong white flour (best for bread), instant yeast, salt, water and some butter. Isn't it amazing how these few ingredients create this lovely round loaf?
During my recipe testing process, I did try replacing some water with milk. Using milk instead of water in bread making can result in a softer loaf. However (as I found out) it also gives a darker crust so should be baked at a lower temperature…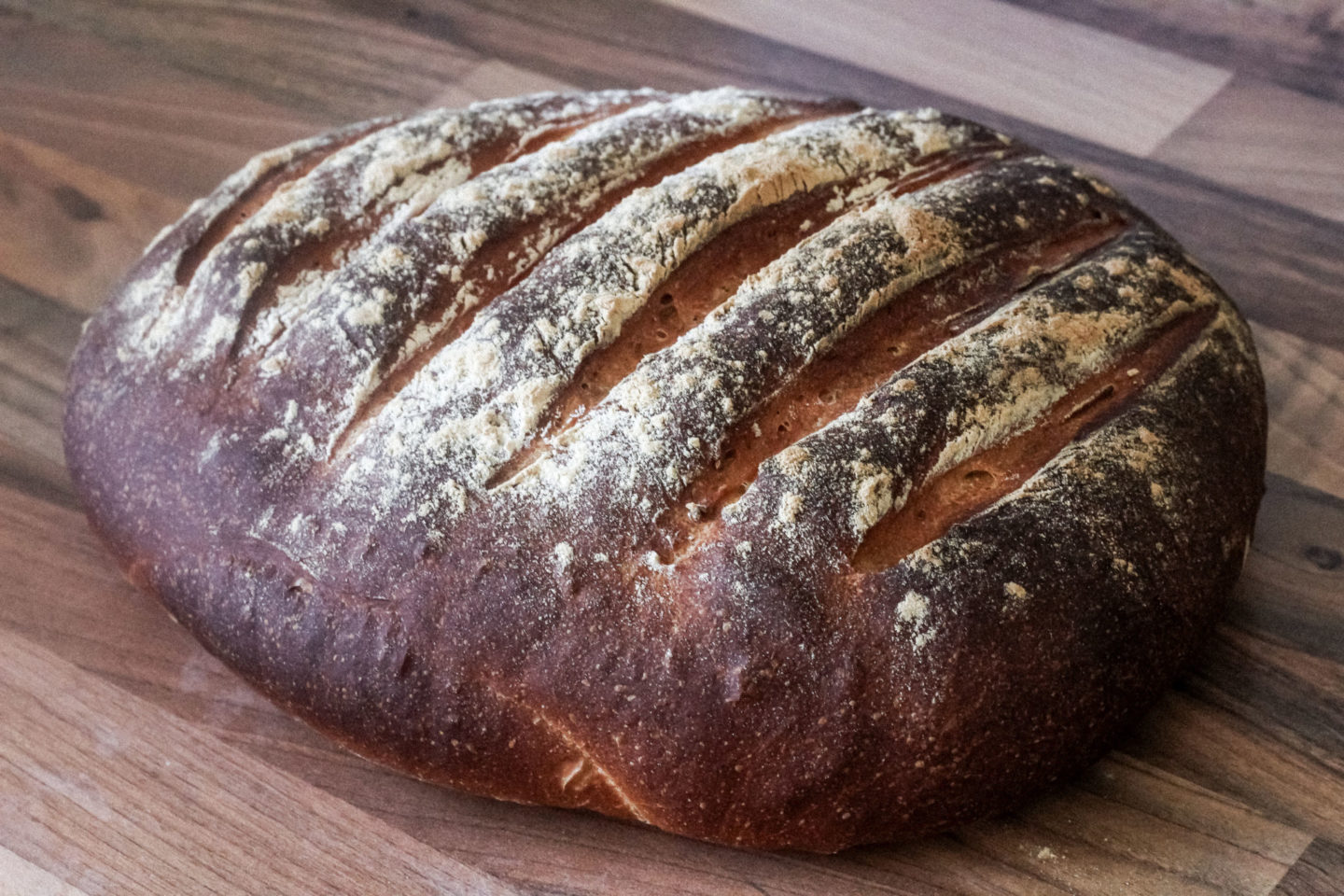 How to make a cob loaf
I decided that as my goal here was to make a simple, approachable cob recipe, I'd stick with just water.
As you can see from the above picture, my first attempt also didn't have the classic tall, round cob appearance that I wanted. I later found out that this is because I didn't shape the loaf properly after the first prove. The ball needs to have a firm 'skin' to maintain it's round structure. If not, your dough will sink and spread out when proving.
I found a great tutorial on this by Bake With Jack where I learned how to shape my cob better, resulting in a taller, domed loaf!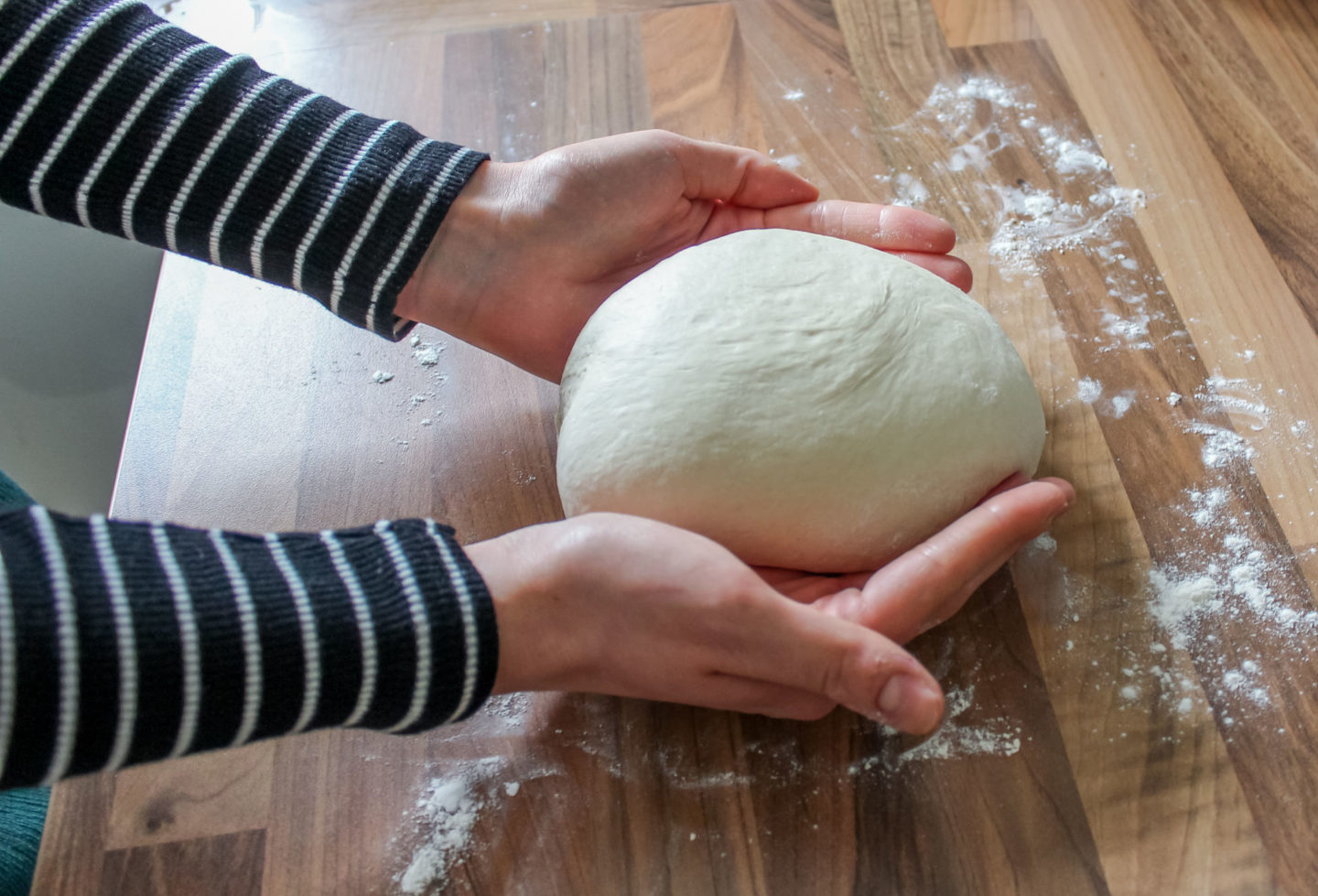 What is the texture like inside a white cob loaf?
This cob has a close crumb but is still nice and light in texture. It is firm enough to slice easily and has a lovely crunchy crust! My test loaves have been used for sandwiches and dipped in casserole and soup.
Did I mention how amazing it is to smell fresh bread baking in your own kitchen?
(For bread with a different texture that doesn't contain yeast, check out my Bacon, Cheese and Spring Onion Soda Bread and my Classic Irish Soda Bread. No kneading or proving is required for these recipes so they can be made in under an hour!)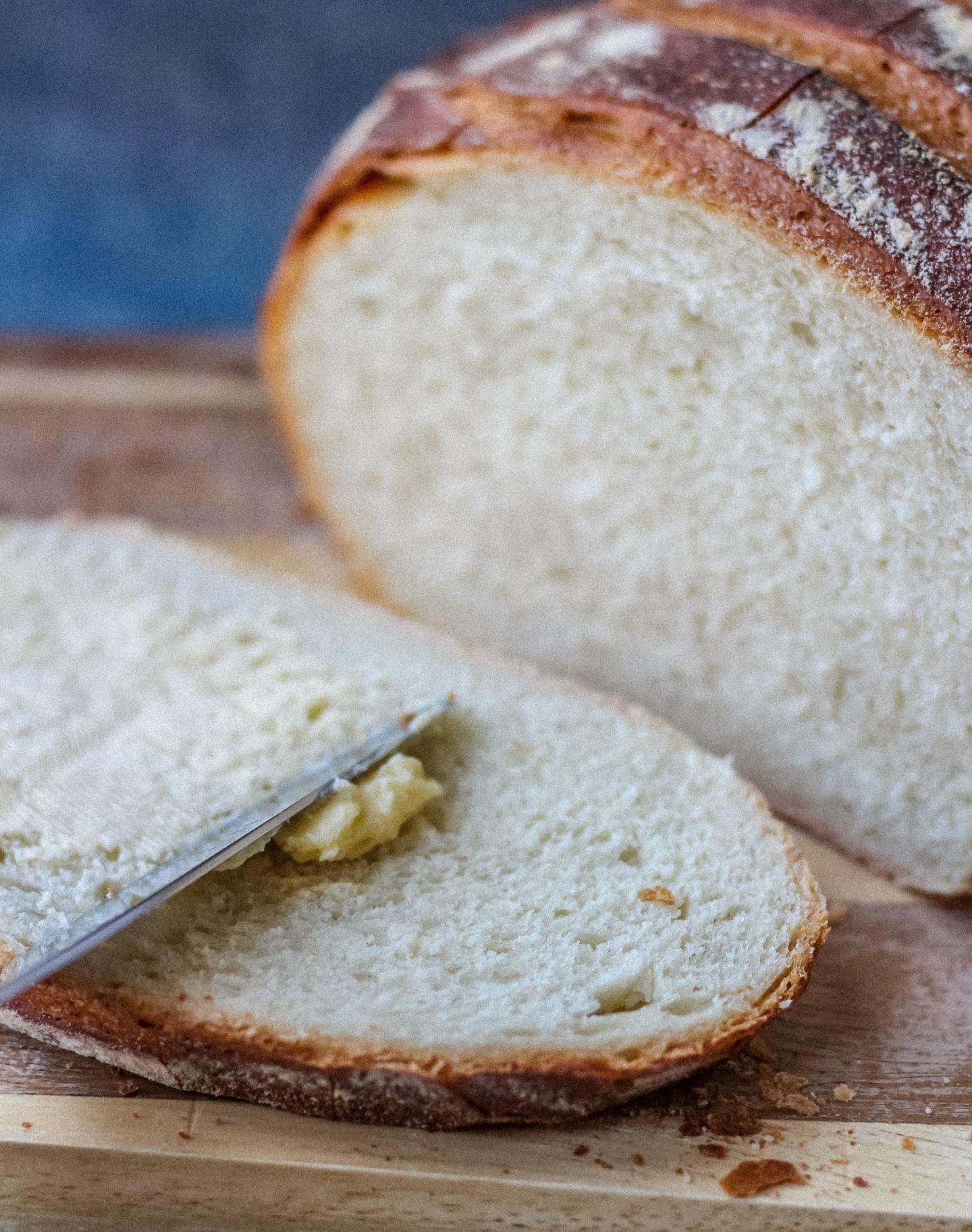 Easy homemade cob loaf recipe
If you're a new baker or inexperienced in bread making, please have a go as you'll be so glad you did! It is so satisfying making your own loaf and I'll talk you through all of the steps with some photos below to help!
Once you've tried this simple white cob loaf, why not try my tin loaf version or my delicious Garlic and Rosemary Focaccia!
If you try this recipe I'd love to see! You can show me by tagging me @bakerjoblog or using #bakerjoblog!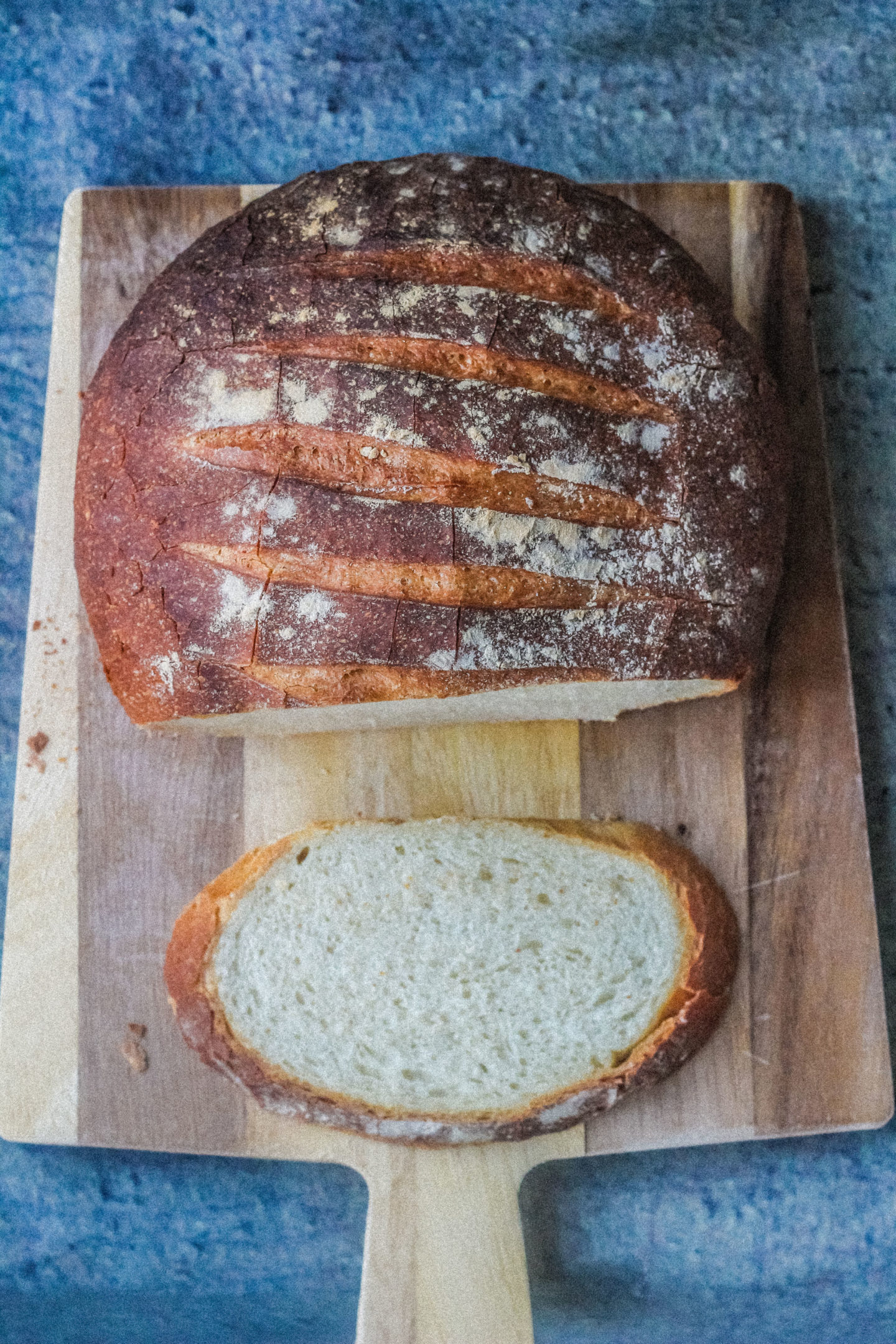 Other bread recipes to try: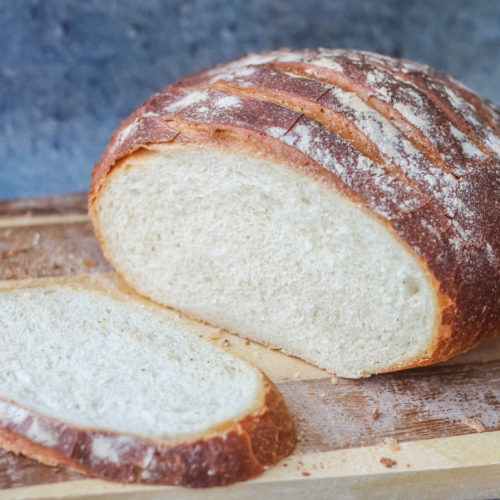 Simple White Cob Loaf
This white cob loaf is made with simple ingredients and no tin is required as it is shaped by hand. A great first bread recipe for beginners!
Equipment
Large bowl

Roasting tray

Baking tray
Ingredients
480

g

strong white flour

7

g

instant dry yeast

9

g

salt

290

ml

water

tepid/lukewarm

20

g

butter

softened/room temperature
Instructions
Add flour to a large bowl. Add the butter, and then the yeast and salt to separate sides of the bowl (so the salt doesn't slow or kill the yeast). Gently start stirring everything together with your hand until just combined.

Pour around 2/3 of the water into the bowl and continue mixing the dough with your hand. Add a little more water, stirring in between additions, until you have a smooth but not soggy dough. You may not need to use all of the water or may need a little more. If you add too much and it becomes soggy sprinkle in a little more flour until you get the correct consistency.

Pour and spread a little olive oil onto a clean work surface and place the dough on top. I use oil instead of flour to prevent the flour from affecting the dough's consistency. Knead the dough on this surface for around 10-12 minutes, until the dough has a smooth 'skin'. Try your best to knead it for this length of time. Lightly oil the same large bowl and place the dough inside. Cover with a clean cloth or cling film and place in a warm place to prove for 1-2 hours (mine takes 1.5 hours in my airing cupboard!). It is sufficiently proved when it has at least doubled in size.

Lightly flour a work surface and gently tip the dough out onto the surface. Gently 'punch' the dough to get rid of the air.

Now we need to shape the dough into a firm cob shape. Grab an end of the dough, pull it across to the opposite side and press it down into the dough to seal it.

Turn the dough slightly and repeat this process several times, turning slightly each time.

As you can see each time you do this the dough becomes tighter and firmer, and you aren't able to pull as much across. This is building the tension it needs to maintain its round shape without spreading.

Now turn it over so all of the fold marks are underneath. You are left with a round, smooth-skinned ball of dough. Place your cupped hands either side of the dough, tucking them under the dough slightly. Now you are going to turn the dough clockwise or anti-clockwise (I go anti-clockwise but it may be because I'm left-handed!). While turning the dough with your hands you also need to tuck your hands underneath, to pull the dough underneath, creating a tighter skin. This means with each turn you'll lift the dough slightly to tuck your hands under slightly to pull the dough. It'll make more sense once you start to do it!

Once the dough feels firm and holds its shape, place it on your baking tray (silicon or lined with baking paper) and cover gently with a cloth or loose piece of cling film. Leave to rise on this tray for around 1 hour.

Pre-heat your oven to 230°C/210°C fan and place an empty roasting tray on the lowest shelf/base of the oven to pre-heat.

Once the dough has risen to around double it's size remove the cling film.

Dust with a little flour and then using a sharp knife make several incisions across the top of the loaf.

Add boiled water to the empty pre-heated roasting tray in the oven. This will create steam to give the bread a lovely crust! Do this quickly to avoid losing too much heat from the oven.

Place the loaf into the oven on the middle shelf and bake for around 30 minutes. You can check if it's baked by flipping over carefully and tapping the base – it should sound hollow. Place on a wire cooling rack to cool completely.

Keep bread well covered in a cool place. Best eaten within three days. Enjoy!
Notes
If you've tried this recipe, tag @bakerjoblog on Instagram, Facebook, Pinterest or Twitter and/or use #bakerjoblog!