The easiest and quickest bread you'll ever make! This classic Irish soda bread is ready to go into the oven within minutes as no yeast or proving is required!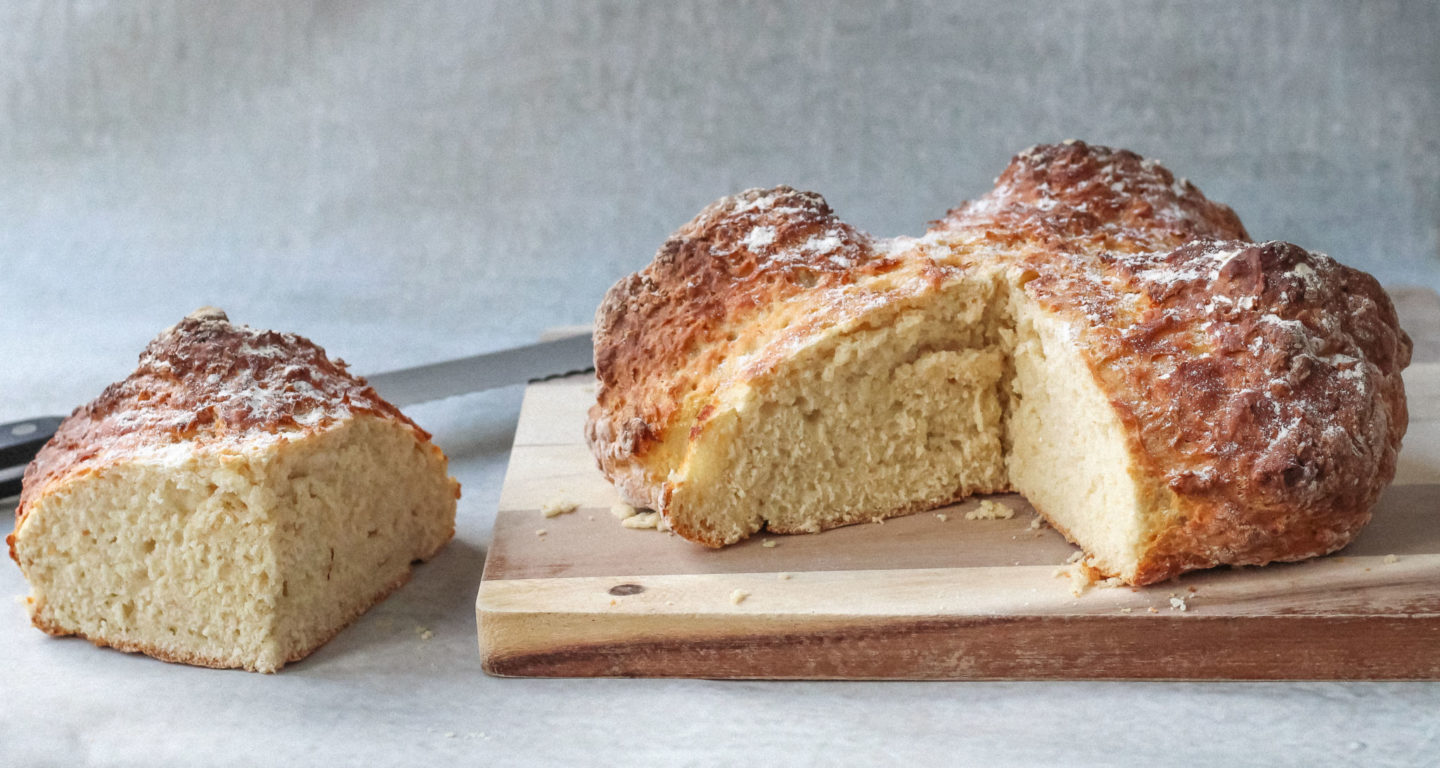 This post may contain affiliate links. For more information, see my Full Disclosure.
---
So after I had such a surprisingly great response to my Simple White Cob Loaf recipe, I've decided to share another bread recipe with you in the form of this classic Irish soda bread. Plus, this is even easier to make than my cob loaf!
This is my lazy go-to bread when I want something to go with a casserole or soup but don't have time to make a yeasted bread. Plus, it's delicious, especially when smothered in butter while it's still warm from the oven.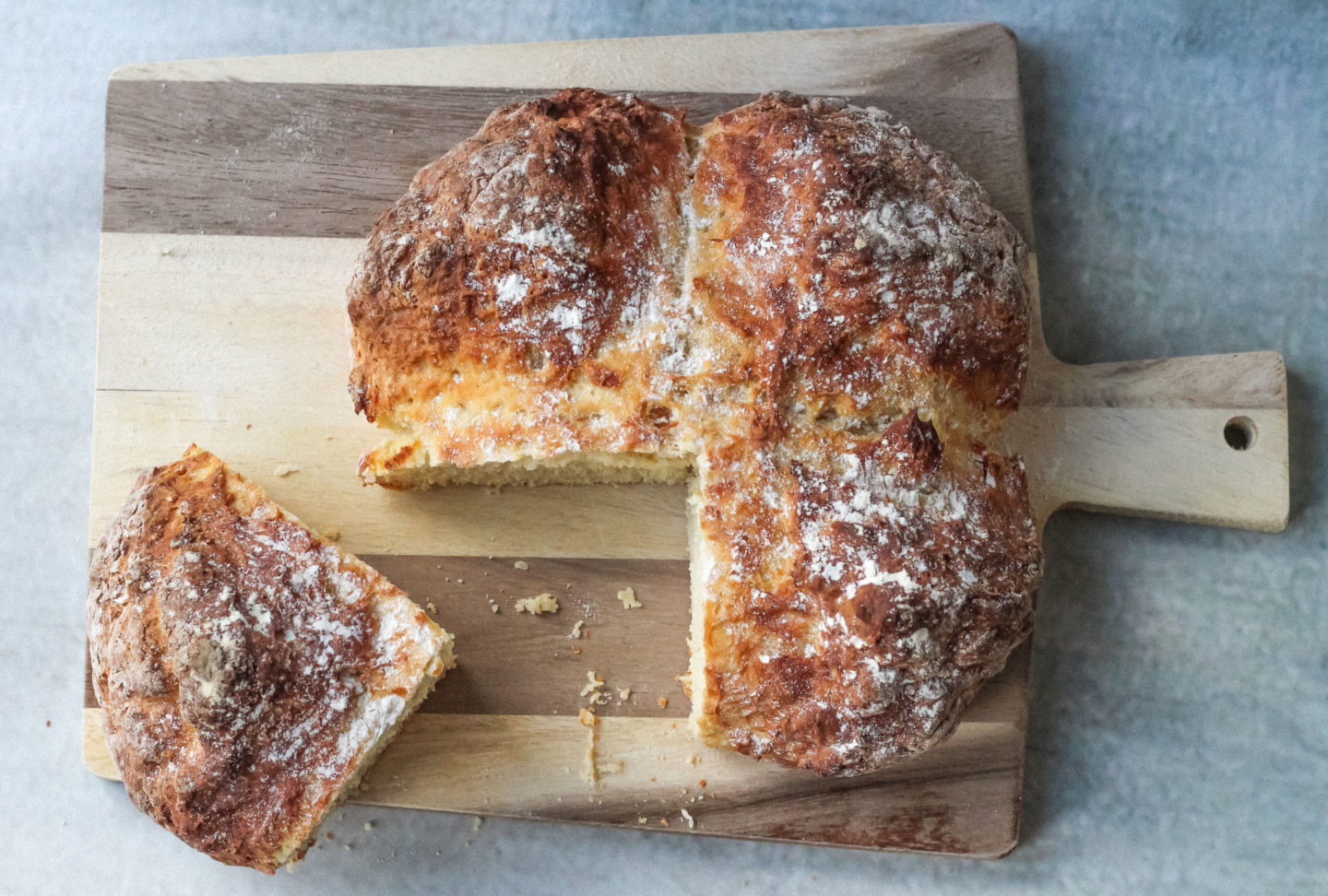 What makes soda bread a quick, easy bread?
It contains no yeast! No yeast means no kneading or proving required. This impressive loaf bursts into life in the oven thanks to the two star ingredients – buttermilk and bicarbonate of soda.
The reaction between the acid and alkali causes the dough to rise and transform into this beautiful loaf!
(If you want to try your hand at a simple yeasted bread, check out my Simple White Cob Loaf, Simple White Tin Loaf or Garlic and Rosemary Focaccia!)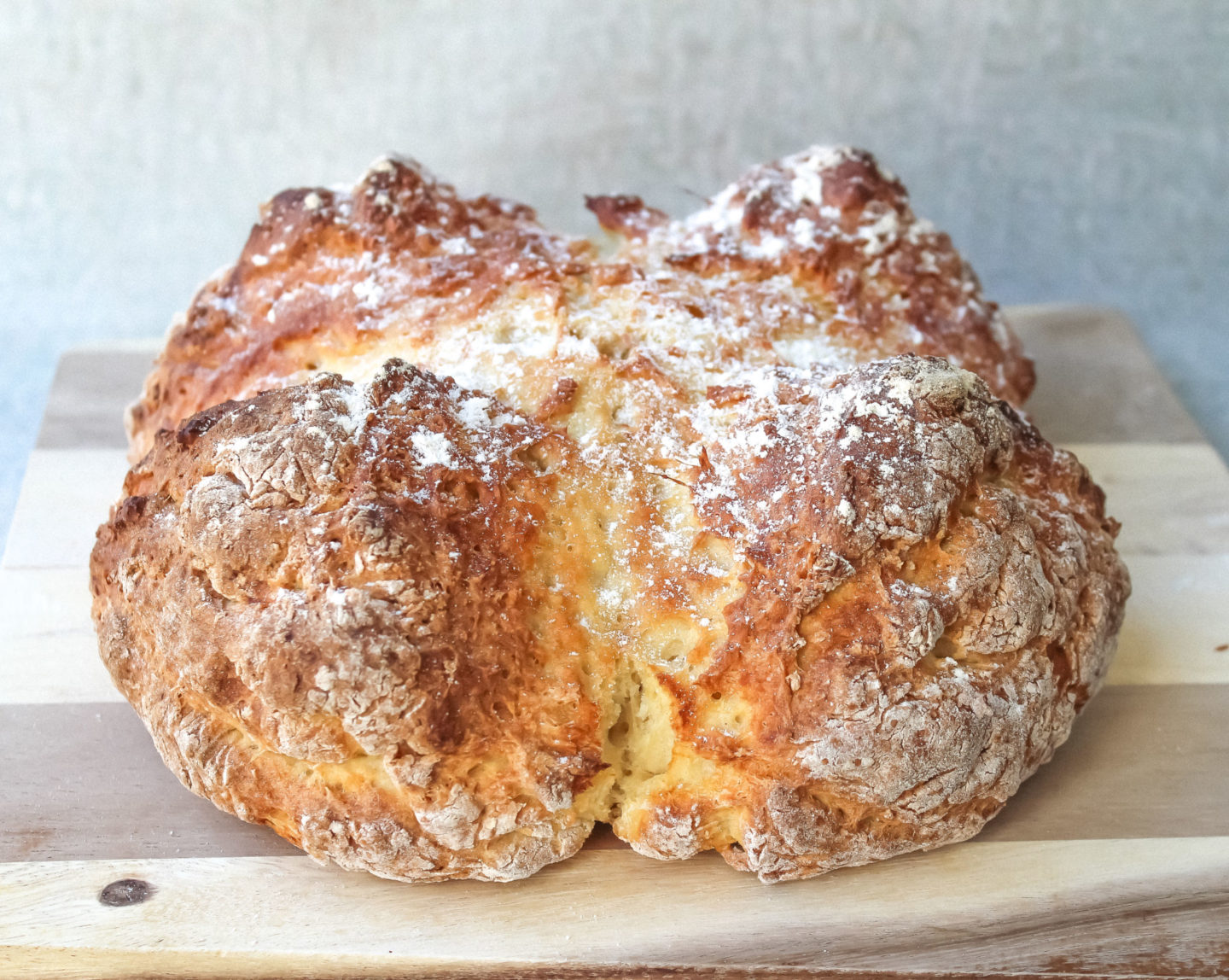 What's the texture like inside soda bread?
This chemical reaction creates a slightly different textured bread. It's slightly denser than my Cob Loaf yet somehow still really light, and so moreish. Plus, let's talk about that crust. The crust is super thick and crunchy, contrasting perfectly with the soft bread within.
(If you fancy trying a soda bread recipe with extra flavour, you have to give my Bacon, Cheese and Spring Onion Soda Bread a try!)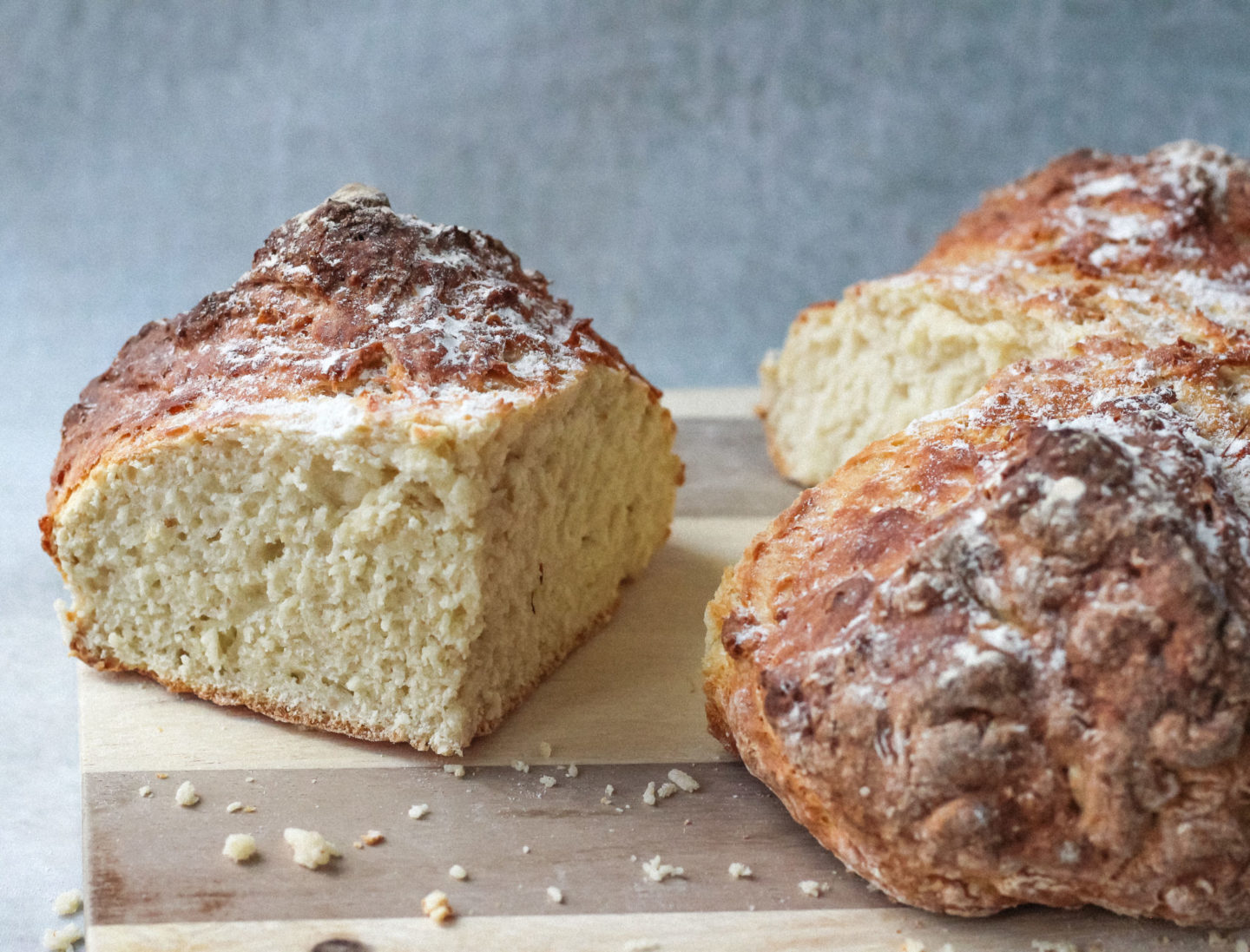 Cutting a cross into soda bread
As you can see this loaf has four distinct sections which are traditional for an Irish soda bread loaf. They are created by cutting really deeply through the dough once on the baking tray. Cut almost all the way through, and the dough will join together again as it rises in the oven, creating the four sections!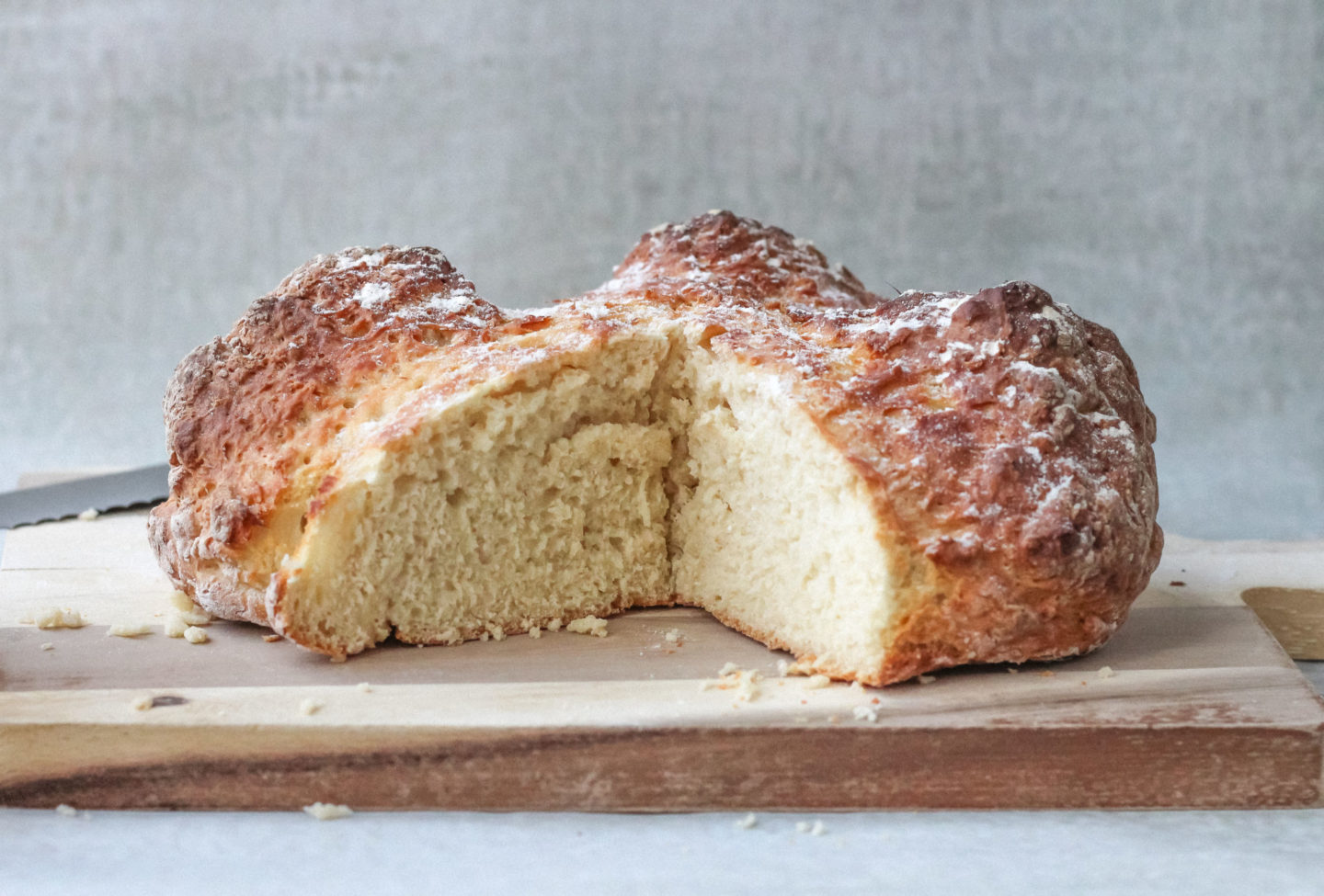 Can I just use normal milk instead of buttermilk for soda bread?
Unfortunately not. The acidity of buttermilk is required to react with the bicarbonate of soda to act as the leavening agent for this loaf!
However, you can create buttermilk using normal milk! I discuss how in my Bacon, Cheese and Spring Onion Soda Bread post!
What flour do I need for soda bread?
We don't need a higher protein flour (like strong bread flour) as we aren't kneading or proving the dough. Therefore good old plain white flour will be just fine here.
Some soda bread recipes use wholemeal flour, or a combination of white and wholemeal. I haven't personally tried this as I love a classic white loaf.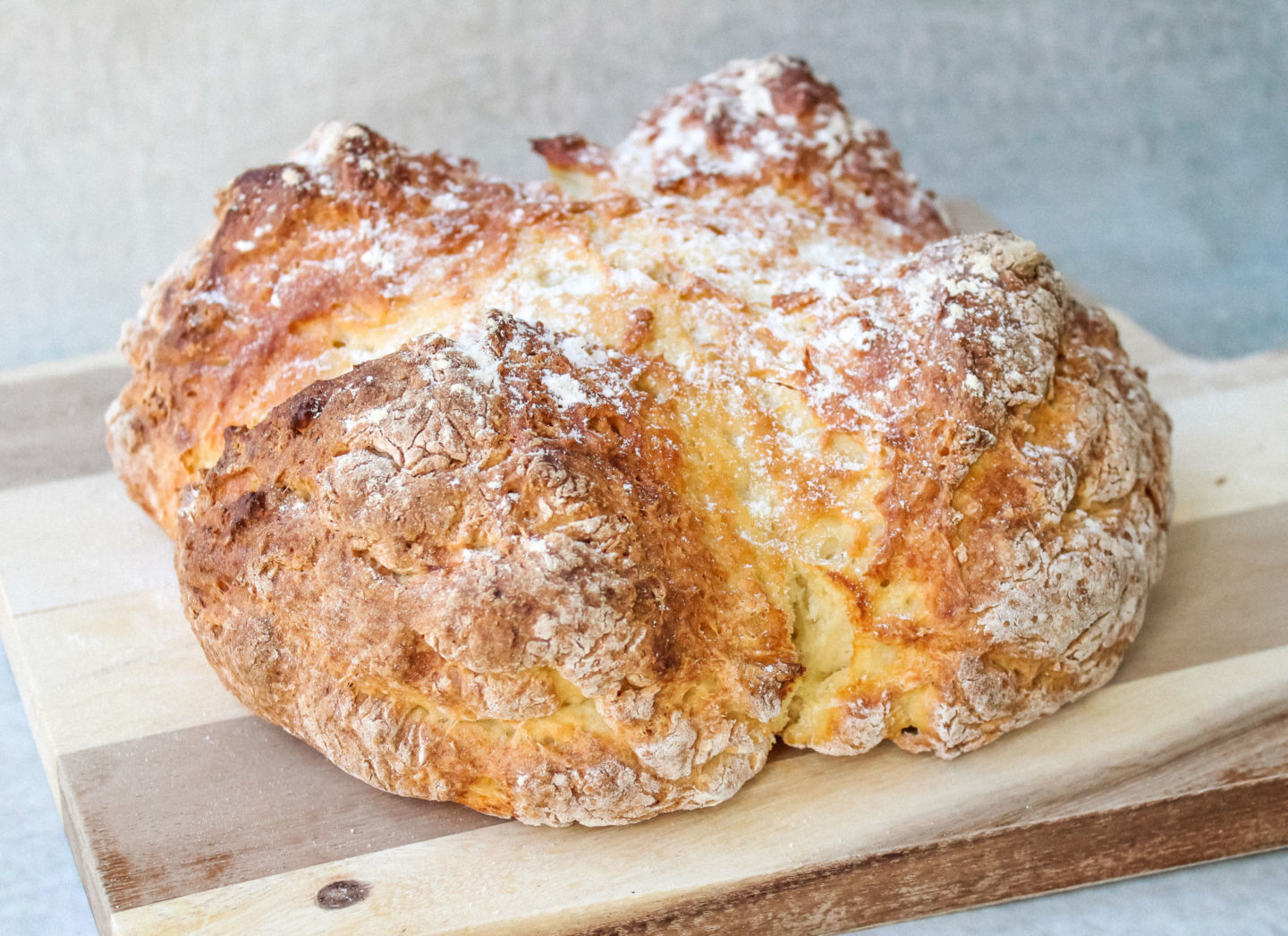 You only need a large bowl and a baking tray to make this bread! I always use a silicone baking tray as it distributes heat more evenly, resulting in a more even bake! I use one almost identical to this one: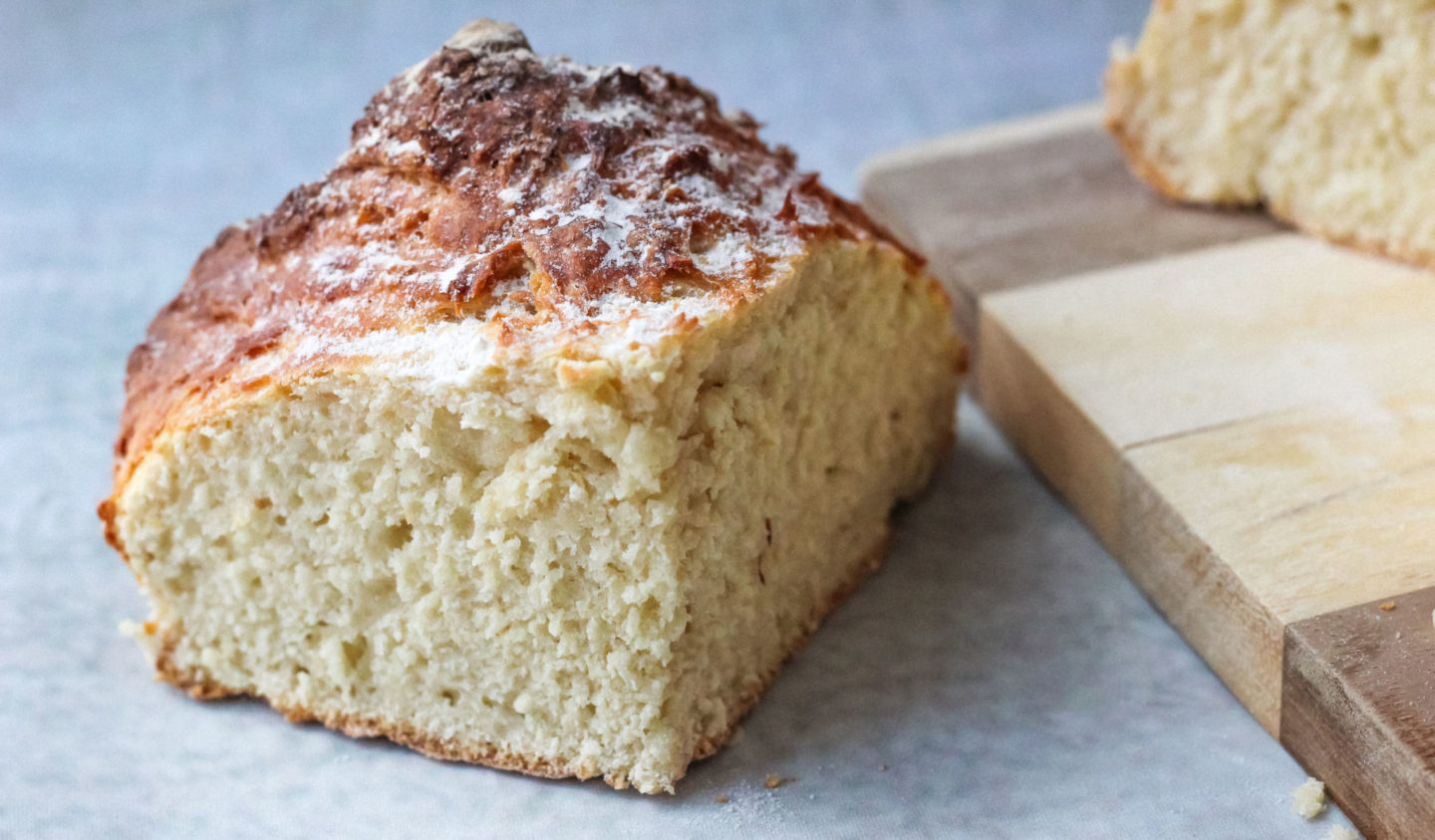 If you try this recipe I'd love to see! You can show me by tagging me @bakerjoblog or using #bakerjoblog!
Other bread recipes to try: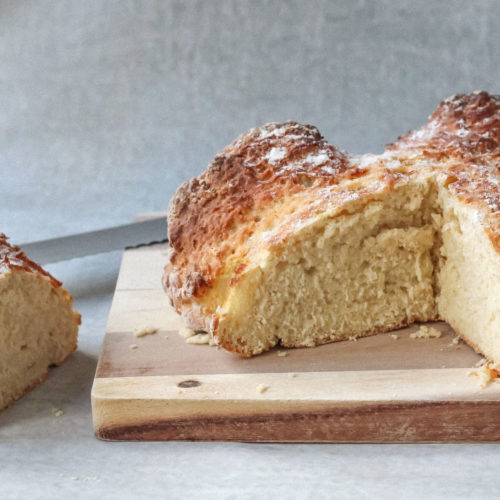 Classic Irish Soda Bread
The easiest and quickest bread you'll ever make! This classic Irish soda bread is ready to go into the oven within minutes as no yeast or proving is required!
Ingredients
490

g

plain white flour

1

level tsp

salt

1

level tsp

bicarbonate of soda

460

ml

buttermilk
Instructions
Preheat your oven to 200°C/180°C fan.

To a large bowl add the plain flour, salt and bicarbonate of soda. Whisk to combine.

Make a well in the middle of the dry ingredients as shown.

Pour the buttermilk into the well and stir with a wooden spoon at first. As it gets more difficult to stir with the spoon use your hand instead to mix and press the dough together until a rough ball of dough is formed. The dough will be quite sticky. If too sticky to form a ball, add a tablespoon of flour at a time until it looks as shown.

Place the ball of dough onto your baking tray (either a silicon tray or one lined with baking paper/parchment).

Using a large sharp knife, cut down the centre horizontally and vertically to create four sections. Cut almost to the very bottom as shown. Don't worry, the sections will join together again as the loaf rises in the oven.

Dust the top of the loaf with some plain flour and then place in the preheated oven on the middle shelf for 30 minutes.

Remove from oven and check that it is baked by carefully flipping over and tapping the base – it should sound hollow.

Place on a wire cooling rack. Soda bread is best eaten on the same day. I usually freeze any leftover wedges, double wrapping them in cling film. Then I take a wedge out an hour or so before needing it, and usually place in a warm oven so it tastes fresh again!
Notes
If you've tried this recipe, tag @bakerjoblog on Instagram, Facebook, Pinterest or Twitter and/or use #bakerjoblog!