Seriously rich and delicious, these chewy homemade chocolate brownies are dangerously easy to make. Plus with their chewy texture, it will be hard to resist eating just one!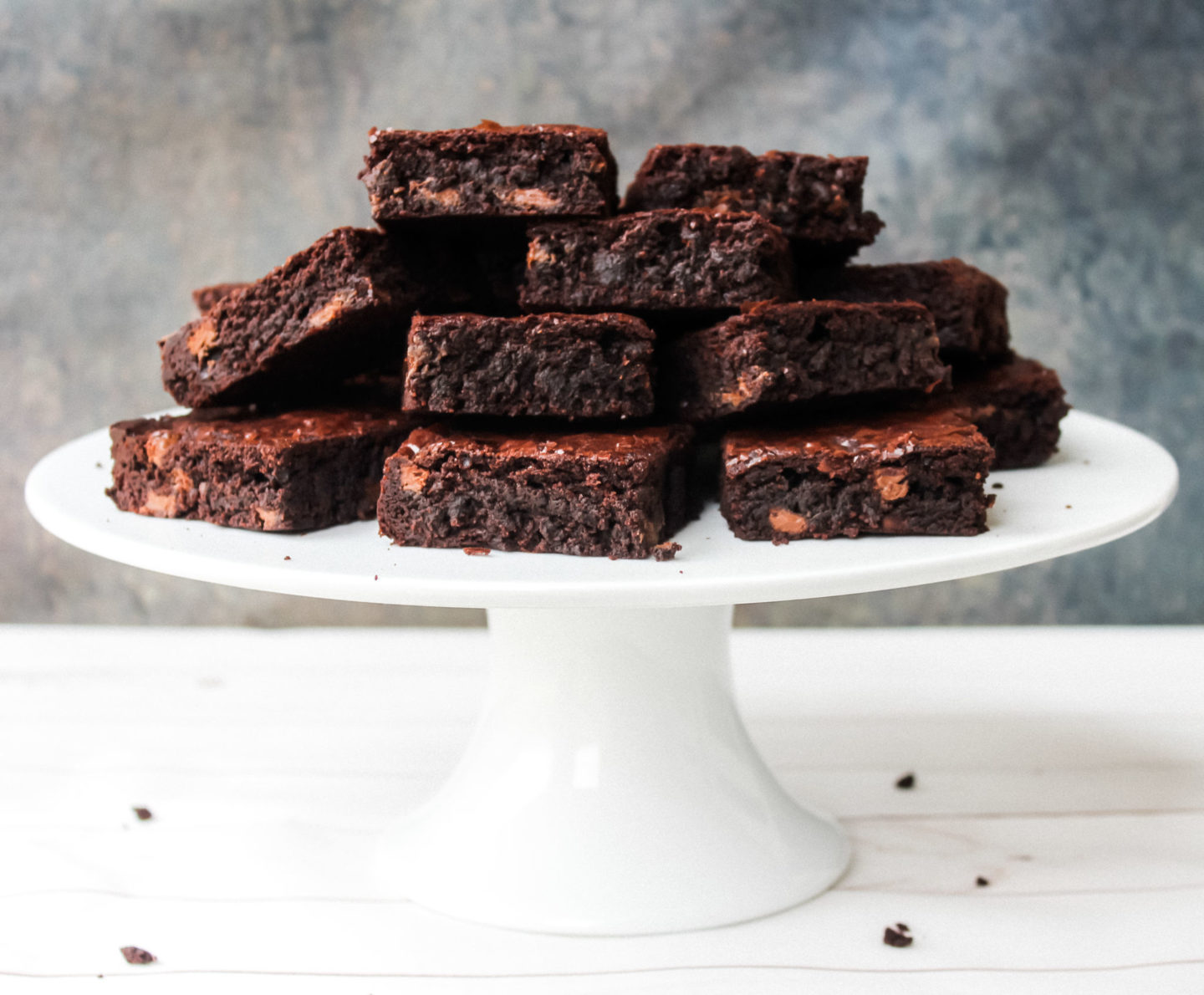 This post may contain affiliate links. For more information, see my Full Disclosure.
Recipe updated November 2020 (to make them even more chewy!)
---
Craving something indulgent but uncomplicated? Don't worry, I've got your back with these deliciously chewy homemade brownies!
I've been working hard on this recipe to try to develop the best, ultimate brownies for you all. They have that perfectly chewy texture (no cakey brownies here!) and rich chocolate flavour.
Plus they are genuinely so easy to make with just a few bowls, a whisk and spatula. No mixer required and limited washing up. That's a winner for me!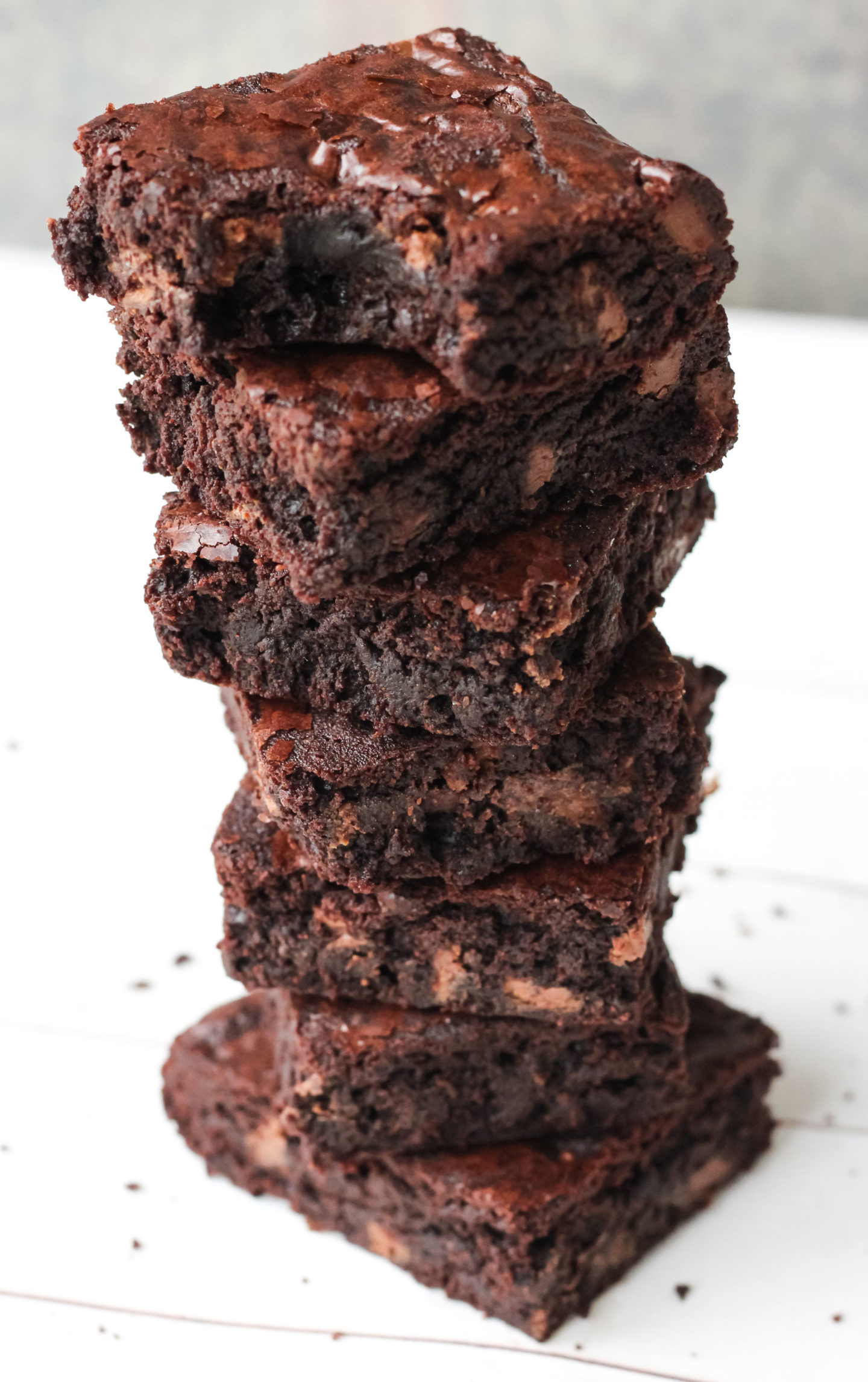 Best chewy brownies
After publishing my Banoffee Brownie recipe, I realised I wanted to go back and create a classic brownie recipe that my readers could rely upon as their go-to brownie recipe.
As I mention in my About Me page, my whole baking journey (unexpectedly as you'll read there!) began with brownies. So it only seems right that I should finally create my very own recipe!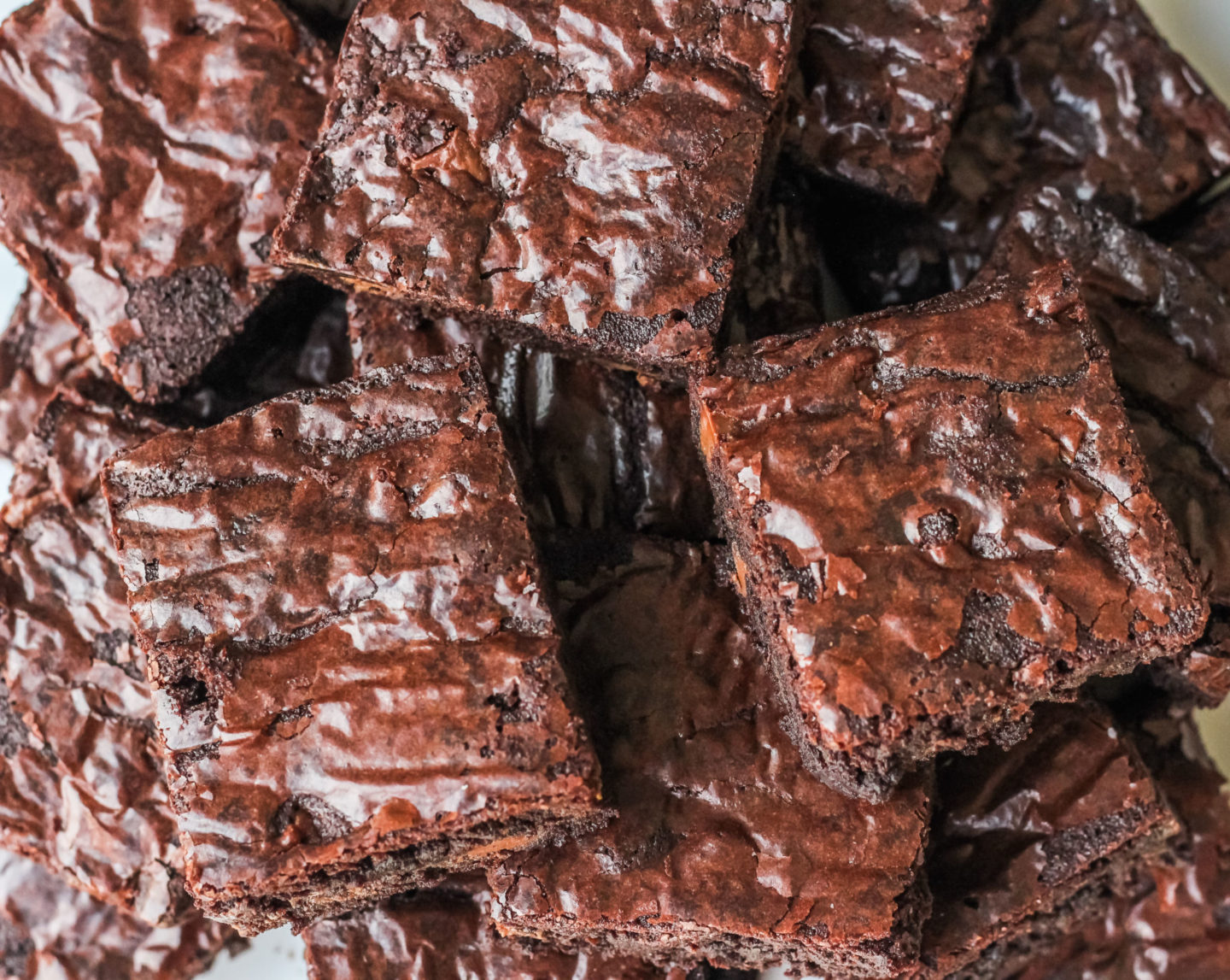 Recipe for chewy chocolate brownies
I went through several test batches to get these just how I like them. They progressively got less cakey and much more chewy!
I also worked on trying to get that shiny, crackled top. As you can see they started off quite dull on top but eventually developed that lovely shine!


How to make chewy homemade brownies
It all comes down to certain ingredients such as flour, eggs and raising agent. My first batch contained baking powder and four eggs. I added the baking powder thinking they would need some sort of 'lift' to avoid an overly dense brownie. I was wrong! It was far too cakey and dry for my liking.
I removed the baking powder from the second batch but they still came out cakey which I then realised was down to the number of eggs. Long story short, my final recipe has no raising agent, fewer eggs, more chocolate and butter, less flour and some light brown sugar for extra moisture. The winning combination for rich and mega chewy brownies!
How to get shiny brownie tops
White sugar, and quite a lot of it! My first few batches contained a higher ratio of light brown to white sugar, in an attempt to add moisture. However, when I tried it with mostly caster sugar the brownie tops became super shiny with the perfect crackle! I believe adding the warm melted chocolate-butter mixture to the sugar helps with this too.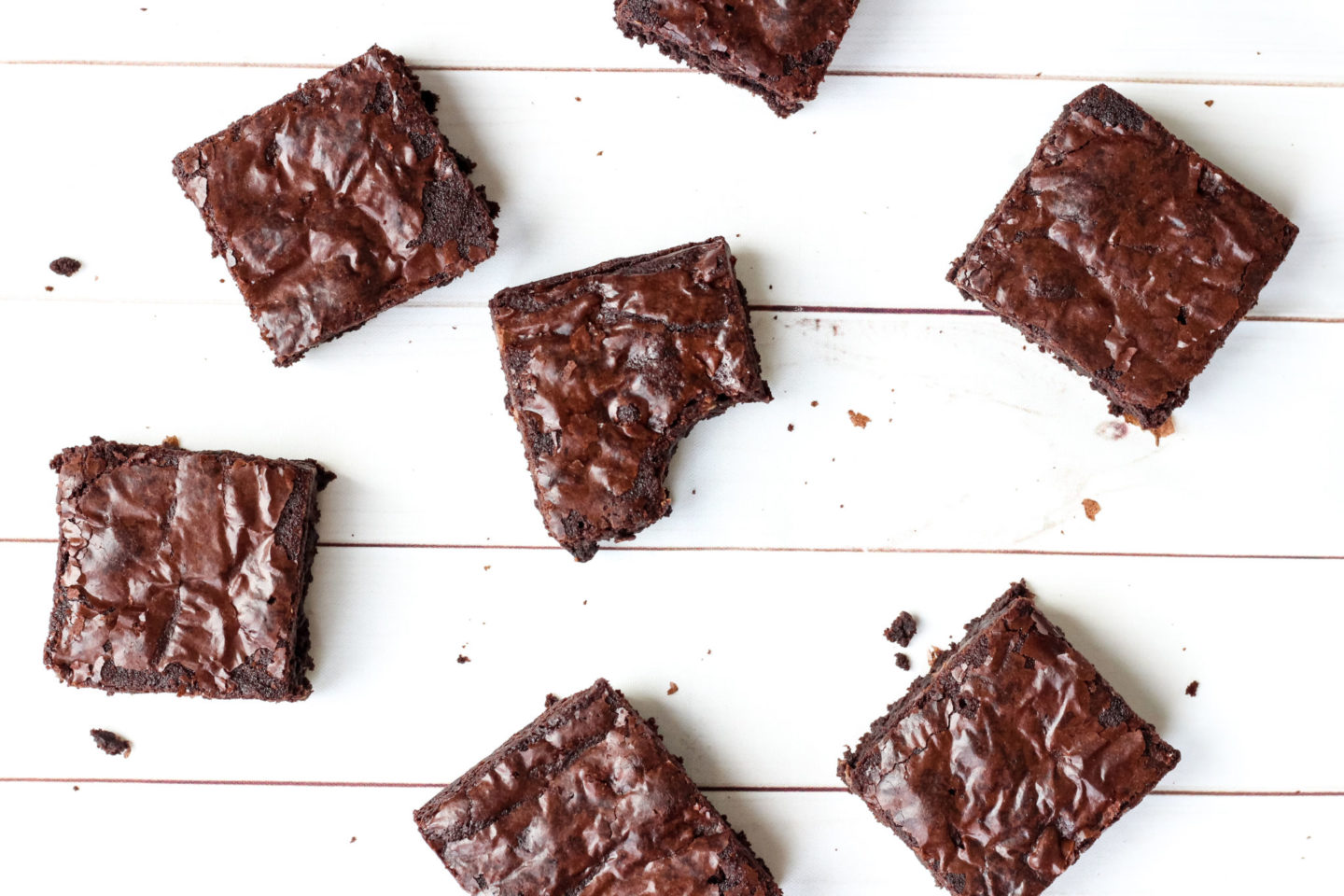 Quick, easy and simple brownie recipe
These brownies are really easy to whip together, so put that box mix away!
You'll need one bowl for the dry ingredients. One for the sugar. One for the melted chocolate-butter mixture. Combine all three into the one large bowl (in the order outlined below), throw in some chocolate chips and voila! As I mentioned earlier, they are dangerously easy to make so don't say I didn't warn you!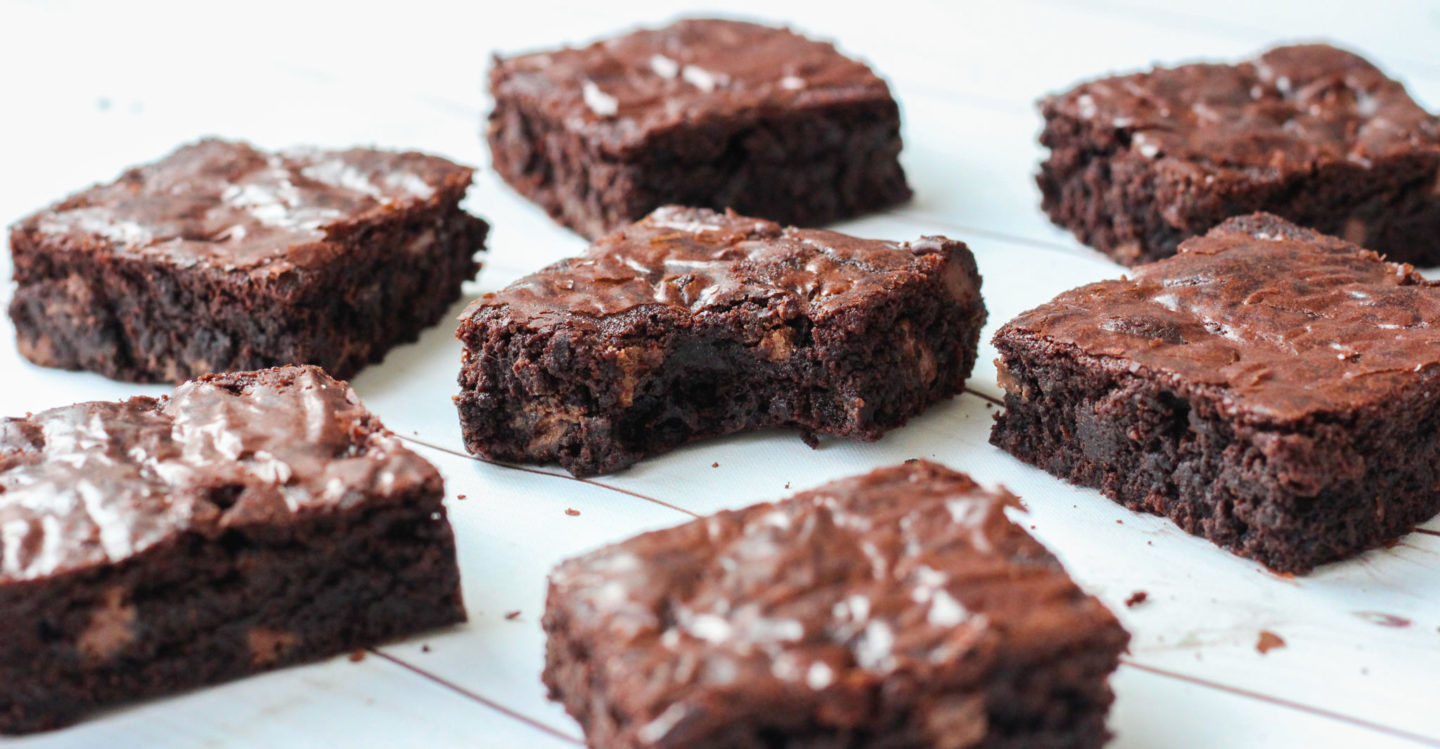 Then you just need a standard traybake baking pan, measuring around 12″ by 9″. I simply line mine with baking paper or if using foil, I also spray it lightly with non-stick cake pan spray!
If you try this recipe I'd love to see! You can show me by tagging me @bakerjoblog or using #bakerjoblog!
Other traybakes to try:
Other chocolate recipes to try: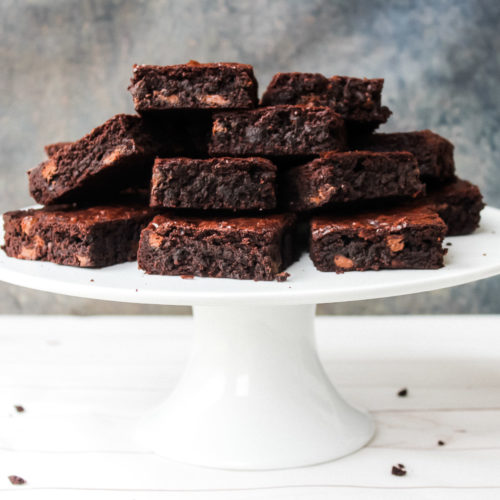 Chewy Homemade Brownies
Seriously rich and delicious, these chewy homemade brownies are dangerously easy to make! Plus with their chewy texture, it will be hard to resist eating just one!
Ingredients
100

g

plain flour

60

g

cocoa powder

1/2

tsp

salt

250

g

caster sugar

50

g

light brown sugar

200

g

butter

cubed

180

g

good quality dark chocolate

chopped

1

tsp

vanilla

3

medium

eggs

room temperature

160

g

chocolate chips

milk, dark or white choc chips
Instructions
Preheat your oven to 170°C/150°C fan. Grease a 12″ x 9″ traybake tin with butter or non-stick spray, line with foil/baking/parchment paper. If using foil, spray it again with non-stick spray once lined.

To a medium bowl add the flour, cocoa powder and salt. Whisk to combine and set aside.

To a large bowl add the caster and light brown sugar. Set aside.

In a medium microwave-safe bowl, add the chopped dark chocolate and cubed butter. Heat in microwave in 20-second increments, stirring in

between until melted and no lumps of chocolate remain.

Pour this melted chocolate-butter mixture into the large bowl containing both sugars. whisk together until combined, about 30 seconds.

Add the vanilla extract and whisk to combine.

Now add the eggs, one by one, whisking thoroughly between each addition to ensure they're fully incorporated. With each addition of egg, you'll notice the batter feels thicker and more difficult to whisk, so you may need to scrape from the bottom and fold together in between whisking.

Put your whisk aside and use a spatula/wooden spoon from this point. Add half the dry ingredients to this large bowl and fold gently until just incorporated. Repeat with the remaining half of dry ingredients. This will also feel a bit tricky to mix together at first but stick with it! Make sure no pockets of flour remain and try not to over-mix.

Add the chocolate chips and fold together until spread evenly through your brownie batter.

Pour the brownie batter into your prepared traybake tin. It will be thick so you will need to spread it evenly into all corners of your traybake tin. I do this my first spreading it with my spatula, then gently tilting the tin so the mixture spreads evenly into each corner.

Place the traybake tin onto the middle shelf of your preheated oven for between 20-25 mins.

Test from 20 minutes by inserting a cake skewer or cocktail stick into several areas of the brownie – there should be some moist crumbs on the skewer/stick. If it comes out clean, the brownies are over-baked. If it contains wet mixture, it is under-baked so place back in the oven for 2 more minutes before testing again.

Once baked, place on a wire cooling rack to cool completely. Try to resist the urge to remove them or cut into them before they're cool as they need time to set.

Brownies will keep well in an airtight container at room temperature for around 5 days.
Notes
If you've tried this recipe, tag @bakerjoblog on Instagram, Facebook, Pinterest or Twitter and/or use #bakerjoblog!