These white chocolate coconut truffles are creamy, smooth and indulgent, and only contain 5 ingredients. A surprisingly simple no-bake recipe which is so easy to make!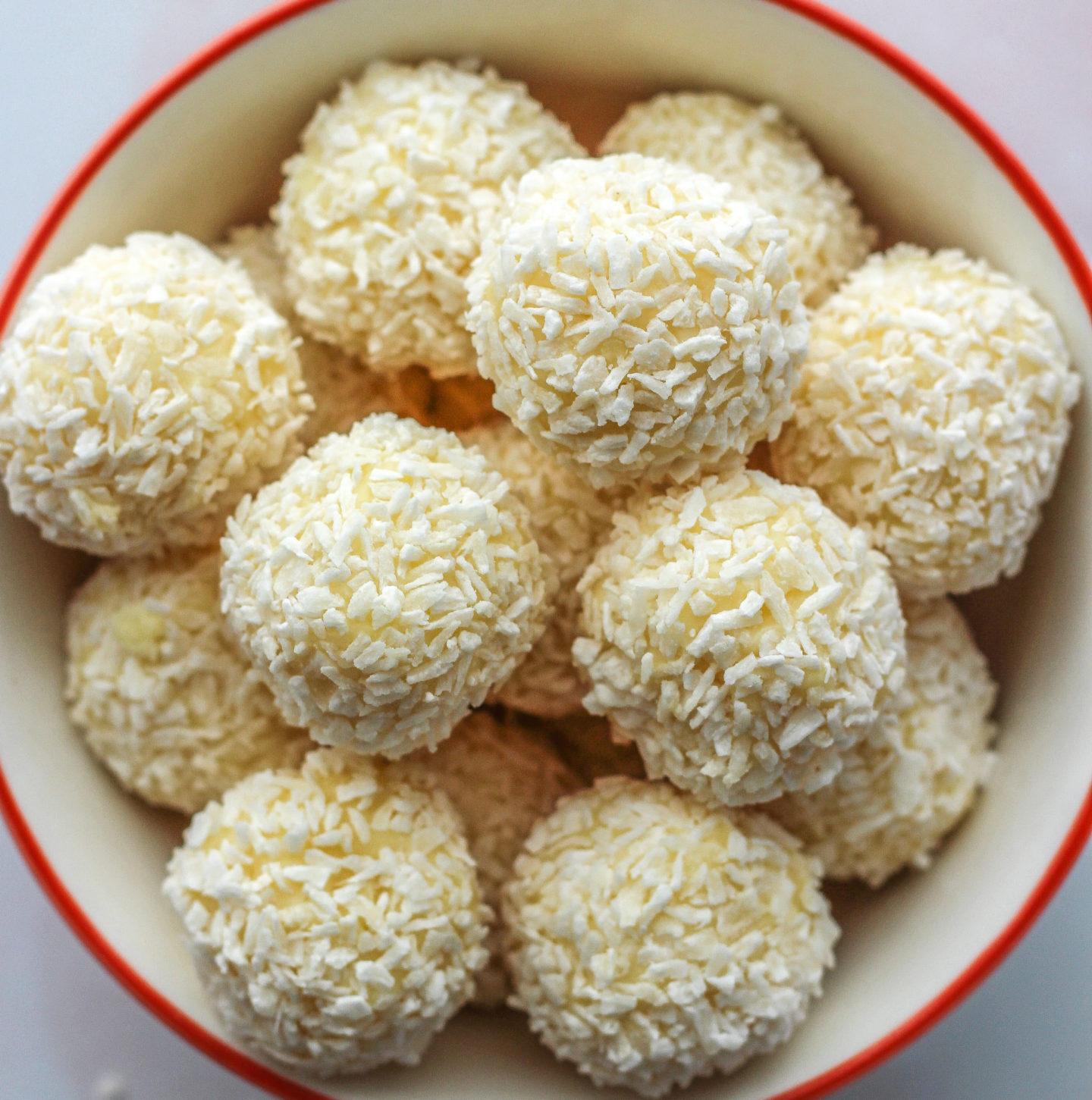 This post may contain affiliate links. For more information, see my Full Disclosure.
---
When deciding what recipe to share with you this week, I decided to go for something nice and simple. So here's another no-bake recipe, with only 5 ingredients needed! These white chocolate coconut truffles look so pretty and impressive, yet they are surprisingly quick and simple to make!
I'm preparing to go back to work this week after several months in lockdown, and my brain is working overtime at the moment! I imagine a lot of you may be feeling anxious and worried about going into the 'new normal' too, so that's another reason that I wanted to keep things super easy and approachable this week.
Baking is my main stress reliever, and is a great distraction for me sometimes to clear my mind and shift my focus to something more positive. These beautiful little truffles can be made in no time at all, while listening to music in your kitchen – and you don't even need to turn your oven on!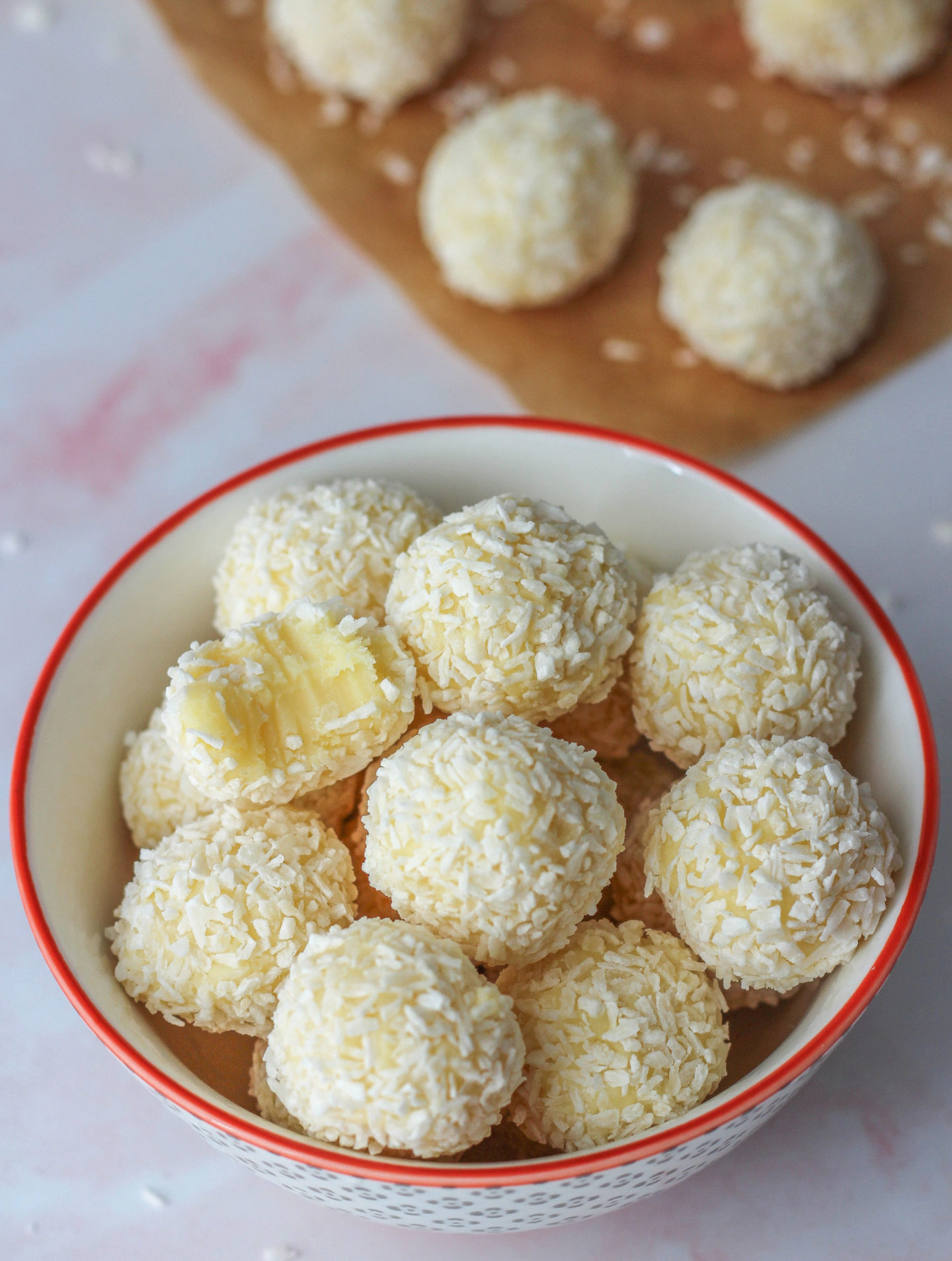 White Chocolate Coconut Truffles Recipe
After developing my easy Cocoa Dusted Chocolate Truffles recipe, I wanted to try a white chocolate version. And my first thought on what to combine it with was, of course, coconut!
Coconut not only works perfectly in terms of flavour, but the texture and appearance of the desiccated coconut are just right too. Creamy, sweet and smooth, these truffles are truly indulgent and look so impressive, even though they contain only a few ingredients.
(If you love coconut, check out my Lemon Coconut Muffins and my Chocolate Coconut Cake too!)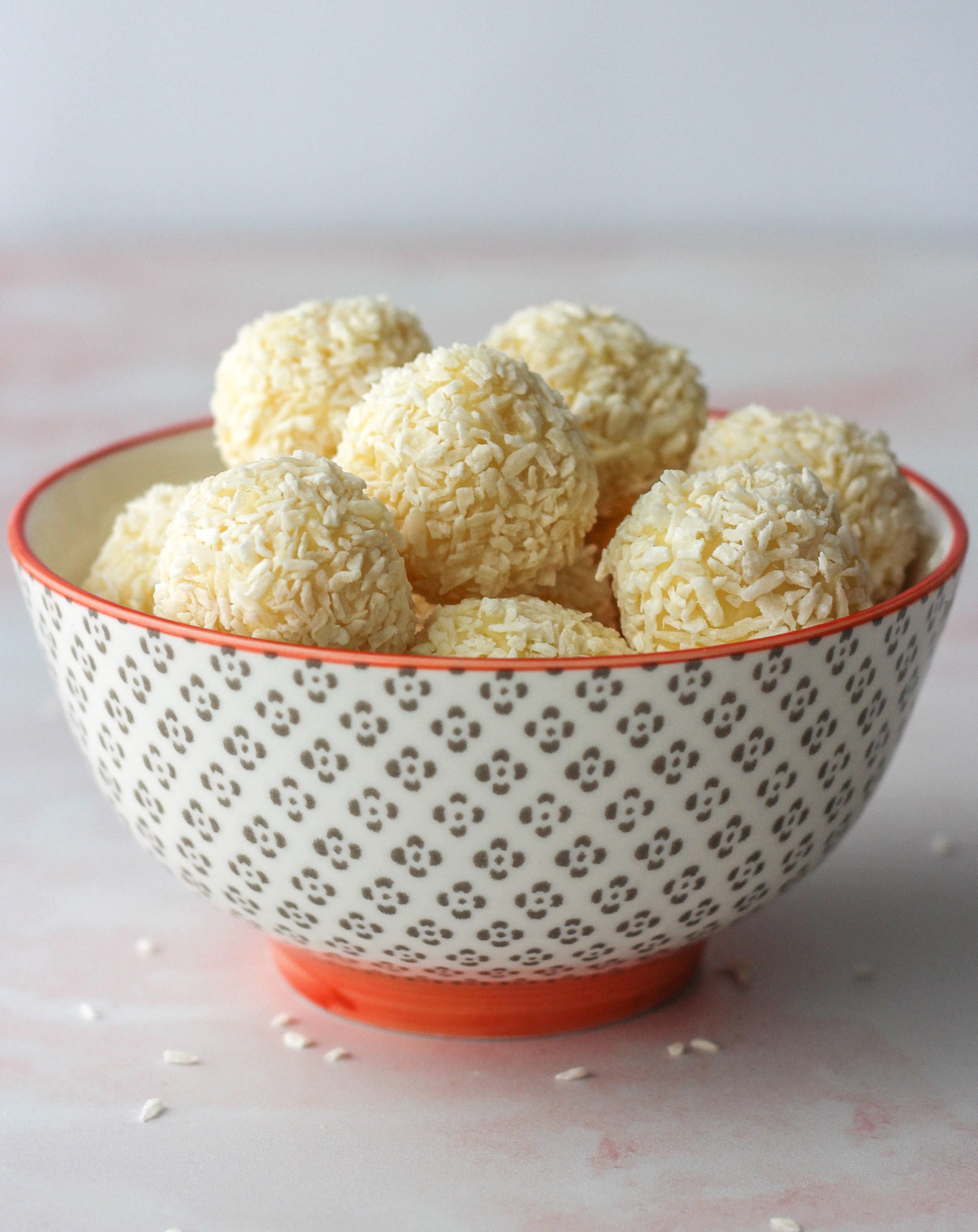 White Chocolate Coconut Truffles Ingredients
These easy, simple white chocolate coconut truffles contain just 5 ingredients:
White chocolate
Double cream
Butter
Vanilla extract
Desiccated coconut
Yup, that's it! Plus, the vanilla extract is optional. I personally like the flavour it adds but if you don't have any you can leave it out. However, I definitely recommend using butter as it makes the truffles even more smooth and creamy!
Compared to my Cocoa Dusted Chocolate Truffles recipe, I needed to use a slightly higher ratio of white chocolate here. White chocolate contains cocoa butter rather than cocoa solids found in milk and dark chocolate. Therefore it behaves a little differently when melted. I discuss this more in the tips mentioned further down this post!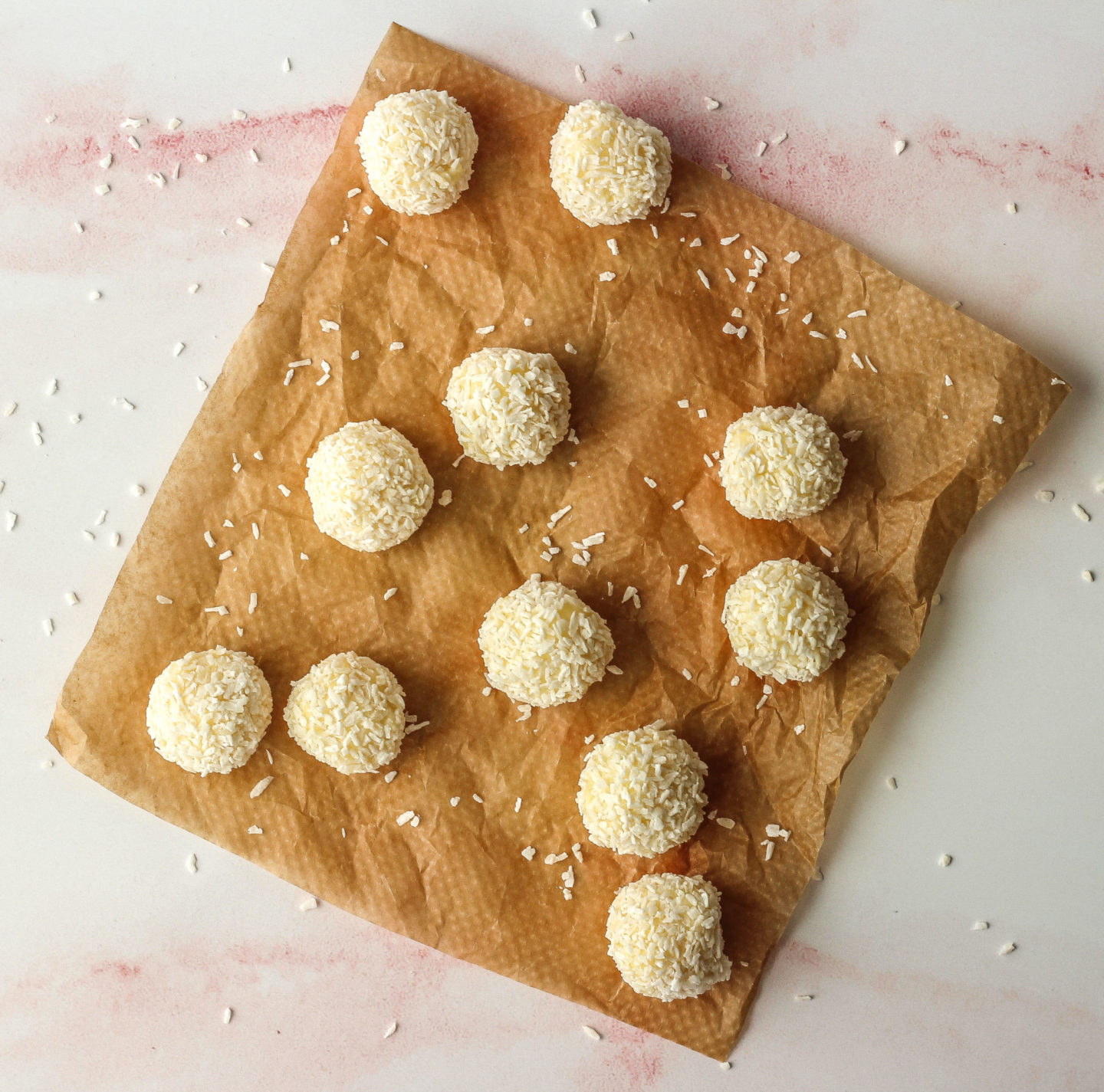 How to make white chocolate coconut truffles from scratch
Full instructions with step-by-step photos can be found with the recipe at the bottom of this post, but here's a quick summary:
Start by warming your double cream gently in a saucepan. Keep it on a low heat and stir with a rubber spatula to stop it sticking to the pan. Once it's just starting to bubble slightly at the edges (not boiling), remove from the heat
Pour the cream into the bowl with chopped chocolate, butter and vanilla extract, and stir with your spatula until all melted and smooth with no lumps. This is your white chocolate ganache filling!
Place in the fridge to chill
Once chilled and firm enough to roll, measure out 2 teaspoons of mixture per truffle and roll into a ball
Once the truffles are all rolled, gently roll each truffle on a small plate covered with desiccated coconut
Chill in the fridge until firmer, and they are then ready to serve!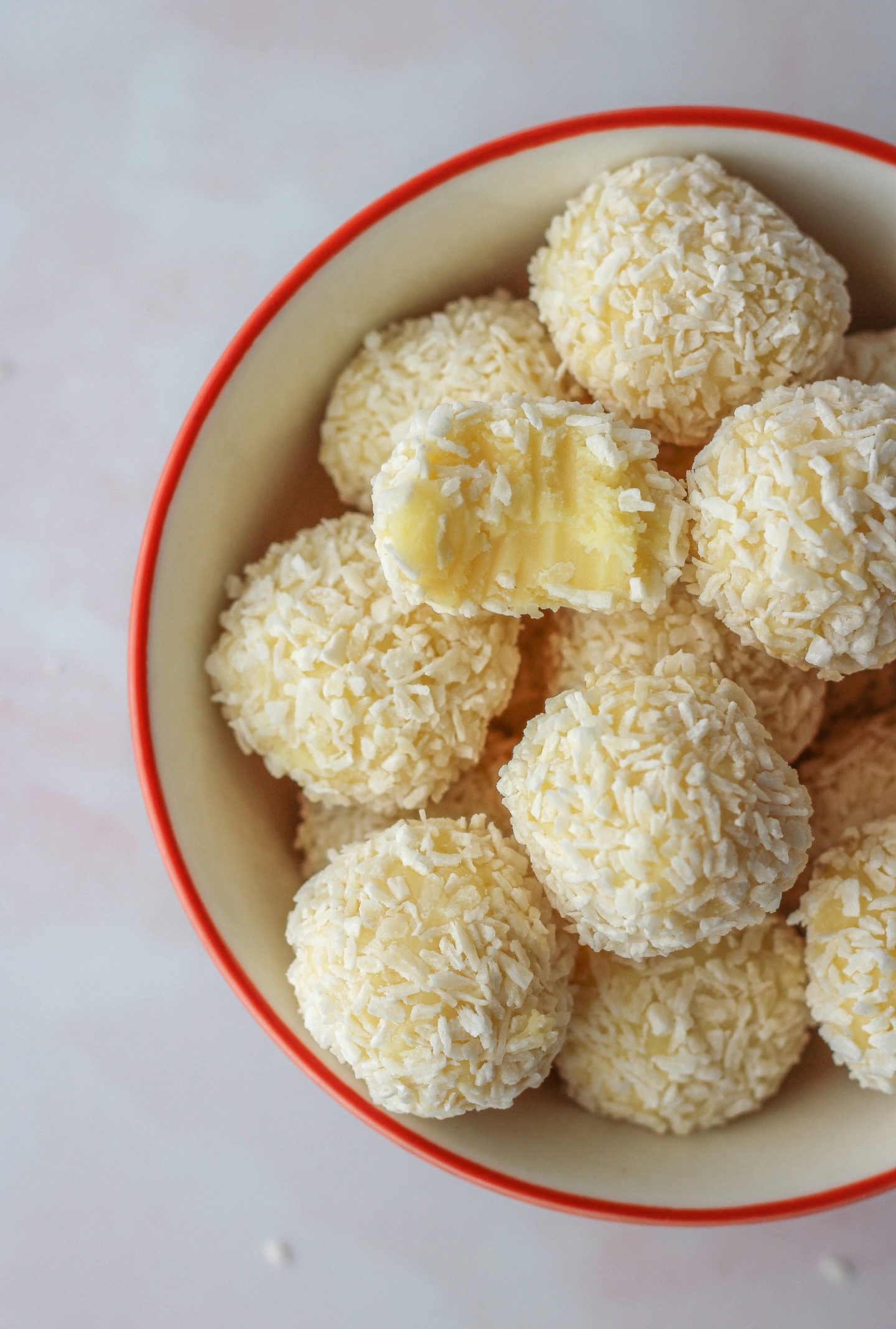 Tips for making the best homemade white chocolate truffles
White chocolate can seize more easily if melted in the microwave, so I suggest using the method I've suggested of melting it by mixing with warm double cream
The white chocolate ganache can take a little longer to firm up in the fridge than dark chocolate ganache, so be patient until it seems firm enough to roll in your hands
If your white chocolate ganache doesn't seem to be firming up enough, add a little more melted white chocolate. Try around 30g, and melt on the hob in a glass bowl over a pan of simmering water. Once melted, gently stir into your ganache until fully combined, and place back in the fridge to firm up
Make sure your hands stay cold when rolling out your truffles! Working with chocolate can get a little messy, so after every 4-5 truffles, I wash my hands in cold water to get rid of any chocolate and keep my hands cool!
When rolling the truffles in the coconut, I like to roll each twice. This is to make sure they are coated fully in coconut, and I find they're then a little easier to handle; the coconut exterior helps you roll it into more of a ball shape second time around!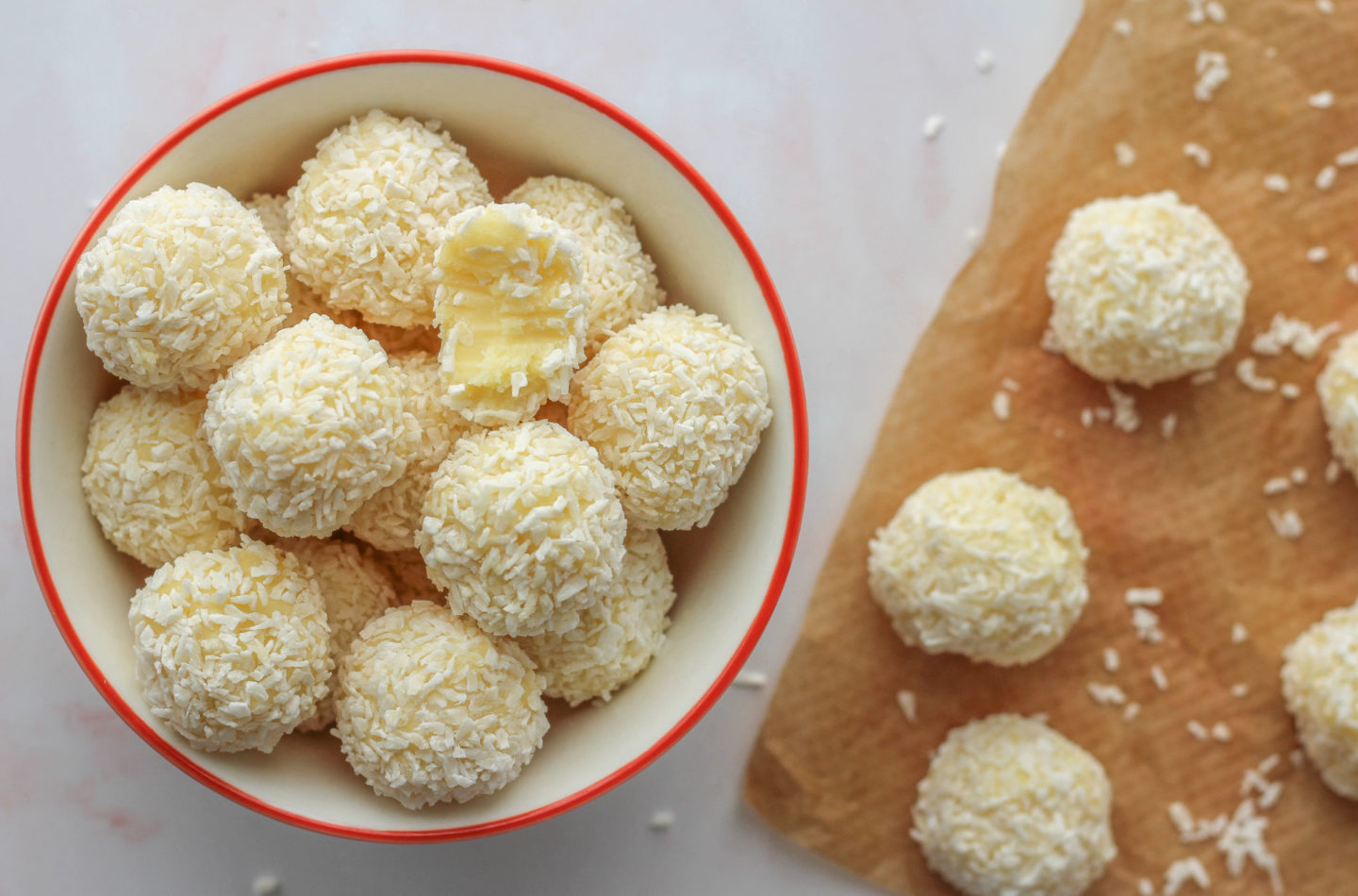 Why has my white chocolate ganache split?
This can occur if you've over-heated the cream before adding it to the chocolate. I judge the heat of the cream two ways: I watch closely until I see tiny bubbles starting to form at the edges of the cream in the saucepan. Also, if you dip your finger into the cream and can just hold it there without it feeling too hot, remove from the heat.
If your ganache has split, you can rescue it by adding it to a glass bowl over a saucepan filled with simmering water. Make sure the glass bowl doesn't touch the water. Stir with a spatula over the heat until it becomes smooth again. If this doesn't work, add a teaspoon or so of milk between stirring over this heat.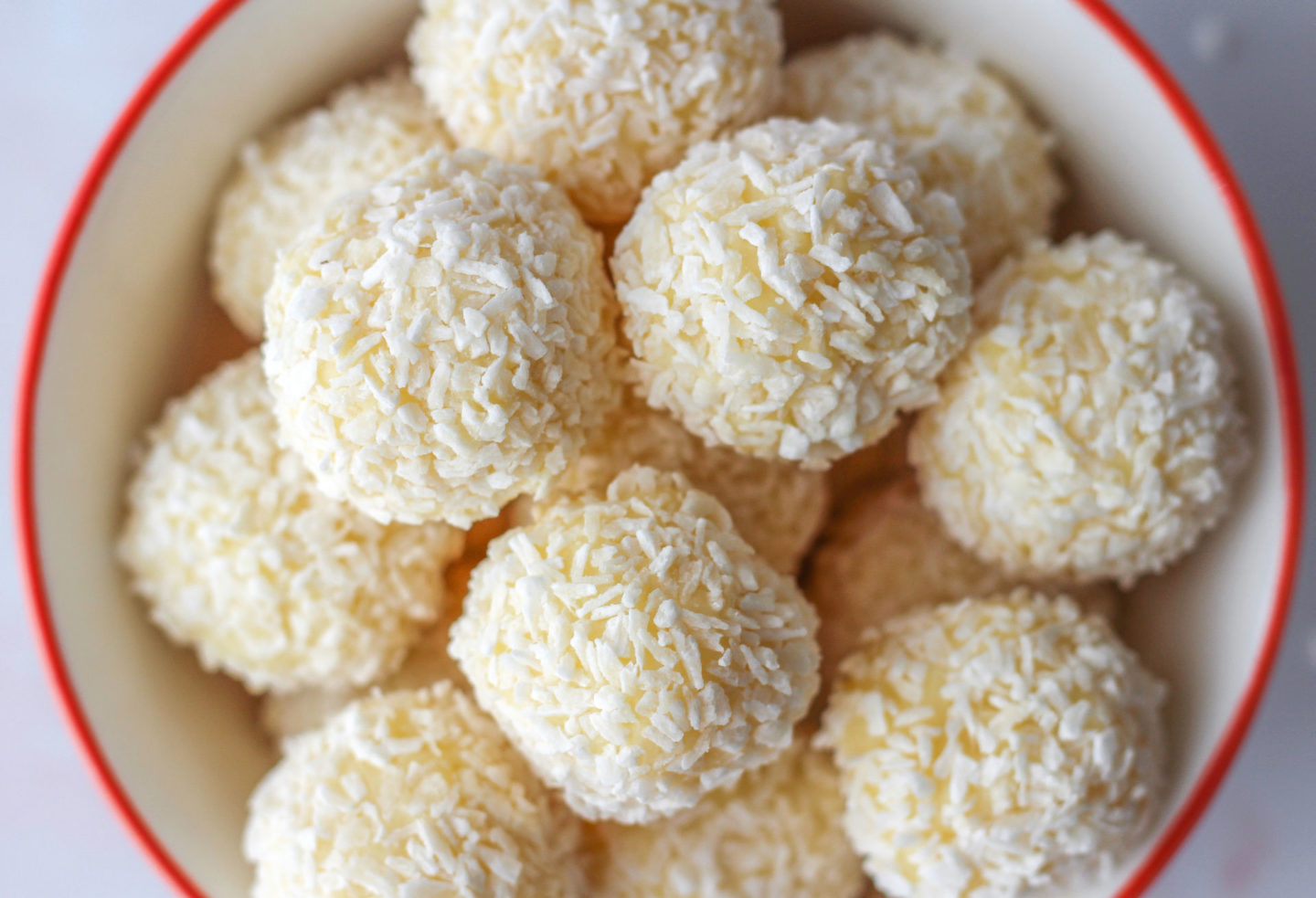 How long does it take for white chocolate ganache to set in the fridge?
This particular ganache should set within 1-2 hours – this depends on how cold your fridge is! Mine usually sets in about 1.5 hours but I tend to leave it around 2 hours to make sure it's super firm before I start rolling out the truffles.
If it's a warm day, I'd consider storing rolled ganache balls in the fridge while you're rolling the remaining balls, before coating in coconut. This is to prevent them becoming too soft to roll in coconut, and will ensure they have a rounder shape.
If it's very warm, you may need to place your bowl of ganache back in the fridge to firm back up partway through rolling the truffles. This obviously depends on the temperature where you are, but it's worth keeping the ganache cool to ensure firm, round truffles!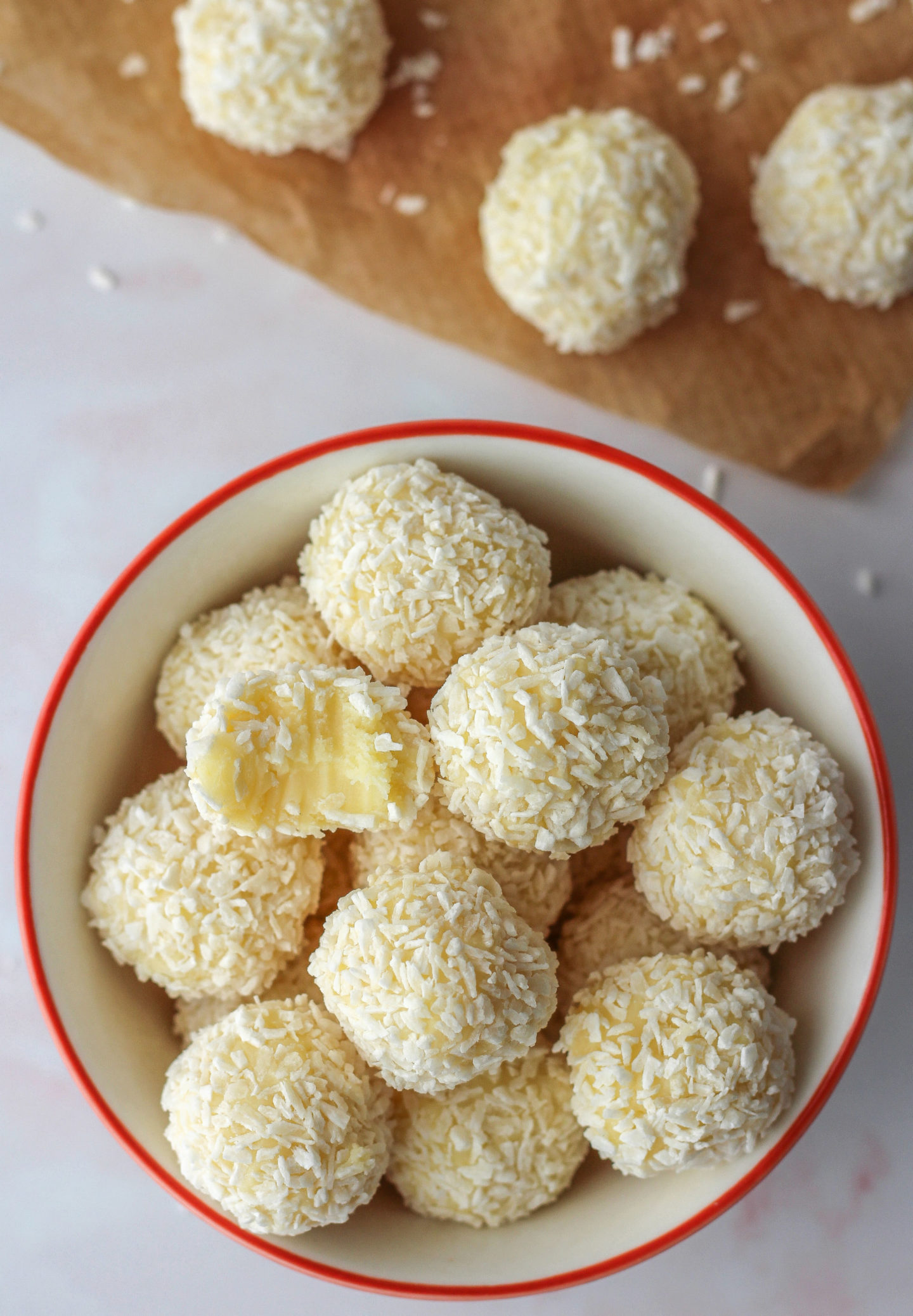 How do I stop chocolate seizing?
Seizing is the process by which melted chocolate becomes lumpy and grainy. The most important way to prevent this is to keep any moisture away from the chocolate. The tiniest amount of moisture can cause it to seize. Make sure your bowl and utensils are completely dry before chocolate touches them.
Seized chocolate can be rescued by, ironically, adding a tiny amount of boiling water and stirring vigorously until smooth again. However, this chocolate will no longer be suitable for use in ganache as it is now diluted. It could be used as a chocolate drizzle for another dessert though!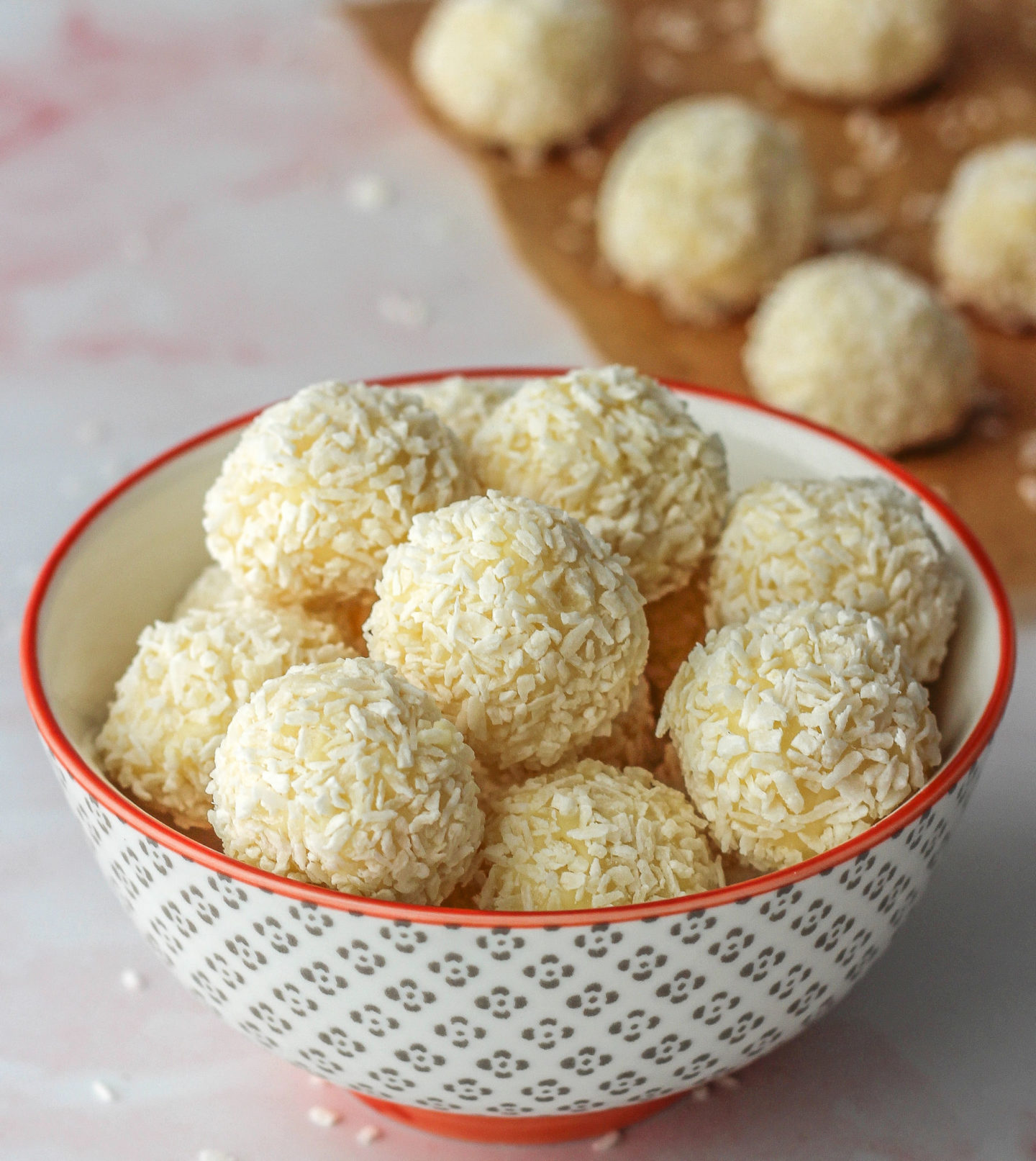 Should homemade chocolate truffles be refrigerated?
Yes – as they contain cream and butter they will need to be kept refrigerated until served. Chilling them will also help keep the truffles firm and round!
How long do homemade chocolate truffles keep for?
Because of the fresh cream and butter, these truffles will need to be eaten within 3 days (or sooner based on their expiry dates). However, if you want them to last longer you can freeze them! Store in an airtight container with greaseproof/baking paper between layers. They should keep well for around 2-3 months.
Truffles are great for gifting! I'd say they'd be best made on the day they're needed, and left to chill in the fridge at least 2 hours after being rolled in coconut to ensure they're as firm as possible when giving them to the lucky person!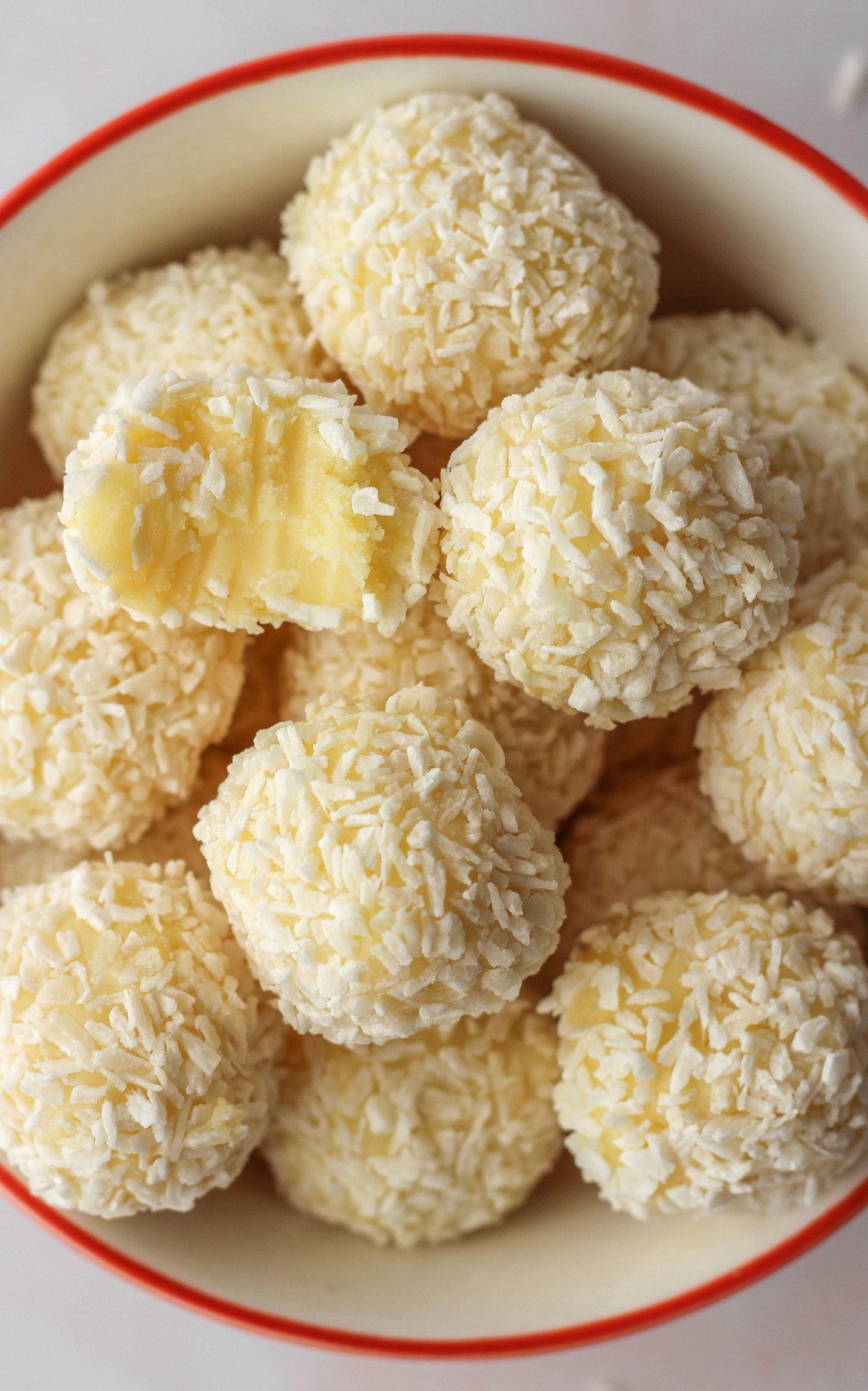 So, to summarise, these white chocolate coconut truffles are:
Surprisingly quick, easy and simple to make
Made using only 5 ingredients
Filled with a creamy, smooth white chocolate ganache and rolled in sweet desiccated coconut
An easy no-bake summer dessert idea
Perfect for gifting!
If you try this recipe I'd love to see! You can show me by tagging me @bakerjoblog or using #bakerjoblog!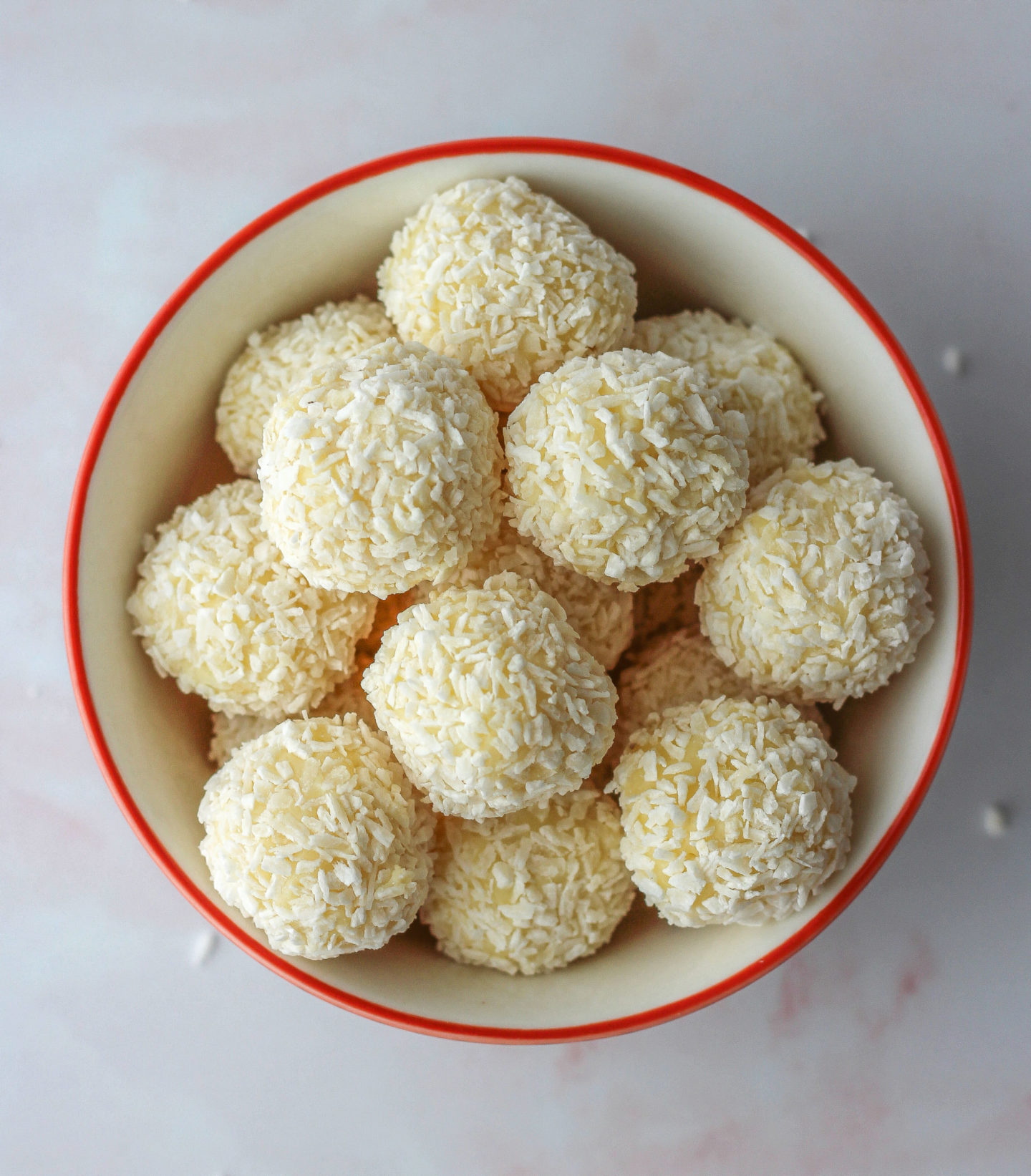 Other no-bake and dessert recipes to try:
Other chocolate recipes to try: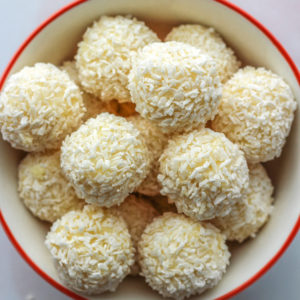 White Chocolate Coconut Truffles
These white chocolate coconut truffles are creamy, smooth and indulgent, and only contain 5 ingredients. A surprisingly simple no-bake recipe which is so easy to make!
Ingredients
250

g

white chocolate

finely chopped

130

ml

double cream

1

tbsp

unsalted butter

level, room temperature

1/2

tsp

vanilla extract

level (optional)
Instructions
Finely chop the white chocolate.

Add the chocolate, butter and vanilla extract to a medium sized bowl.

Pour the double cream into a small saucepan and gently simmer on the hob on a low heat. Stir often with a heatproof rubber spatula to prevent it sticking/burning.

Once the cream is just starting to bubble slightly around the edges, take it off the heat straight away. This should only take a few minutes.

Pour the warm double cream into the bowl of chocolate, butter and vanilla extract.

Wait around 30 seconds for the chocolate to melt a little and then stir the mixture with a spatula or wooden spoon until completely combined and smooth, with no chocolate lumps remaining.

To help the mixture firm up quicker in the fridge, I pour it into a shallow bowl. Cover the bowl in film and place in the fridge for 1-2 hours until much firmer.

Pour the desiccated coconut onto a small plate. Have another larger plate ready to place the finished truffles on to.

Scoop two level teaspoons of mixture per truffle, and place on your larger plate.

Once you have them all measured out, roll the two teaspoons of mixture gently in your hands to make a ball shape. Next, roll each ball in the coconut until it is completely covered, then place back on the larger plate.

I find that it can become more difficult after around the fourth truffle as my hands get quite sticky from the chocolate! So I like to wash my hands in cold water often in between to keep my hands cool and clean.

If you find the measured out mixture has become too soft to roll into balls, simply place the plate in the fridge for 5-10 minutes for it to firm up again and continue rolling.

(How often you need to do this obviously depends on how warm your kitchen and hands are!)

Once they are all coated in coconut, I put them in the fridge for 5-10 minutes to firm up a little and then roll each ball a second time in coconut. I feel they have a rounder finish and fuller coverage with the second coat of coconut.

Place the finished truffles back in the fridge for at least 30 minutes to set. Keep stored in the fridge. Best eaten within 3 days (or sooner depending on the expiry of your double cream).
Notes
If you've tried this recipe, tag @bakerjoblog on Instagram, Facebook, Pinterest or Twitter and/or use #bakerjoblog!