These smooth and indulgent cocoa dusted chocolate truffles are surprisingly simple to make! A classic, impressive no-bake recipe with only five ingredients.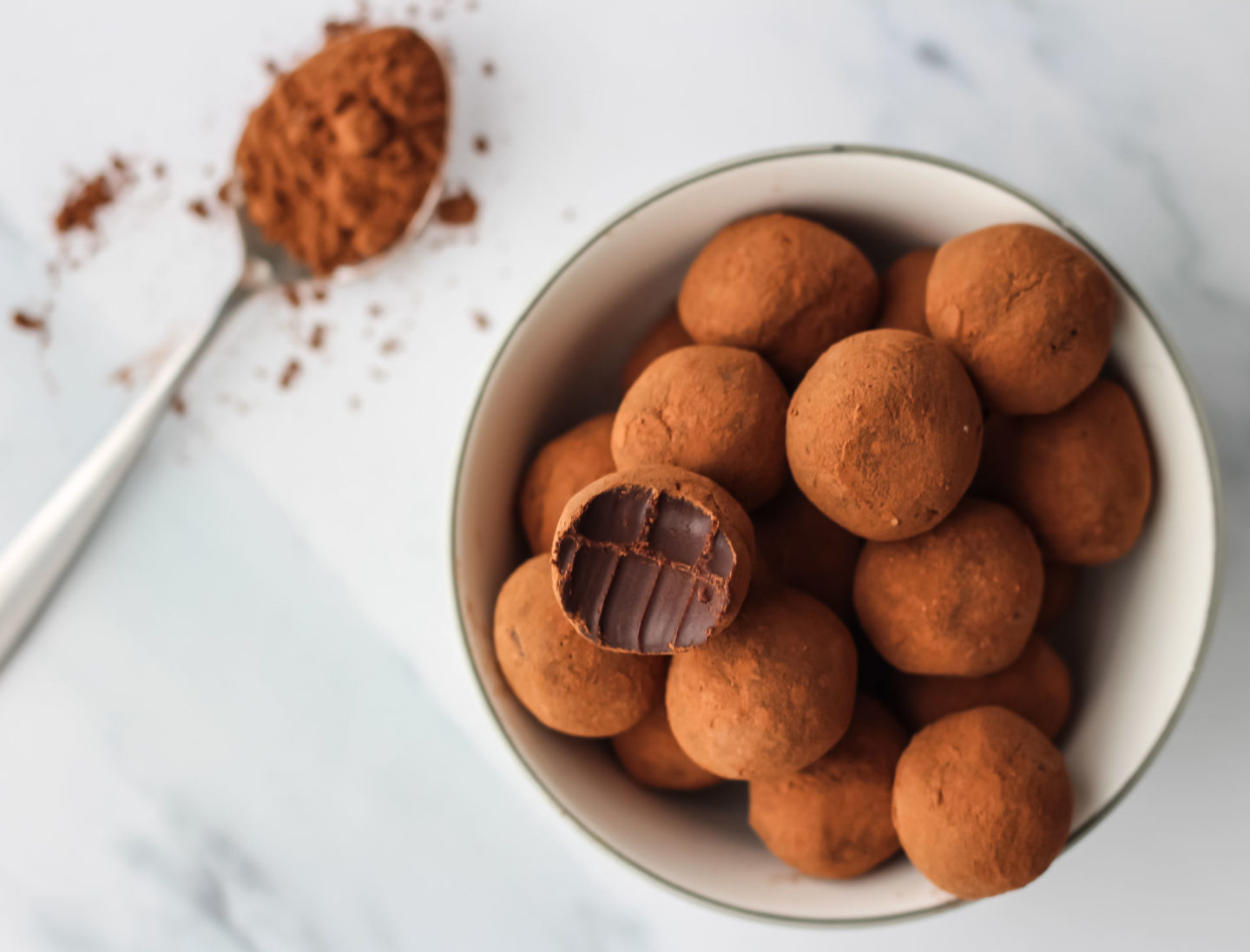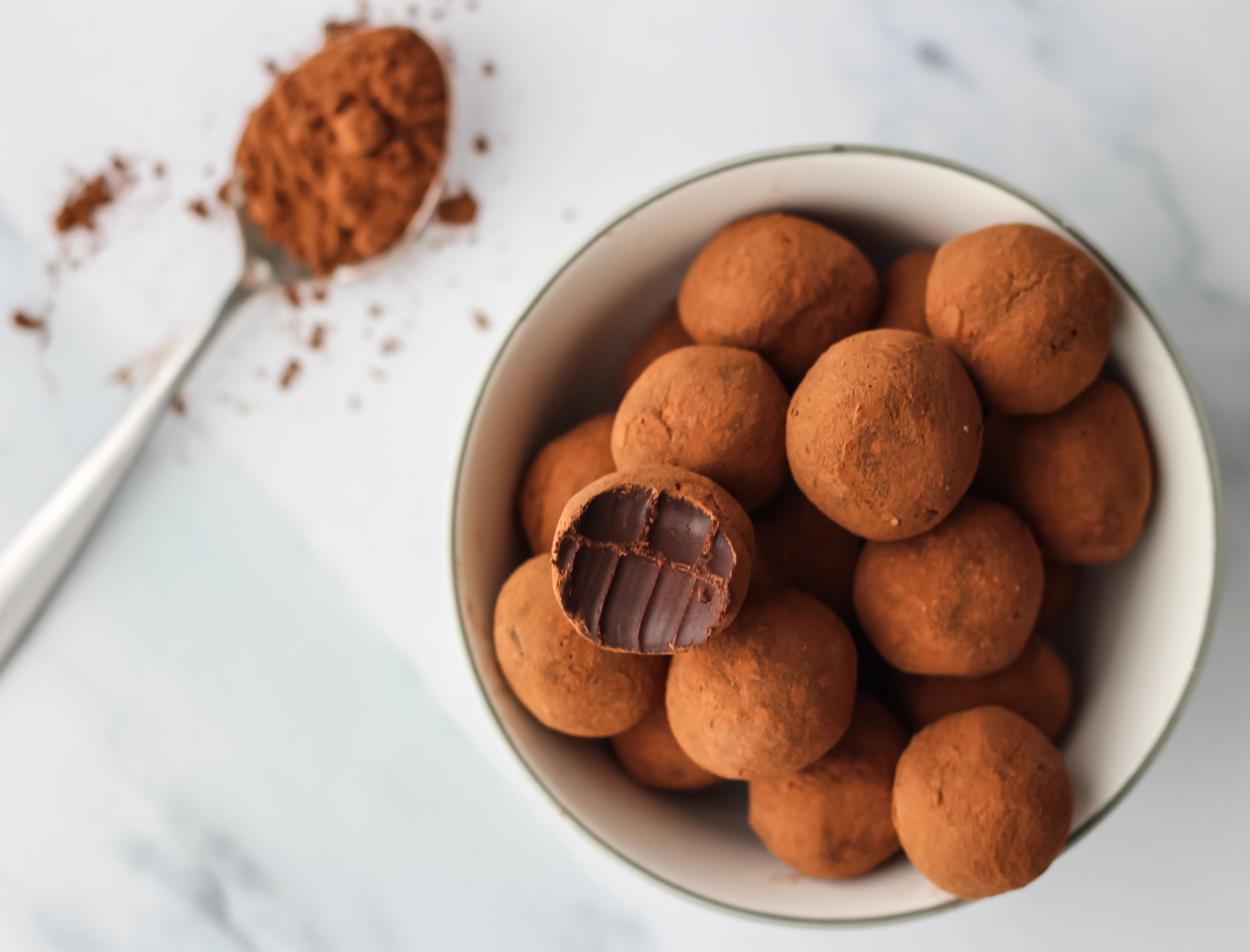 This post may contain affiliate links. For more information, see my Full Disclosure.
---
With a lot of us feeling more anxious and stressed at the moment, I wanted to keep things really simple and stress-free with this recipe. Baking staples like flour and sugar may currently be in short supply, but don't worry as they're not needed here.
Also, step away from your oven. This is an incredibly simple no-bake recipe. These cocoa dusted chocolate truffles are smooth, creamy and amazingly easy to make!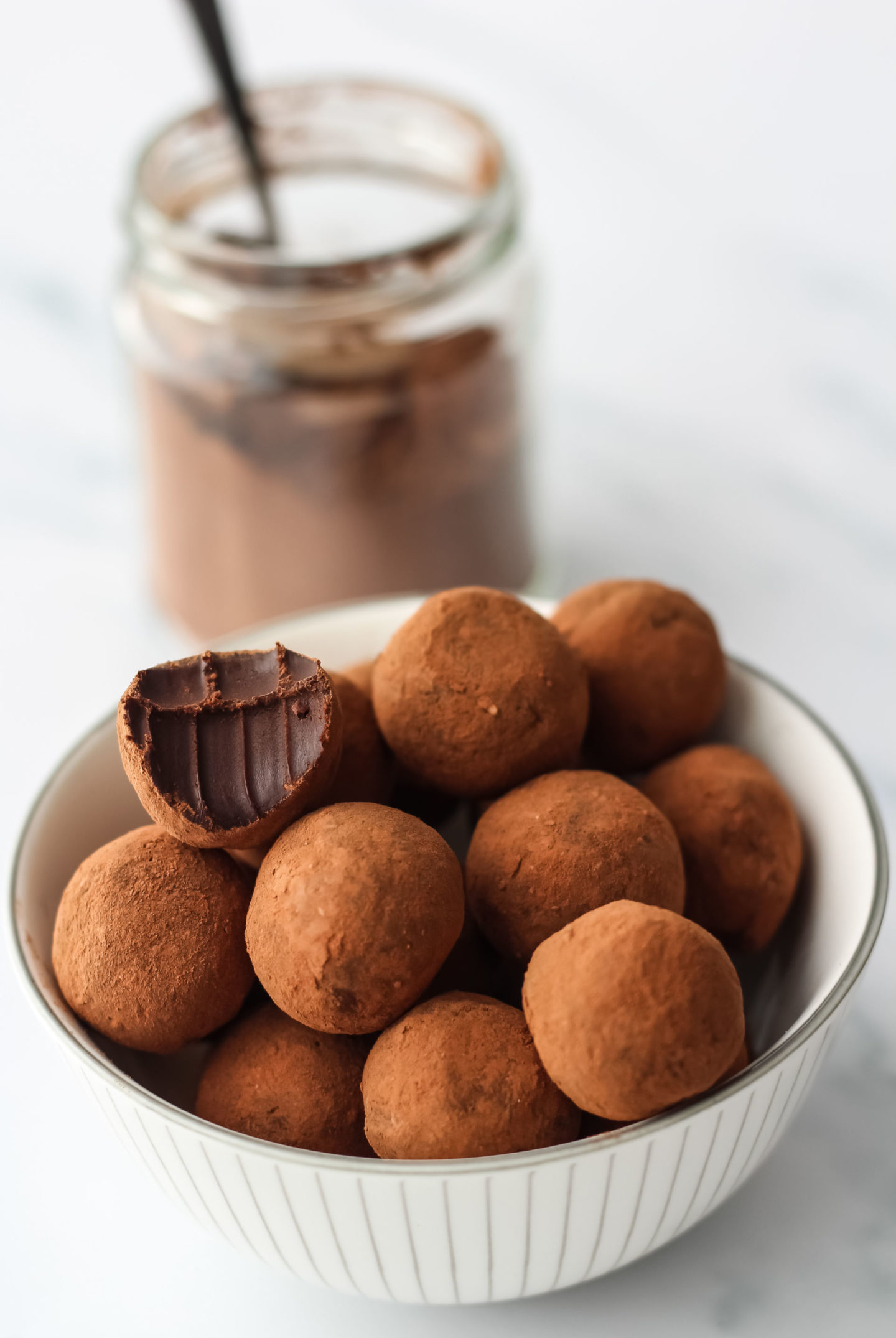 Ingredients for chocolate truffles
My recipe calls for just five ingredients. The main chocolate truffle ingredients are chocolate and double cream. Truffles are simply chocolate ganache, with a higher ratio of chocolate to double cream.
The three remaining ingredients are cocoa powder, butter and a little vanilla extract. Chocolate truffles with cocoa powder to me are so classic and elegant. With just a light coating of cocoa powder, you can fully taste the rich, creamy truffle inside.
I use butter in this recipe because it adds another level of indulgence and they feel extra smooth when you bite into them! Vanilla extract is optional but I think it rounds off the rich chocolate flavour perfectly.
They are also gluten-free!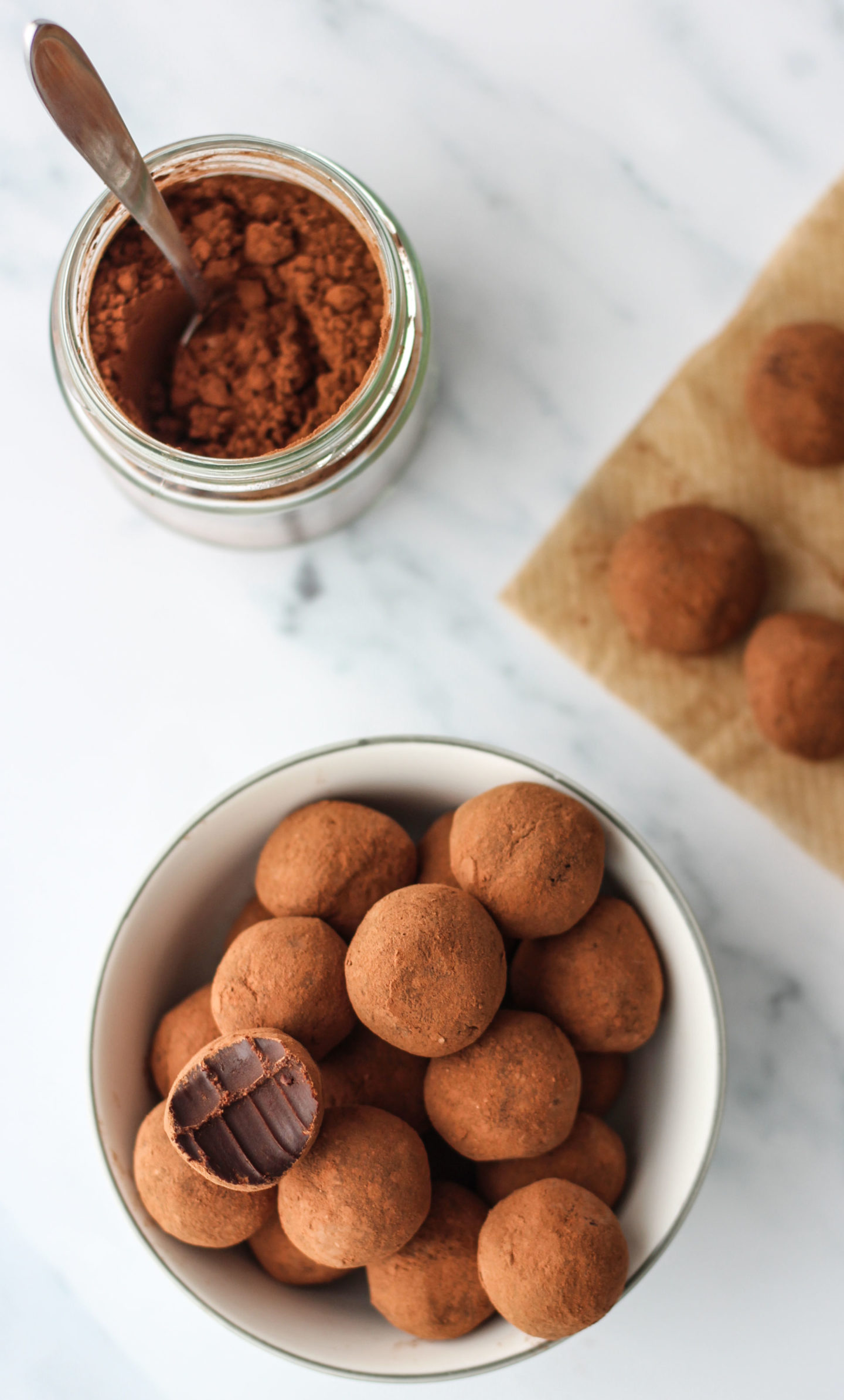 How to make chocolate truffles
This no-bake recipe requires just a few minutes spent at your hob to heat the double cream. Once warm enough, the cream is poured into a bowl of chopped chocolate, butter and vanilla extract where it melts the chocolate. Give it a stir and you have your truffle mixture!
Then you just need to be patient while it firms up in the fridge. It needs to be quite firm to be able to roll into delicious chocolate truffle balls!
Shaping homemade chocolate truffles
The firm ganache will need to be rolled into balls by hand. I suggest measuring out two level teaspoons of ganache per chocolate truffle then rolling it into a rough ball between the palms of your hands.
Next, place this truffle ball onto your plate of cocoa powder and roll around with flattened fingers to completely coat them. That's it! This truly is an easy and simple chocolate truffles recipe!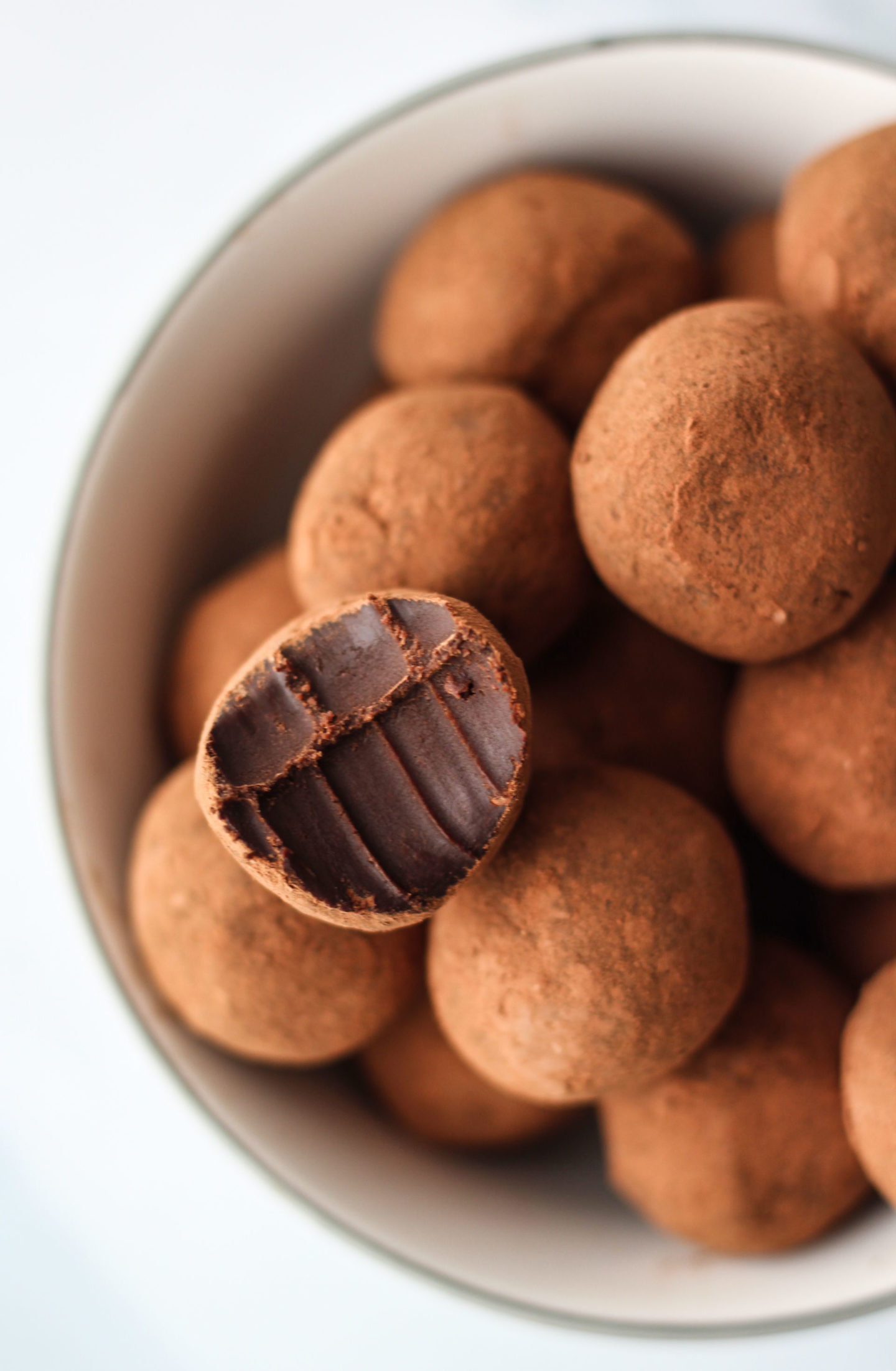 Homemade chocolate truffle filling
The texture inside these cocoa dusted chocolate truffles is unreal. Ganache, consisting of chocolate and double cream, is of course so rich and indulgent. But adding a little butter to the ganache takes them to the next level. They're even more creamy, smooth and heavenly, whilst still being firm enough to roll into truffle balls.
With so few ingredients and such an easy method, you'll be amazed at how delicious they are. They are simply covered in cocoa powder, which gives your easy homemade truffles a professional finish.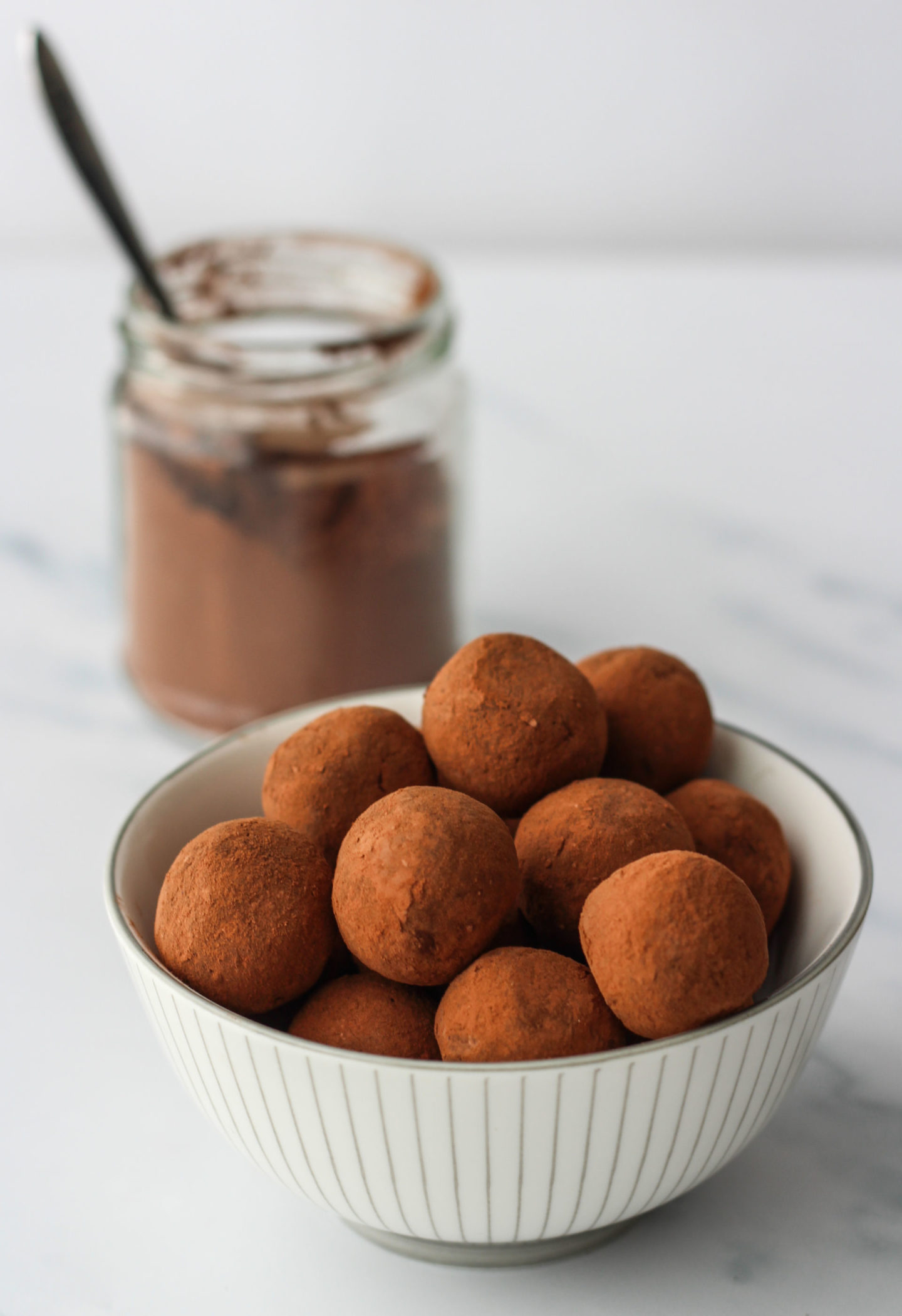 Easy no-bake chocolate recipe
We are having some amazing weather here in the UK at the moment, so I'm definitely a fan of no-bake recipes this time of year. As with my No-Churn Strawberry Cheesecake Ice Cream, Lemon Cheesecake, Fresh Fruit Tart, and No-Churn Oreo Ice Cream, the hardest part is waiting for them to set in the fridge!
However, the recipes above require round and square baking pans. This recipe just requires some bowls, plates and a saucepan!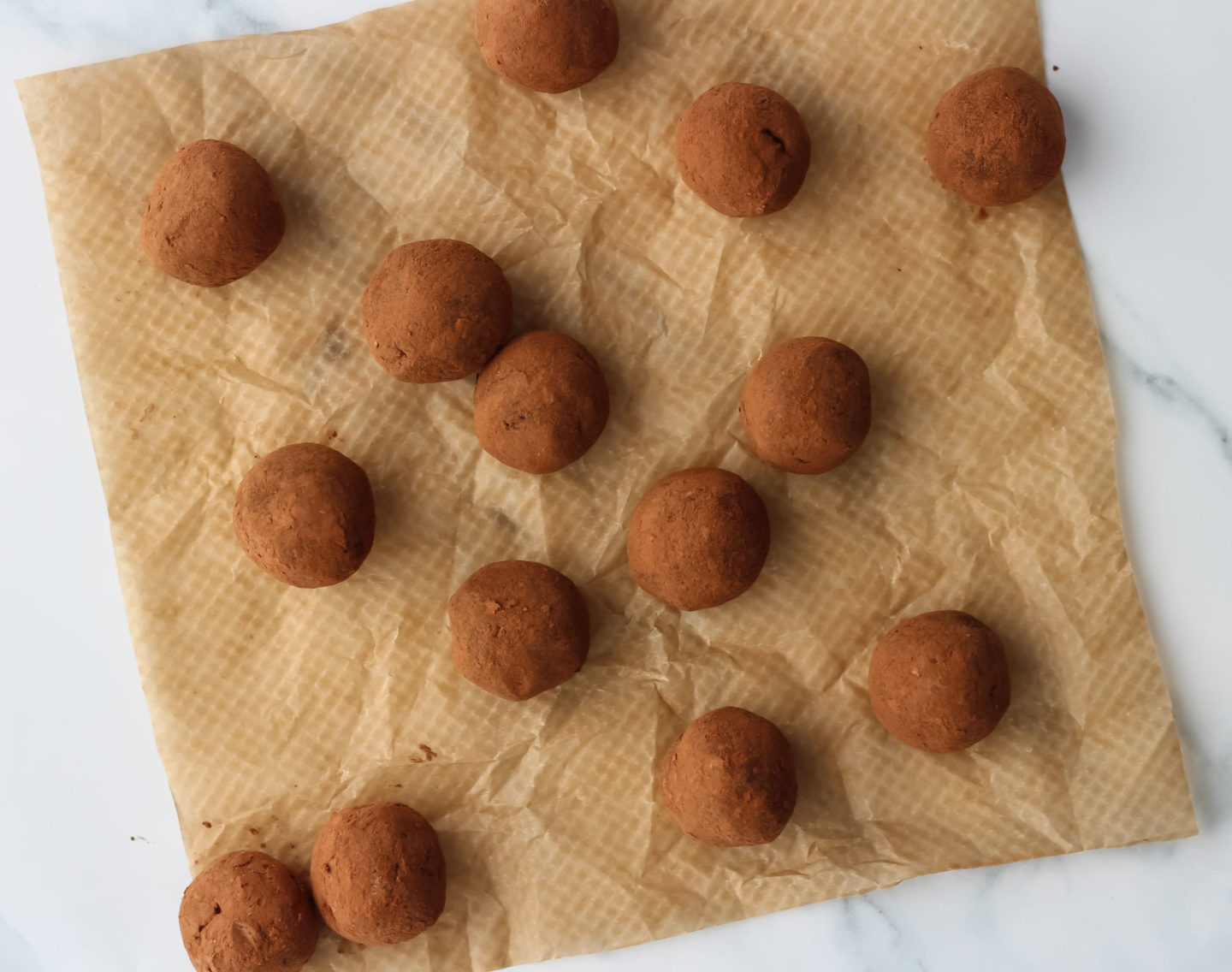 I hope I've helped you see how easy it is to make these chocolate truffles!
To summarise, these cocoa dusted chocolate truffles are:
Surprisingly simple, easy and quick to make
Made with just 5 ingredients
Rich, smooth, creamy and so indulgent
Gluten-free
If you try this recipe I'd love to see! You can show me by tagging me @bakerjoblog or using #bakerjoblog!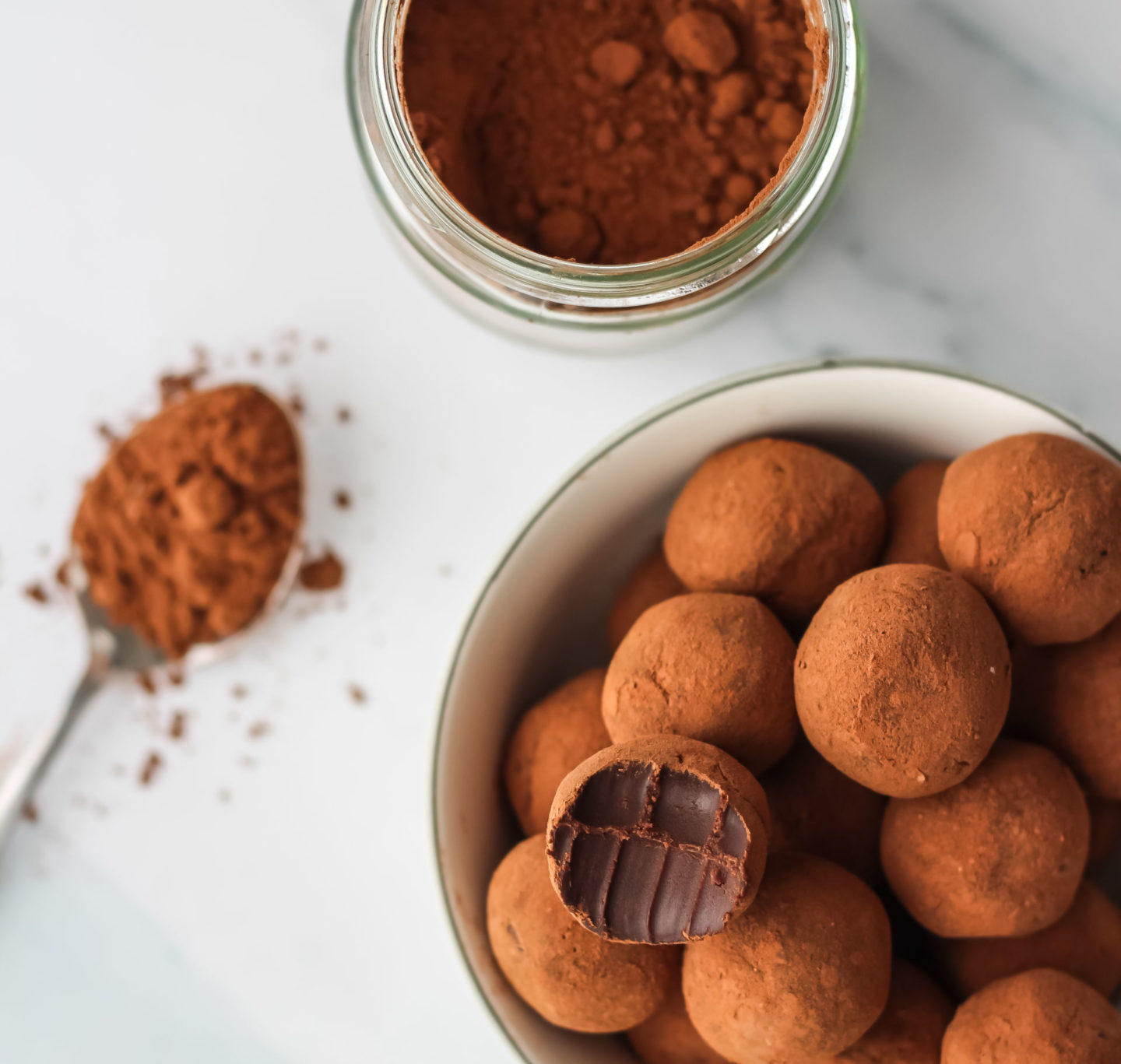 Other no-bake and dessert recipes to try:
Other chocolate recipes to try: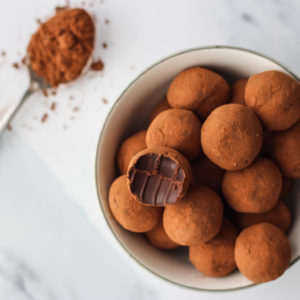 Cocoa Dusted Chocolate Truffles
These smooth and indulgent cocoa dusted chocolate truffles are surprisingly simple to make. A classic, impressive no-bake recipe with only five ingredients!
Ingredients
200

g

dark chocolate

finely chopped

130

ml

double cream

1

tbsp

unsalted butter

level, room temperature

1/2

tsp

vanilla extract
Cocoa Coating
15

g

cocoa powder

sifted onto a plate
Instructions
Finely chop the dark chocolate.

Add the chocolate, butter and vanilla extract to a medium sized bowl.

Pour the double cream into a small saucepan and gently simmer on the hob on a low heat. Stir often with a heatproof spatula to prevent it sticking/burning.

Once the cream is just starting to bubble slightly around the edges, take it off the heat straight away. This should only take a few minutes.

Pour the warm double cream into the bowl of chocolate, butter and vanilla extract.

Wait around 30 seconds for the chocolate to melt a little and then stir the mixture with a spatula or wooden spoon until completely combined and smooth, with no chocolate lumps remaining.

To help the mixture firm up quicker in the fridge, I pour it into a shallow bowl. Cover the bowl in film and place in the fridge for 1-2 hours until much firmer.

Sift the cocoa powder onto a small plate. Have another larger plate ready to place the finished truffles on to.

Scoop two level teaspoons of mixture per truffle, and place on your larger plate.

Once you have them all measured out, roll the two heaped teaspoons of mixture gently in your hands to make a ball shape. Next, roll each ball in the cocoa powder until it is completely covered, then place back on the larger plate.

I find that it can become more difficult after around the fourth truffle as my hands get quite sticky from the chocolate! So I like to wash my hands in cold water often in between to keep my hands cool and clean.

If you find the measured out mixture has become too soft to roll into balls, simply place the plate in the fridge for 5-10 minutes for it to firm up again and continue rolling.

(How often you need to do this obviously depends on how warm your kitchen and hands are!)

Once they are all coated in cocoa powder, I put them in the fridge for 5-10 minutes to firm up a little and then roll each ball a second time in cocoa powder. I feel they have a rounder finish and fuller coverage with the second coat of cocoa. The truffles pictured on the right have been rolled in cocoa powder twice.

Place the finished truffles back in the fridge for at least 30 minutes to set. Keep stored in the fridge. Best eaten within 3 days (or sooner depending on the expiry of your double cream).
Notes
If you've tried this recipe, tag @bakerjoblog on Instagram, Facebook, Pinterest or Twitter and/or use #bakerjoblog!