Deliciously creamy and zingy, this no-bake lemon cheesecake is so quick and easy to make. The perfect make-ahead dessert!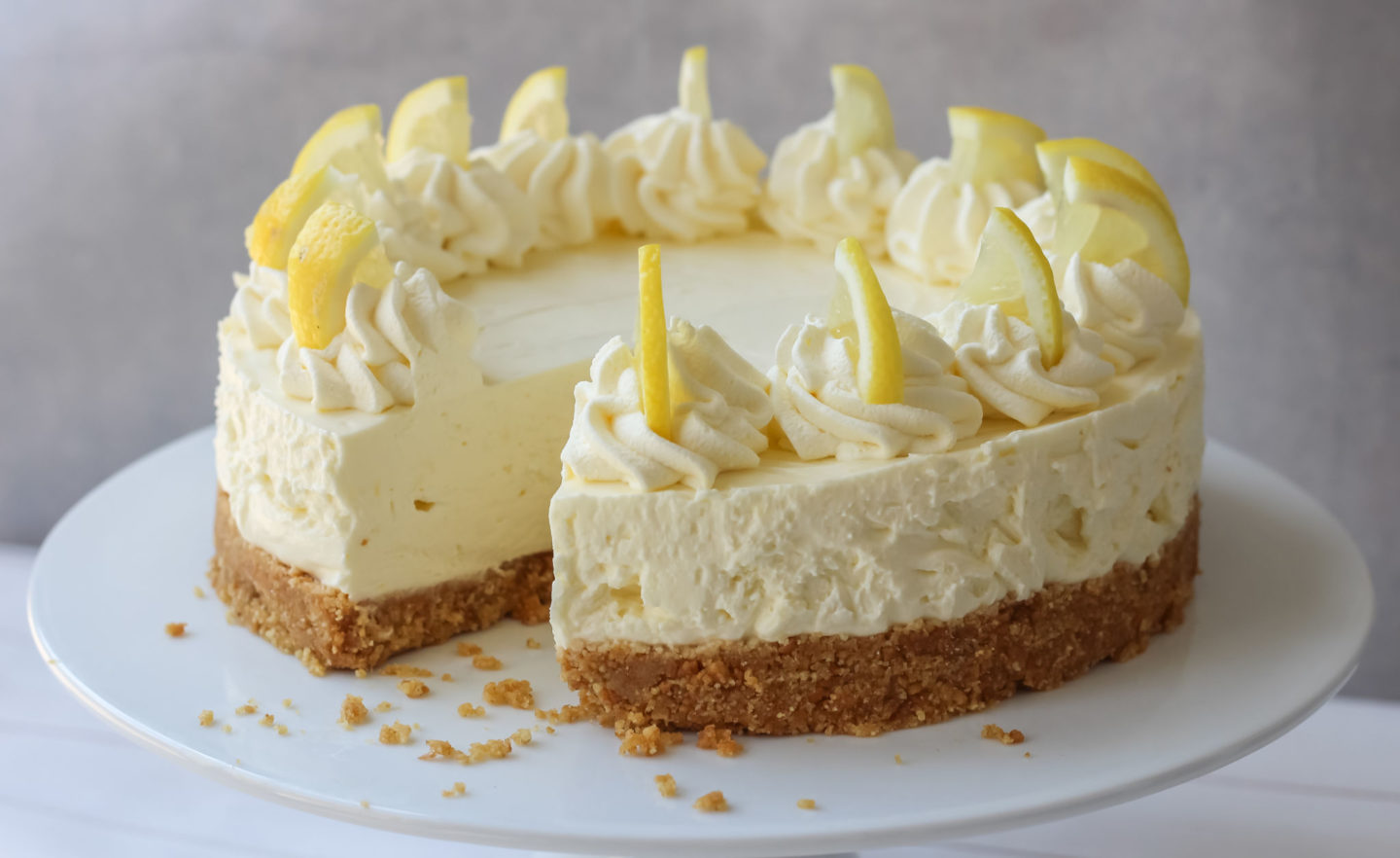 This post may contain affiliate links. For more information, see my Full Disclosure.
---
I don't know about you guys, but during the summer months, I try to avoid using my oven as much as possible. Therefore I figured I'd share my first no-bake recipe: lemon cheesecake!
Yes I know, I'm kind of obsessed with lemon recipes (as you can see from my Lemon Bars, Lemon Drizzle Loaf Cake, Lemon Coconut Muffins and Lemon Raspberry Cream Cake). So if you're a lemon lover too, trust me – you have to try this cheesecake!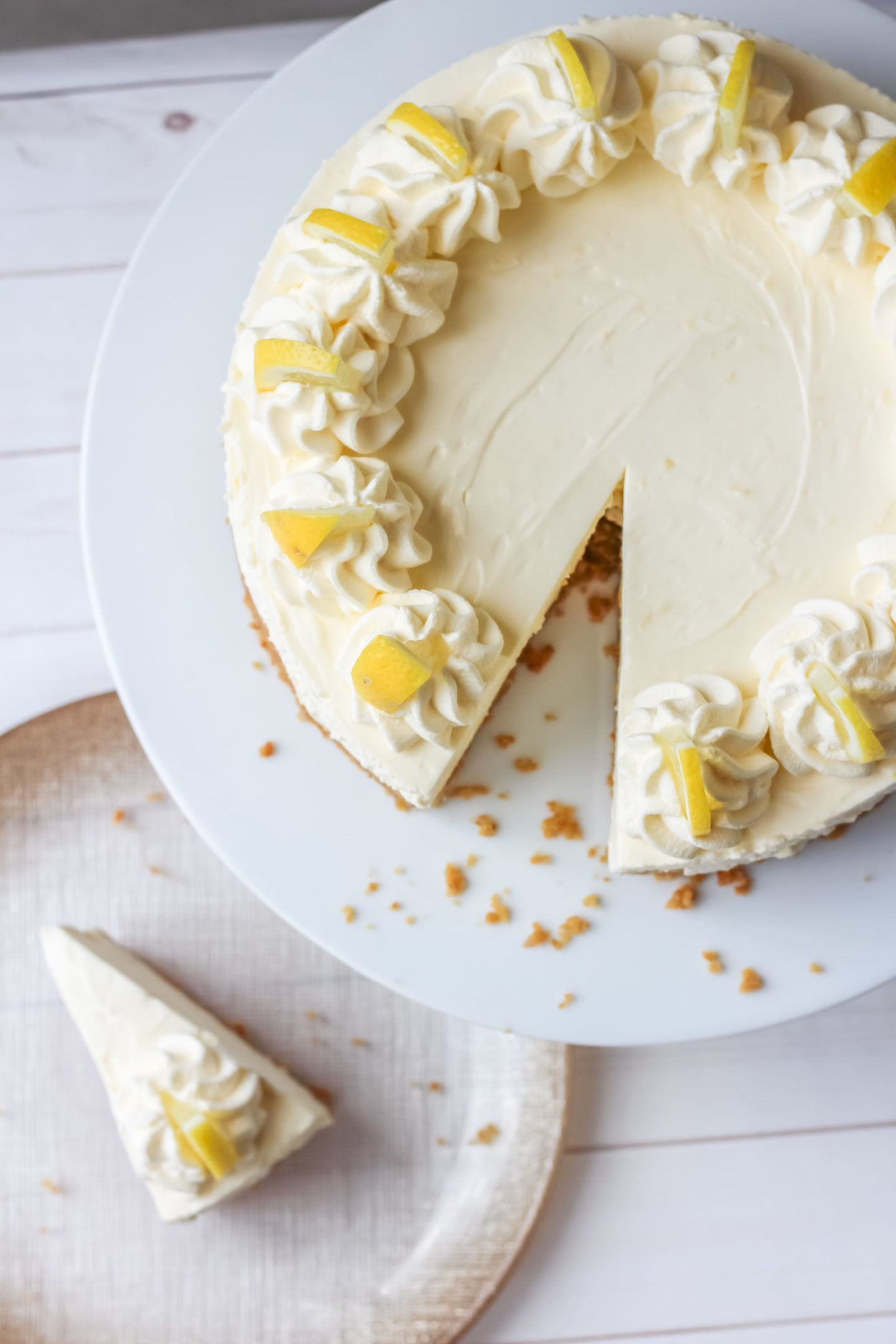 easy no-bake lemon cheesecake without gelatin
This lemon cheesecake requires no gelatin for it to set; it's all in the method of mixing and the ratio of ingredients. Oh, and the temperature of the ingredients is important too!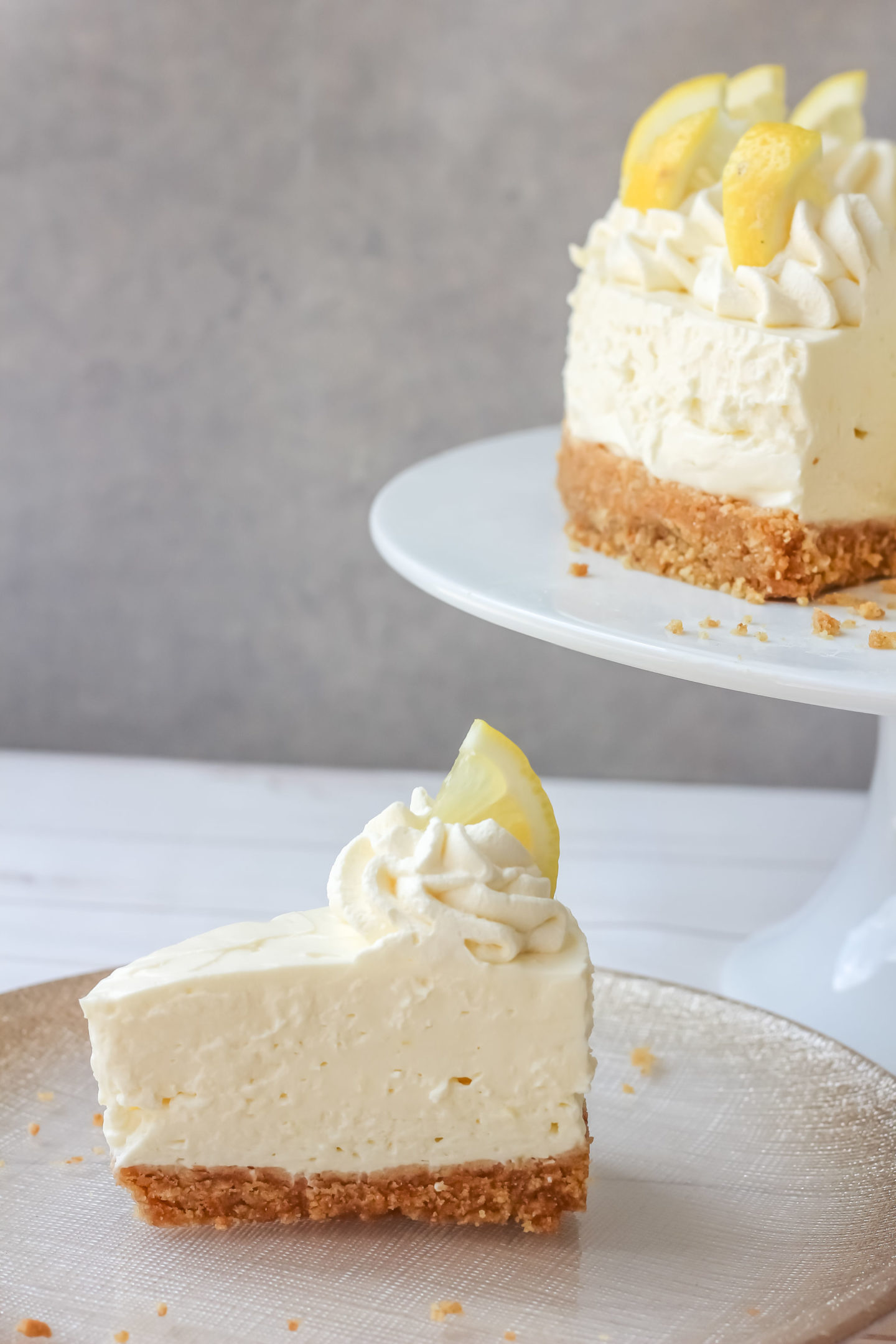 No-bake lemon cheesecake ingredients
The very first thing you should do is weigh out your cream cheese and leave it on your counter to come to room temperature. This is so important!! This allows the cream cheese to incorporate into the final mixture better, resulting in a super-smooth and firmer cheesecake.
You'll need to use full fat cream cheese as the cheesecake won't set properly with reduced fat cream cheese. I use full fat Philadelphia cream cheese.
The double cream, however, must be cold! This ensures it whips up well which is again vital in creating a well-set, firm cheesecake. If the cream cheese is cold and the double cream is warm, the final cheesecake mixture will be too sloppy and not set properly.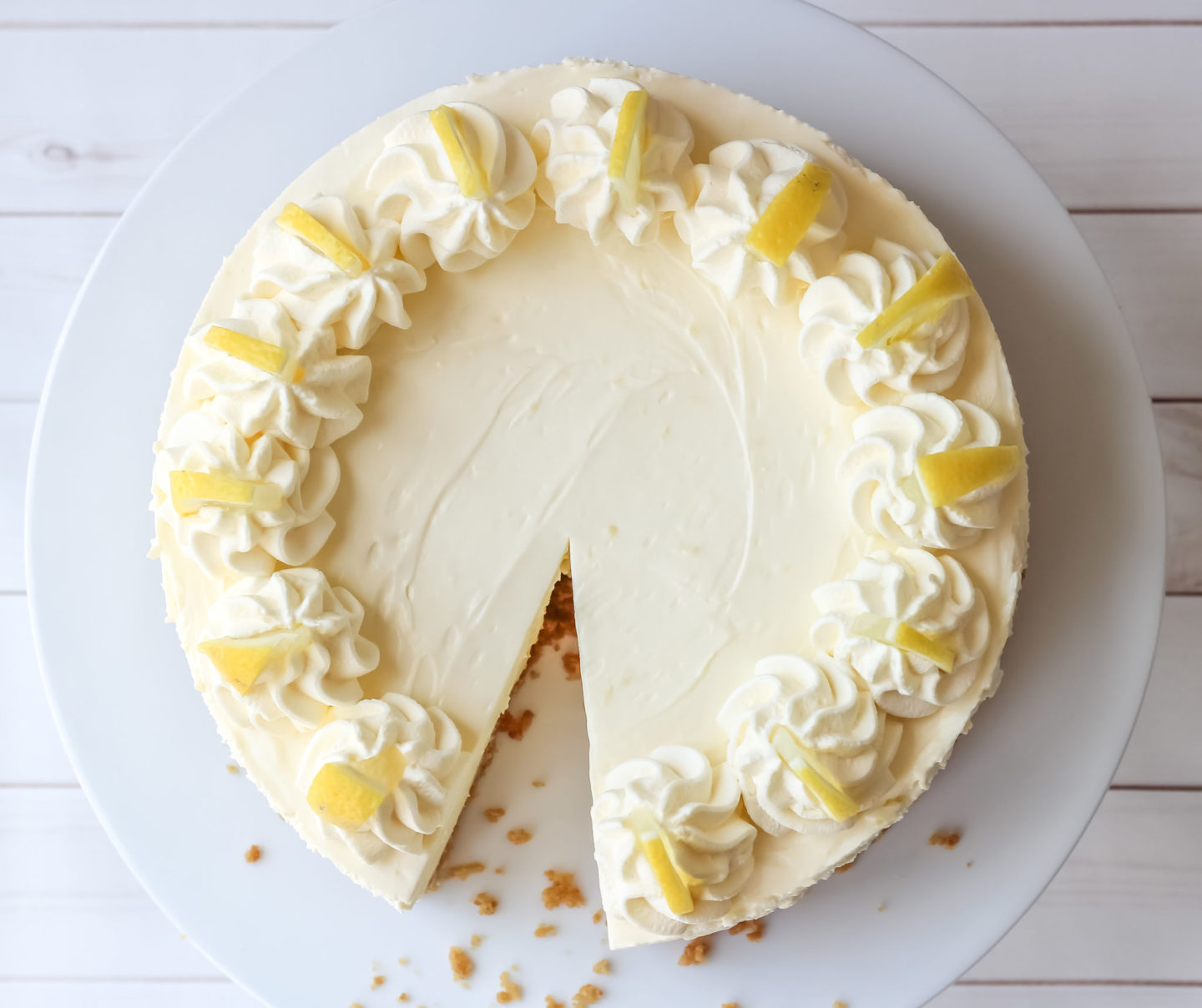 How to make a firm no-bake lemon cheesecake
You will need a stand mixer or hand mixer for this recipe, or a very strong arm! The double cream needs to be whisked until it's really thick, as this is crucial for the stability of the cheesecake. The icing sugar also helps keep it firm, as well as, surprisingly, the lemon juice.
The lemon juice helps to thicken the mixture, but this needs to be poured into the cream cheese mixture very slowly! If poured in all at once it won't incorporate into the mixture which again (you've guessed it) will result in a sloppy cheesecake.
I've added a good amount of lemon zest to this recipe to give a great lemon flavour without too much liquid from the lemon juice. I think it's perfectly lemony with the zest of two lemons, but if you want even more zing, you could always increase it to three lemons!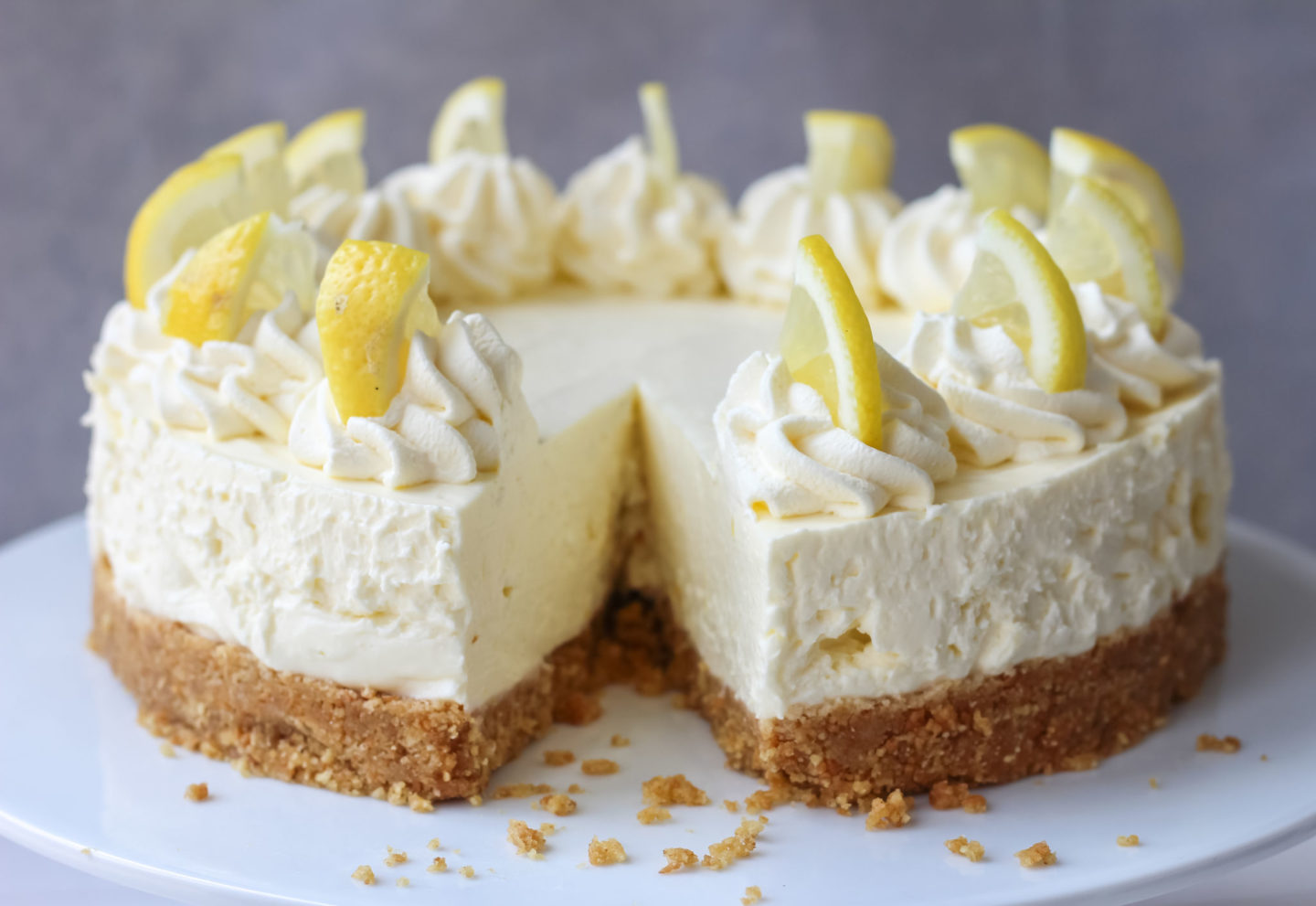 No-bake lemon cheesecake tips
Another important piece of advice: try to make this well ahead of time. I'd recommend chilling in the fridge for at least 12 hours before you need to serve. This allows it to set as firmly as possible! The photographed cheesecake was left to chill for 24 hours.
Make sure you use a deep 20cm/8inch springform baking pan for this recipe. The mixture will come almost all the way to the top of the tin so depth is important! Plus a springform pan makes it much easier to remove your cheesecake once set.
Easy no-bake lemon cheesecake recipe
Honestly, I was amazed when I took my first bite on my final recipe test. When you've followed all of the advice above, you will end up with a silky smooth, creamy, melt-in-the-mouth textured cheesecake. The balance of creamy, sweet and zingy is in my opinion, just right.
The biscuit base is made up of simply digestive biscuits, butter and a little light brown sugar. The sugar gives a touch of sweetness of course but also helps it set a bit more firmly in the fridge. The texture is firm enough to support the cheesecake but slightly crumbly and so delicious.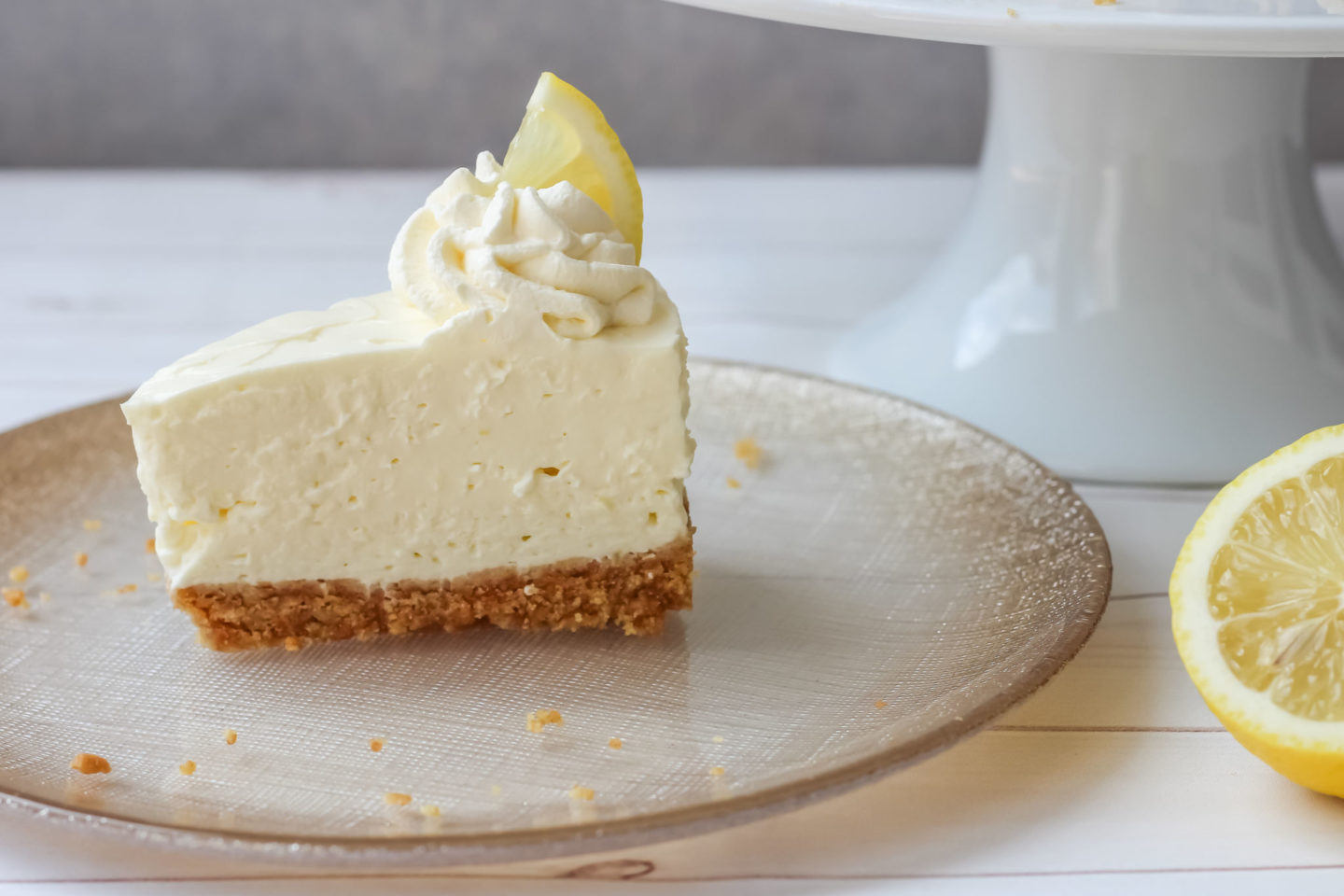 If you try this recipe I'd love to see! You can show me by tagging me @bakerjoblog or using #bakerjoblog!
Other lemon recipes to try:
Other dessert recipes to try: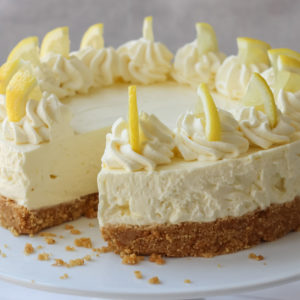 No-Bake Lemon Cheesecake
Deliciously creamy and zingy, this no-bake lemon cheesecake is so quick and easy to make. The perfect make-ahead dessert!
Equipment
20cm/8" round springform tin
Ingredients
Biscuit Base
250

g

digestive biscuits/Graham crackers

130

g

butter

melted

30

g

light brown sugar
Cheesecake Filling
290

ml

double cream

cold

680

g

full fat cream cheese

room temperature

140

g

icing sugar

sifted

zest of 2 lemons

30

ml

lemon juice
Whipped Cream Topping (optional)
200

ml

double cream

cold

1/2

lemon

small slices for decoration (optional)
Instructions
First, measure out your cream cheese into a small/medium bowl and leave out to sit at room temperature.

Pulse the digestive biscuits/Graham crackers in a food processor or if you don't have a food processor, place the biscuits/crackers in a large ziplock/sandwich bag and crush them with the end of a rolling pin. Use either method until you have fine crumbs.

Melt the butter in 20-second increments in the microwave. Add the biscuit/cracker crumbs, light brown sugar and melted butter to a medium bowl and stir with a spoon until well mixed.

Pour this mixture into your 20cm/8" springform tin and press down really firmly to pack the crumbs as tightly as possible. This will create a strong biscuit base! I use the base of a glass to press down on the mixture make sure it's tightly packed.

Place your springform tin in your fridge to chill while you make the cheesecake filling.

Pour the cold double cream into the bowl of your stand mixer or medium/large bowl if using a hand whisk. Whisk the cream on high (10 in a KitchenAid mixer) until the cream is whipped up really thick. This takes about 1 minute on my KitchenAid mixer. It's crucial to make sure it's fully whisked here as this will help to create a thick and firm cheesecake!

Transfer the whipped cream to a smaller bowl and set aside. You can now use this same large bowl for the next step; don't worry about cleaning it.

To this large bowl add the room temperature cream cheese, sifted icing sugar and lemon zest. Swap your whisk attachment for your beater attachment and beat on medium (6 KitchenAid) for around 30 seconds until smooth and combined.

Next, with the mixer still on medium speed, SLOWLY pour the lemon juice in. If poured in all at once or too quickly, the mixture will be too sloppy and won't set properly in the fridge! Once the juice has all been added beat for around another 30 seconds to fully combine.

Now using a spatula or wooden spoon, gently fold the whipped cream into the cream cheese mixture, as gently as possible. Continue until fully incorporated. The mixture will be quite thick – your spatula/wooden spoon should be able to stand upright in it!

Spread this cheesecake mixture into your springform tin that's been chilling in the fridge. Level the top as evenly as possible. The mixture will go almost to the very top of the tin.

Place the tin back in the fridge to chill for at least 12 hours, ideally 24 hours.

Once set, and if you want to decorate the top, whip 200ml of double cream until just thick enough to be pipeable, but not over-whipped. On my KitchenAid stand mixer, I whisk the cream on high (10) for 1 minute, then on low (2). I watch it closely and stop often to check that it's holding soft peaks.

Place the whipped cream into a piping bag with your choice of piping tip (I used a star tip here) and pipe swirls around the top. You could then do as I've done and add small slices of fresh lemon! If using lemon, I place the slices on a piece of paper towel/kitchen roll to dry slightly before placing on top of the cream swirls, to avoid excess liquid making the cream soggy.

Keep any leftovers in the fridge and best eaten within 3 days.
Notes
If you've tried this recipe, tag @bakerjoblog on Instagram, Facebook, Pinterest or Twitter and/or use #bakerjoblog!