With a deliciously minty Oreo biscuit base and creamy chocolate and mint filling, this easy no-bake cheesecake is an ideal make-ahead festive dessert!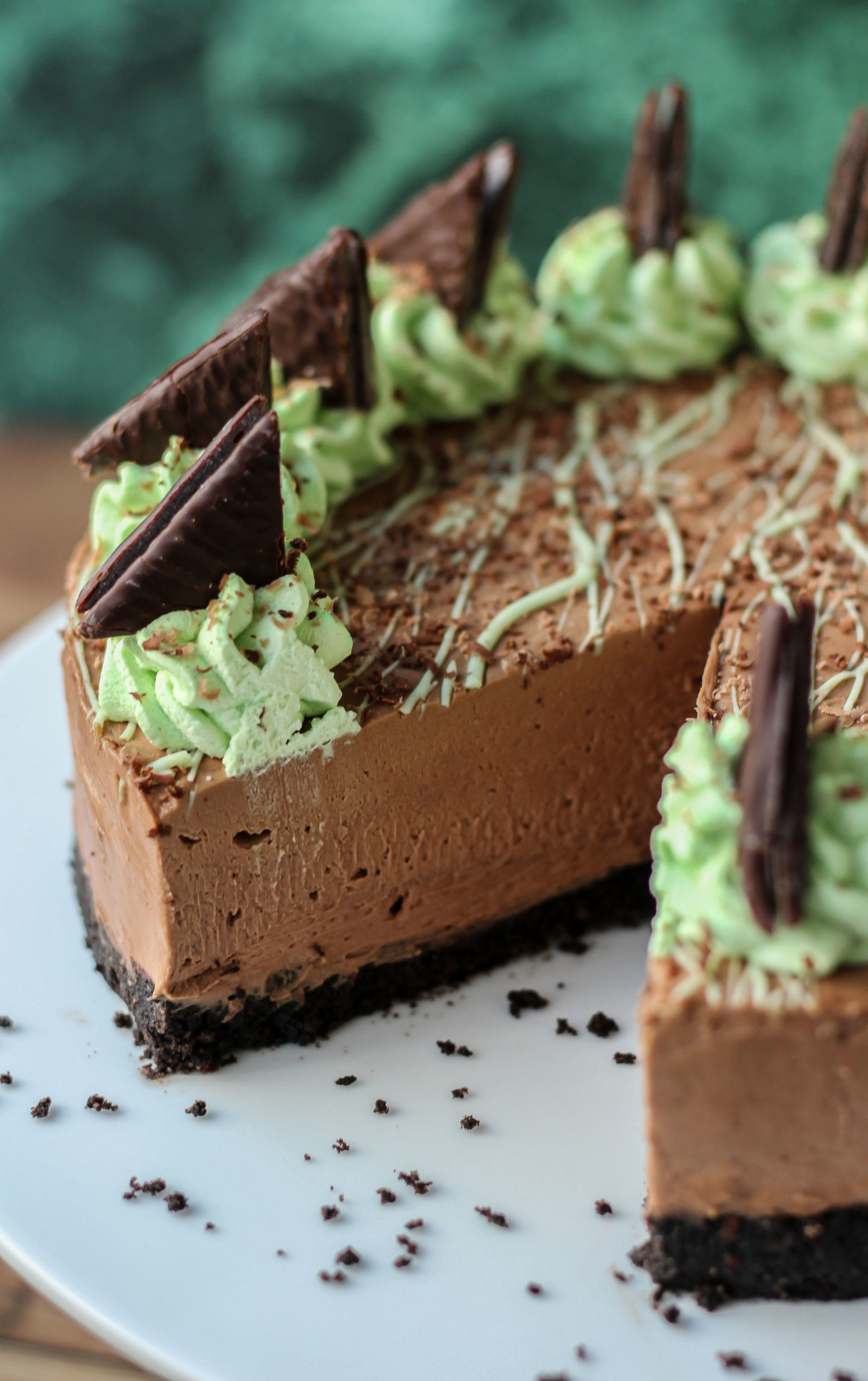 This post may contain affiliate links. For more information, see my Full Disclosure.
---
Today I'm publishing another recipe which is great for Christmas dessert! After sharing my 12 Treats of Christmas eBook with you (which is full of smaller bakes perfect for sharing and gifting), I wanted to create some larger show-stopper recipes (like my Chocolate Orange Bundt Cake!) which would be perfect to serve up after Christmas dinner.
Mint chocolate is one of my favourite classic Christmas flavours and this no-bake mint chocolate cheesecake is so indulgent yet unbelievably easy to make!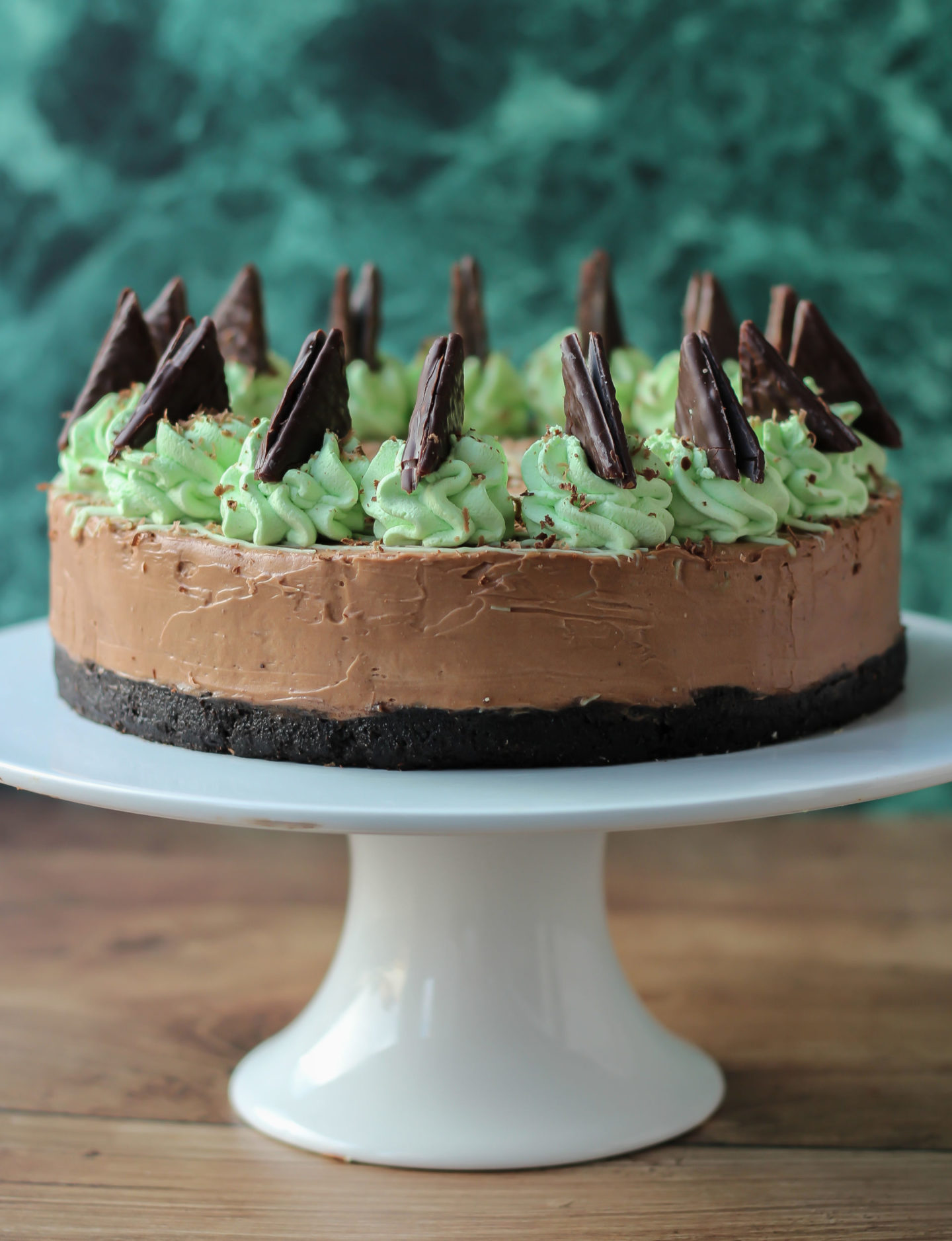 Easy no-bake mint chocolate cheesecake with mint oreo biscuit base
This easy no-bake mint chocolate cheesecake is creamy and smooth with a biscuit base made up of crushed Oreos flavoured with a little peppermint. With melted dark chocolate and more peppermint added to the cheesecake filling, I feel the balance of mint and chocolate is just right.
So if you love mint chocolate desserts you have to try this!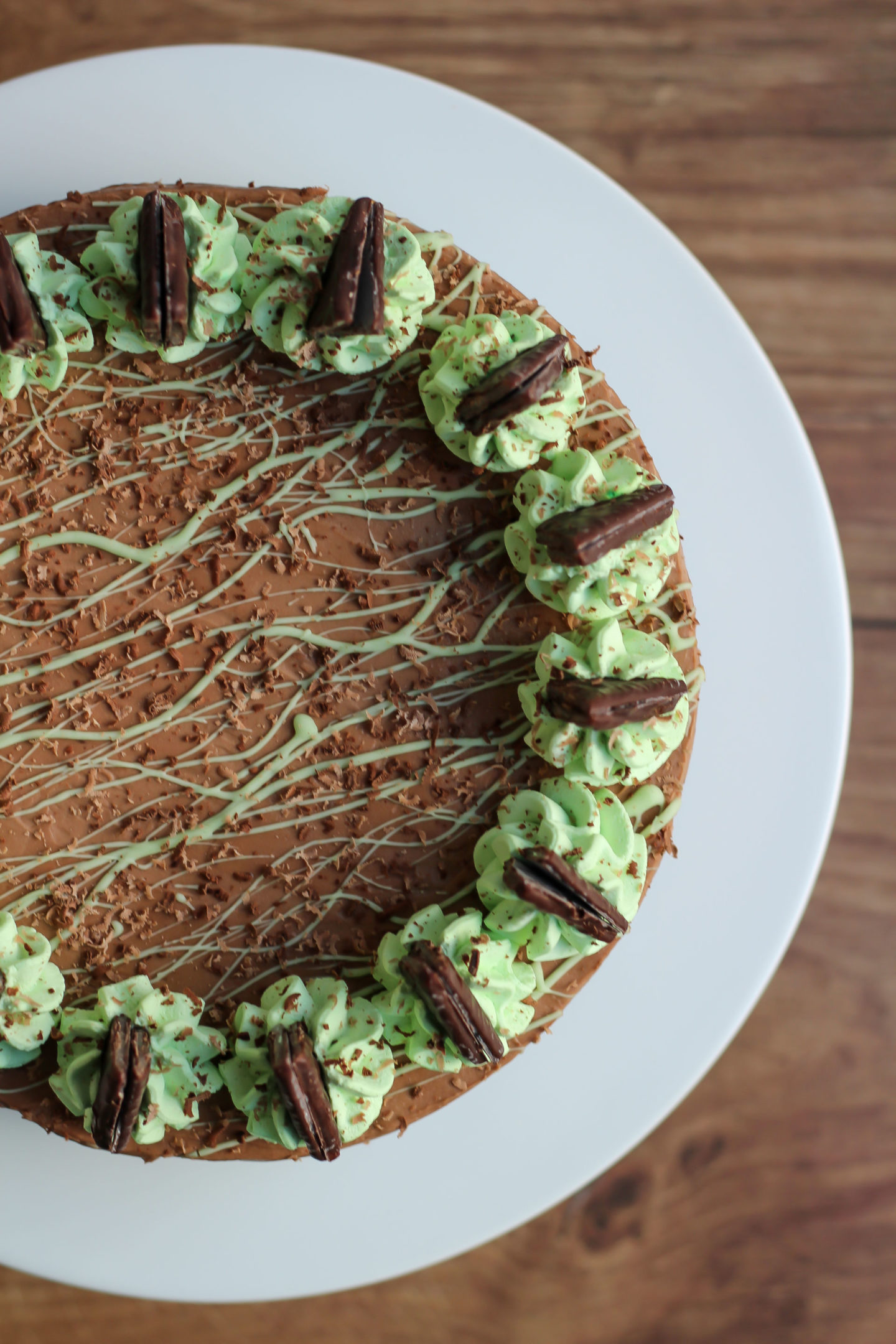 No-bake mint chocolate cheesecake ingredients
I developed this recipe using my Lemon Cheesecake and Strawberry White Chocolate Cheesecake ratios as a starting point. The ingredients used here create a cheesecake that is silky smooth yet sets firm enough to cut neatly, without the use of gelatin.
Full ingredient amounts can be found in my recipe card at the bottom of this post, but in summary this cheesecake is made up of:
Cheesecake biscuit base
Crushed Oreos both biscuit and filling are crushed to create the crumbly biscuit base
Melted butter helps to bind the biscuit base together
Light brown sugar helps the base set a little firmer in the fridge
Peppermint extract for a delicious touch of mint with the sweet chocolatey Oreos! I used Dr Oetker American Peppermint flavouring
Cheesecake filling
Double cream whipped while cold from the fridge, this creates a solid base to help the cheesecake set firmly
Full fat cream cheese for that irresistibly tangy cheesecake flavour. Make sure you give it time to come to room temperature as it'll incorporate so much more smoothly into your cheesecake filling
Icing sugar for sweetness and to help thicken the cheesecake
Melted dark chocolate for a real chocolate flavour
Peppermint extract to complement the chocolate flavour in the cheesecake and the mint chocolate biscuit base
Cheesecake decoration/toppings
Double cream whipped and piped on top, I feel this make the cheesecake look extra tempting!
Your choice of mint chocolate pieces I used After Eights to place on top of the whipped cream swirls in my photos
Melted white chocolate
Green gel food colouring green colouring is optional but I think it looks a little more striking with a classic mint green colour! I add a little to both the whipped cream swirls and to the melted white chocolate
Chocolate shavings to sprinkle on top of the cheesecake to finish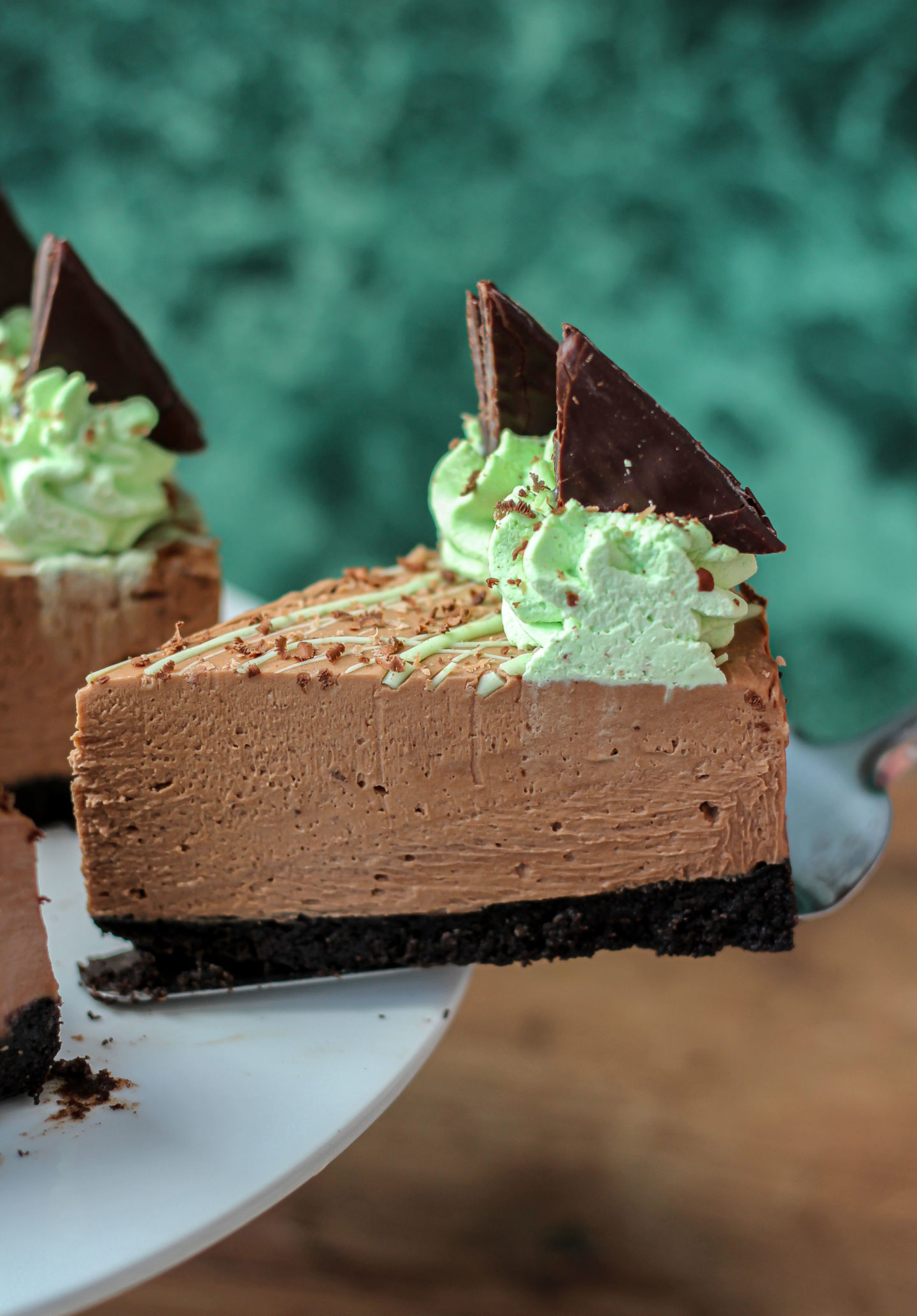 How to make this no-bake mint chocolate cheesecake
As this is a no-bake cheesecake, it is honestly so easy to make and the ideal make-ahead dessert. This is another reason why it's such a great Christmas dessert, as you'll have enough to keep you busy Christmas day without worrying about making a dessert on the day!
You'll find full instructions with step-by-step photos in my recipe card at the bottom of the post, but to summarise:
Firstly, measure out your cream cheese and set it aside to come to room temperature. This is so it can incorporate smoothly into your cream cheese mixture later
Mix the crushed Oreos (biscuits and cream filling), melted butter, light brown sugar and peppermint extract in a medium bowl
Pour this biscuit mixture into your 20cm/8in deep springform pan and press down firmly with a spatula or the bottom of a glass, then place it in the fridge to chill while you make the cheesecake filling
Whisk the cold double cream until stiff peaks form. This thickly whipped cream helps the cheesecake set nice and firm. Pour this whipped cream into a different bowl and set aside
Using the same mixing bowl you just whipped the double cream in, add the room temperature cream cheese, icing sugar, melted dark chocolate and peppermint extract. Beat until smooth and well combined
Using a spatula, fold the whipped cream into the mixture until well combined
Pour the cheesecake mixture into your 20cm/8in deep springform pan and spread evenly with your spatula. The filling should almost reach the top of the pan
Place in the fridge to chill for at least 8 hours, but best left overnight to ensure it sets really firm!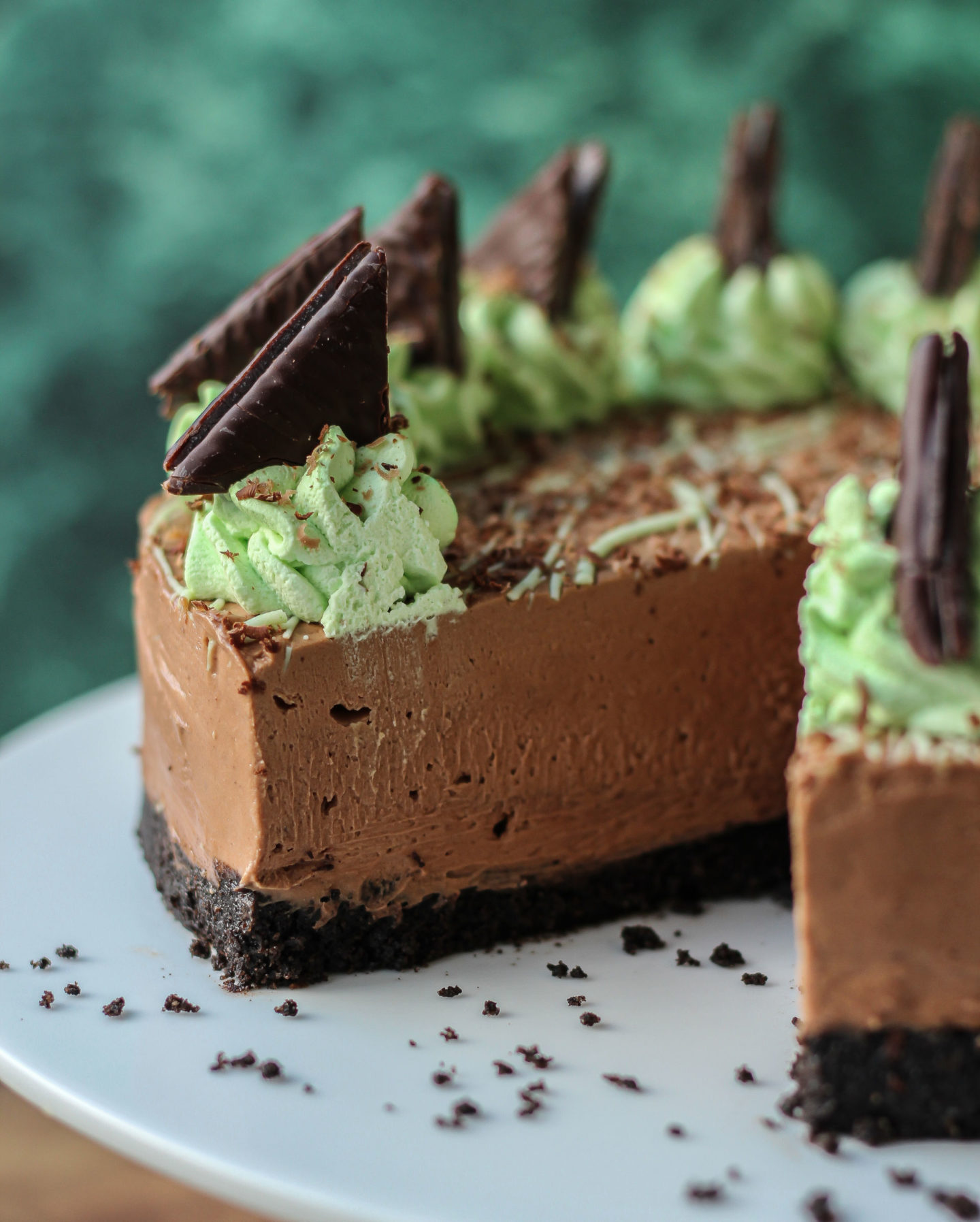 Decorating a no-bake mint chocolate cheesecake
You can decorate your cheesecake however you like, but if you're interested in how I decorated mine, I firstly melted some white chocolate and coloured it green with a little green gel food colouring. I then drizzled it across the cheesecake with a fork.
Next, I whipped a little double cream and piped swirls around the edge of the cheesecake. I also coloured this with a little green gel food colouring, then added some After Eight pieces on top.
I finished it by finely grating some chocolate across the top!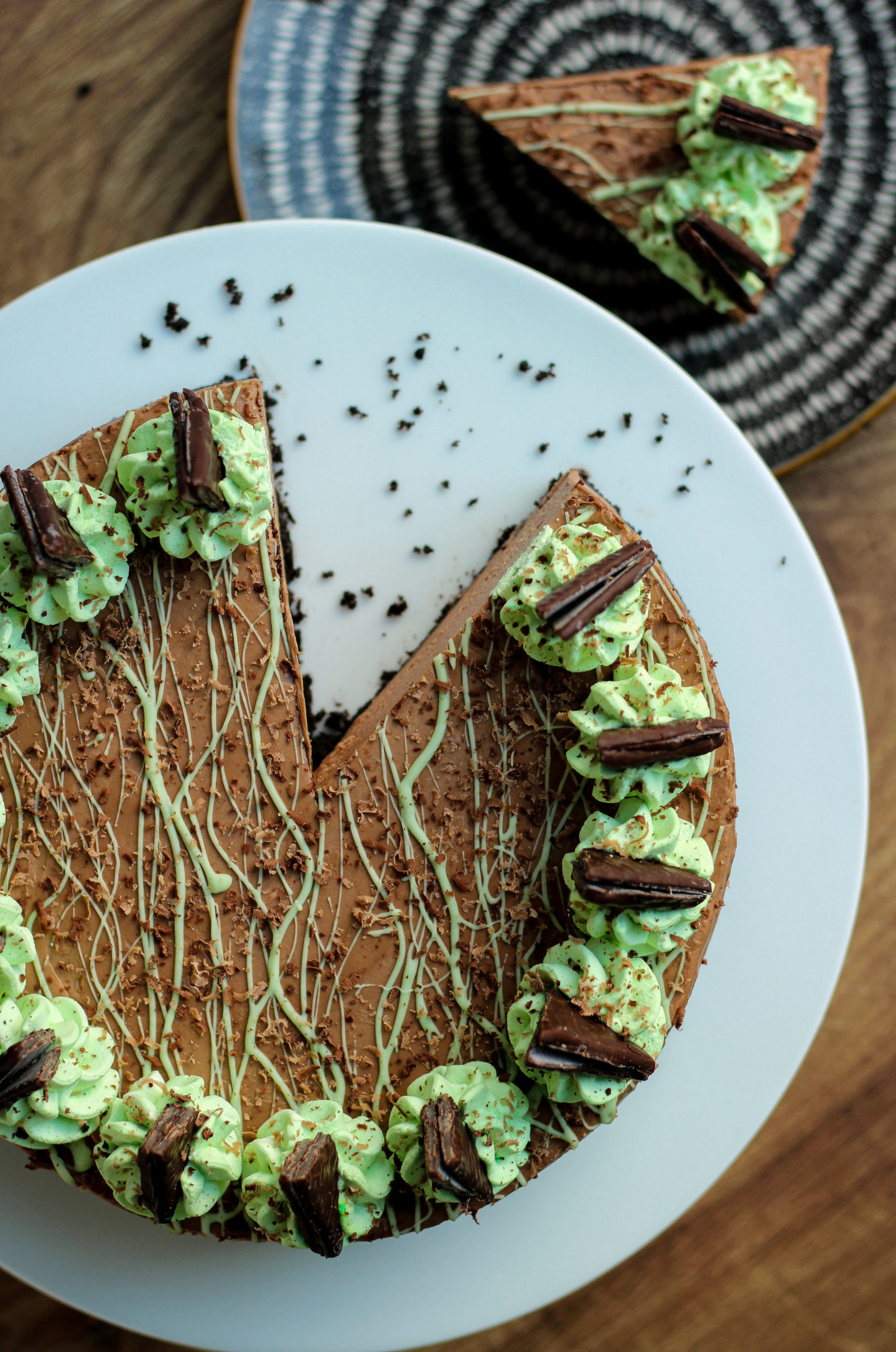 Top tips for making the best no-bake mint chocolate cheesecake
Make sure to use a springform cake pan when making this cheesecake as you can remove it easily from the pan and onto a serving plate
Keep your double cream chilled in the fridge until you're ready to whip it, as it whips up best when cold. This is help ensure your cheesecake has a firm base and therefore sets well in the fridge!
In contrast, make sure your cream cheese is at room temperature before mixing it into your cheesecake filling. This is so it incorporates smoothly with no lumps, and results in a smoother cheesecake
Make sure to use full-fat cream cheese and not a lighter version. The lower fat version simply does not work due to the reduced fat content, resulting in a soft, sloppy cheesecake filling that won't set firmly
The cheesecake should set well after around 8 hours, though I always make my cheesecakes the night before so I know they are super firm by the time I need to serve them!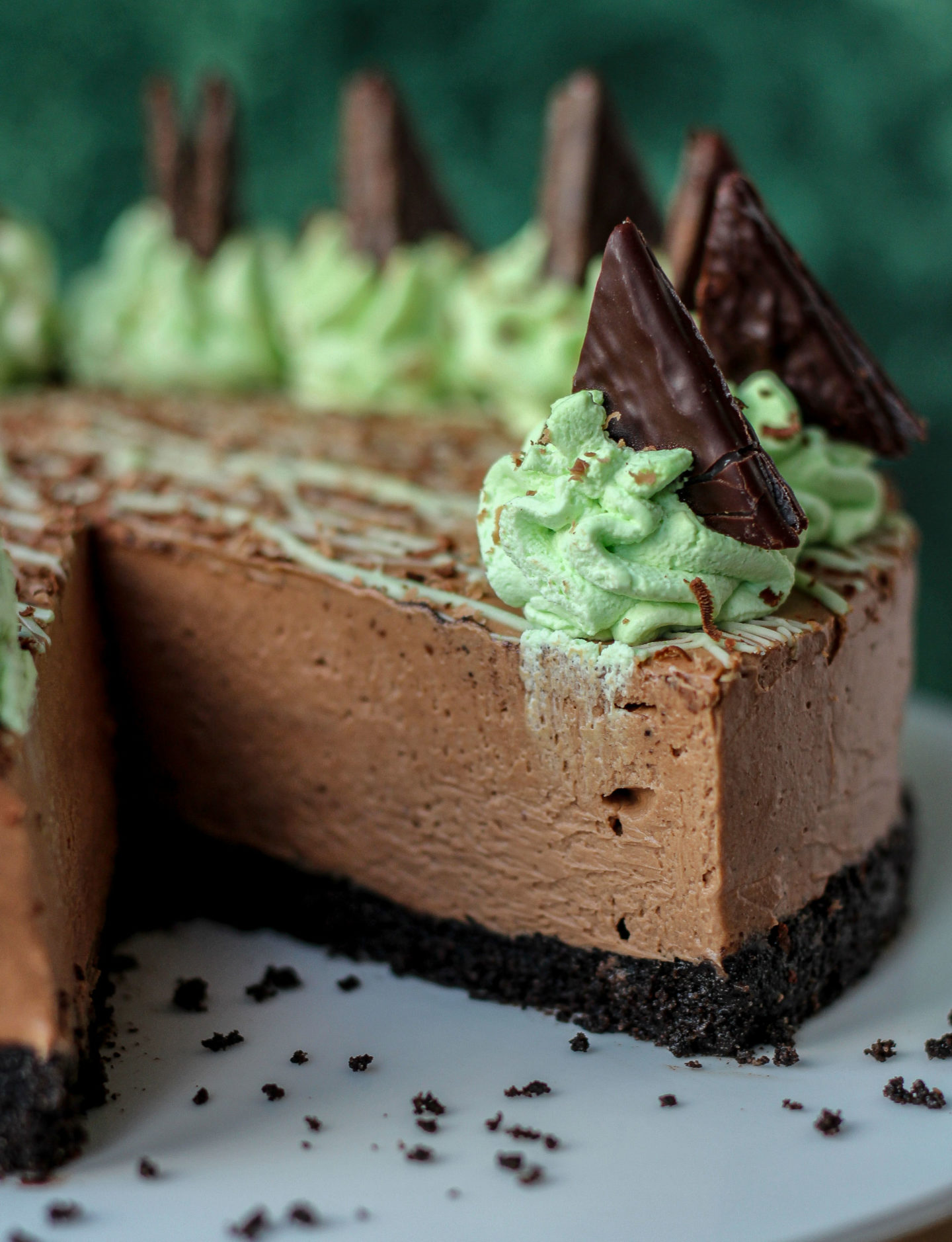 No-bake cheesecake FAQs
How should I store a no-bake cheesecake?
Keep your cheesecake in the fridge between servings. This is to keep it both firm and fresh due to the dairy ingredients in the cheesecake.
How long does a no-bake cheesecake keep for?
This cheesecake should keep well for up to 5 days, though check the expiry dates on your double cream and cream cheese as if they expire sooner, so will the cheesecake!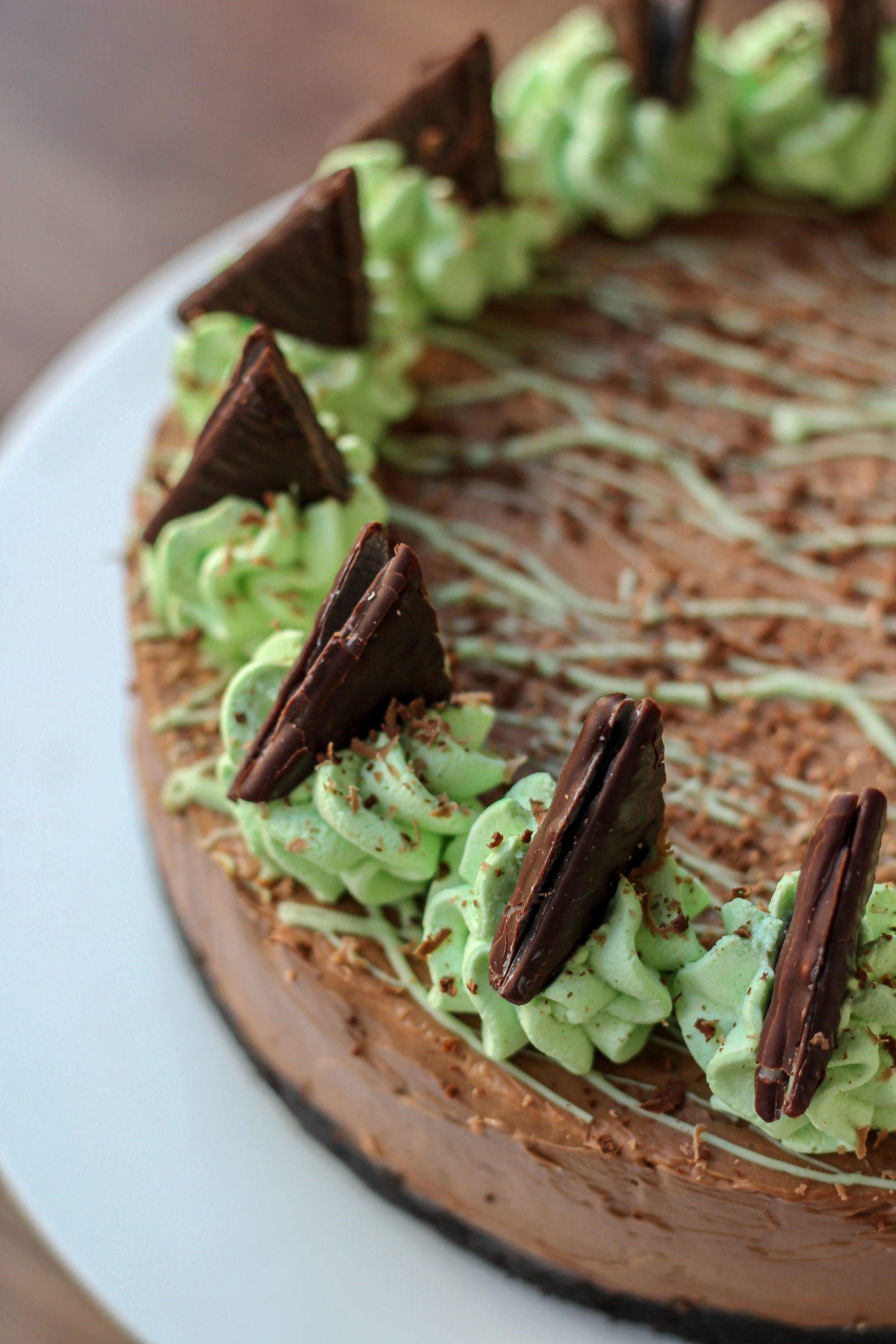 Can I freeze a no-bake cheesecake?
Absolutely – this cheesecake will freeze well. Simply leave it to set up firmly in the fridge first, then keep it in the cake pan, double wrap in film and store in your freezer for up to three months.
What equipment do I need to make a no-bake cheesecake?
Apart from the 20cm/8in deep springform pan we've already discussed, you'll need an electric hand mixer or stand mixer to whip up the double cream and mix the remaining cheesecake filling ingredients. Then you'll just need a spatula to fold the cream and cream cheese mixture together and spread the mixture into the pan.
For the Oreo biscuit base, you can use a food processor to pulse the Oreos to fine crumbs. Alternatively, place the Oreos inside a sandwich bag and bash them with the end of a rolling pin!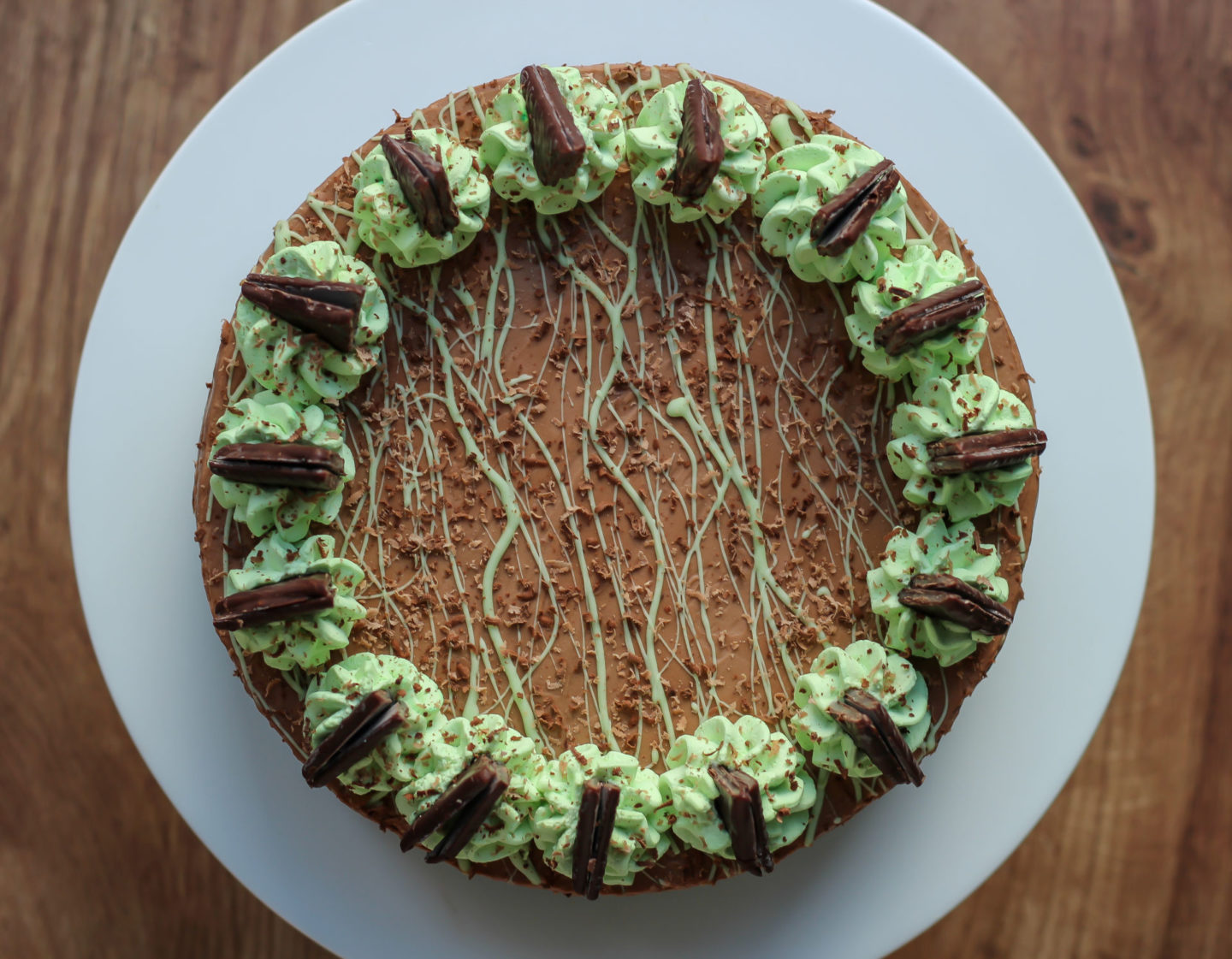 To summarise, this no-bake mint chocolate cheesecake is:
Made up of a minty Oreo biscuit base and creamy mint chocolate cheesecake filling
Deliciously smooth with an unmistakable mint chocolate flavour
Great for making ahead the night before
So quick and easy to make without needing to turn on your oven
An ideal Christmas or Thanksgiving showstopper dessert!
If you try this recipe I'd love to see! You can show me by tagging me @bakerjoblog or using #bakerjoblog!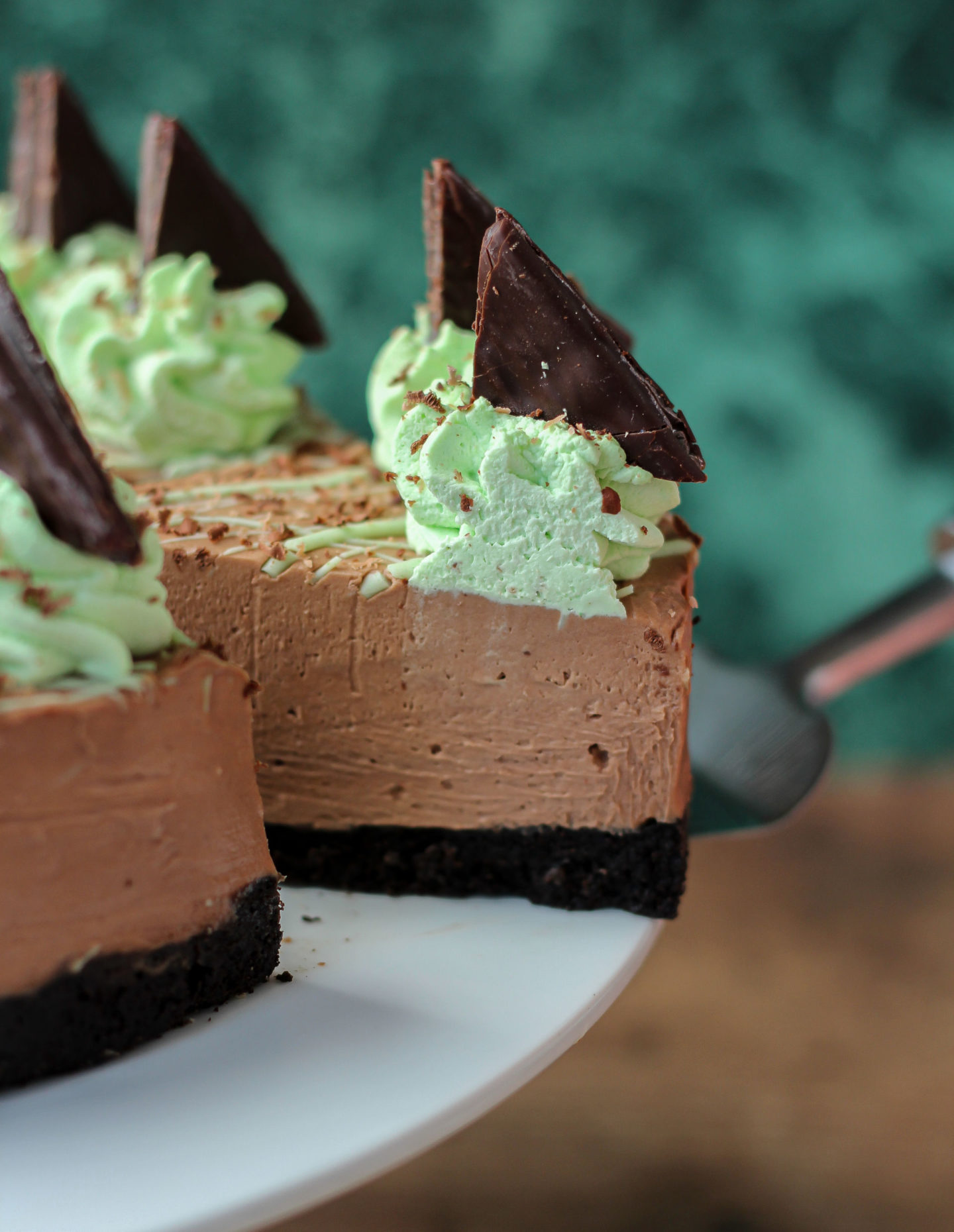 Other no-bake cheesecake recipes to try:
Other no-bake recipes to try:
My Christmas eBook!
An eBook of exclusive Christmas baked and no-bake recipes, with a few extra bonuses included too! Find out more by clicking the image above or clicking here! 😊
My Christmas eBook!
An eBook of exclusive Christmas baked and no-bake recipes, with a few extra bonuses included too! Find out more by clicking the image above or clicking here! 😊