With the delicious combination of strawberry and white chocolate, this easy no-bake cheesecake is so creamy yet sets firmly with no gelatin required!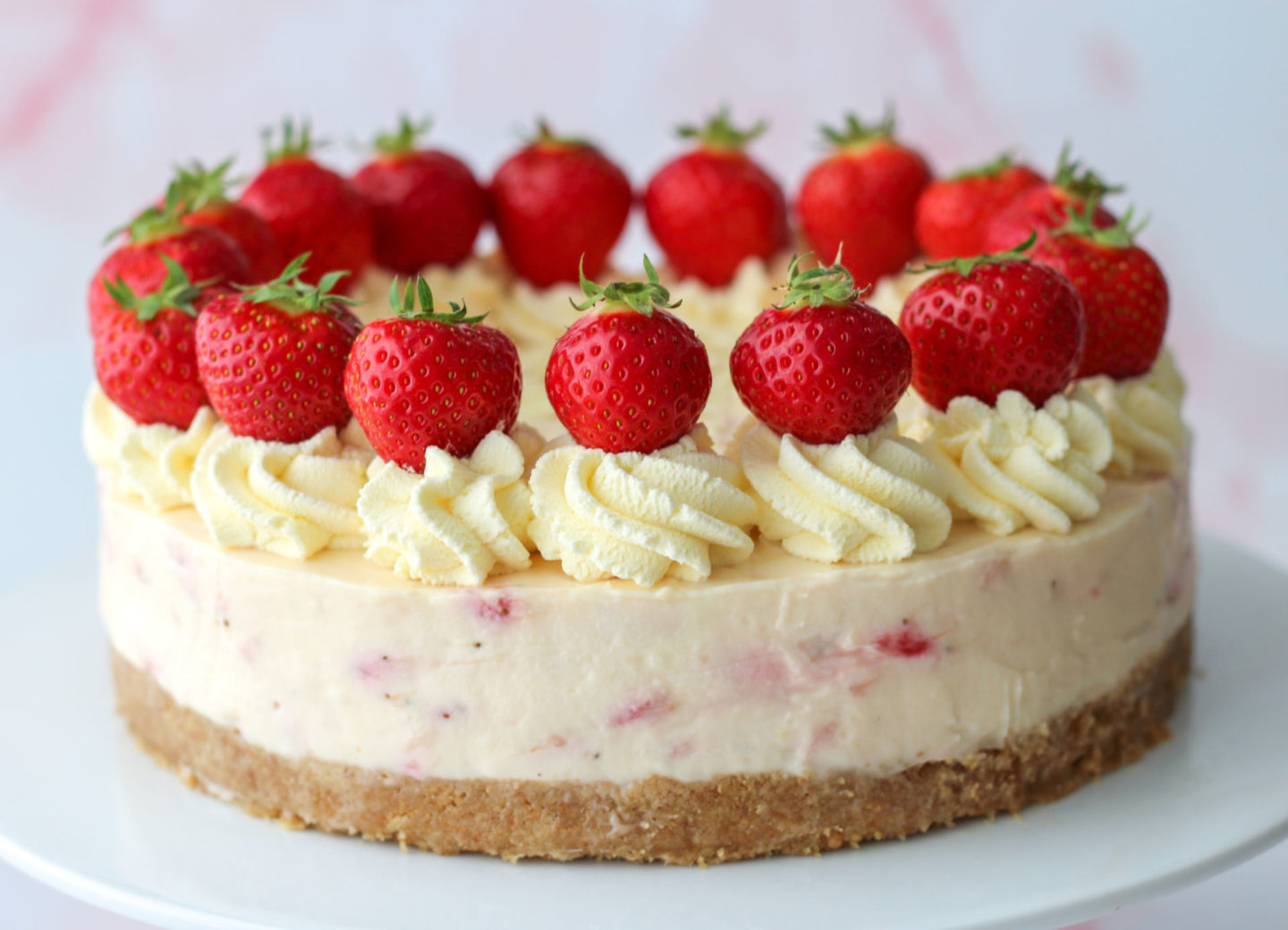 This post may contain affiliate links. For more information, see my Full Disclosure.
---
After sharing my last recipe (Cocoa Dusted Chocolate Truffles) I realised I wanted to create some more no-bake recipes as we head into summer. This no-bake strawberry white chocolate cheesecake is an easy, simple summer dessert and I'm excited to share it with you!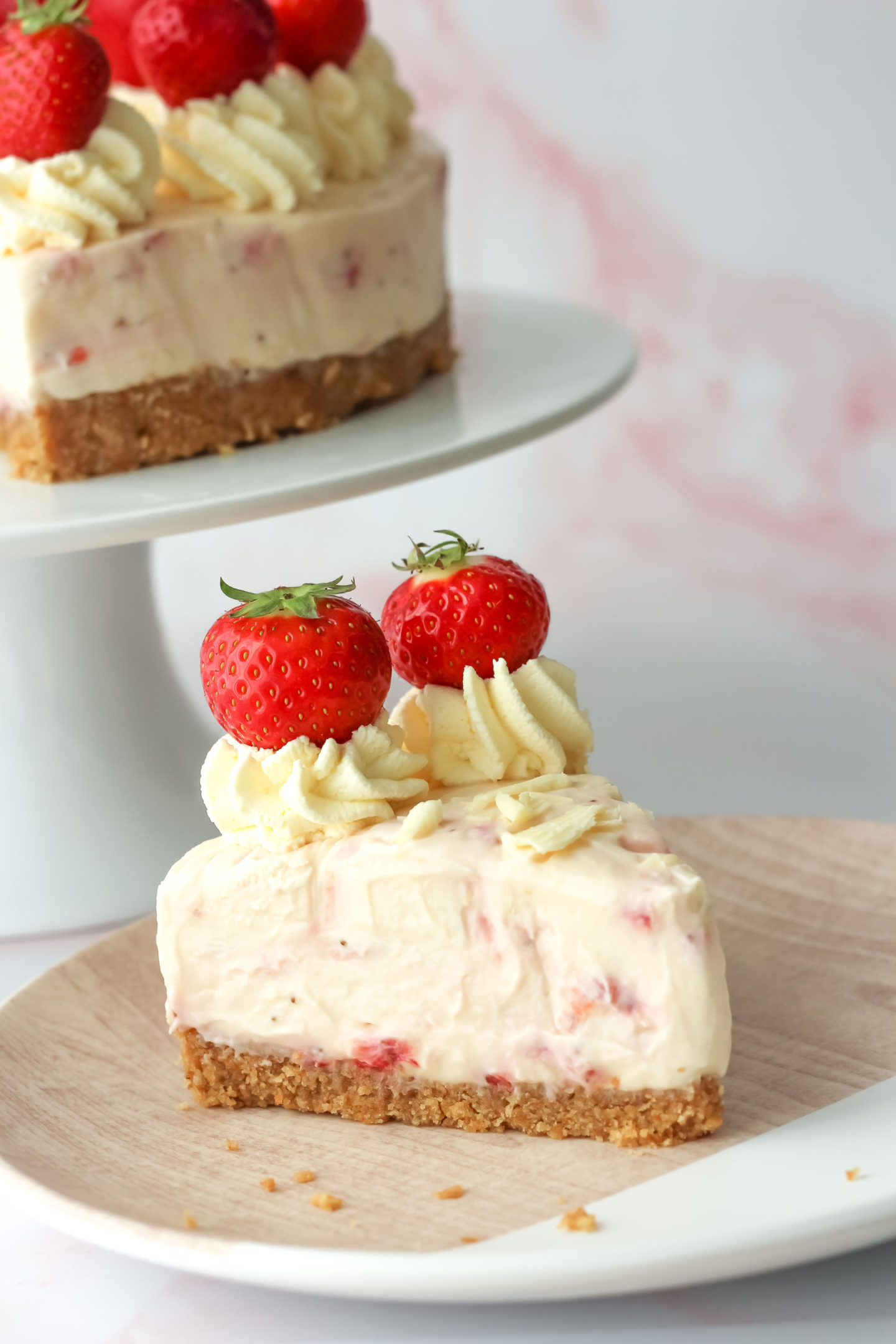 The weather here in the UK is still warm and beautiful, so I'm happy to get creative with some more easy no-bake recipes. Turning the oven on right now would be borderline torture.
I'm currently writing this blog post in my garden actually because it's so gorgeous today!
Strawberry White Chocolate Cheesecake
When I first decided to create this no-bake cheesecake recipe, I was reminded how challenging it can be to use strawberries in a recipe (like when I developed my Strawberry White Chocolate Cookies recipe!).
Compared to my No-Bake Lemon Cheesecake recipe, I needed to account for more liquid from the strawberries. This was vital as too much liquid can prevent your cheesecake from setting firmly in the fridge.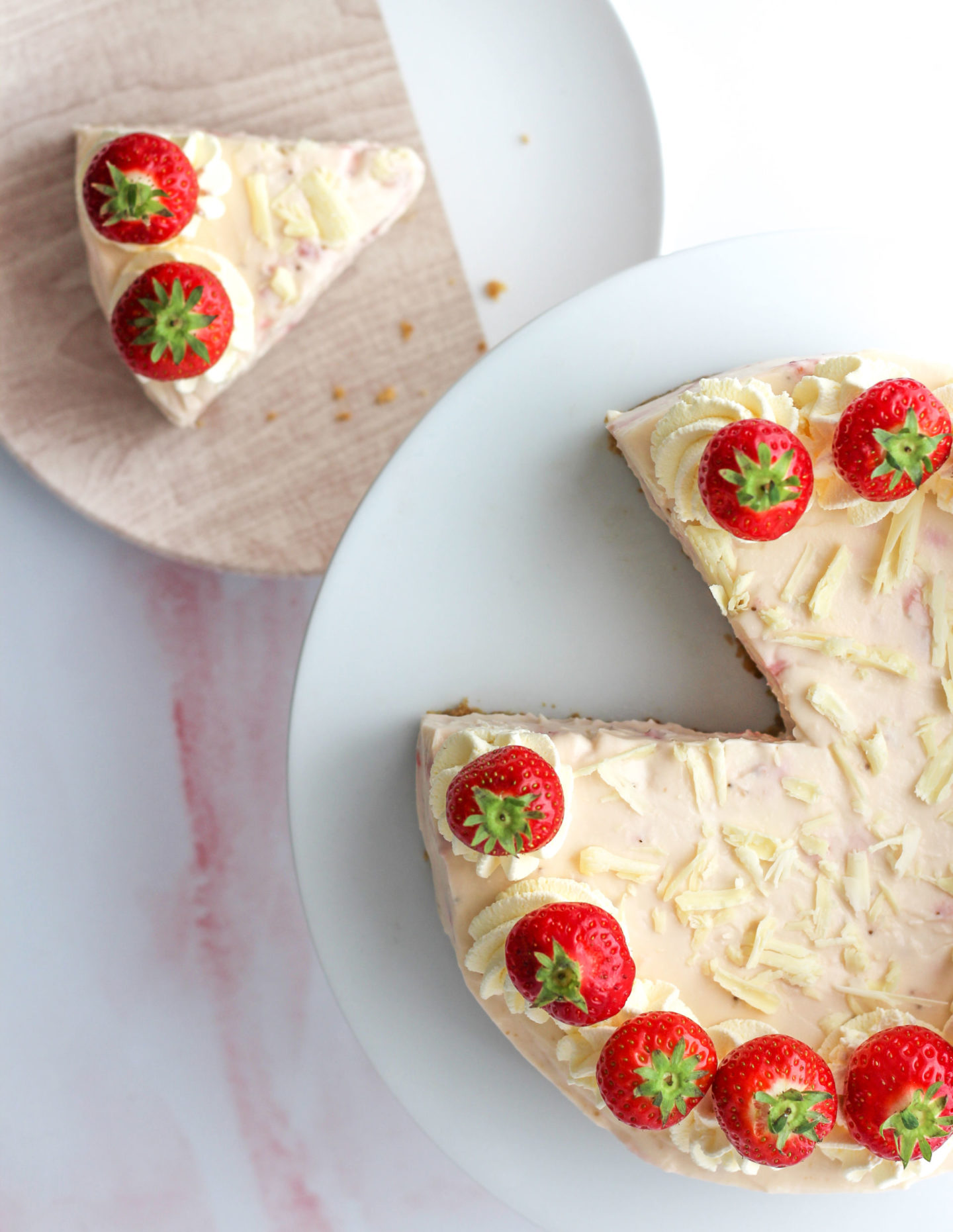 No Gelatin No-Bake Cheesecake
I wanted to create an easy no-bake cheesecake without using gelatin to help it set, making it suitable for vegetarians.
My first attempt involved using a smaller amount of strawberries hoping this would be enough to keep the mixture firm. This first cheesecake recipe did actually set firmly, but the strawberry juice had somehow sunk through the cheesecake.
It oozed out of the crust, leaving a sticky mess in my fridge. Ugh!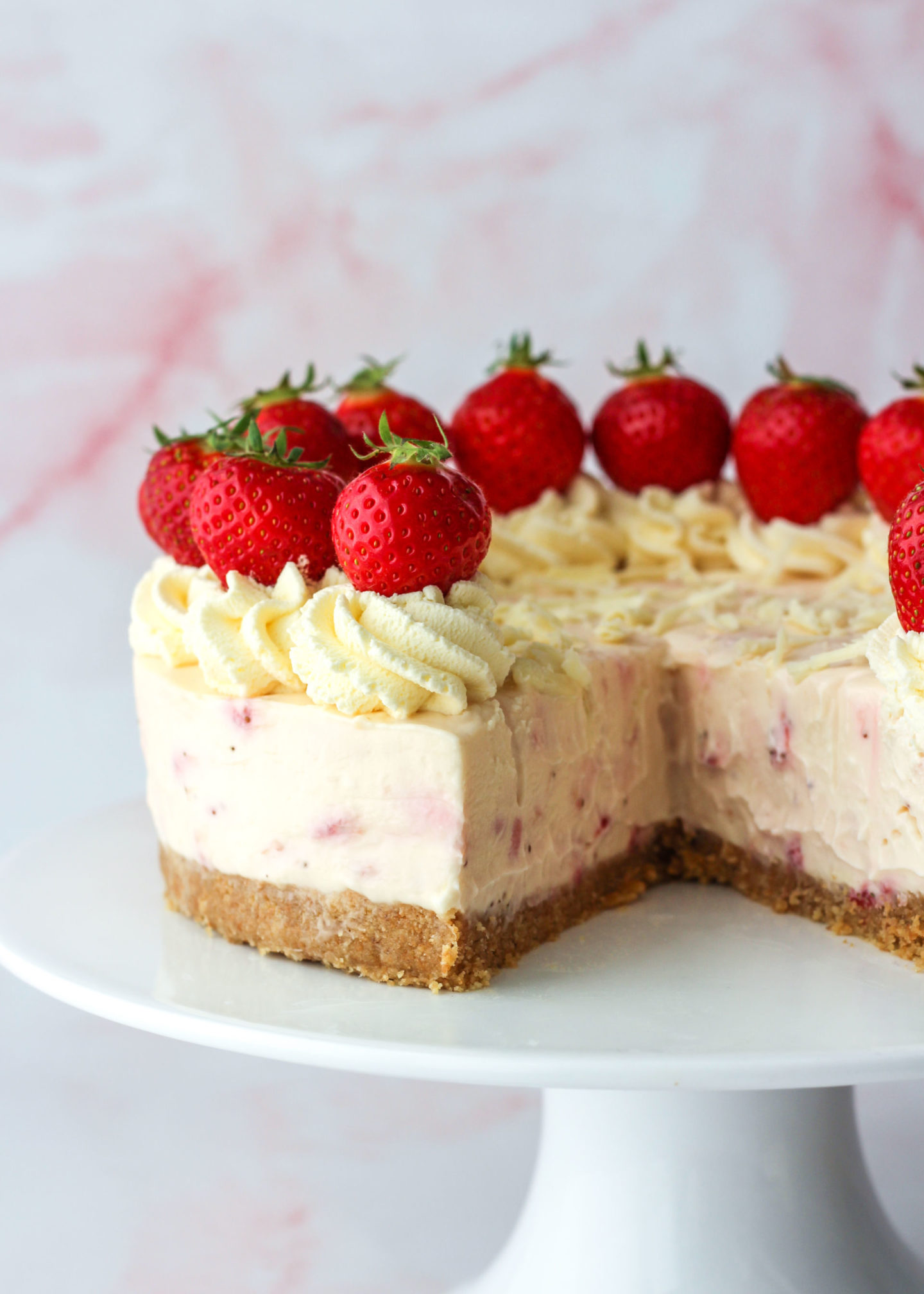 Macerating strawberries
It was at this point I did some more research into thickening strawberries to help incorporate them into my cheesecake mixture. A friend suggested a method known as macerating. This is where you add sugar to the strawberries which draws out some of the liquid from them.
After doing a little experiment in my kitchen involving lots of little dishes with different amounts and types of sugar in them (yes, I'm a nerd) I was confident I'd found the solution!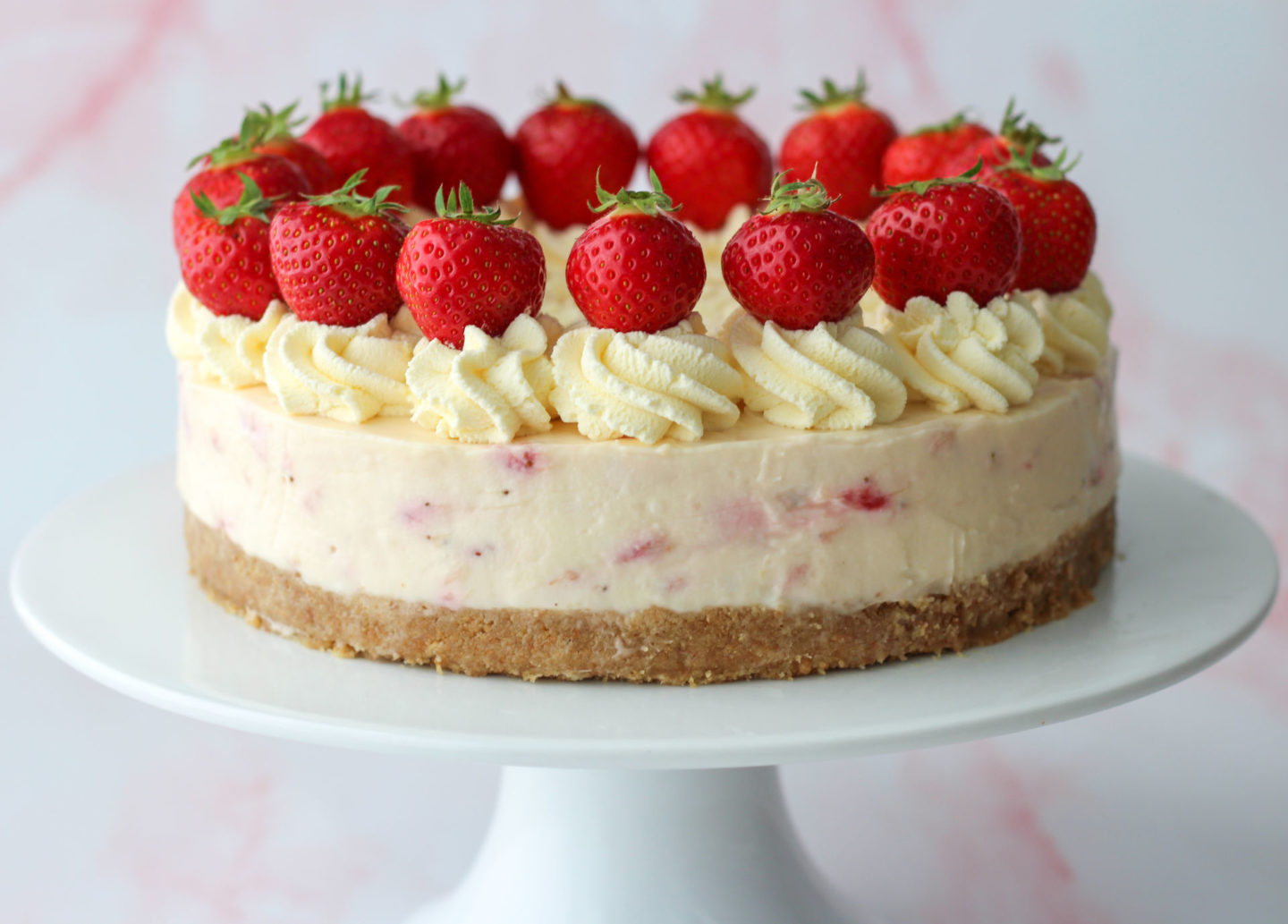 No-bake strawberry white chocolate cheesecake ingredients
Now that I was happy with the ingredients I was using, I needed to get the ratios and balance of flavours just right. The base ingredients of my no-bake cheesecake recipes are full fat cream cheese, double cream and icing sugar.
I discussed in my no-bake lemon cheesecake recipe the importance of ingredient temperatures in cheesecake recipes. The cream cheese needs to be room temperature for it to incorporate into the mixture properly. No one wants lumpy cheesecake, right?
The double cream however needs to be cold. This will allow it to whip up nice and thick, which is crucial as the thickly whipped cream is vital for a firmly set cheesecake.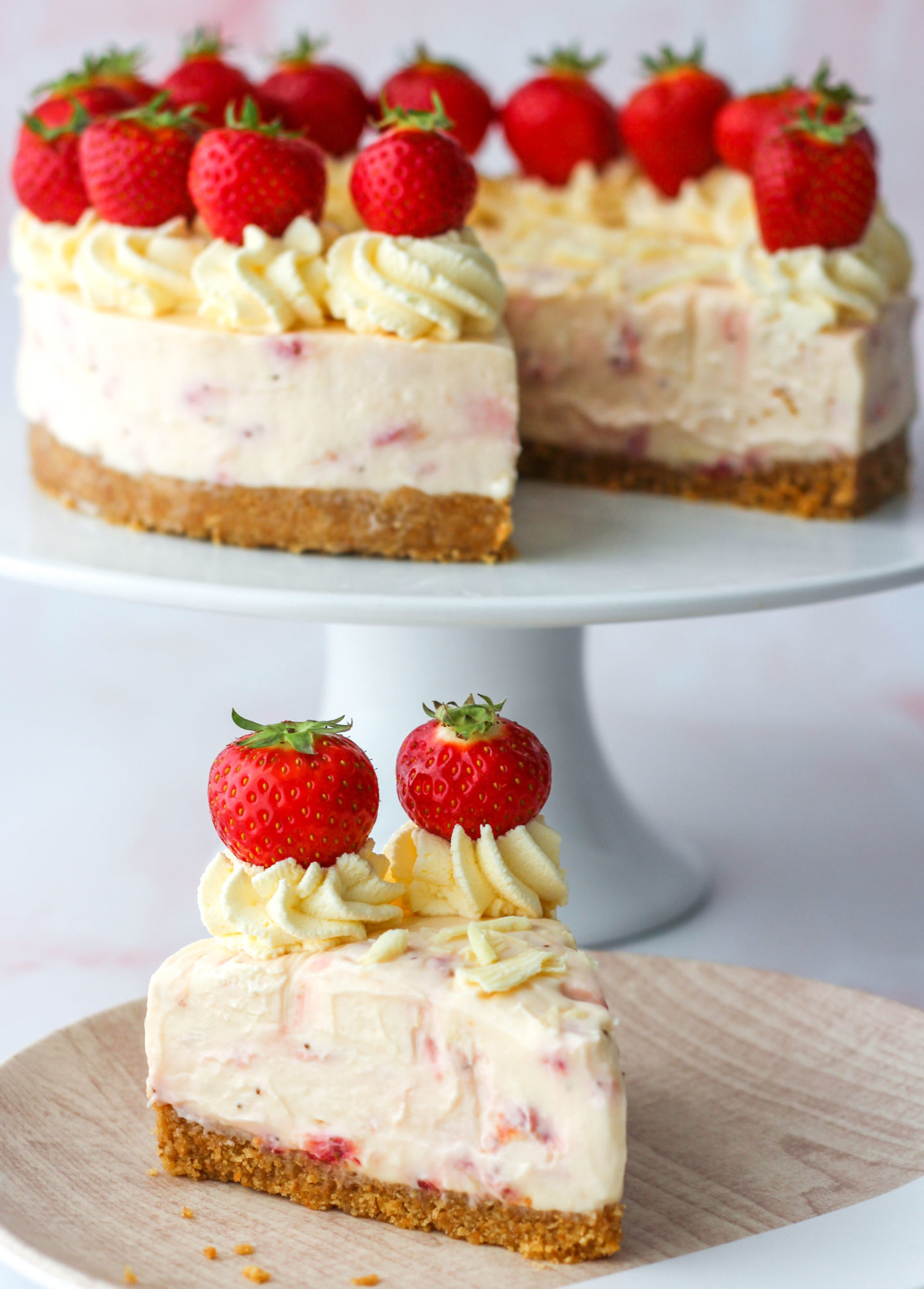 Strawberry and white chocolate cheesecake
The remaining ingredients are just macerated chopped strawberries and melted white chocolate. I really like the balance of flavour here.
The strawberries are sweetened slightly by macerating them but retain that fresh strawberry flavour. That, combined with the creamy melted white chocolate, is a match made in heaven!
If you love this combination of strawberry and white chocolate, check out my Strawberry White Chocolate Cookies.
And if you like the sound of this cheesecake you'll love my No-Churn Strawberry Cheesecake Ice Cream – it is honestly so easy to make!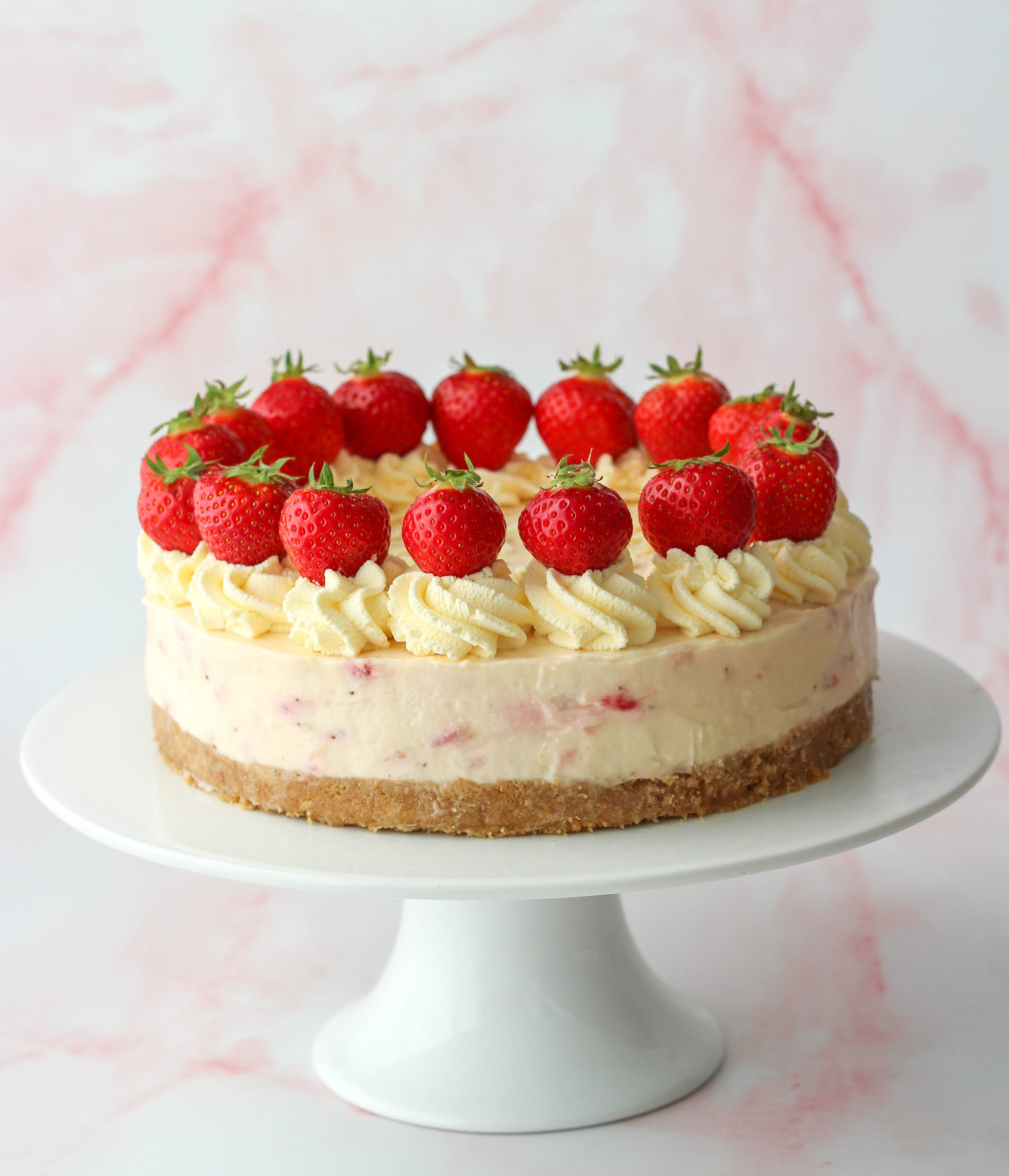 How to make a no-bake cheesecake
My method involves whipping the double cream until it's super thick, which gives a strong base for a firm cheesecake. Then the remaining ingredients are mixed together briefly until combined and smooth.
The final step is simply folding the whipped cream into this mixture until evenly mixed. Then spread it into your pan and let your fridge do the rest!
I strongly recommend making this no-bake cheesecake the night before you need it, to allow it to chill in the fridge overnight. This will ensure it's as firm as possible, to allow you to cut slices easily.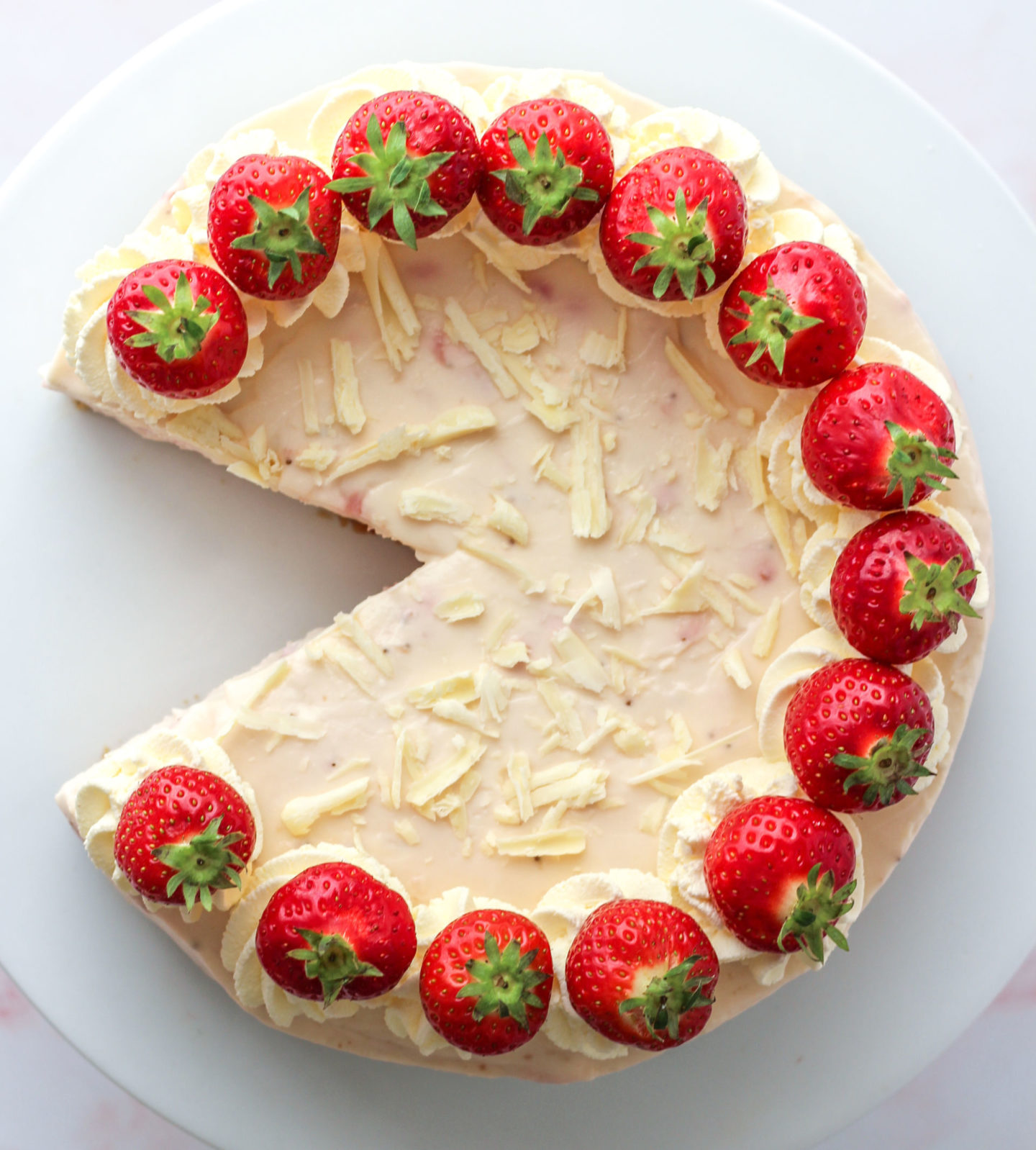 Suitable pan for no-bake cheesecake
My no-bake cheesecake recipe calls for a 20cm/8inch deep springform cake pan. A springform pan is highly recommended to ensure you can get your cheesecake out easily!
In terms of equipment, you'll also need an electric hand mixer or stand mixer. This will make whipping the double cream up thick so much easier!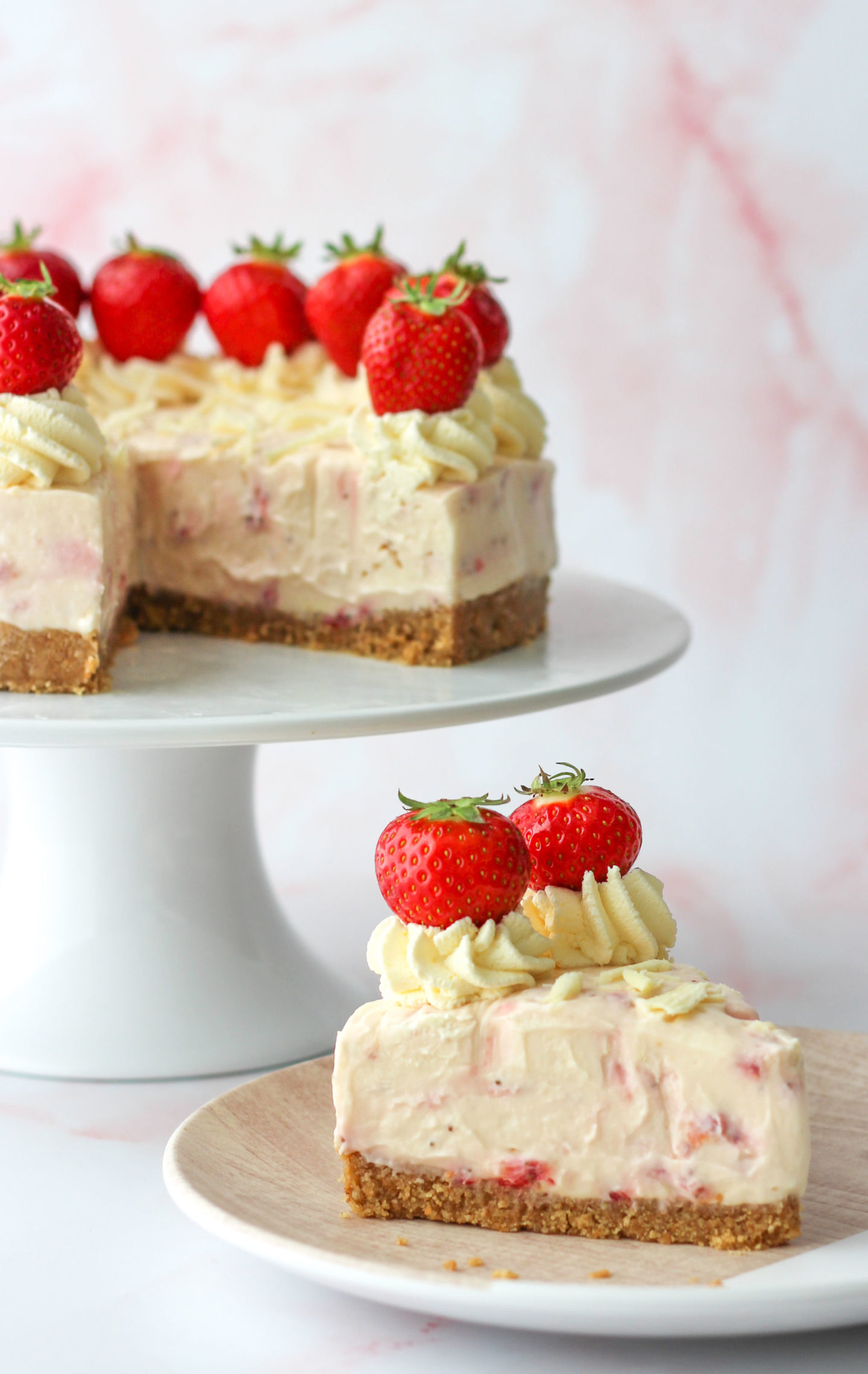 No-Bake Cheesecake Crust Ingredients
This simple cheesecake crust is made up of digestive biscuits (or Graham crackers), butter and a little brown sugar. It will set firmly in the fridge overnight, but will still have a slightly crumbly texture when you bite into it. I love the texture of this crust.
I use a food processor to turn the biscuits into fine crumbs. But don't worry if you don't have a food processor; you can place the biscuits/Graham crackers into a sandwich bag and crush them with a rolling pin!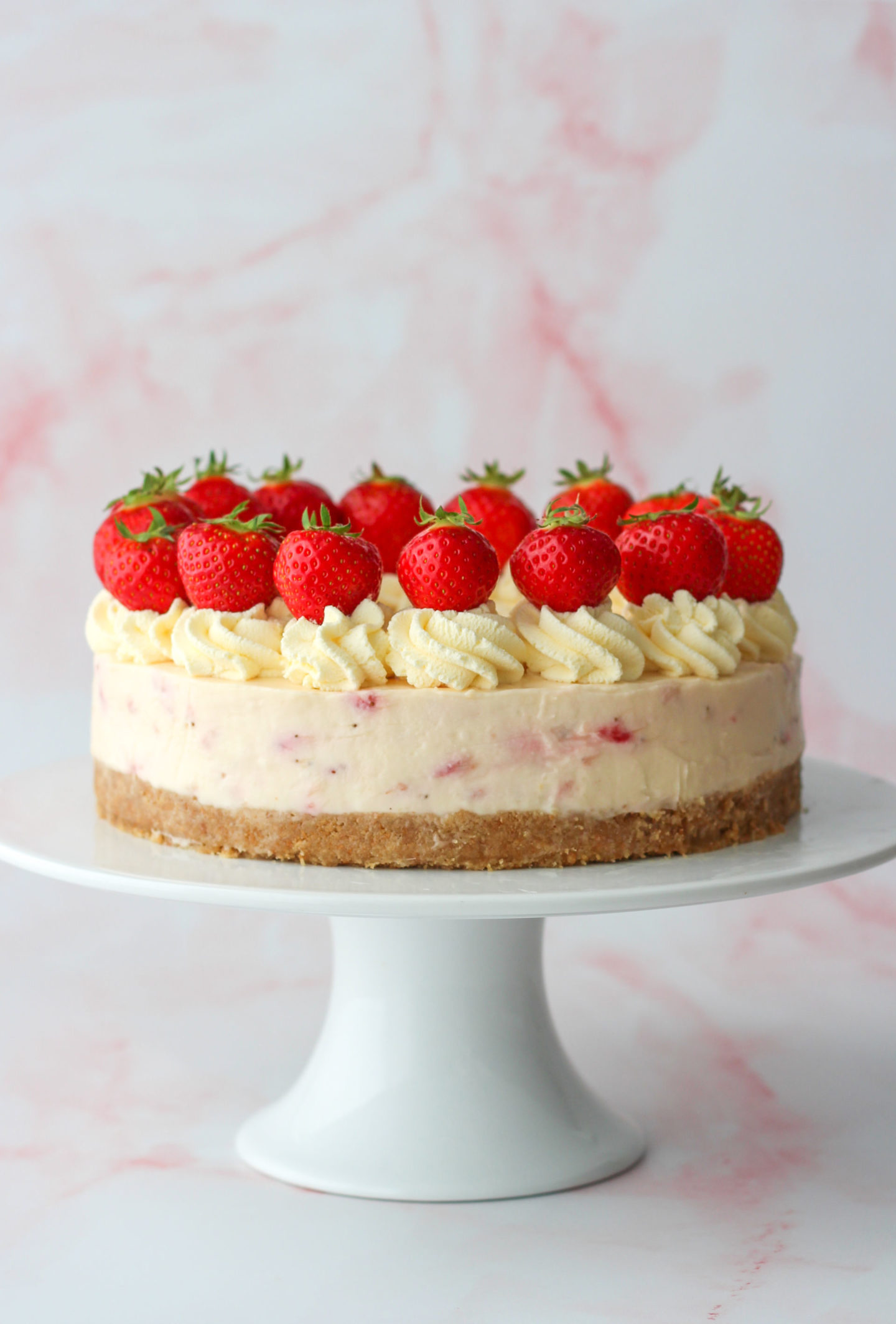 I'm confident you'll love this no-bake strawberry white chocolate cheesecake because it:
is so simple and easy to make
is a no-bake recipe so no oven needed
does not require gelatin to set
contains real strawberry flavour
is a perfect make-ahead dessert
is creamy and so delicious!
If you try this recipe I'd love to see! You can show me by tagging me @bakerjoblog or using #bakerjoblog!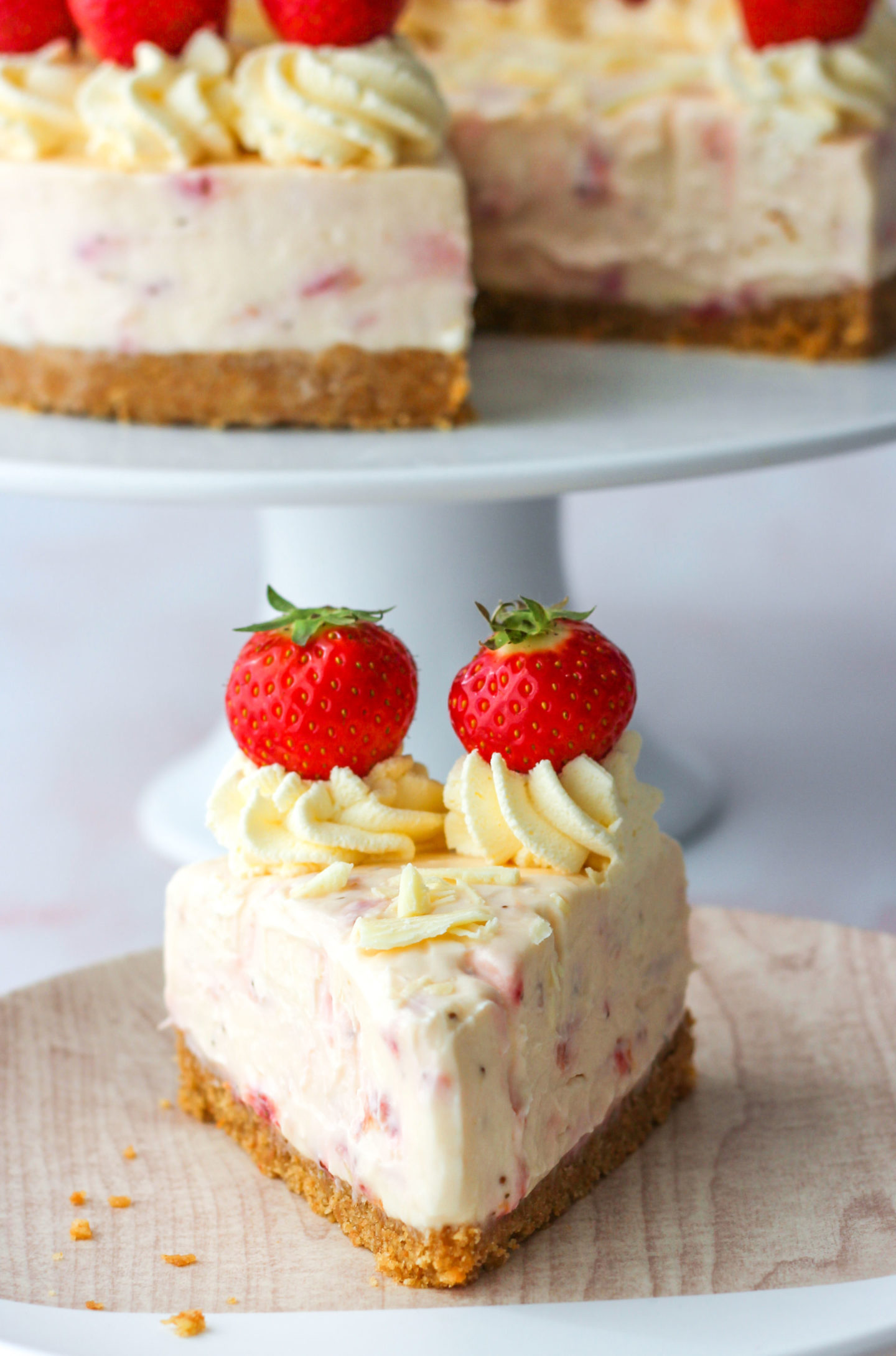 Other no-bake cheesecake recipes to try:
Other dessert recipes to try: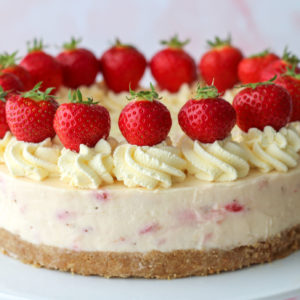 No-Bake Strawberry White Chocolate Cheesecake
With the delicious combination of strawberry and white chocolate, this easy no-bake cheesecake is so creamy yet sets firmly with no gelatin required!
Equipment
20cm/8" springform deep round pan
Ingredients
Biscuit Base
250

g

digestive biscuits

or Graham crackers

130

g

butter

melted

30

g

light brown sugar

or light muscovado sugar (if using light muscovado, sift to remove lumps)
Cheesecake Filling
290

ml

double cream

cold

630

g

cream cheese

room temperature

160

g

icing sugar

sifted

150

g

white chocolate

melted

250

g

fresh strawberries

finely chopped and mixed with 100g icing sugar (see recipe instructions below)
Whipped Cream Topping (optional)
200

ml

double cream

cold

Strawberries to place on top of the piped whipped cream

I used 16 strawberries
Instructions
First, measure out your cream cheese into a medium bowl and set side to come to room temperature.

Break up the white chocolate into individual pieces and melt in the microwave in 20 second increments until smooth. Set aside to cool.

Finely chop the fresh strawberries.

Place in a medium bowl and add 100g icing sugar, stirring the mixture until the strawberries are well coated in the sugar. Set aside to macerate for 25-30 minutes.

It will look quite watery but don't worry, you will sieve this mixture once macerated.

Pulse the digestive biscuits/Graham crackers in a food processor. If you don't have a food processor, place the biscuits/crackers in a large ziplock/sandwich bag and crush them with the end of a rolling pin. Use either method until you have fine crumbs.

Melt the butter in the microwave in 20 second increments.

Whisk the biscuit crumbs and light brown sugar togther in a medium bowl.

Add the butter to this mixture and stir with a spatula until well combined.

Pour this mixture into your 20cm/8" springform tin and press down really firmly to pack the crumbs as tightly as possible. This will create a strong biscuit base! I use the base of a glass to press down on the mixture to make sure it's tightly packed.

Place your springform tin in your fridge to chill while you make the cheesecake filling.

Pour the cold double cream into the bowl of your stand mixer or medium/large bowl if using a hand whisk. Whisk the cream on high (8-10 in a KitchenAid mixer) until the cream is whipped up really thick. This takes about 1 minute on my KitchenAid mixer. It's crucial to make sure it's fully whipped and thick here as this will help to create a firm cheesecake!

Transfer the whipped cream to a smaller bowl and set aside. You can now use this same large bowl for the next step; don't worry about cleaning it.

Sieve the chopped strawberries to drain the excess strawberry juice.

Try to get as much liquid out as this stage by pressing gently on the strawberries in the sieve with the back of a spoon.

This is important as too much strawberry juice in the cheesecake mixture will prevent it from setting firmly!

To this large bowl add the room temperature cream cheese, sifted icing sugar, melted white chocolate and chopped, sieved strawberries. Swap your whisk attachment for your beater attachment and beat on medium (5-6 KitchenAid) for around 30 seconds until smooth and combined.

Now using a spatula or wooden spoon, gently fold the whipped cream into the cream cheese mixture, as gently as possible. Continue until fully incorporated.

The mixture will be quite thick so that your spatula should be able to stand upright in the mixture.

Spread this cheesecake mixture into your springform pan that's been chilling in the fridge. Level the top as evenly as possible. The mixture will go almost to the very top of the pan.

Place the pan back in the fridge to chill for at least 12 hours, ideally 24 hours.
Decorating the finished cheesecake
Once set, carefully release the springform pan and place the cheesecake carefully onto your serving plate. It helps to gently run a knife along the edge of the cheesecake crust to help slide it from the cake pan base.

I've gone around the sides and top of the cheesecake with a palette knife (or you could use a normal knife) to smooth it out. I think this gives a nicer finish.

If you want to pipe cream on top, whip 200ml of double cream until just thick enough to be pipeable, but not over-whipped. On my KitchenAid stand mixer, I whisk the cream on high (10) for just under 1 minute, then change to slow (2) to watch it more carefully.

If you want to put strawberries on top like in my photos, it needs to be relatively thick to hold the weight of the strawberries.

Place the whipped cream into a piping bag with your choice of piping tip (I used a star tip here) and pipe swirls around the top.

Store in the fridge. Best eaten within 3 days.
Notes
If you've tried this recipe, tag @bakerjoblog on Instagram, Facebook, Pinterest or Twitter and/or use #bakerjoblog!