With the flavours of a traditional carrot cake, this Swiss roll is filled with a delicious orange flavoured cream cheese icing. A twist on a classic!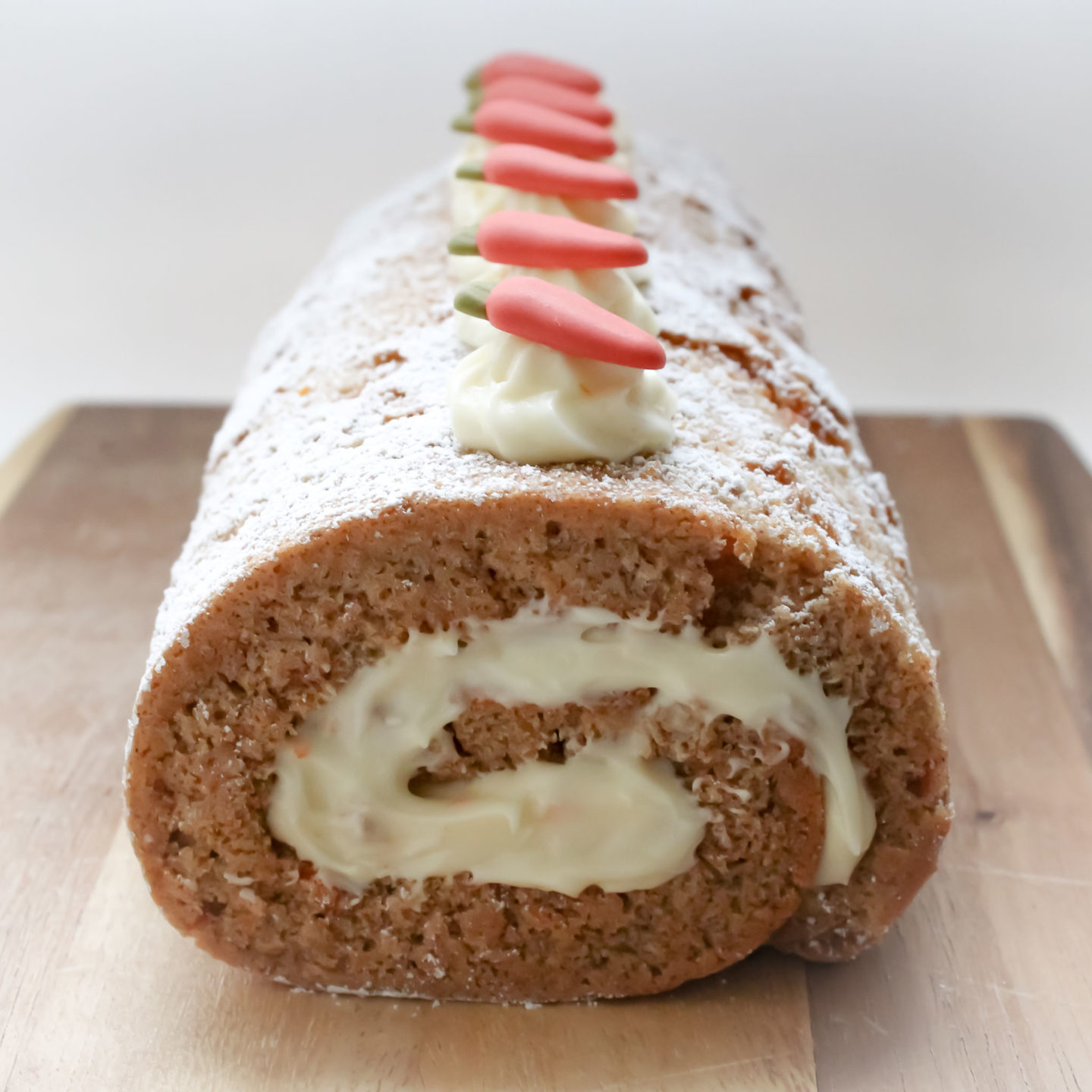 This post may contain affiliate links. For more information, see my Full Disclosure.
---
The idea for this carrot cake Swiss roll came to me just as I was getting into bed recently. I'd been thinking about my go-to classic carrot cake recipe and wondering how I would ever be able to do it better myself.
I'd also made a chocolate Swiss roll at Christmas for my annual Yule log and I'd forgotten how much I enjoyed making them. So my brain somehow combined the two to create this beauty!
(I've also developed a recipe for a Carrot Loaf Cake!)
I love spiced cakes so really wanted to get the flavour right. Plus, I added some fresh orange zest to the cake. I've opted for pecans rather than the more traditional addition of walnuts here because, well… I love pecans (see my Hummingbird Muffins and Blueberry Nut Muffins)!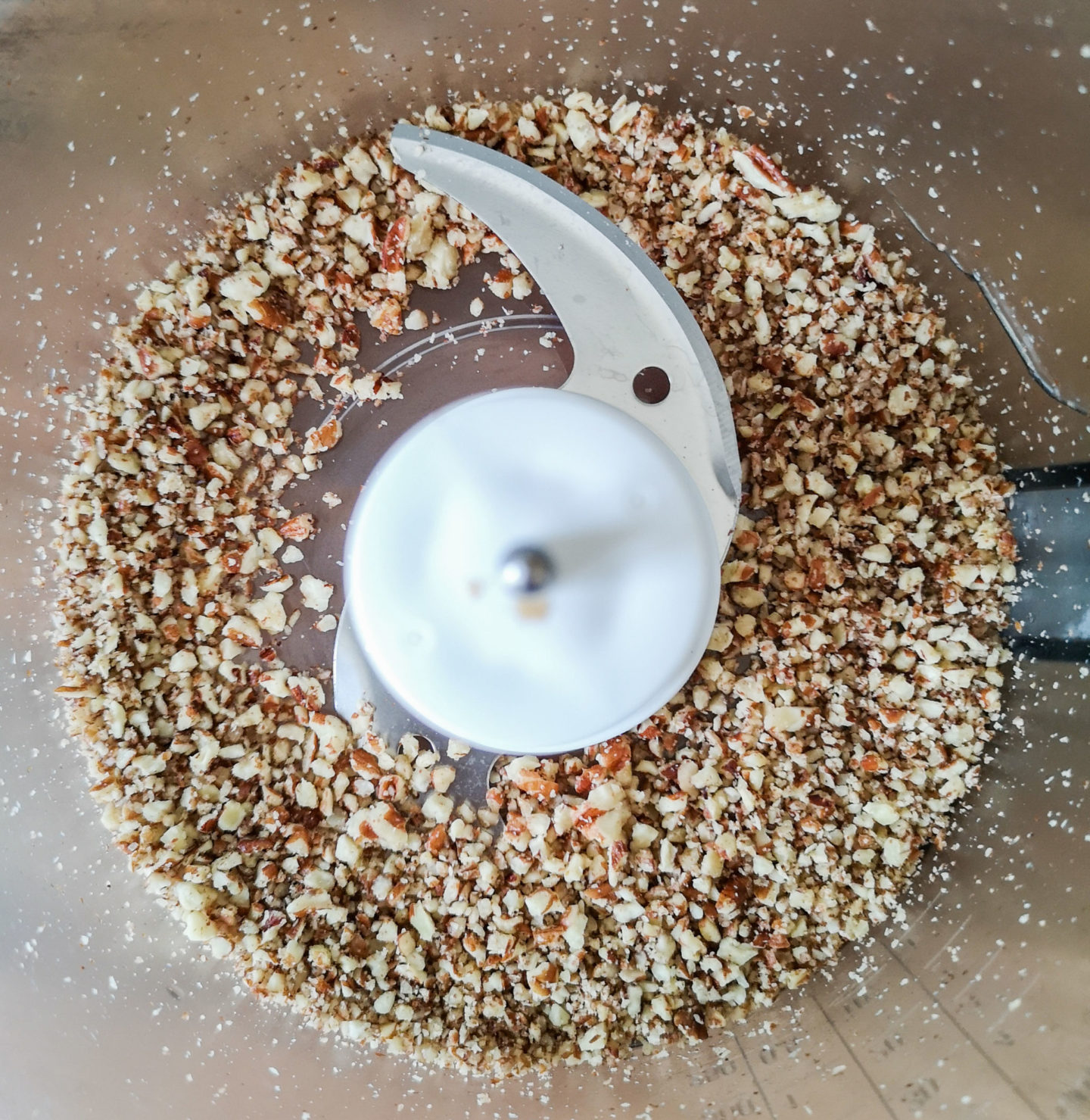 Carrot Cake Swiss Roll Recipe Development
I'll be honest with you – this carrot cake swiss roll recipe did not come easily. This was my first real experience of the heartbreak and frustration that comes with recipe testing.
My main issue was cracking when unrolling the cooled Swiss roll before adding the filling. The first time I hoped it wouldn't look that bad once I rolled it up…
I was wrong.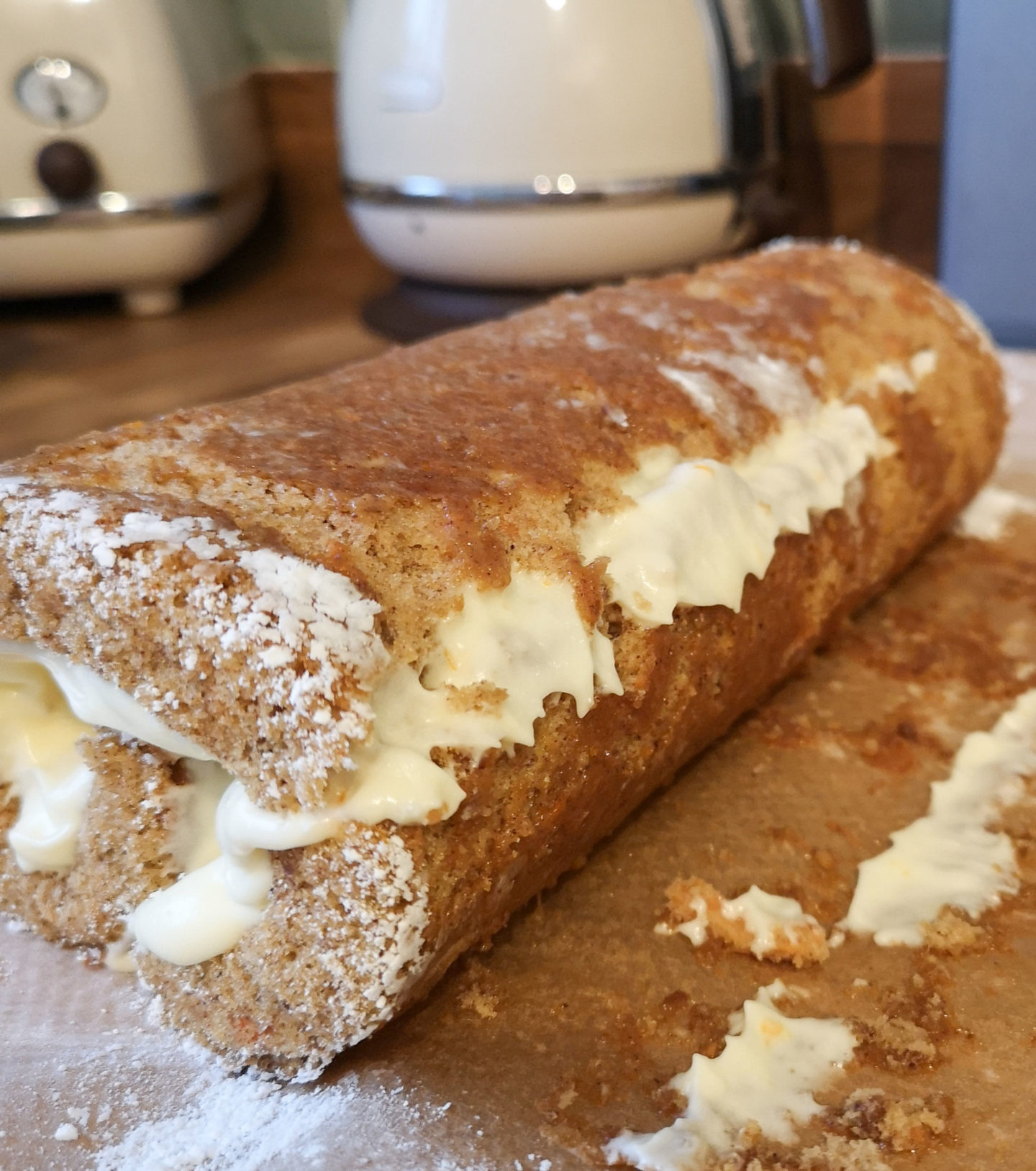 Creating the perfect carrot cake swiss roll recipe
The flavour was just right but ugh, the cracking! I had met my nemesis. It took four attempts with several recipe adjustments to get this bad boy to behave. Let's talk through my development process.
The first sponge was beautifully moist and seemed so promising, but it ended up being so moist it couldn't hold its shape well enough to roll. This led to the serious cream cheese icing seepage seen above.
The second attempt contained fewer carrots, half the amount of oil and I omitted some muscovado sugar for caster sugar. I also reduced the baking powder to half a teaspoon and baked it for less time. Yet it still cracked and split when unrolling the cooled sponge. The stubborn, perfectionist in me was starting to lose confidence at this point!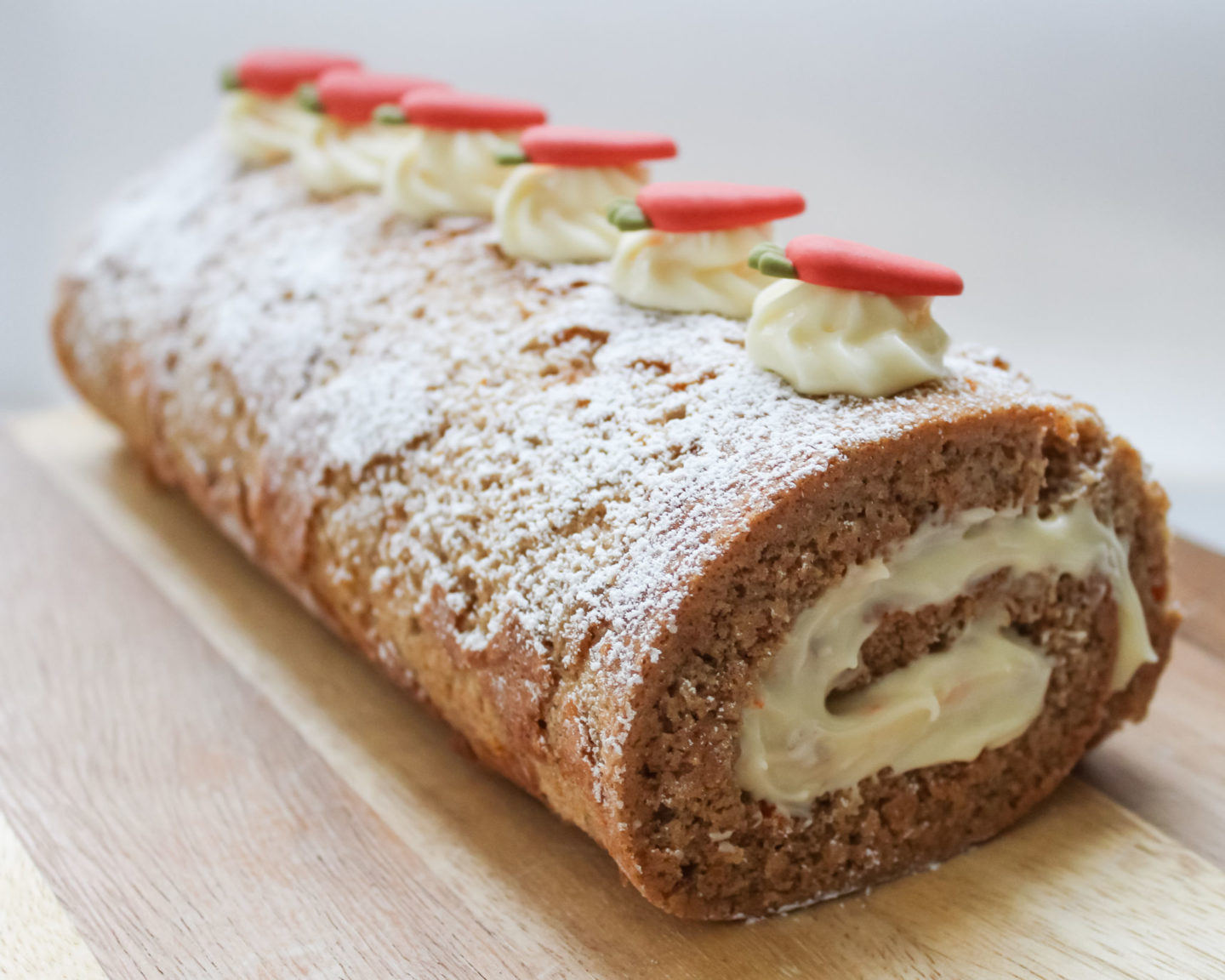 I started to realise that maybe the use of light brown muscovado sugar to add moisture and flavour was probably working against me, so I gave in and used mostly caster sugar and just over a tablespoon of brown sugar.
I reduced the oil and grated carrots again but baked it for longer to ensure I wasn't under-baking it. This ended up cracking more than the others so that it didn't even make it to failed roll… it was just flat, cracked disaster!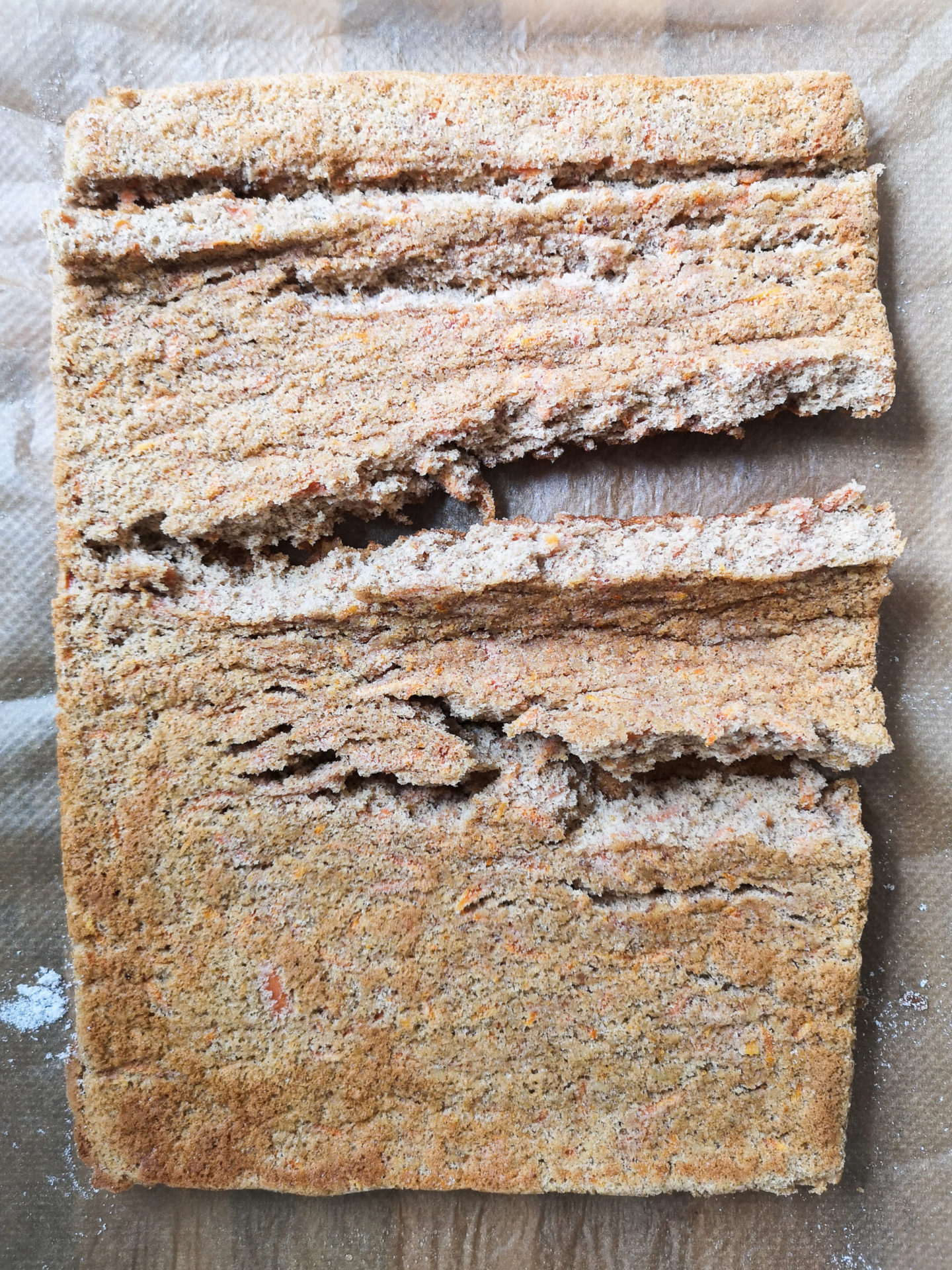 Preventing cracking in a swiss roll
Attempt number 4; officially where I had lost hope that this carrot cake swiss roll could actually work. When unrolling it I waited for the disappointment once again. Yet, though a few minor cracks occurred in places, they weren't deep enough to split and it was pliable enough to roll! Is it ok to admit I actually squealed in delight?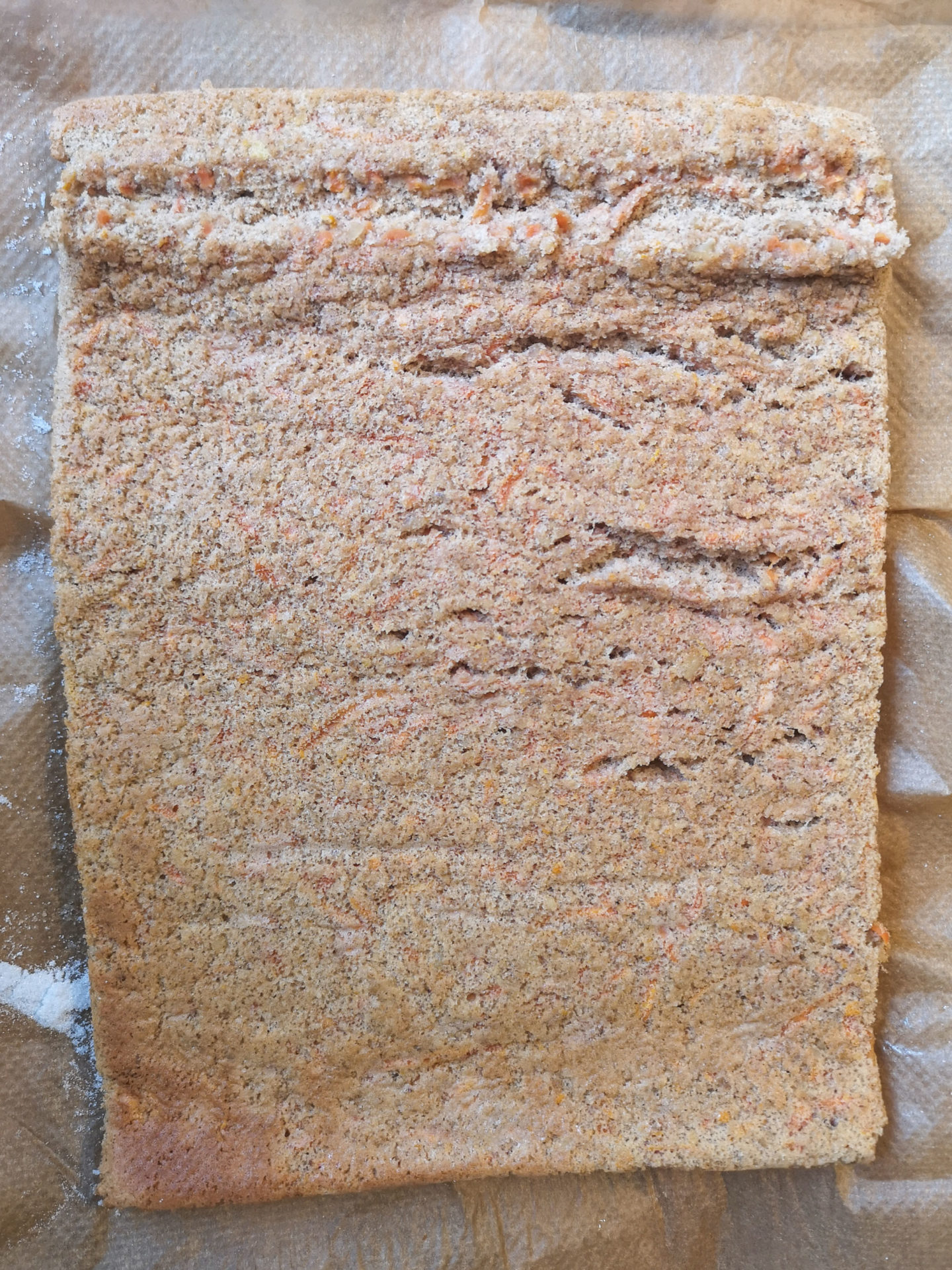 The best carrot cake swiss roll recipe
This triumph occurred after some more research into why cakes crack. One cause can be when too much baking powder is used. But I only used half a teaspoon; can this really make a difference?
I decided to trust solely in my whisked eggs and sugar for lift and omit the baking powder completely! I guess removing the baking powder makes sense as a traditional Swiss roll recipe tends to not have any raising agent either.
As adequate whisking is so important in this recipe, you should use a stand mixer or hand mixer to get the best results!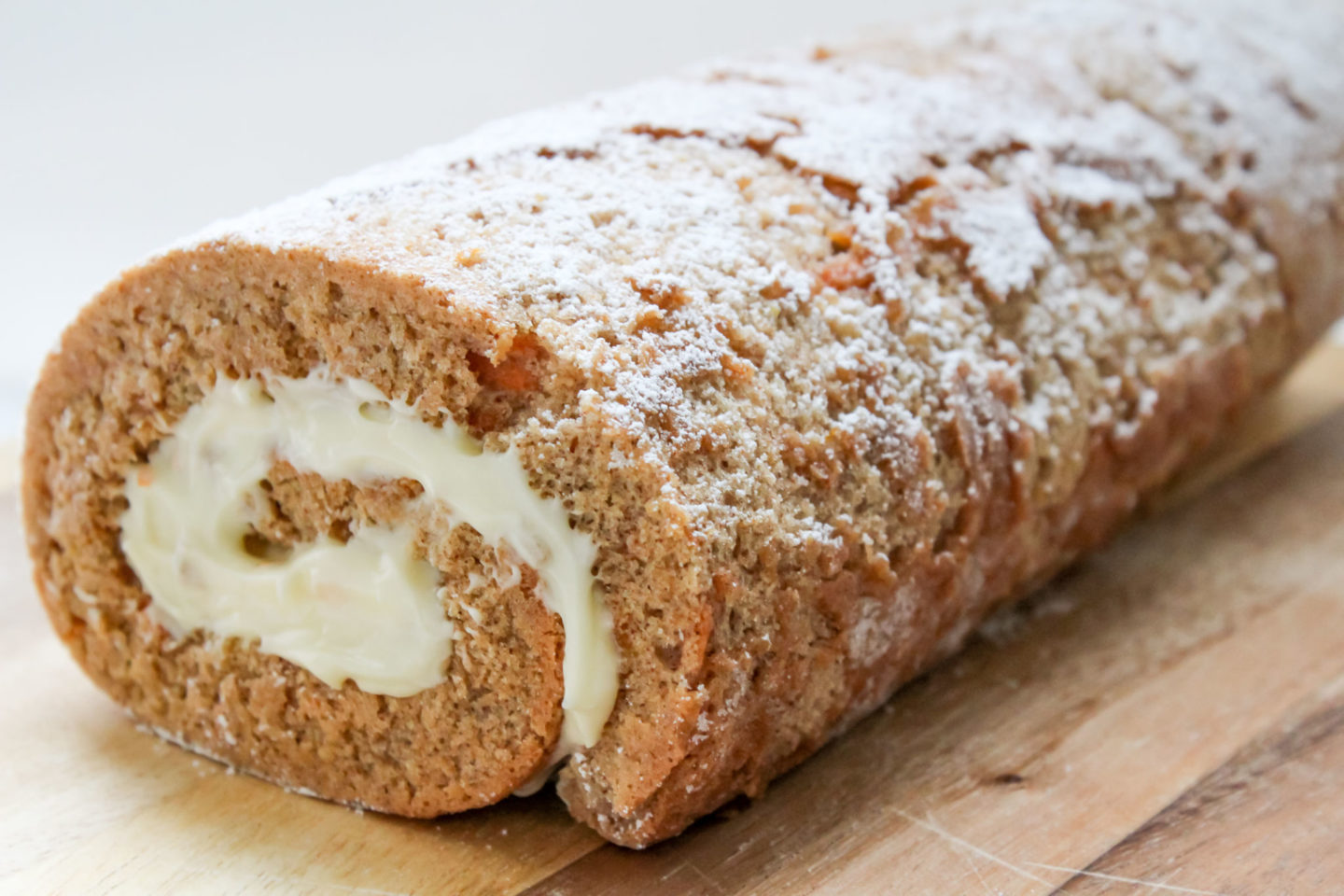 How to make Pipeable Cream Cheese Frosting
Now that the Swiss roll was behaving, I could finally fill it with my cream cheese icing to ensure it still held its shape! I flavoured it with more orange zest and this icing is actually pipeable too if you'd like to decorate the top as I did (any UK bakers out there may know the struggle of achieving pipeable cream cheese icing as we can't get brick-style cream cheese here!).
Want to know my 'hack' to firm it up before making the icing? Kitchen roll/paper towel (trust me – see my recipe notes below!)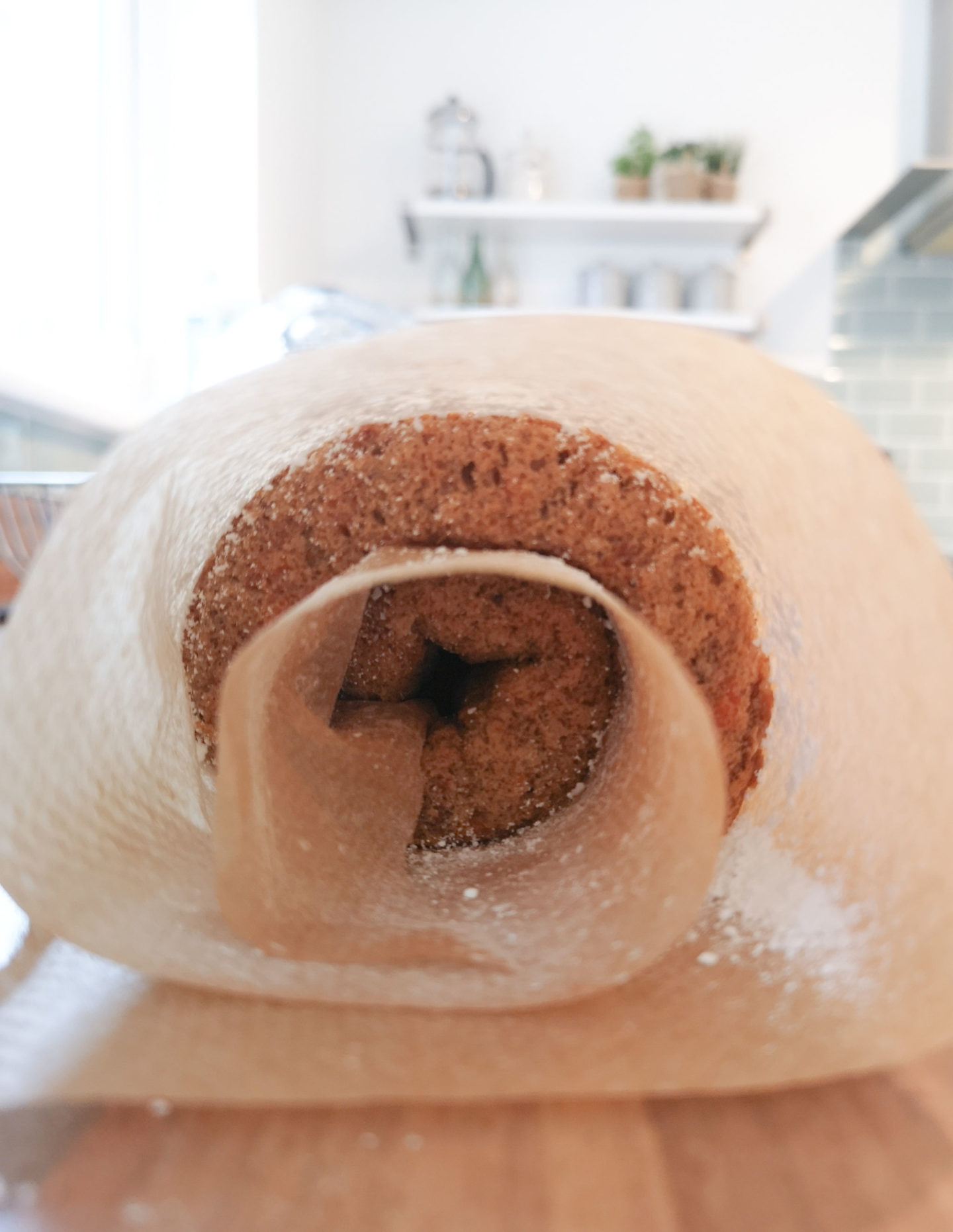 how to roll up a swiss roll without it cracking
The key to rolling up this Swiss roll is patience – go as slowly as you can to avoid any major splitting. The baking paper did remove some of the outer layer of the cake as i rolled it up, but I actually like how rustic and homemade this makes it look!
I have read about another method using a tea towel to roll up the cake instead of baking paper, but haven't tried it myself so I'm unsure if this would prevent that from happening. Either way, sifting icing sugar on top makes any cake beautiful, right?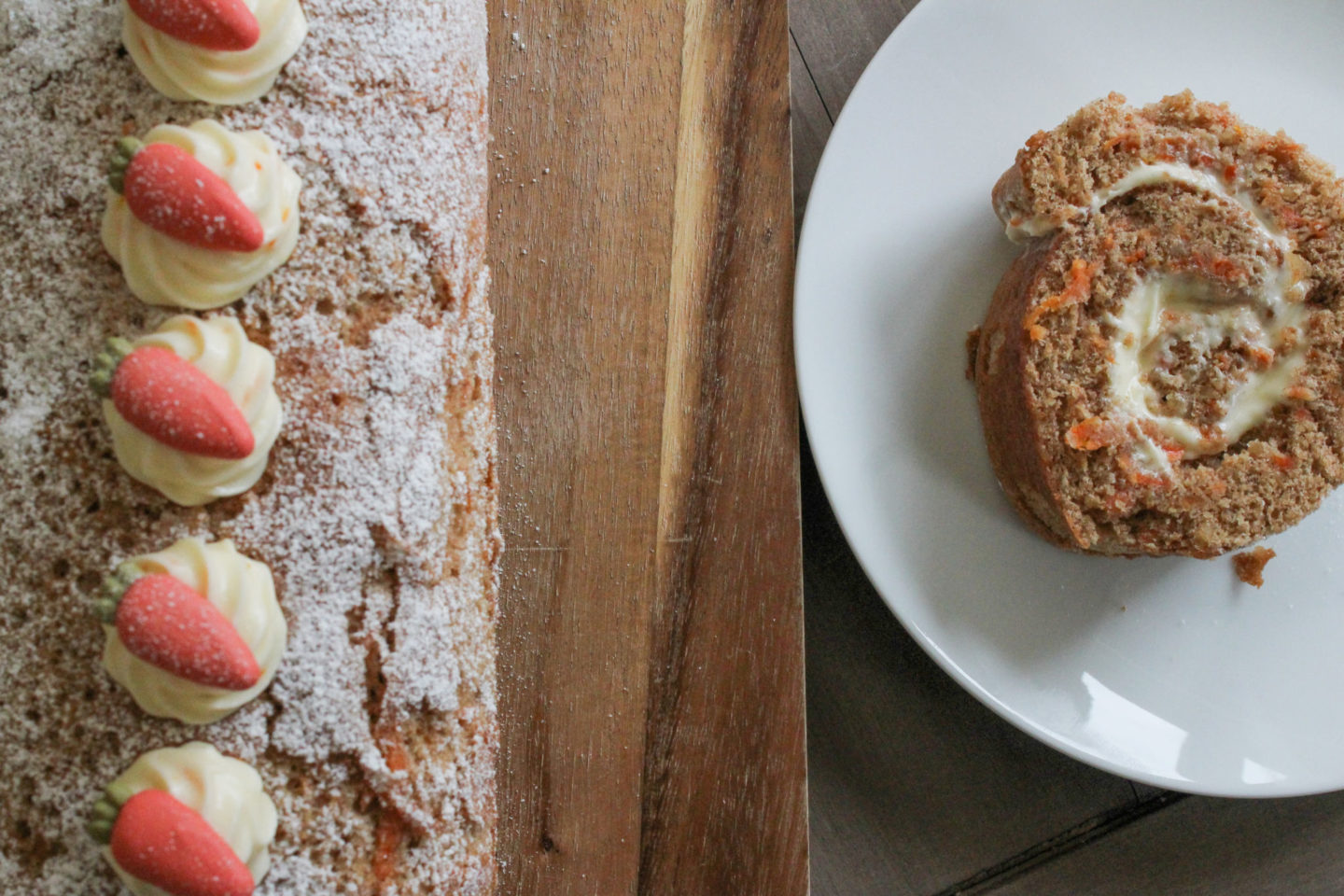 What baking tin do I need to make a swiss roll?
This recipe is really easy to make if you follow the timings and guidelines exactly. There are a few things that can let you down if not done properly… believe me, I've experienced the outcomes for you! I've added some photos to my instructions below to help you visualise the steps!
You'll specifically need a Swiss roll baking tin for this recipe. This is the one I personally use:
If you try this recipe I'd love to see! You can show me by tagging me @bakerjoblog or using #bakerjoblog!
Other cake recipes to try: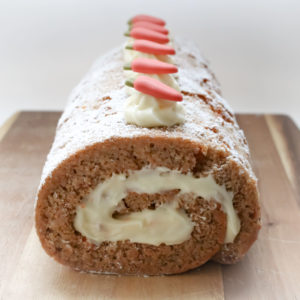 Carrot Cake Swiss Roll
Moist and perfectly spiced, this carrot cake Swiss roll is filled with a delicious cream cheese icing flavoured with orange zest
Ingredients
Swiss roll
110

g

plain flour

sifted

120

g

caster sugar

20

g

light muscovado sugar

sifted to remove lumps

1.5

tsp

cinnamon

1

tsp

ginger

1/4

tsp

nutmeg

1/4

tsp

mixed spice

3

medium

eggs

room temperature

1

tsp

vanilla extract

1/2

tsp

salt

20

ml

sunflower oil

50

g

finely chopped pecans

125g

grated carrots

around 2/3 medium carrots

zest of half an orange
Cream cheese icing
200

g

full fat cream cheese

I use Philadelphia spreadable; see notes above re: firmer cream cheese

80

g

butter

softened slightly

310

g

icing sugar

sifted

1/2

tsp

salt

1

tsp

vanilla extract

zest of half an orange
Instructions
Swiss roll
Preheat oven to 180°C/160°C fan. Grease a Swiss roll baking tin with butter or non-stick spray and line with baking paper.

Grate the carrots (you may not need all of your carrots so make sure you weigh the final grated amount so that you have exactly 125g). Spread the grated carrots on to some kitchen roll sheets/paper towels to allow them to absorb some of the moisture (this step is to prevent too much moisture getting into the cake mixture, which may cause the cake to split later). Set aside.

In a small bowl, whisk the sifted flour, cinnamon, ginger, nutmeg, mixed spice and salt, and set aside.

In the bowl of a stand mixer with a whisk attachment (or large bowl if using an electric hand whisk), whisk the eggs and sugar on high speed for at least 5 minutes until the mixture is pale and at least doubled in volume (this step is crucial as there is no raising agent in this recipe so under-whisking here may lead to a thin, dense Swiss roll).

This is how the egg and sugar mixture should appear after whisking:

Take the bowl away from the stand mixture as the rest is now done by hand. To this mixture add the oil, orange zest and half of the dry ingredients. With a rubber spatula fold this very gently into the mixture to avoid knocking out any air. Then fold in the remaining half of the dry ingredients. Now add the finely chopped pecans and grated carrots, and fold in gently again until just incorporated and no pockets of dry ingredients remain.

Holding the mixing bowl as close to the tin as possible (again to avoid losing any air), gently pour the mixture into the Swiss roll tin. Do not use the spatula to spread the mixture out – instead, slowly and gently tip the tin to the sides gently so the mixture finds its own way into each corner. Ensure the mixture has spread evenly into all corners and the centre is level.

Place the tin gently into the pre-heated oven on a medium shelf and bake for around 13 minutes (mine took 13 minutes exactly in a fan oven). Be very careful not to over-bake; there's a small window of time between under and over-baking! To check it is done, touch the top of the cake gently to see if it springs back. It should feel soft but spongy.

While the cake is in the oven, place a piece of baking paper on a work surface and generously sift icing sugar on top – this is a very important step to prevent the cake from sticking and cracking when unrolling it later!

Once removed from the oven, carefully place it face down onto the sugar dusted baking paper, and lift the tin away. Gently peel away the baking paper from the sponge. Using a large knife, cut into the cake gently (about half way through) around an inch from one short end (see picture). This will help the cake to roll more tightly when you begin rolling it.

Starting from this same end, slowly roll the cake up with the baking paper still attached – the cake will be quite hot so be careful; I placed my oven gloves behind so that I could give my fingers a break without it unrolling itself!

Once rolled as tightly as possible, leave aside to cool completely. This can take around an hour or more depending on how warm your home is.
Cream Cheese Icing
(This step is for bakers who can't get the firmer brick style cream cheese. If you can get it, you can skip this step!)

Weigh the cream cheese into a bowl which has been lined with a sheet of kitchen roll/paper towel. Grab all four corners to make a kind of pouch and gently squeeze until the sheet feels moist. Unwrap, place the cream cheese onto another sheet and repeat this process. I do this about five times, which results in a firmer, drier ball of cream cheese (resulting in a more pipeable icing!)

In the bowl of a stand mixer fitted with a paddle attachment (or medium bowl if using an electric hand whisk), beat the softened butter on medium speed for 1 minute.

Change to low speed and add the sifted icing sugar to the butter, a tablespoon at a time to ensure it's incorporated properly. Then change to medium speed and beat for a full 3 minutes. At this stage it will look quite crumbly and dry.

Add the vanilla extract, orange zest and salt and mix on low for around 10-20 seconds just to incorporate.

Now add the ball of cream cheese and beat on medium speed for around 30 seconds only, until it is all incorporated and smooth (if you over-mix at this stage it can make the cream cheese icing runny!). Place the icing in the fridge to chill for at least 30 minutes to firm up as much as possible.
Assembling the Swiss roll
Once the Swiss roll is completely cool, very gently and slowly unroll it – please don't rush this part as there will be some small cracks but you don't want it to split completely. Here's how it should look:

Add around 3/4 of the cream cheese icing on top and spread evenly with a pallet knife, right to the edges. I kept the remaining 1/4 to pipe onto the finished Swiss roll, but if you'd prefer to keep the finished roll plain you can add all of the cream cheese icing here for a slightly thicker filling!

Now gently roll the Swiss roll back up from the same side as the incision again, taking your time to avoid any further cracking. Try to roll it as tightly as possible. Some of the cake may come away with your baking paper giving it a slightly rustic look, which I quite like personally!

Dust the finished roll with icing sugar to hide some of the patches that have come away with the baking paper. Now you can decorate it with the remaining cream cheese icing – I just used a star nozzle to pipe shapes on top and used some cute wafer carrots to finish it off. You can eat straight away or ideally, place it in the fridge for about half an hour to firm up slightly so you can cut into it more neatly.

Keep the cake refrigerated due to the cream cheese. It is best eaten with three days.
Notes
If you've tried this recipe, tag @bakerjoblog on Instagram, Facebook, Pinterest or Twitter and/or use #bakerjoblog!