Filled with bananas, pecans, pineapple and spices, and topped with cream cheese icing. These hummingbird muffins are unbelievably delicious!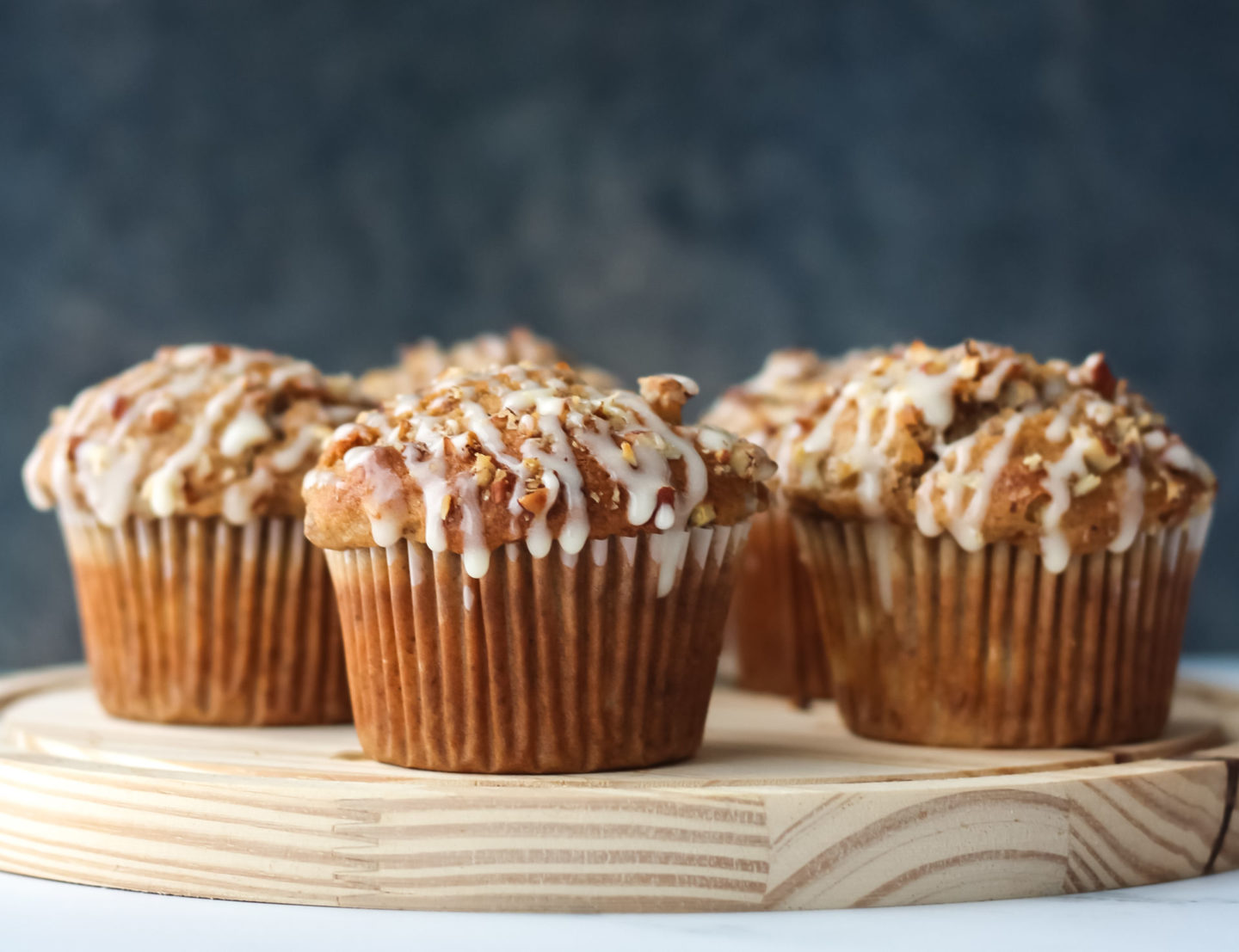 This post may contain affiliate links. For more information, see my Full Disclosure.
---
Have some leftover spotty bananas but don't want to make another banana bread? If you're looking for another easy banana recipe, you have to try these hummingbird muffins!
But what exactly are these muffins?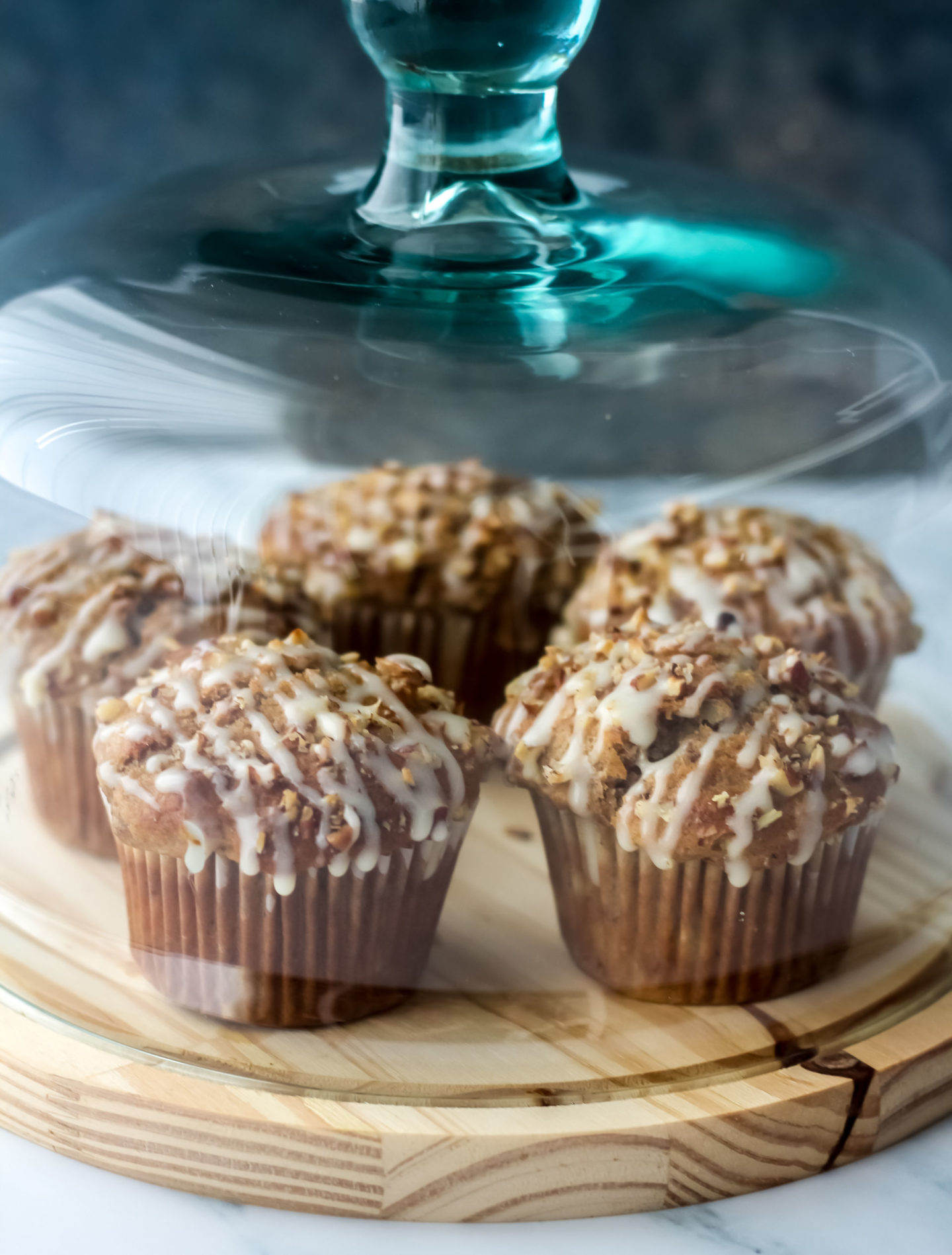 Why "Hummingbird" cake?
Hummingbird cake is thought to originate from Jamaica, being named after their national bird the swallowtail hummingbird. If you want to read more theories about the possible origins of this cake, I found an article which discusses it further.
I first tried hummingbird cake a few years ago. I, possibly like you, had never heard of it before. I'm so glad it intrigued me enough to bake it and find out!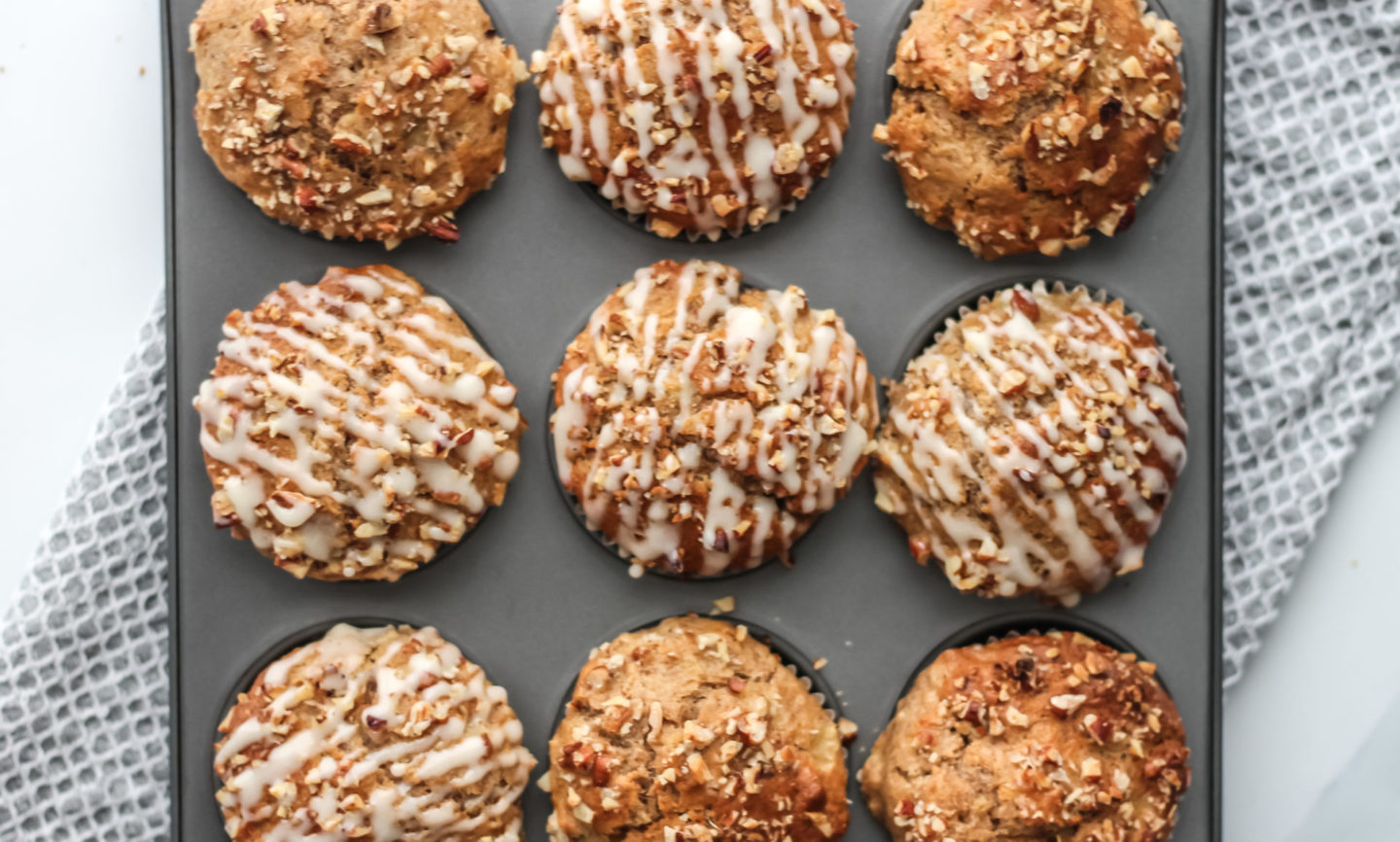 The Best Hummingbird Muffins
Oh. My. God. If you like banana cake, imagine that but spiced like a carrot cake, and stuffed with pecans and pineapple. Plus it's covered in a delicious cream cheese icing.
The pineapple is the part people seem unsure about. I get it, it does sound a bit weird but trust me – it works!
Today we're talking more specifically about hummingbird muffins. Have I convinced you to try them yet?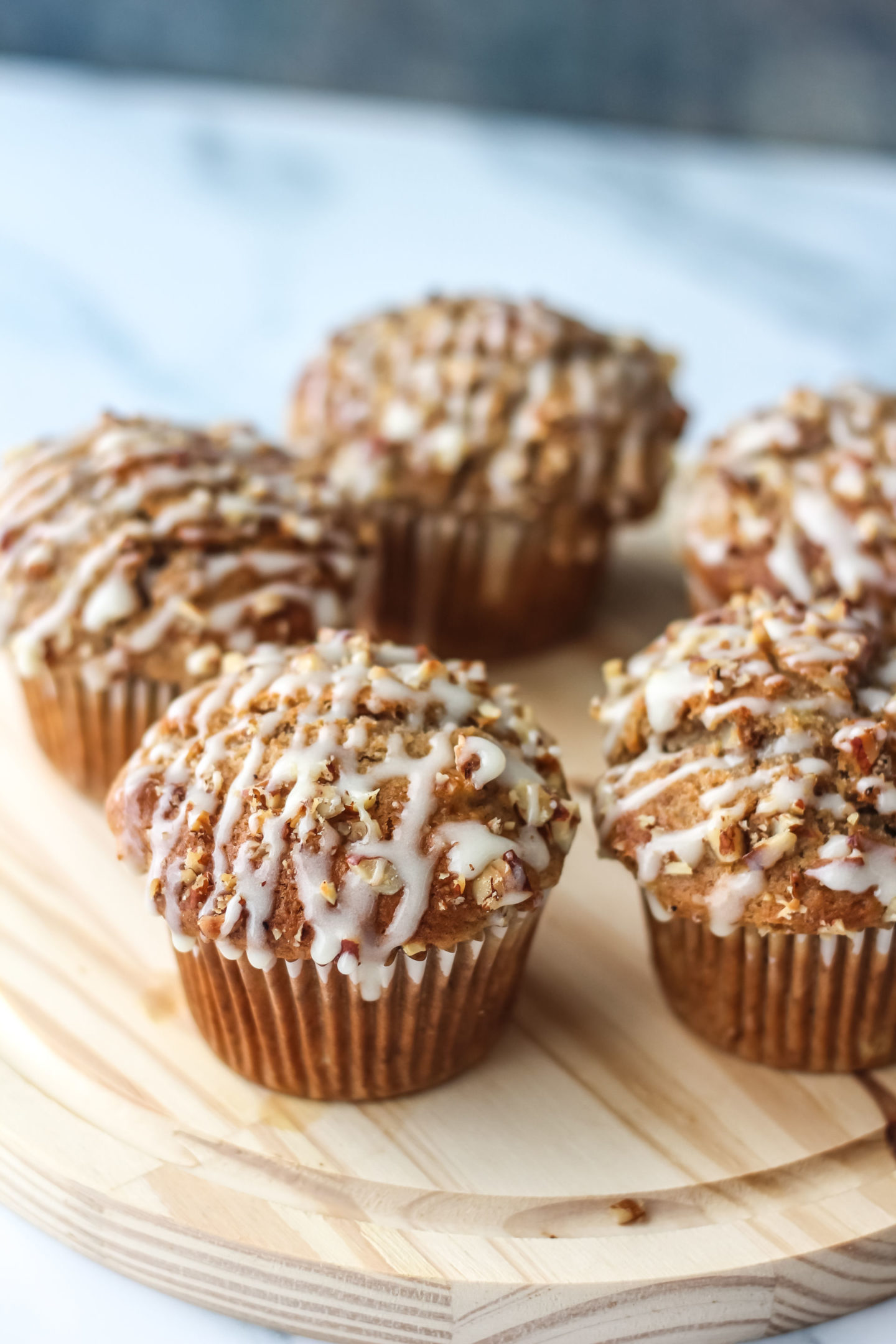 Hummingbird Muffin Recipe
I love baking muffins as they're so quick and easy to make, with so many possible flavour combinations. I've shared recipes for Chocolate Chip Muffins, Lemon Coconut Muffins, Raspberry White Chocolate Muffins, Lemon Poppy Seed Muffins and Blueberry Nut Muffins!
As soon as the idea to create hummingbird muffins popped into my head, I knew I had to see it through. These muffins are seriously packed with so many flavours and textures. From the moist banana cake base to the crunchy pecans to the sweet, dreamy cream cheese icing…
I love spiced cakes and I've used cinnamon and nutmeg here which I think works really well in these muffins.
(If you love them too, I have some other spiced cake recipes such as my Carrot Loaf Cake, Carrot Cake Swiss Roll and my Gingerbread Latte Cake!)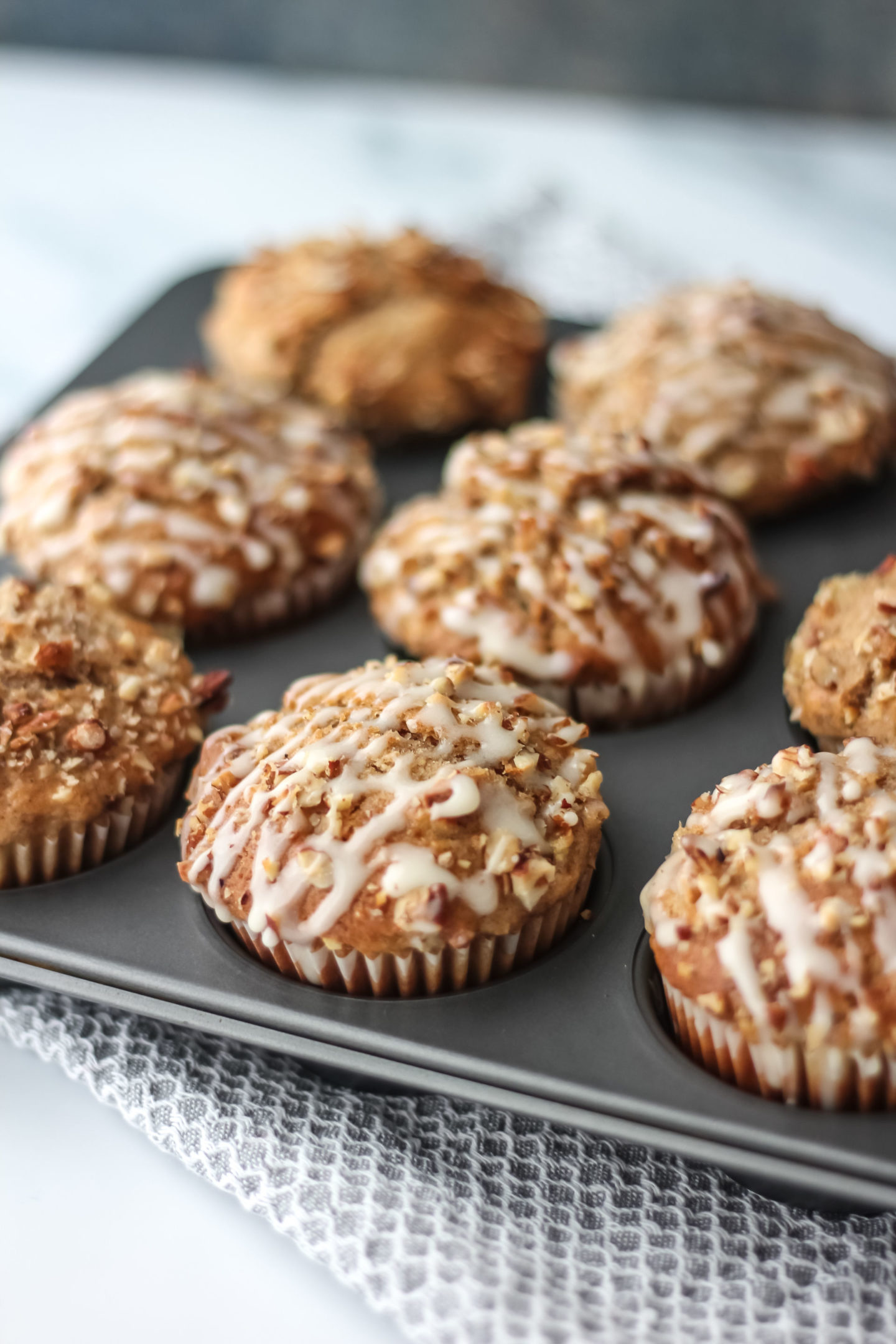 How to make tall muffins
If you've tried any of my other muffin recipes, you'll know the little trick I learned to get tall muffins. Just bake your muffins on a higher heat for the first five minutes, then reduce the temperature down for the remaining bake time.
This causes the muffins to rise quickly at the start, then dropping the temperature bakes the muffins through without burning. Game changer!
These big muffin tops are also decorated with some more chopped pecans. This is optional but I really like how they look with this finishing touch!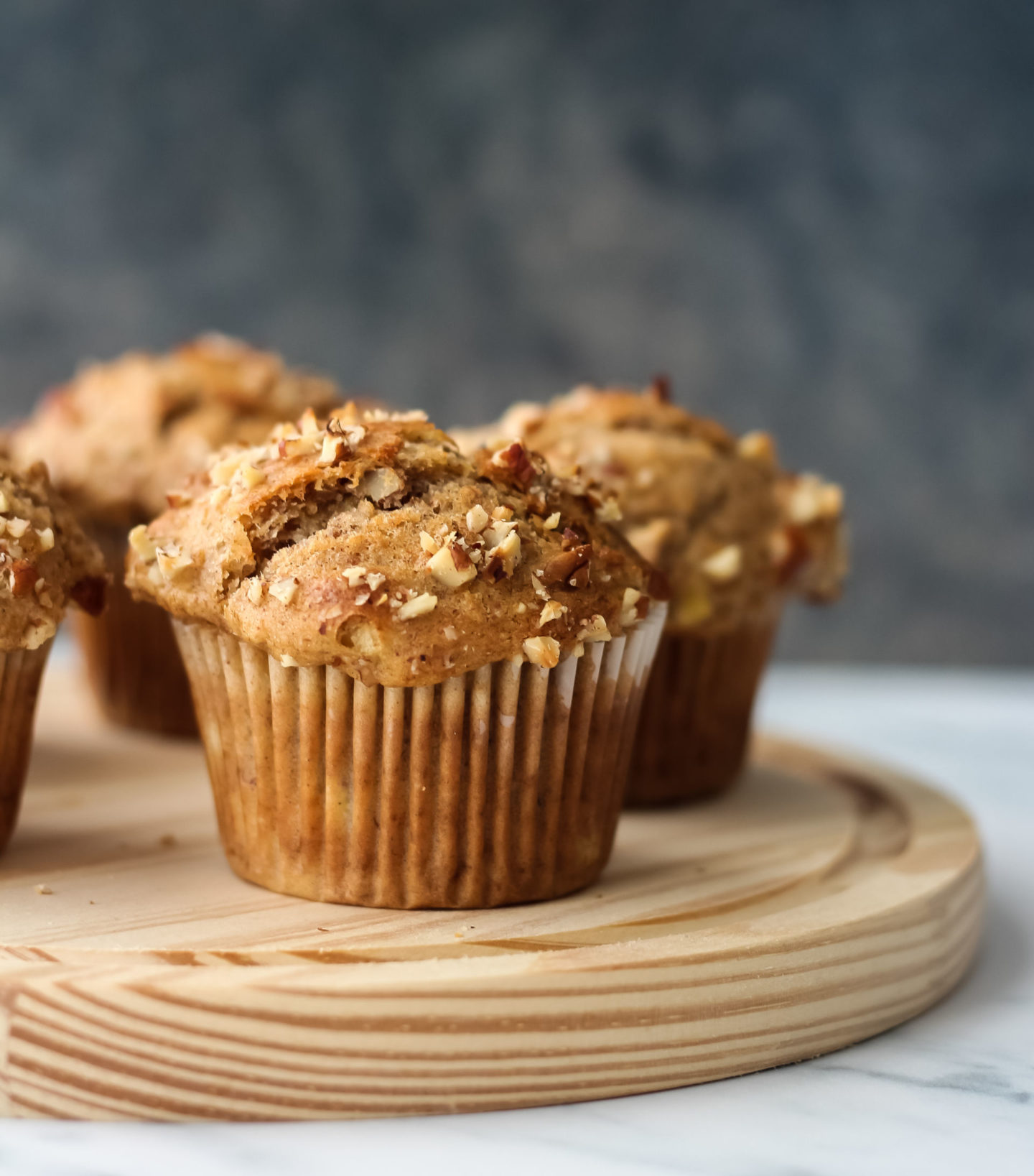 How to make moist muffins
I started with my usual muffin recipe base here, so the same liquid ingredients of oil, butter and buttermilk. Oil and buttermilk are great for bringing moisture to bakes, and I use a little butter for added flavour.
However, compared to my other muffin recipes, I have a lot more moisture going into these muffins thanks to the bananas and pineapples! I had to adjust my wet ingredients slightly to account for this, but we're still left with some mega moist, squidgy, delicious muffins.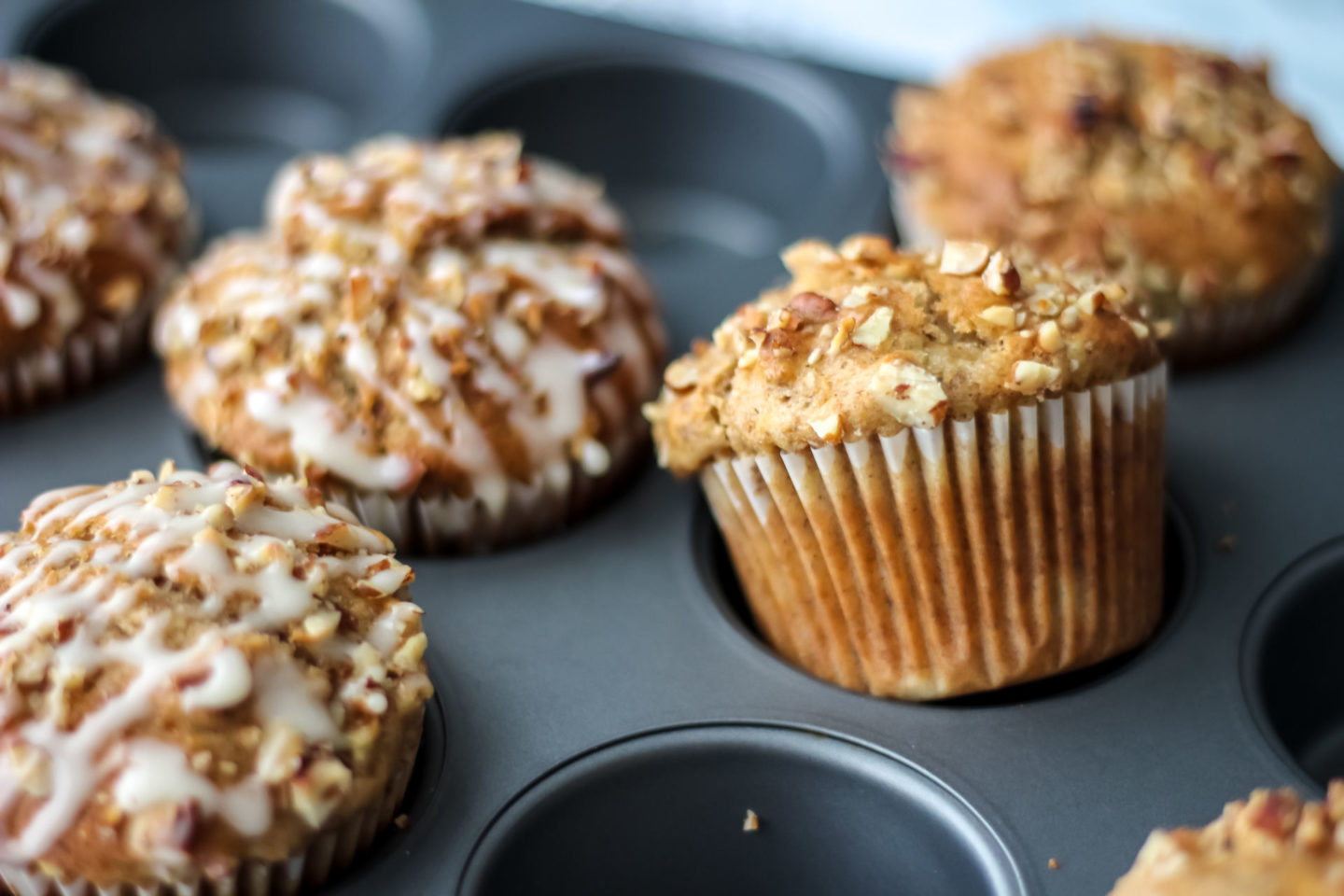 Hummingbird Muffins with cream cheese frosting
I am a big fan of cream cheese icing or frosting, and this drizzle on top truly takes these muffins to the next level. I taste-tested the muffins without the drizzle and thought I was really happy with them… until I topped them with this!
This icing is so smooth and runny enough to drizzle easily over the muffins. The recipe gives you more than enough to generously top each muffin; I had a few tablespoons leftover. I won't judge you if you eat any leftover icing with a spoon. This stuff is addictive!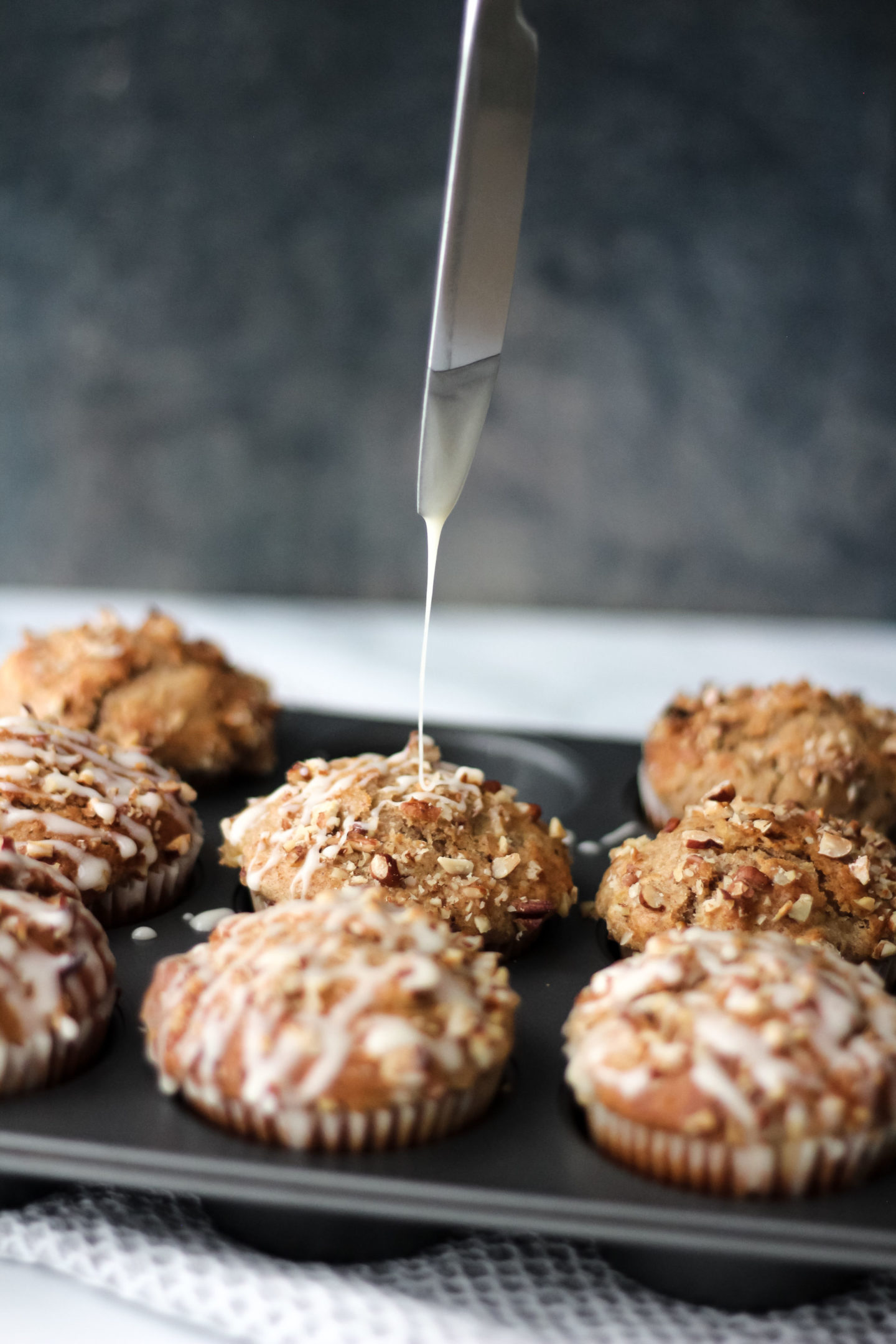 Do I need an electric mixer to make muffins?
As I mentioned above, muffins are so easy to make. This is because no electric mixers are required. You just need two bowls, a whisk, and a spatula.
The only equipment you really need is a 12 hole muffin tin. I use a basic non-stick pan similar to this one though you could use a silicone muffin tin too.
I sometimes use paper cases for my muffins, or sometimes I just spray the muffin tin holes with some non-stick cake pan spray!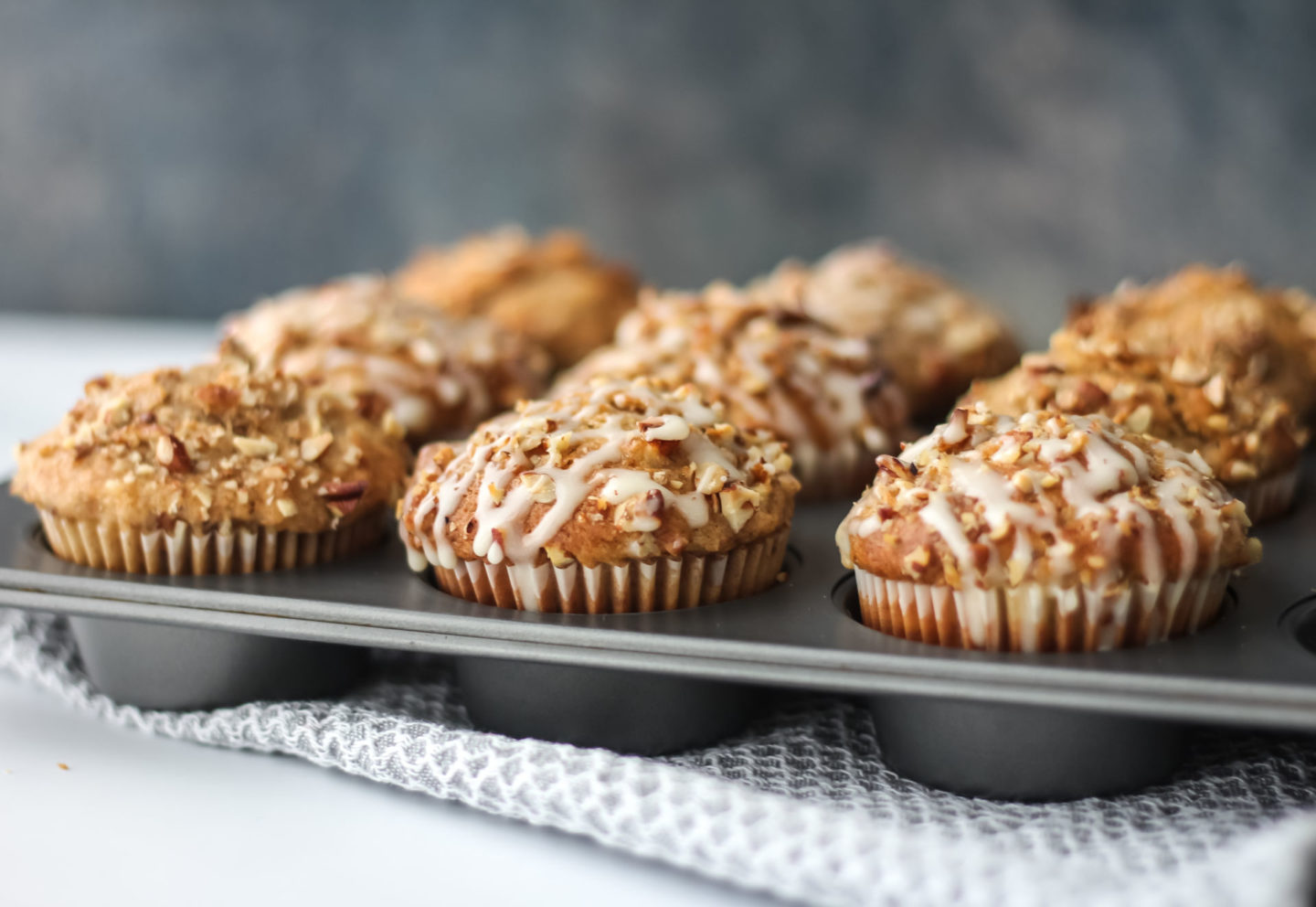 Can I freeze muffins?
Yes! As with my other muffin recipes, these are easily freezable, even with the cream cheese icing. You can individually wrap them in cling film, or if you want to keep the icing neat you could store them in an airtight container to freeze them.
They don't take too long to defrost so are great as a quick snack!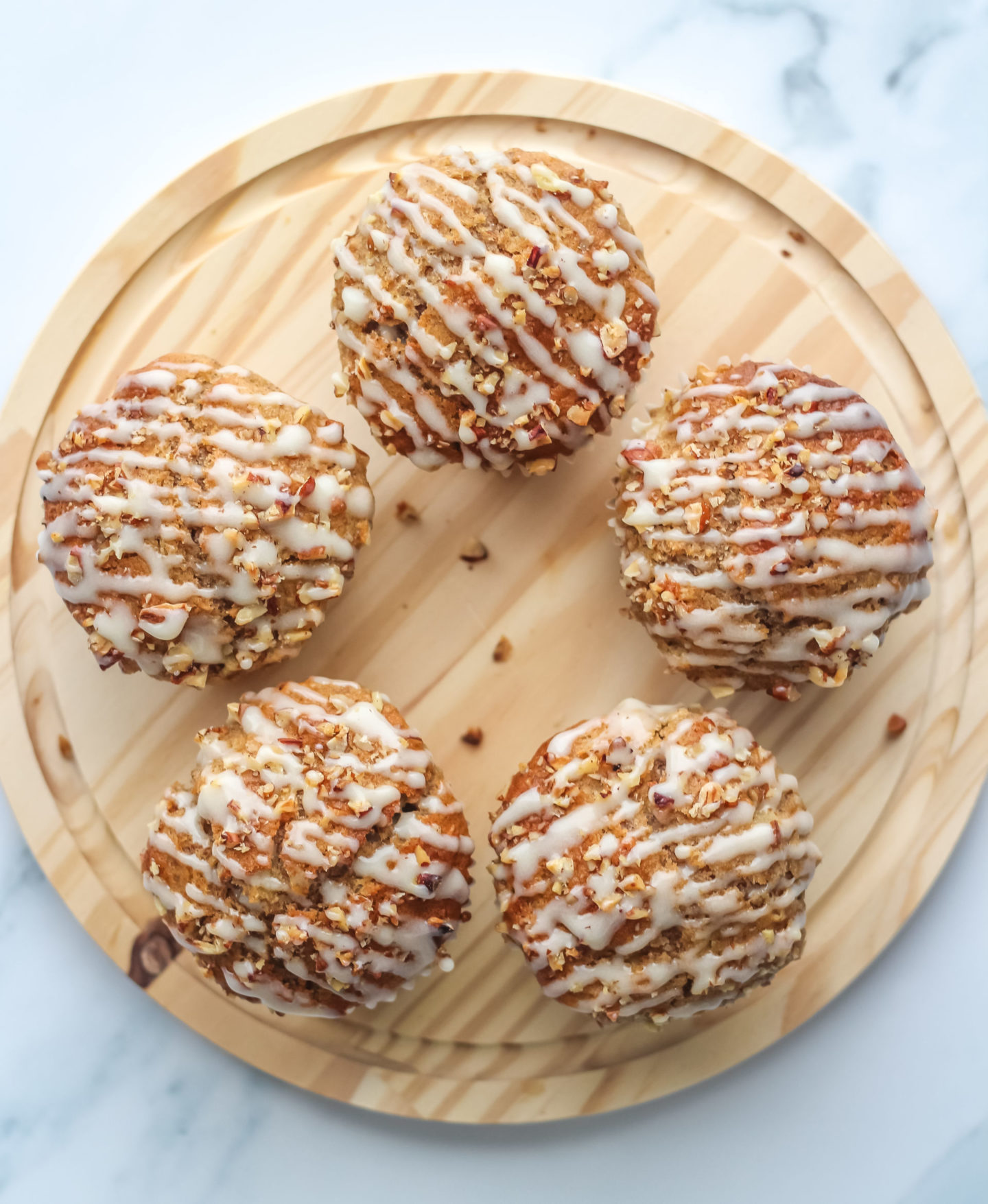 So to summarise, these muffins are:
Full of sweet banana, pineapple and chopped pecans
Spiced like carrot cake
Tall, moist and squidgy
Topped with extra pecans
Finished with an irresistible cream cheese icing
So quick to make and freezer safe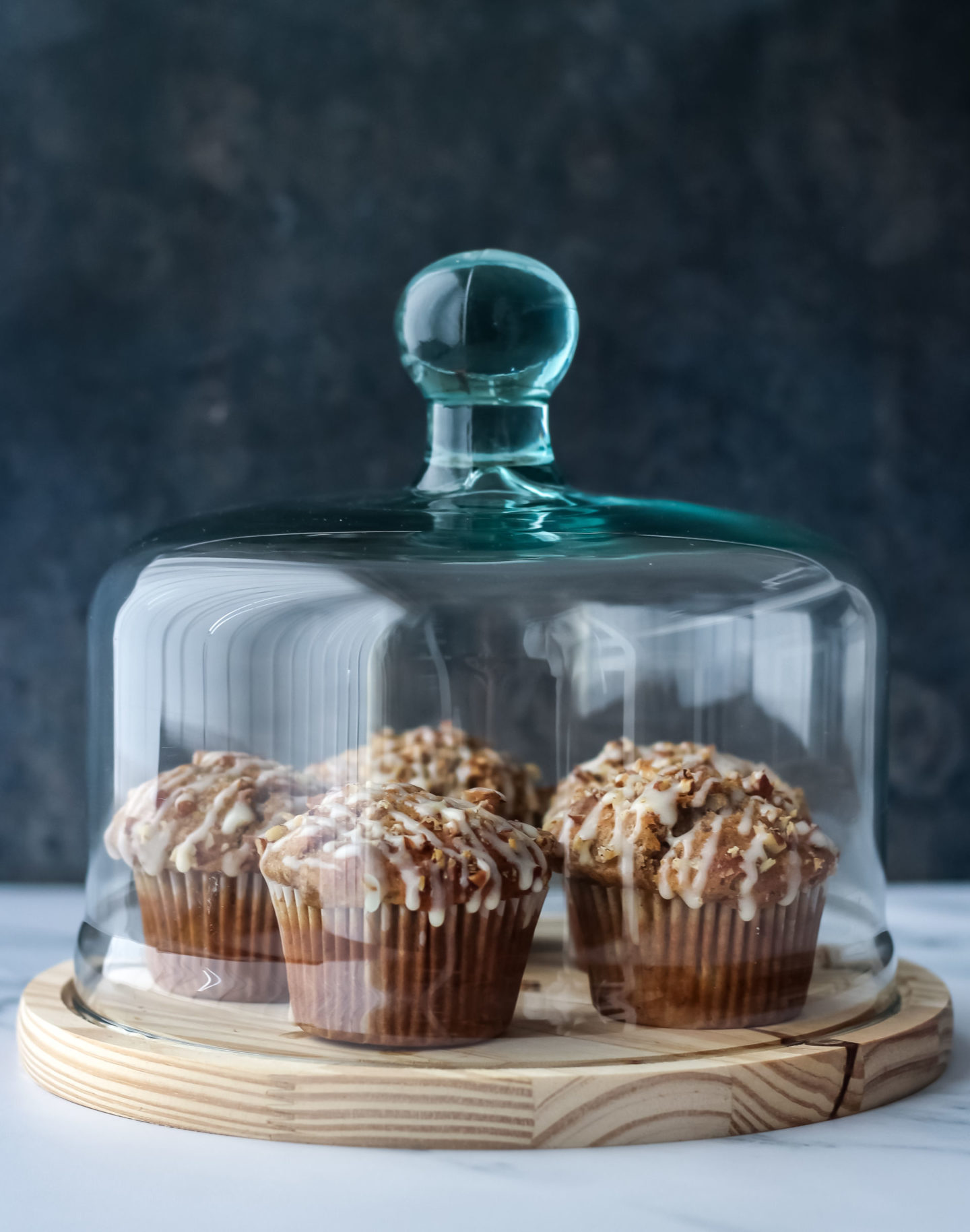 If you try this recipe I'd love to see! You can show me by tagging me @bakerjoblog or using #bakerjoblog!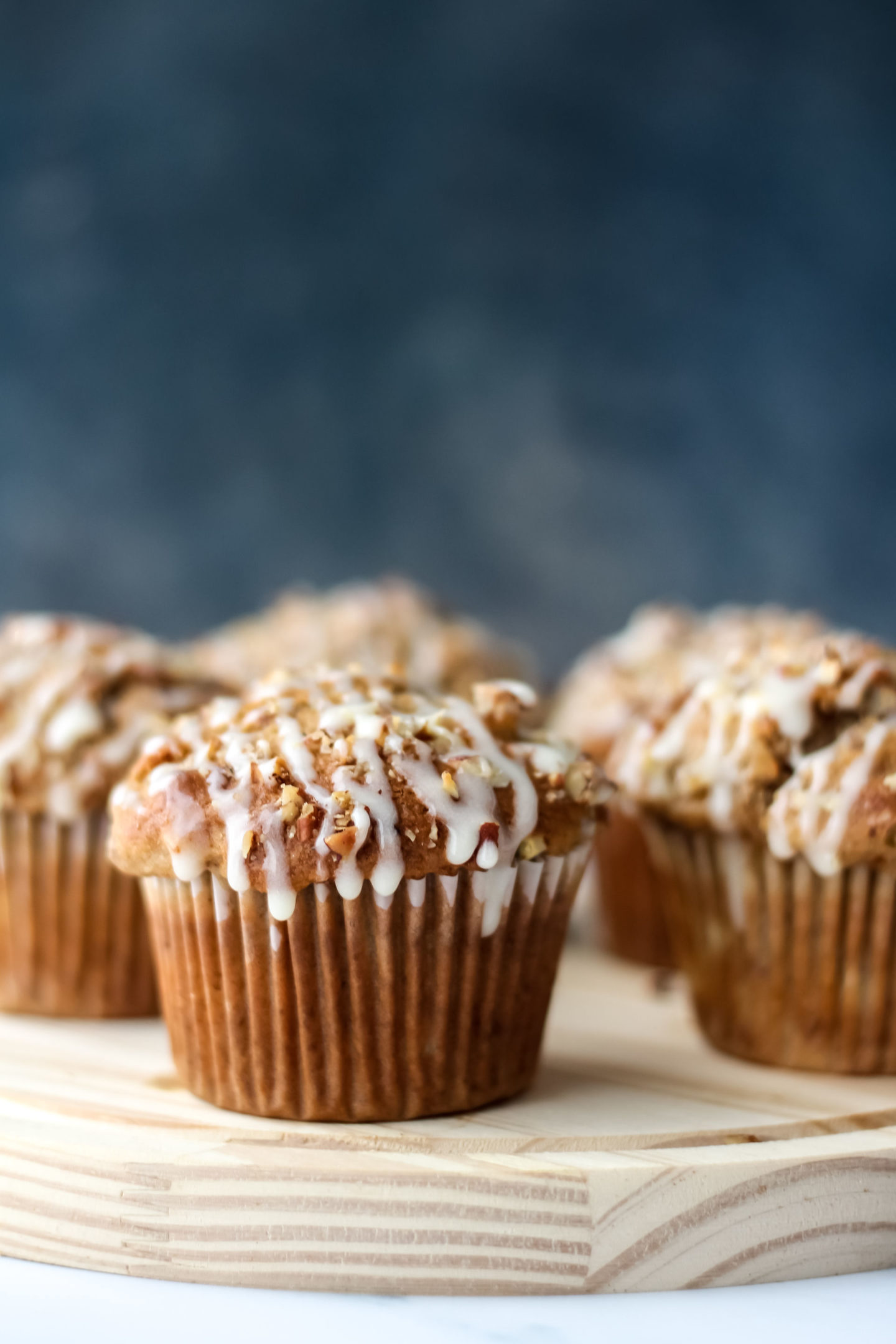 Other muffin recipes to try:
Other cake recipes to try: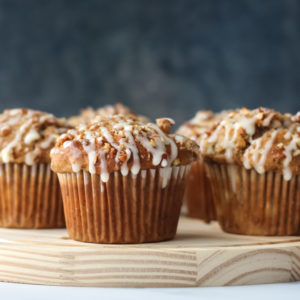 Hummingbird Muffins
Filled with bananas, pecans, pineapple and spices, and topped with cream cheese icing. These hummingbird muffins are unbelievably delicious!
Equipment
12 hole muffin tin

Muffin cases (or use non-stick cake pan spray)

Large bowl and medium bowl

Whisk

Spatula
Ingredients
300

g

plain flour

2 + 1/2

tsp

baking powder

level

1/2

tsp

bicabonate of soda

level

1/2

tsp

salt

level

1 + 1/2

tsp

cinnamon

level

1/4

tsp

nutmeg

level

75

g

caster sugar

75

g

light brown sugar

light muscovado sugar is a good alternative (if using light muscovado sugar, sift to remove lumps)

100

g

chopped pecans

30

g

melted butter

30

ml

sunflower or vegetable oil

170

ml

buttermilk

room temperature (you can use an alternative milk, though they might be slightly less moist)

1

large

egg

room temperature

1

tsp

vanilla extract

435

g

tin of pineapple chunks in juice

435g tin net weight (I use Del Monte). After draining, mashing and chopping, end weight should be around 220g)

230

g

mashed bananas

about 2 medium bananas
Cream cheese icing drizzle
50

g

cream cheese

softened/room temperature

25

g

butter

softened/room temperature

100

g

sifted icing sugar

1/2

tsp

vanilla extract

1

tbsp

milk
Instructions
Preheat oven to 220°C/200°C fan. Line your muffin tray with muffin cases or spray with non-stick spray.

In a large bowl whisk together the flour, baking powder, bicarbonate of soda, salt, cinnamon, nutmeg, caster sugar, light brown sugar and chopped pecans until combined. Set aside.

Mash the bananas with a potato masher and set aside.

Sieve the pineapple chunks to drain the juice. Mash them with a potato masher, then chop them into smaller chunks with a knife.

Drain any leftover pineapple juice. End weight should now be around 220g (original weight of the tin with juice was 435g).

In a medium bowl whisk the melted butter, oil, buttermilk, egg, vanilla extract, pineapples and bananas until combined.

Pour this wet mixture into the large bowl of dry ingredients, and fold together with a wooden spoon or rubber spatula until just combined. Try not to over-mix or this will make the muffins dense.

Fill each muffin case all the way to the top. They will look slightly over-filled – that's ok!

Sprinkle the 25g of chopped pecans on top of each muffin before placing in the oven.

Place the muffin tray onto the middle shelf of your preheated oven. Set a timer for 5 minutes. This initial 5 minutes at high temperature allows the muffins to rise more rapidly.

At the 5 minute point, without opening the oven door, drop the oven temperature to 180°C/160°C fan. Bake the muffins for a further 15 minutes.

Remove the muffin tray from the oven and place onto a wire rack. After 5 minutes remove the muffins from the tray and place them on the wire rack to cool completely.
Cream Cheese Icing
In a medium bowl beat the softened butter and cream cheese together with a wooden spoon until combined and smooth with no lumps (takes around 1 minute)

Add the sifted icing sugar all at once and slowly beat togther again until combined and smooth (around 30 seconds to 1 minute).

Now add the vanilla extract and milk, and beat once more briefly until combined and smooth.

It should now be a runny consistency to allow you to drizzle it over the muffins.

I use a knife to drizzle it over the muffins, and hold it above a plate to catch excess icing!

Best eaten within around 4 days. Store in an airtight container at room temperature.
Notes
If you've tried this recipe, tag @bakerjoblog on Instagram, Facebook, Pinterest or Twitter and/or use #bakerjoblog!