Bursting with zesty lemon flavour combined with sweet coconut, these delicious muffins are light yet moist, and so moreish!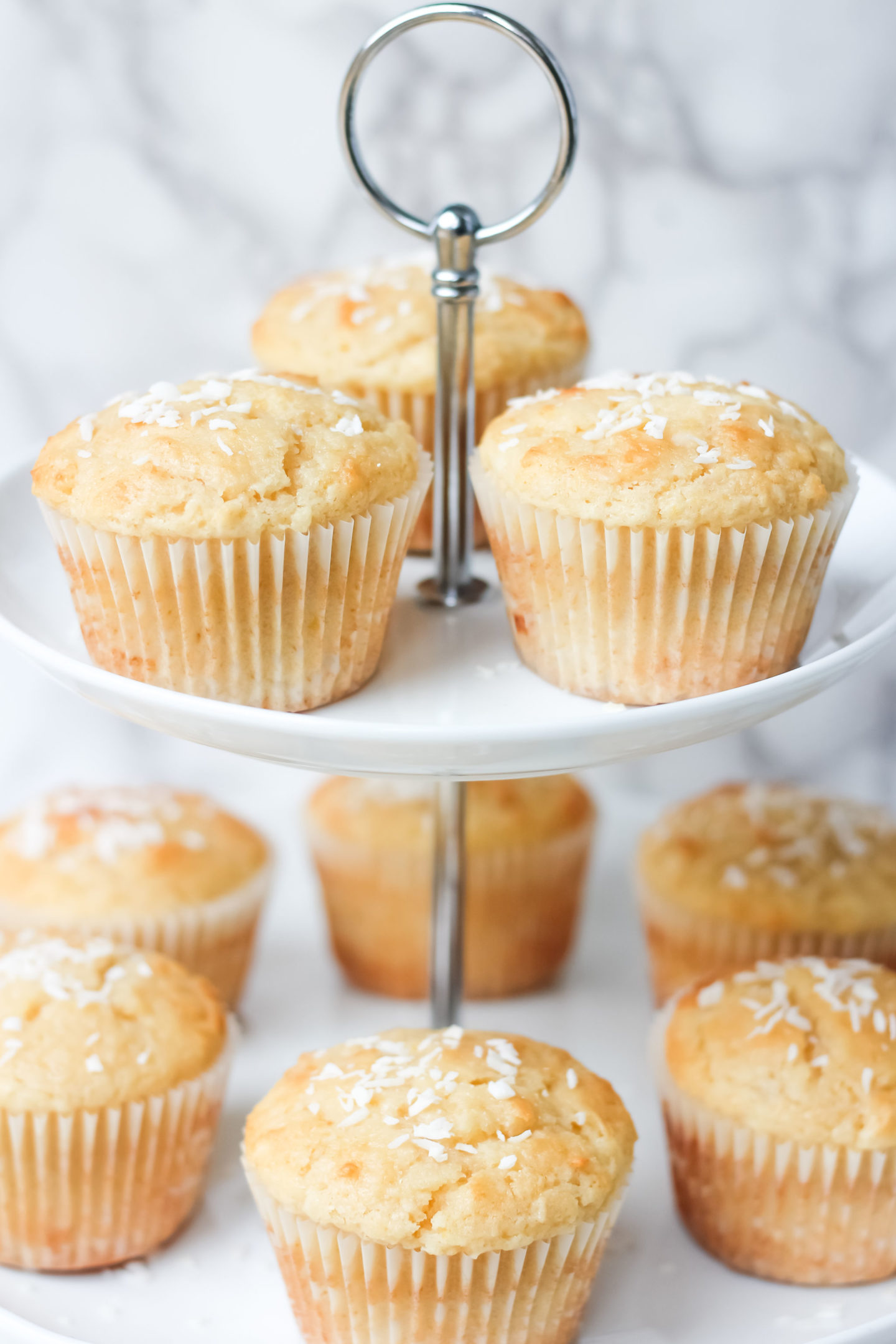 This post may contain affiliate links. For more information, see my Full Disclosure.
---
Summer is almost here so I wanted to share a recipe to celebrate the occasion. What better way than with these zesty and sweet lemon coconut muffins!
After creating my recipe for Blueberry Nut Muffins, I had a solid base to work from to create these fluffy yet moist muffins.
(My Chocolate Chip Muffins, Raspberry White Chocolate Muffins, Hummingbird Muffins and Lemon Poppy Seed Muffins are also mega moist!)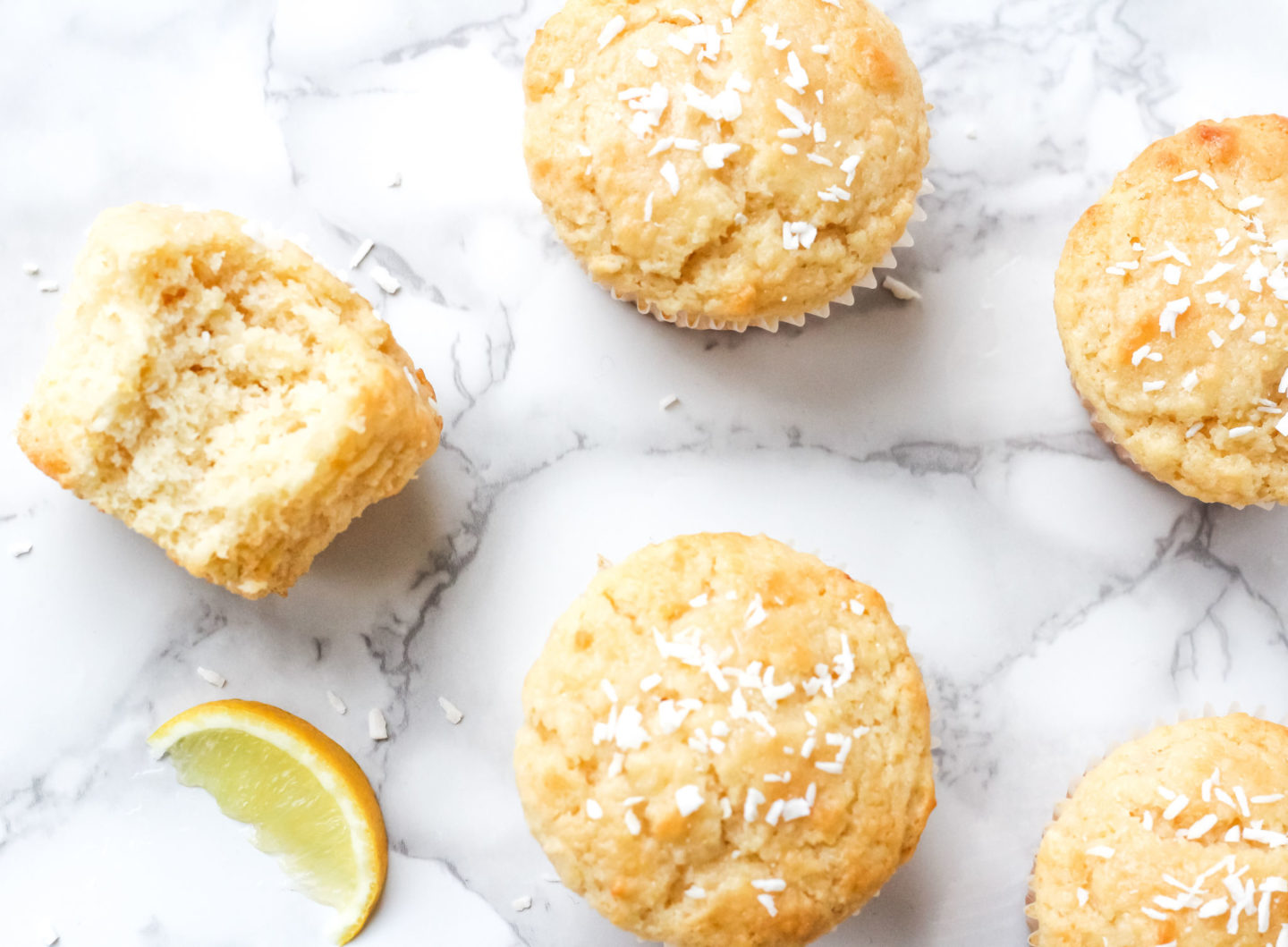 Muffin Recipe with Natural Coconut Flavour
This recipe ended up needing more adjustment and substitutions than I originally anticipated. I really wanted to prevent the coconut from taking away any moisture from the muffins.
I wanted the delicious coconut flavour, without too much desiccated coconut ruining the light texture. So I turned to coconut yogurt!
Yogurt was the perfect way to bring both moisture and coconut flavour to the muffins. They contain just enough not to overpower the lemon flavour.
I feel I've found a good balance here of a light muffin that has some texture from the desiccated coconut, without feeling dry or hard to chew.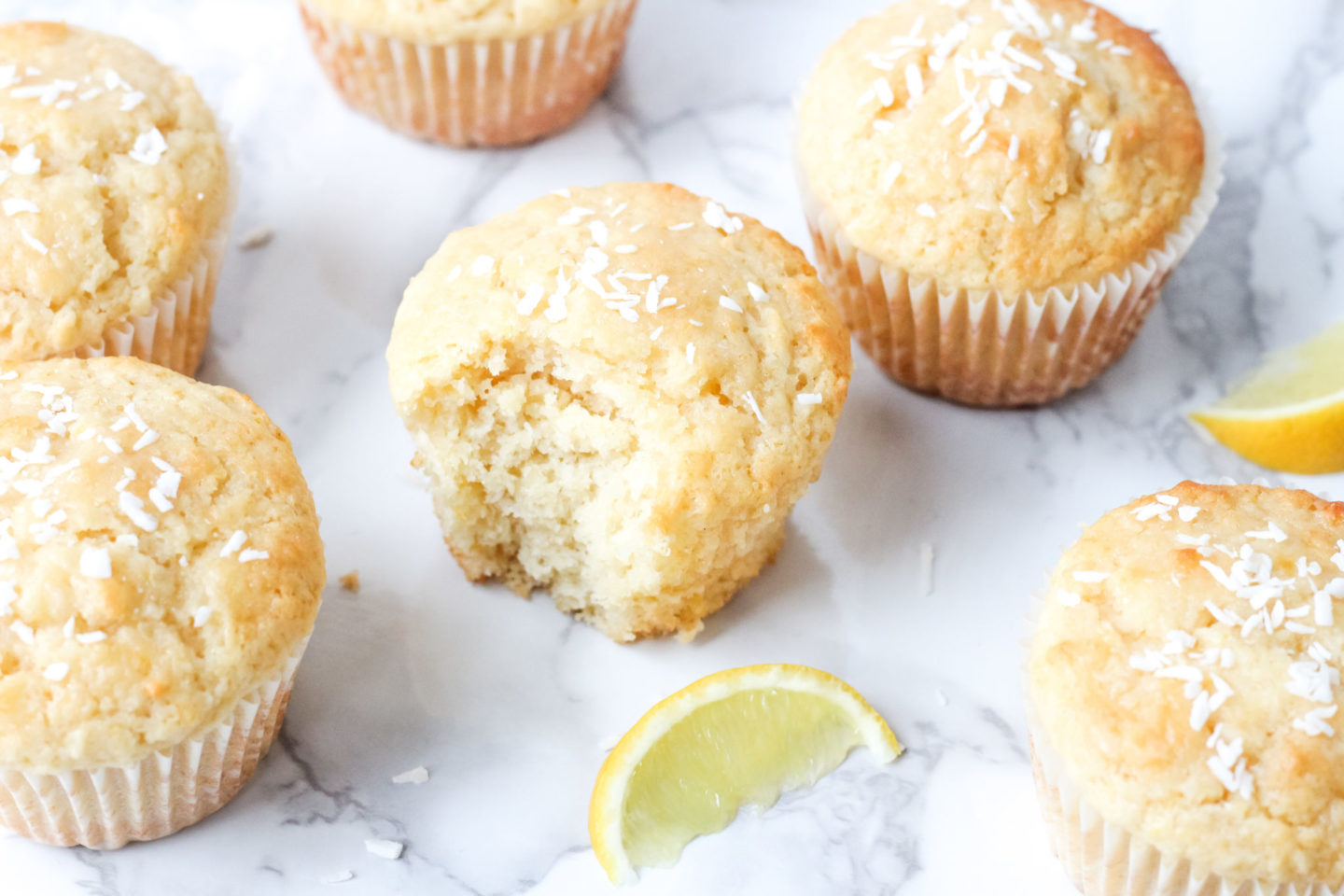 The Best Lemon Muffins
I am a biiiiiig fan of lemon flavour! So I don't hold back on the amount of lemon I add to recipes (such as my Lemon Bars, Lemon Drizzle Loaf Cake, Lemon Blueberry Cupcakes, Lemon Poppy Seed Muffins, Lemon Raspberry Cream Cake with Meringue Kisses and my No-Bake Lemon Cheesecake)!
There's plenty of lemon zest and juice in the muffin batter, plus extra lemon juice is brushed on top of the muffins while still warm to help the desiccated coconut stick to the tops. Oh, and because I need that extra lemon zing 💛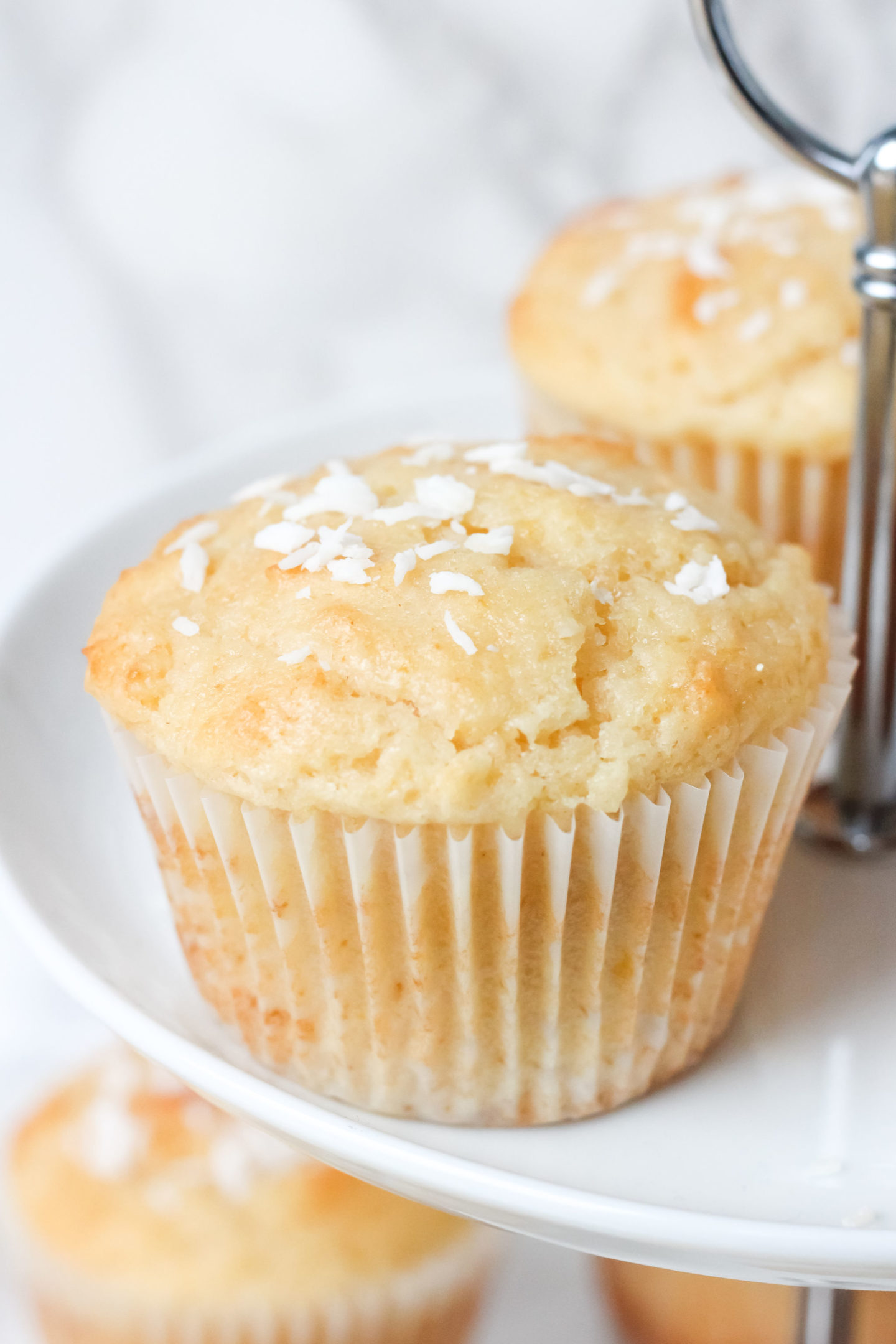 How to make tall muffins
Do you remember me discussing this trick in my other muffin recipe post? I learned this trick from Sally's Baking Addiction, where baking muffins at an initial high temperature helps the muffins to rise more rapidly. Then the temperature is reduced to bake the muffins through without them burning. Genius!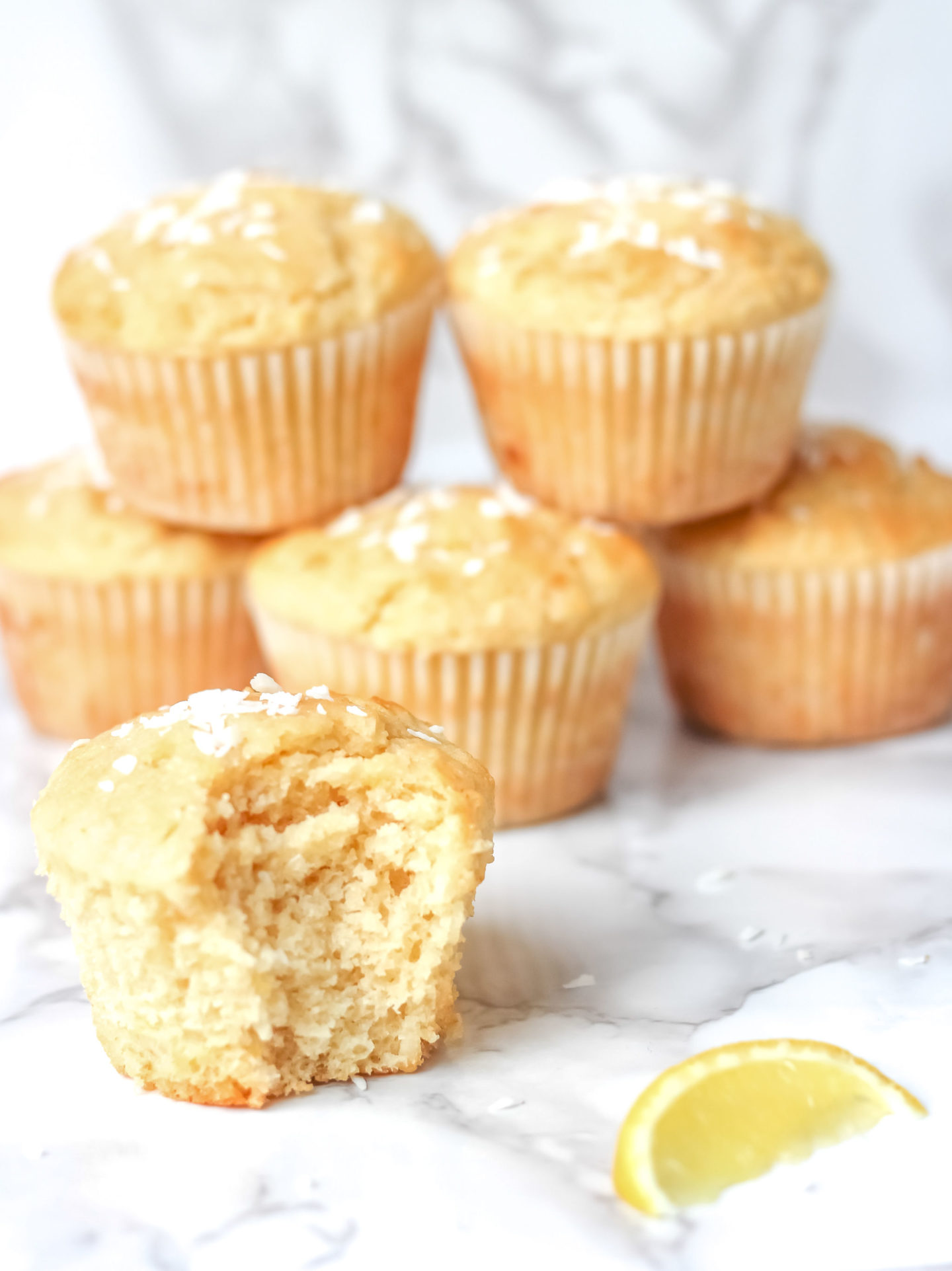 How to make lemon coconut muffins
Muffins are a great choice when you want to bake something that's quick and simple. The dry ingredients are measured into one bowl, the wet ingredients in another. Then Just combine the two! You don't even need a mixer; a wooden spoon or spatula will do.
In terms of baking pans, any standard muffin tray will do. Silicone pans are great as they're non-stick and spread heat more evenly. However, I currently use one similar to this one pictured below and then either use muffin cases or spray the pan with non-stick cake pan spray!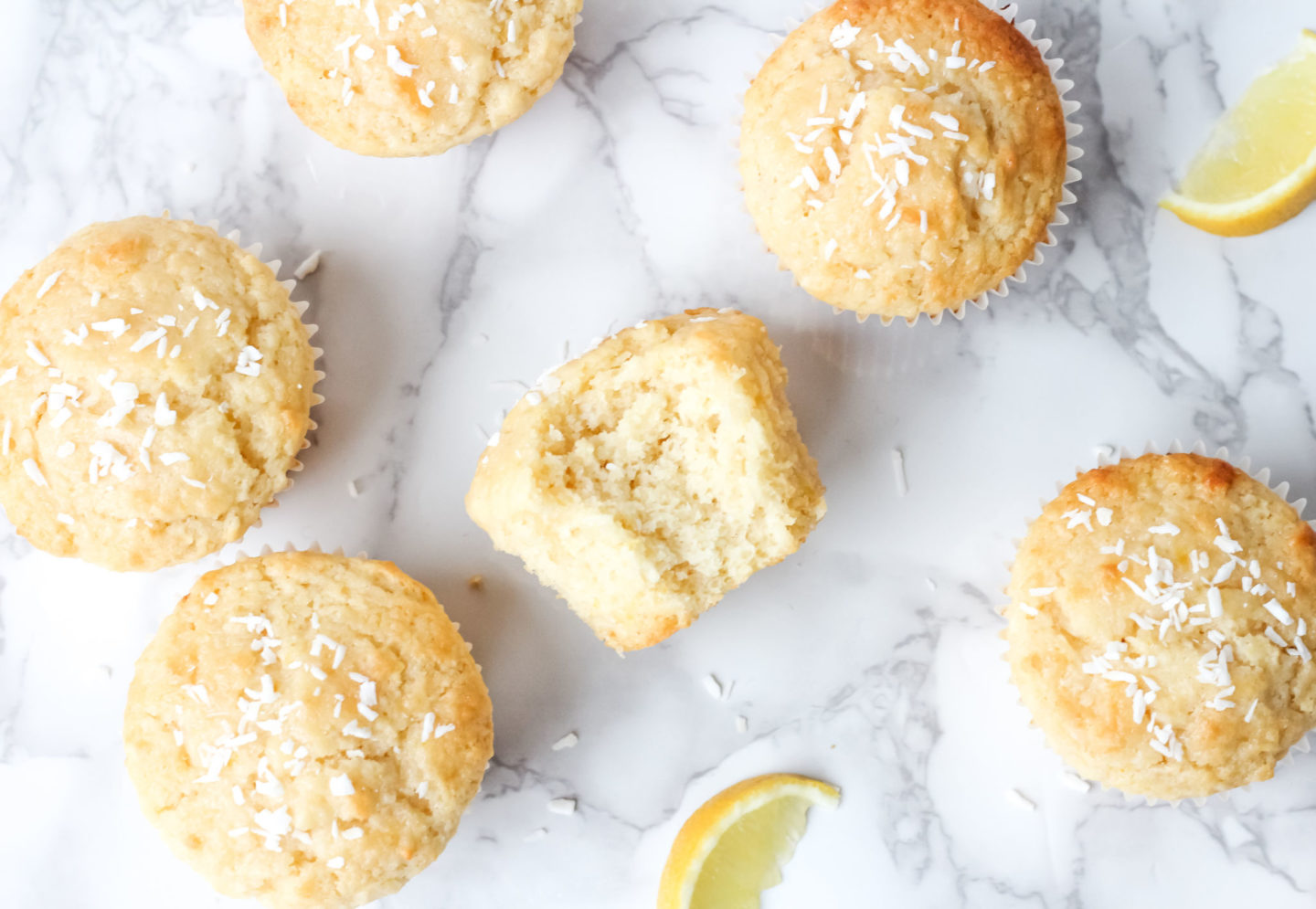 Can I freeze lemon coconut muffins?
Yes, these lemon coconut muffins are freezable. I like to make a batch, individually wrap them and take one out when I need a snack or a quick breakfast.
If you try this recipe I'd love to see! You can show me by tagging me @bakerjoblog or using #bakerjoblog!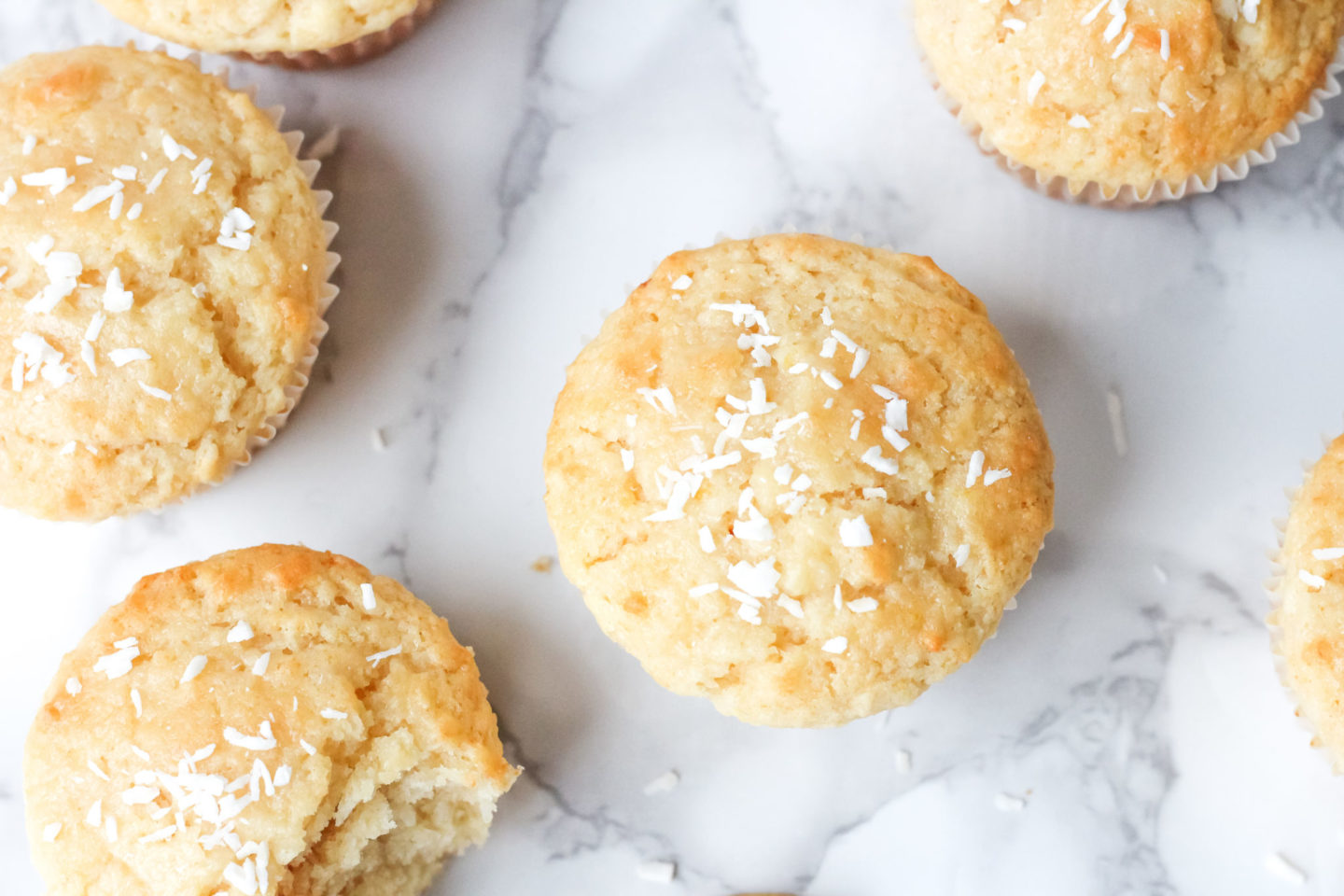 Other muffin recipes to try:
Other lemon recipes to try:
Other cake recipes to try: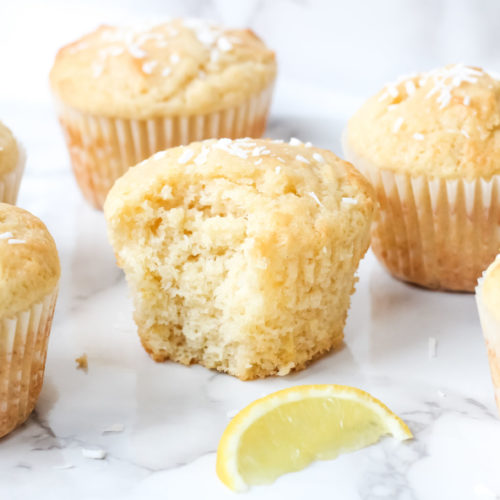 Lemon Coconut Muffins
Bursting with zesty lemon flavour combined with sweet coconut, these delicious muffins are light yet moist, and so moreish!
Ingredients
300

g

self raising flour

2

tsp

baking powder

level

1/2

tsp

bicarbonate of soda

level

1/2

tsp

salt

100

g

caster sugar

100

g

light brown sugar

50

g

butter

melted

2

medium

eggs

room temperature

1/2

tsp

vanilla extract

60

ml

sunflower oil

100

ml

buttermilk

room temperature

120

ml

coconut yogurt

room temperature

90

g

desiccated coconut

80g for muffin batter, 10g to sprinkle on top of baked muffins

zest

2 lemons

juice

2 lemons

1 for muffin butter, 1 for lemon glaze
Instructions
Preheat oven to 210°C/190°C fan. Line your muffin tray with muffin cases or spray with non-stick spray.

In a large bowl whisk together the flour, baking powder, bicarbonate of soda, salt, caster sugar, light brown sugar and 80g of the desiccated coconut (keep the remaining 10g to sprinkle on top of the baked muffins) until combined. Set aside.

In a medium bowl whisk the melted butter, eggs, vanilla extract, sunflower oil, buttermilk, coconut yogurt, zest of two lemons and the juice of one lemon (the juice of the second lemon is for the lemon glaze on the finished muffins).

Now pour this wet mixture into the large bowl of dry ingredients, and fold together with a wooden spoon or rubber spatula until JUST combined – do not over-mix as this will lead to dense, heavy muffins.

Fill each muffin case all the way to the top.

Place the muffin tray onto the middle shelf of your preheated oven. Set a timer for 5 minutes. This initial 5 minutes at a high temperature allows the muffins to rise more rapidly.

At the 5 minute point, without opening the oven door, drop the oven temperature to 180°C/160°C fan. Bake the muffins for a further 10 minutes.

Remove the baked muffins from the oven onto a wire rack. Immediately brush the muffin tops with the juice from the remaining lemon, and sprinkle the remaining desiccated coconut on top of each muffin. The juice acts as both a 'glue' for the coconut, and adds extra lemon zing!

After 5 minutes remove the muffins from the tray and place on the wire rack to cool completely.

Best eaten within 3 days. Store in an airtight container at room temperature.
Notes
If you've tried this recipe, tag @bakerjoblog on Instagram, Facebook, Pinterest or Twitter and/or use #bakerjoblog!