This easy carrot loaf cake is moist, perfectly spiced and smothered in a delicious cream cheese icing. A simple carrot cake recipe made in a loaf tin!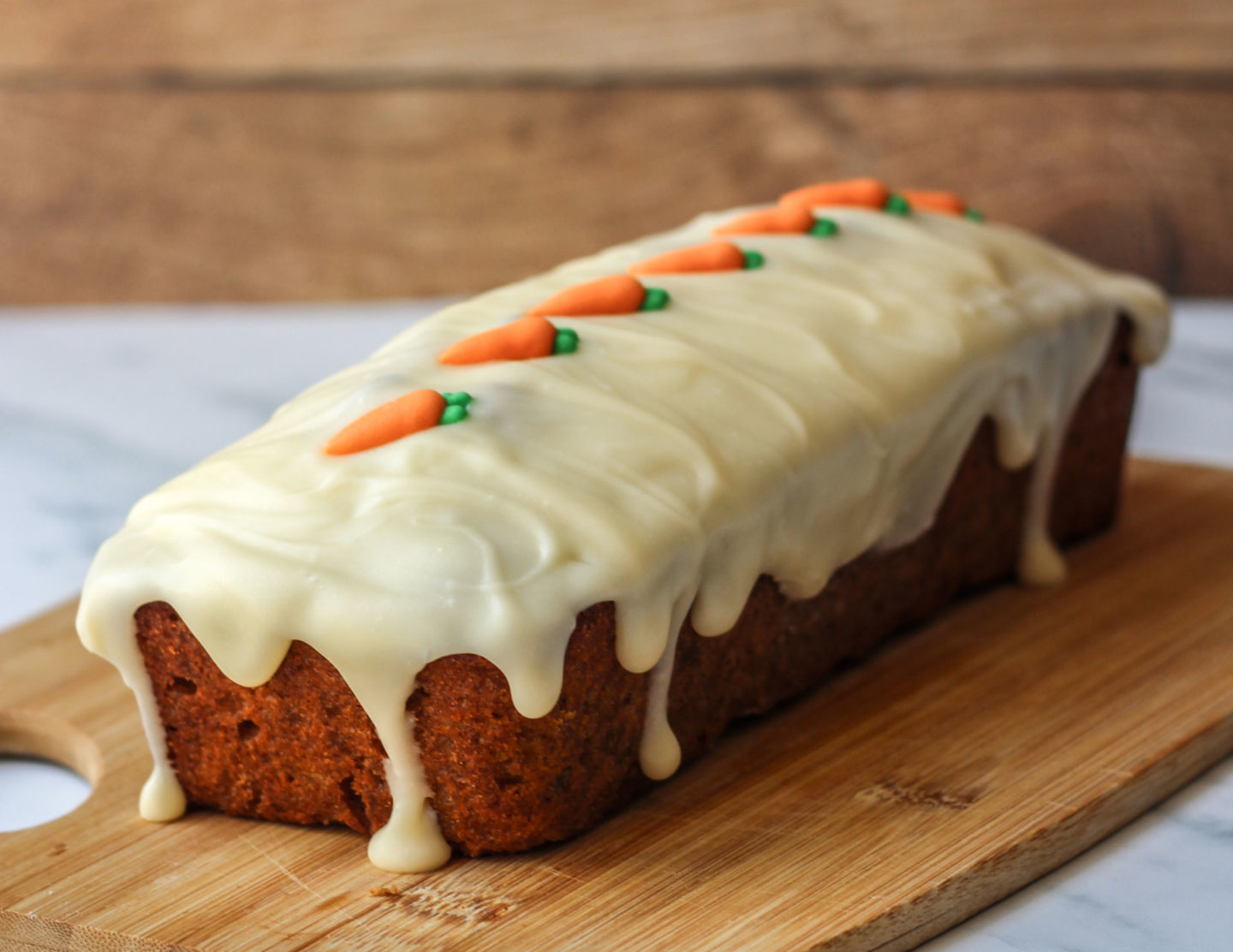 This post may contain affiliate links. For more information, see my Full Disclosure.
---
I felt inspired to create another easy loaf cake recipe after I recently shared my Lemon Drizzle Loaf Cake. Banana loaf cake recipes have been very popular during lockdown, but I bet many of you can't look at another banana right now!
That's when I decided on carrot cake. Carrot cake is a classic, much-loved cake, and I've already shared a Carrot Cake Swiss Roll recipe. So an easy carrot loaf cake recipe seemed like a great idea!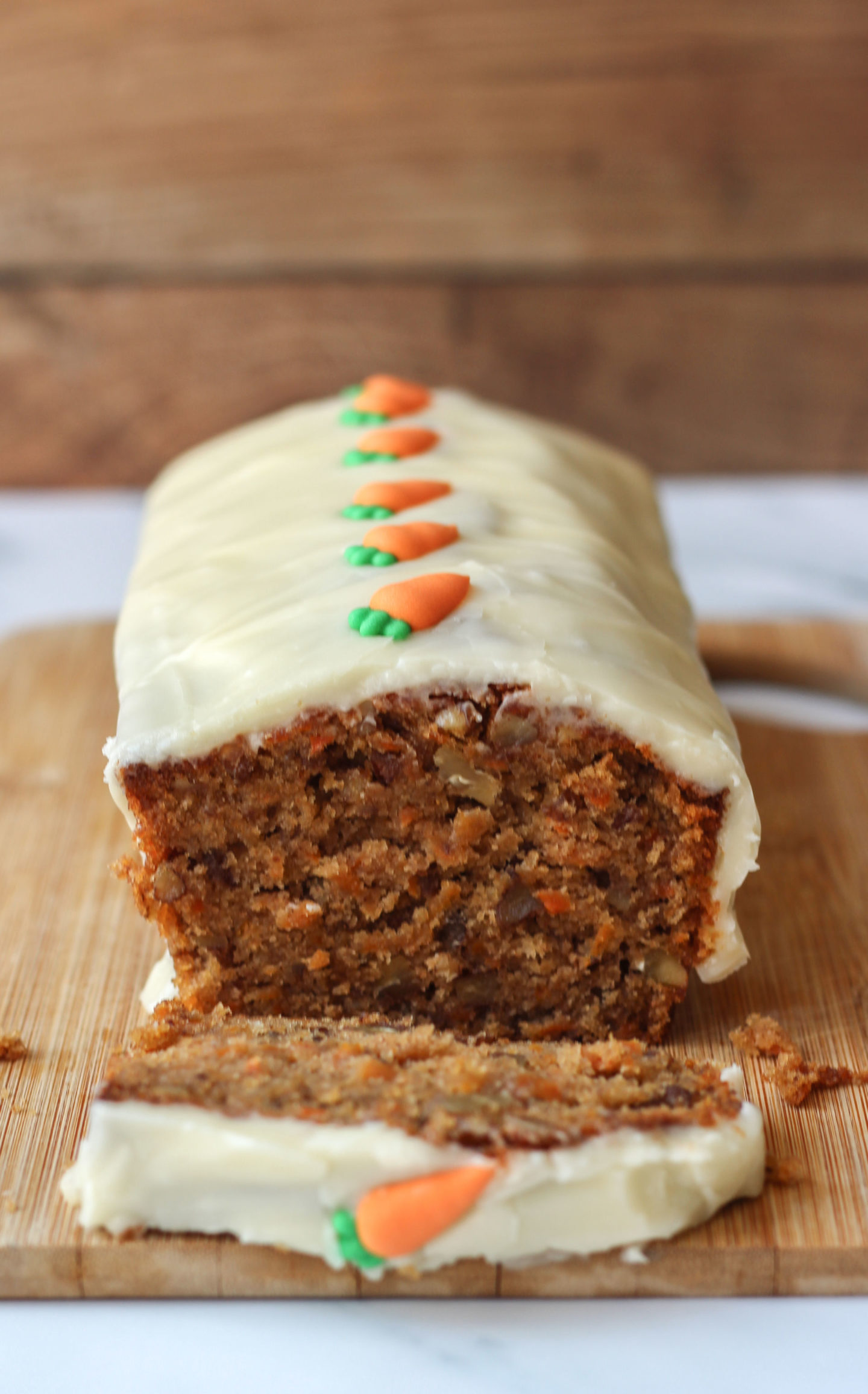 Carrot Loaf Cake ingredients
This carrot loaf cake contains all the traditional ingredients found in a classic carrot cake recipe. The spices used are cinnamon, ginger, mixed spice and nutmeg. This combination gives an amazing flavour without being overpowering.
The sugar used here is all light brown sugar. This brings moisture and a sweeter caramel-like flavour to this deliciously spiced cake. Light muscovado sugar is a good alternative. Different sugars are harder to come by at the moment so you can also use caster or granulated sugar. However, for the best flavour and moisture using brown sugar is highly recommended!
The fat used in this recipe is oil, bringing extra moisture to the loaf cake. The final moisture-rich ingredient used? Grated carrots of course! This cake is so squidgy and moist, and the flavour is even better the day after baking it.
Carrot loaf cake recipe with nuts
A lot of carrot cake recipes contain nuts, usually walnuts. Walnuts would be fine to use in this recipe, I just personally prefer pecans! You'll find pecans in some of my other recipes too, like my Hummingbird Muffins and Blueberry Nut Muffins.
However, if you're not a fan of nuts or have an allergy, you can leave them out. Or, why not substitute in the same amount of raisins, seeds or some shredded coconut?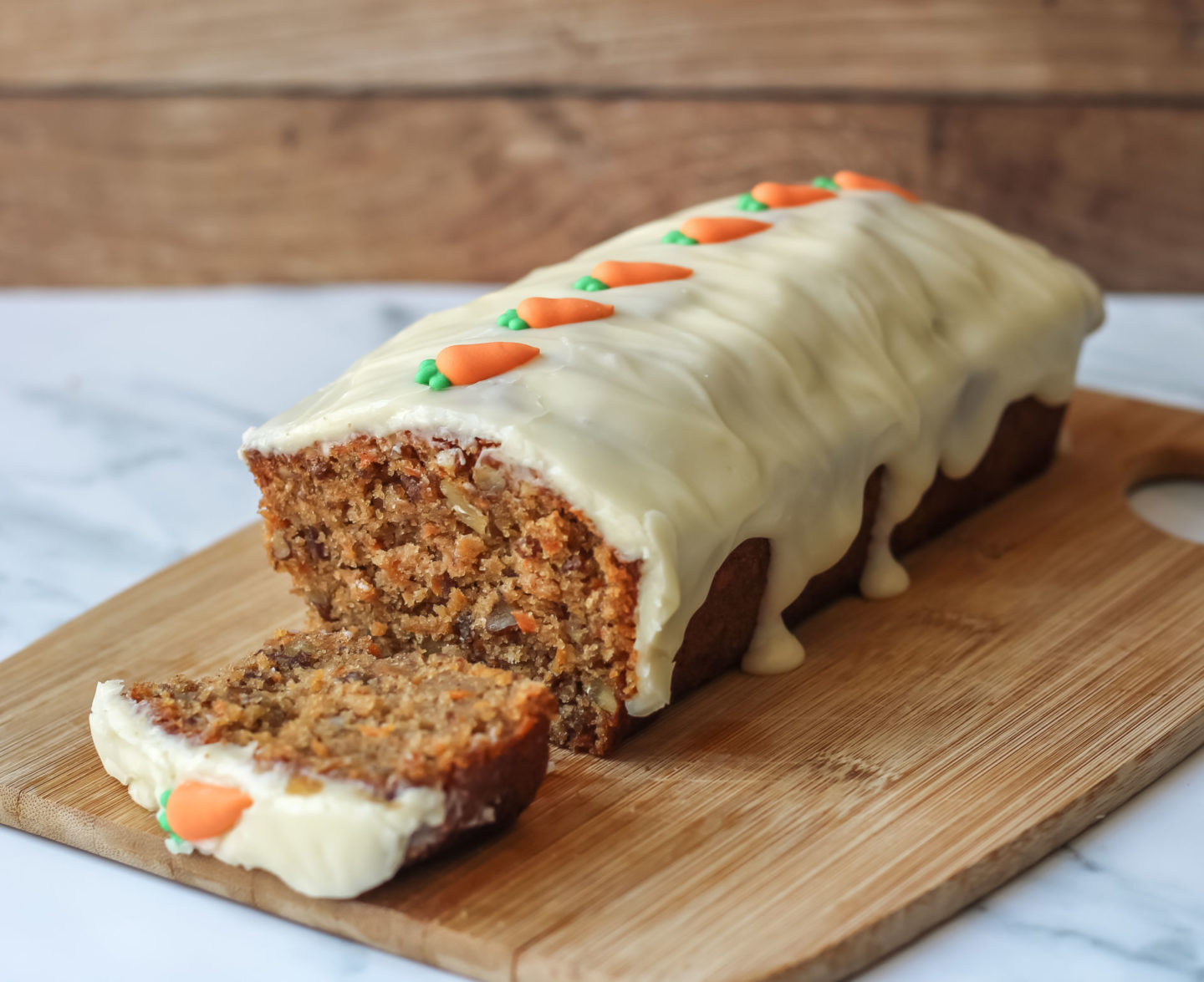 How to make a carrot loaf cake
This truly is a simple and easy carrot loaf cake recipe because no electric mixer is required and no creaming method is needed as there is no butter in this recipe. The leavening comes from the baking powder.
The dry ingredients are measured into one large bowl, and the wet ingredients and grated carrots are gradually added and folded together with a spatula or wooden spoon.
Once all the ingredients are combined, spread the mixture evenly into your 1kg/2lb loaf tin. I used a silicone loaf tin for this recipe and to prepare it I simply sprayed it with non-stick cake pan spray, to make sure it released easily from the tin!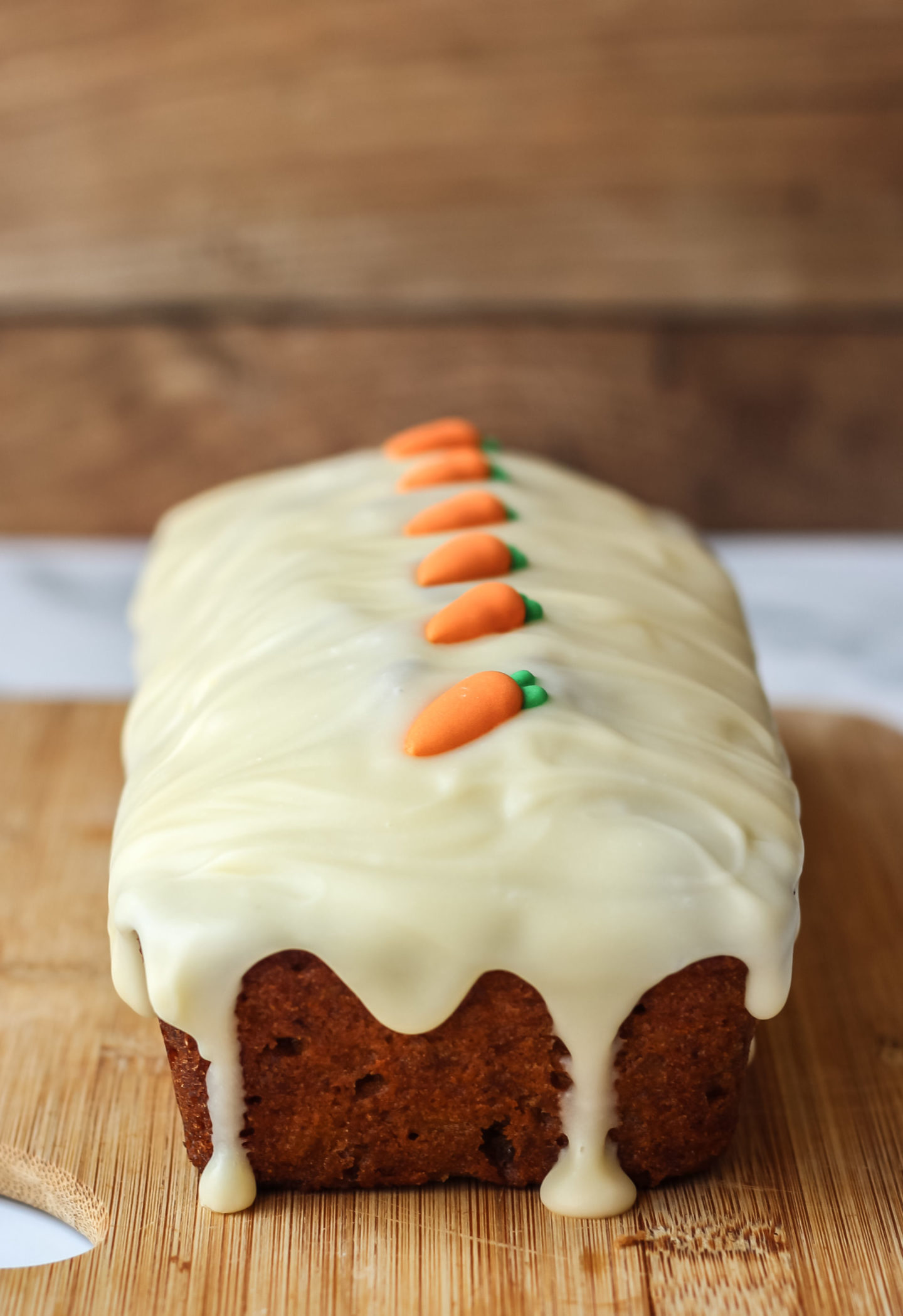 Carrot Cake with Cream cheese icing
Carrot cake is typically covered with a cream cheese frosting or icing. This carrot loaf cake topping stays true to the classic carrot cake. Plus again, no electric mixer is required to make this cream cheese frosting. It is all mixed together easily in a bowl by hand.
This cream cheese icing recipe is slightly runny so it's perfect for creating a drip icing effect. I personally love how it runs down the sides of the cake but is thick enough to firm up and keep the drip pattern.
This cream cheese frosting is deliciously sweet and creamy, I know you'll love it. You could also add some orange zest for a little added flavour!
Once the loaf cake has chilled in the fridge after adding the cream cheese icing, it will firm up and as you can see, you can then cut cleanly through the firmer icing.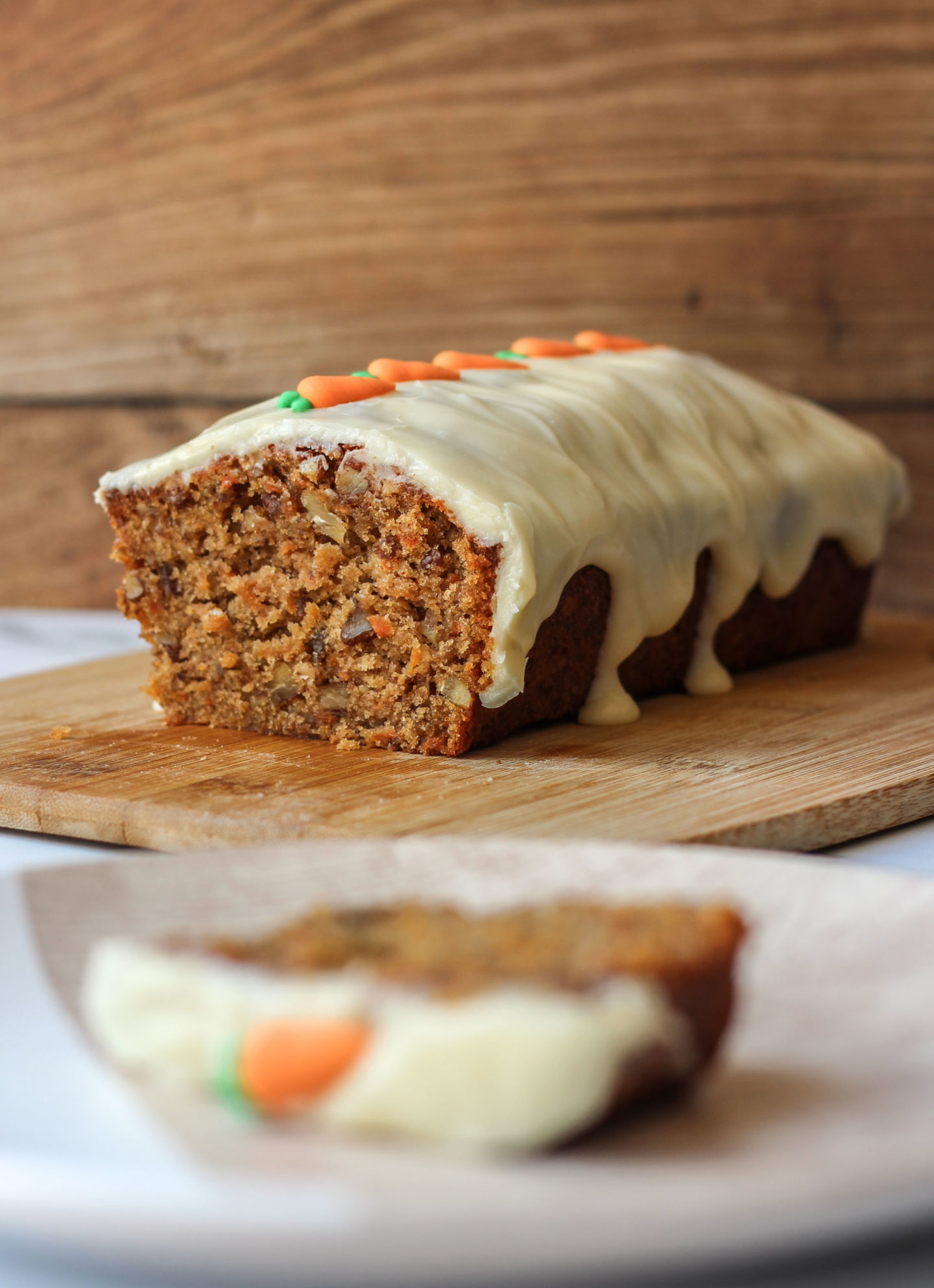 Carrot Cake Decoration Ideas
This part is completely up to you! You could keep it simple with just cream cheese icing, or maybe sprinkle chopped pecans on top.
You could even make some handmade carrots out of fondant if you want to get creative. I found these adorable little carrots in Tesco if you wanted to recreate my carrot cake topping!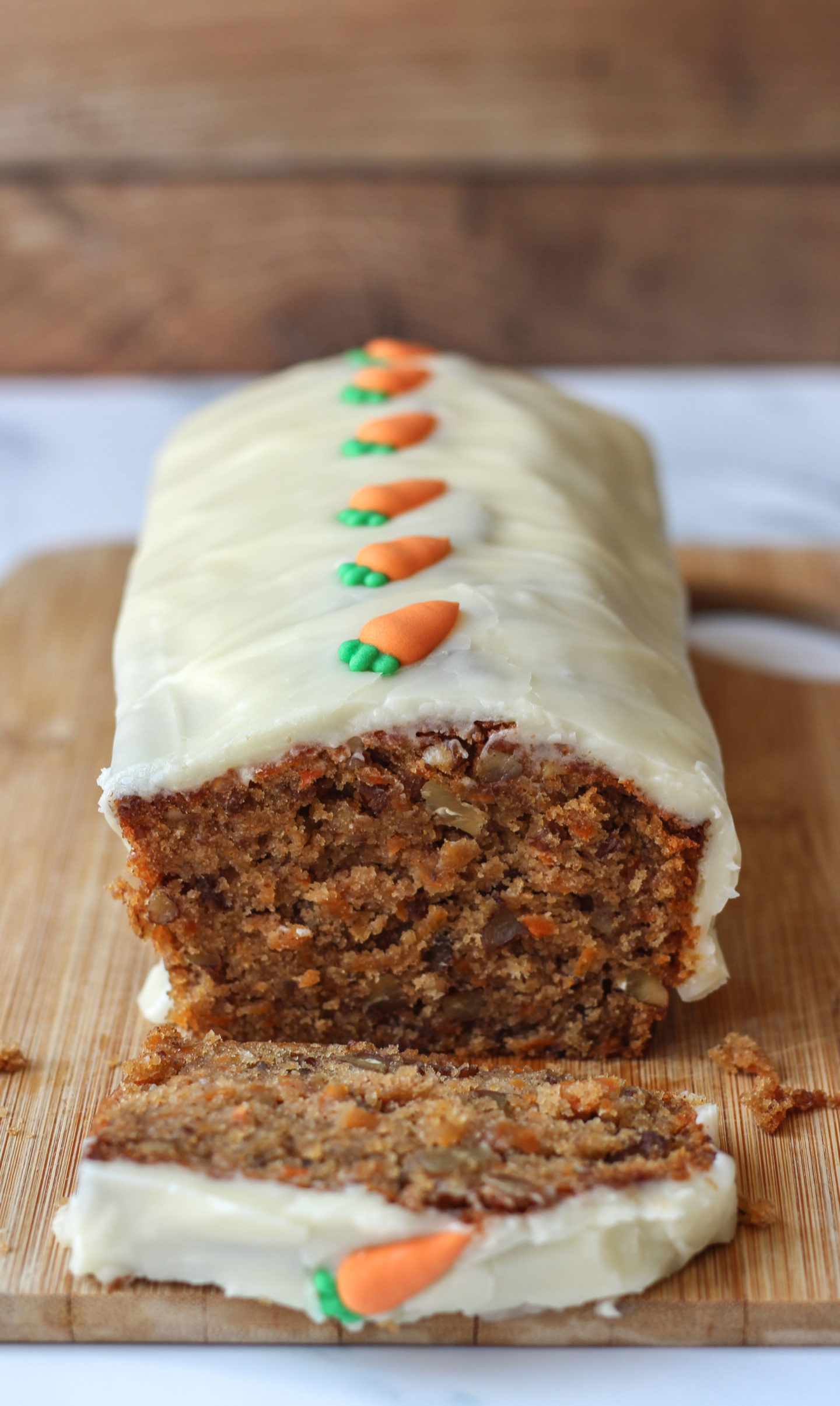 To summarise, this carrot loaf cake is:
A simple, easy carrot cake recipe made in a loaf tin
Made by hand with no mixers required
Covered in a delicious cream cheese frosting
Spiced, sweet and moist with a slight crunch from the pecans
Freezes well
If you try this recipe I'd love to see! You can show me by tagging me @bakerjoblog or using #bakerjoblog!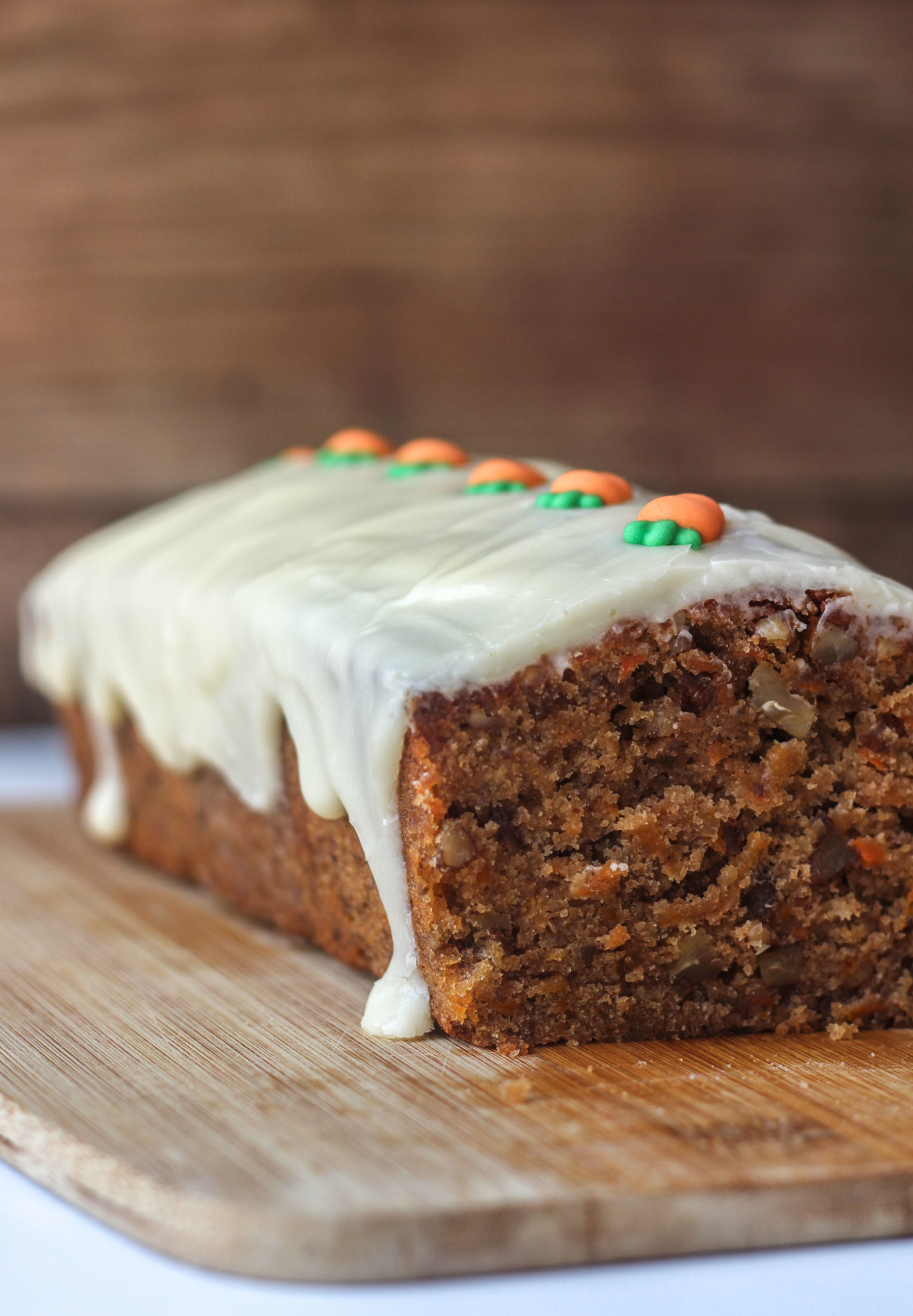 Other loaf cake recipes to try: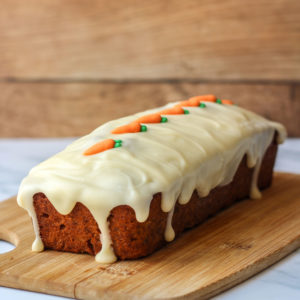 Carrot Loaf Cake
This easy carrot loaf cake is moist, perfectly spiced and smothered in a delicious cream cheese icing. A simple carrot cake recipe made in a loaf tin!
Equipment
1kg/2lb loaf tin (mine is silicone as shown in my post above)

Baking paper or non-stick cake pan spray

Hand whisk

Spatula
Ingredients
Carrot Loaf Cake
170

g

plain flour

1

tsp

baking powder

level

1

tsp

cinnamon

level

1/2

tsp

ginger

level

1/4

tsp

mixed spice

level

1/4

tsp

nutmeg

level

1/2

tsp

salt

level

170

g

light brown sugar/light muscovado sugar

if using light muscovado, sift to remove lumps

2

medium

eggs

room temperature and lightly beaten

150

ml

sunflower oil

/vegetable oil/coconut oil

200

g

grated carrots

about 2 medium carrots

100

g

pecans

finely chopped
Cream Cheese Drip Icing
90

g

full fat cream cheese

room temperature

35

g

butter

room temperature

150

g

icing sugar

sifted

1/2

tsp

vanilla extract

level
Instructions
Carrot Loaf Cake
Preheat oven to 170°/150° fan.

Line a 1kg/2lb loaf tin with baking paper or if using a silicone tin, spray lightly with non-stick cake pan spray.

In a large bowl whisk together the plain flour, baking powder, cinnamon, ginger, mixed spice, nutmeg, salt and light brown sugar. Set aside.

Add the finely chopped pecans to the dry ingredients and whisk to combine.

Add the oil and lightly beaten eggs to the dry ingredients.

Using a spatula, fold until almost fully combined.

Finally add the grated carrots and fold with the spatula until combined. Try not to overmix, but make sure no pockets of flour remain.

Pour this mixture into your prepared loaf tin and level it out with your spatula.

Place into your preheated oven and bake for around 50 minutes to 1 hour. The baking time can vary depdning on your individual oven and type of loaf tin used, so I'd recommend checking that it is baked from 45 minutes, and every 5 minutes after that.

Check by inserting a skewer or cocktail stick into the centre of the cake. It is done when it comes out clean; a few moist crumbs is ok but not wet mixture.

Once baked place onto a wire cooling rack to cool completely before removing from the loaf tin.
Cream Cheese Icing
Add the softened butter, softened cream cheese and vanilla extract to a medium bowl.

Using a spatula or wooden spoon, beat together until combined and smooth with no lumps.

Add the sifted icing sugar to this bowl, a few tablespoons at a time, beating well with your spatula/wooden spoon after each addition. Once all the icing has been added, beat well once more until smooth. It will be slightly runny to allow you to drizzle it on top of the cake.

I use a tablespoon to drop icing on top of the cake, and spread it so that it runs down the sides of the cake slightly. You may have to give the icing a slight nudge with your spoon to get it to drip down the side of the cake. You may not need all the icing; I had a few tablespoons left over.

Add whatever decorations you like at this point, such as decorative carrots as shown, or chopped nuts.

As soon as you've added decorations, if any, place it straight in the fridge to chill. This will help the drip icing keep it's shape without continuing to drip down the cake too much.

Best stored in the fridge due to the cream cheese icing. Best eaten within 3-4 days.
Notes
If you've tried this recipe, tag @bakerjoblog on Instagram, Facebook, Pinterest or Twitter and/or use #bakerjoblog!