Filled with sweet, overripe bananas and homemade toffee sauce, these banoffee brownies are easy to make, super moist and so delicious!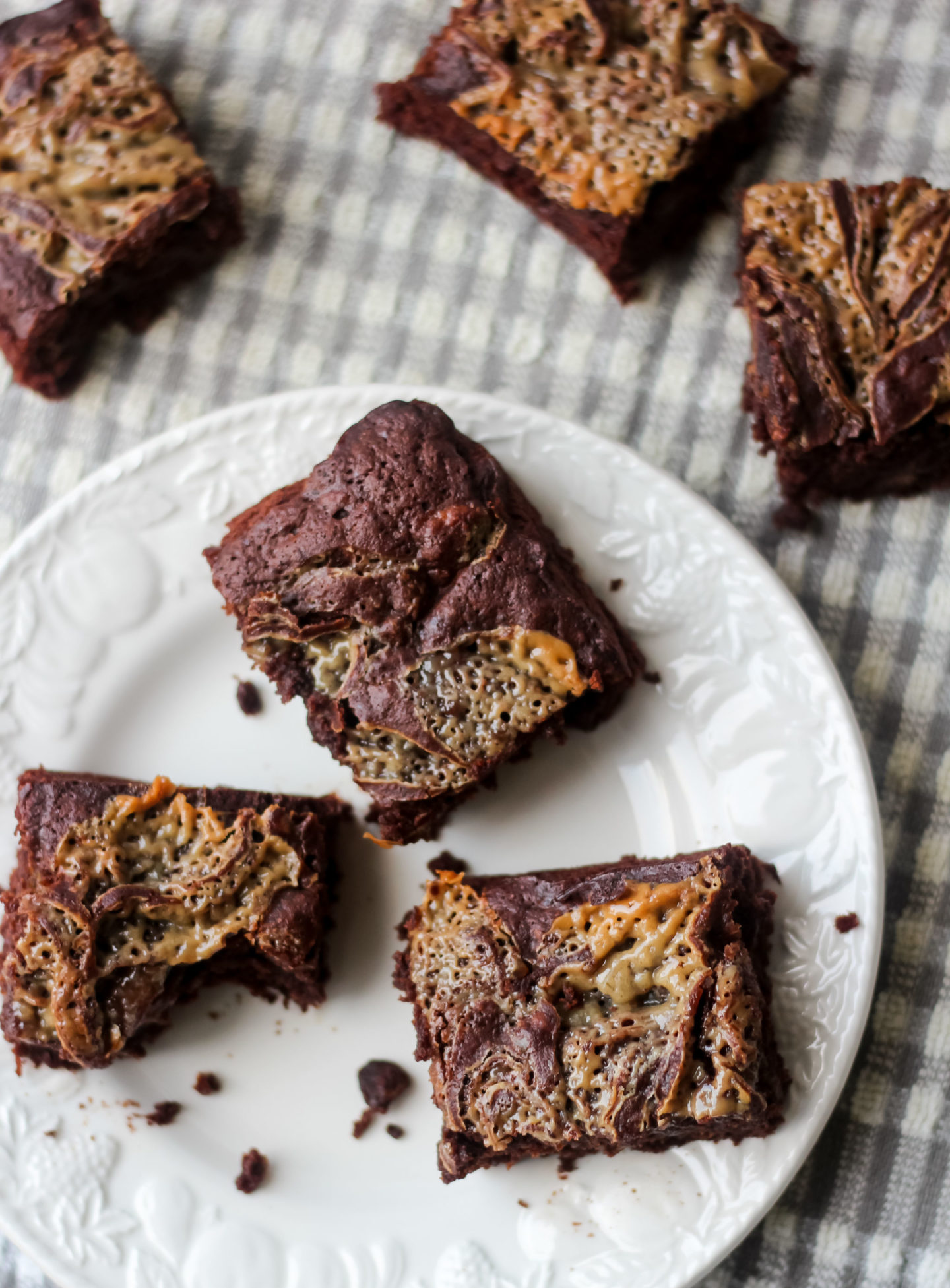 This post may contain affiliate links. For more information, see my Full Disclosure.
---
I couldn't wait any longer to create my own brownie recipe! My go-to recipe by Gordon Ramsay I've used for years (my first ever bake actually!). It has served me well and is very popular with my friends, but I wanted to try to create a better version. To somehow take them next-level by combining other flavours – so my banoffee brownies were born!
Ramsay's recipe is really good, but I've always wished they were less 'cakey'. Ramsay's method involves whisking the eggs and sugar until really thick and foamy to help the brownies rise. That's something I didn't want in my recipe; I wanted a denser brownie. But not too dense where they feel gooey and under-baked – that's personally a step too far for me!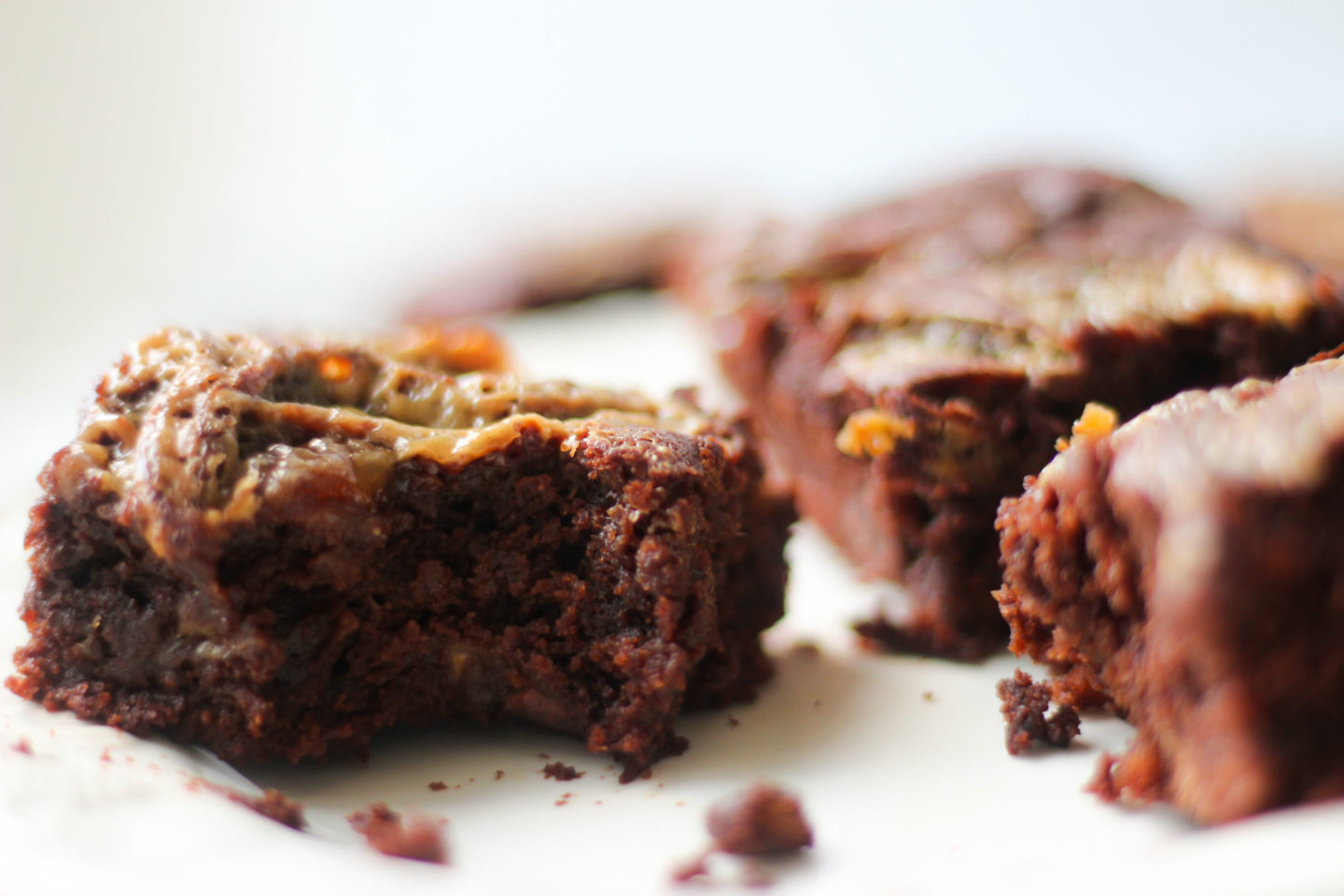 Banoffee brownies using overripe bananas
If you've baked any banana-based recipe before you'll know how important it is to use overripe, spotty bananas. That's where the flavour is.
If your bananas aren't spotty but you can't wait to make these, you can try this handy trick that I use sometimes. Bake the bananas in the oven for about fifteen minutes (around 180°C) until the skin goes black and shiny. Then simply wait for them to cool, peel off the skin, and the banana is perfectly sweet and ready for mashing!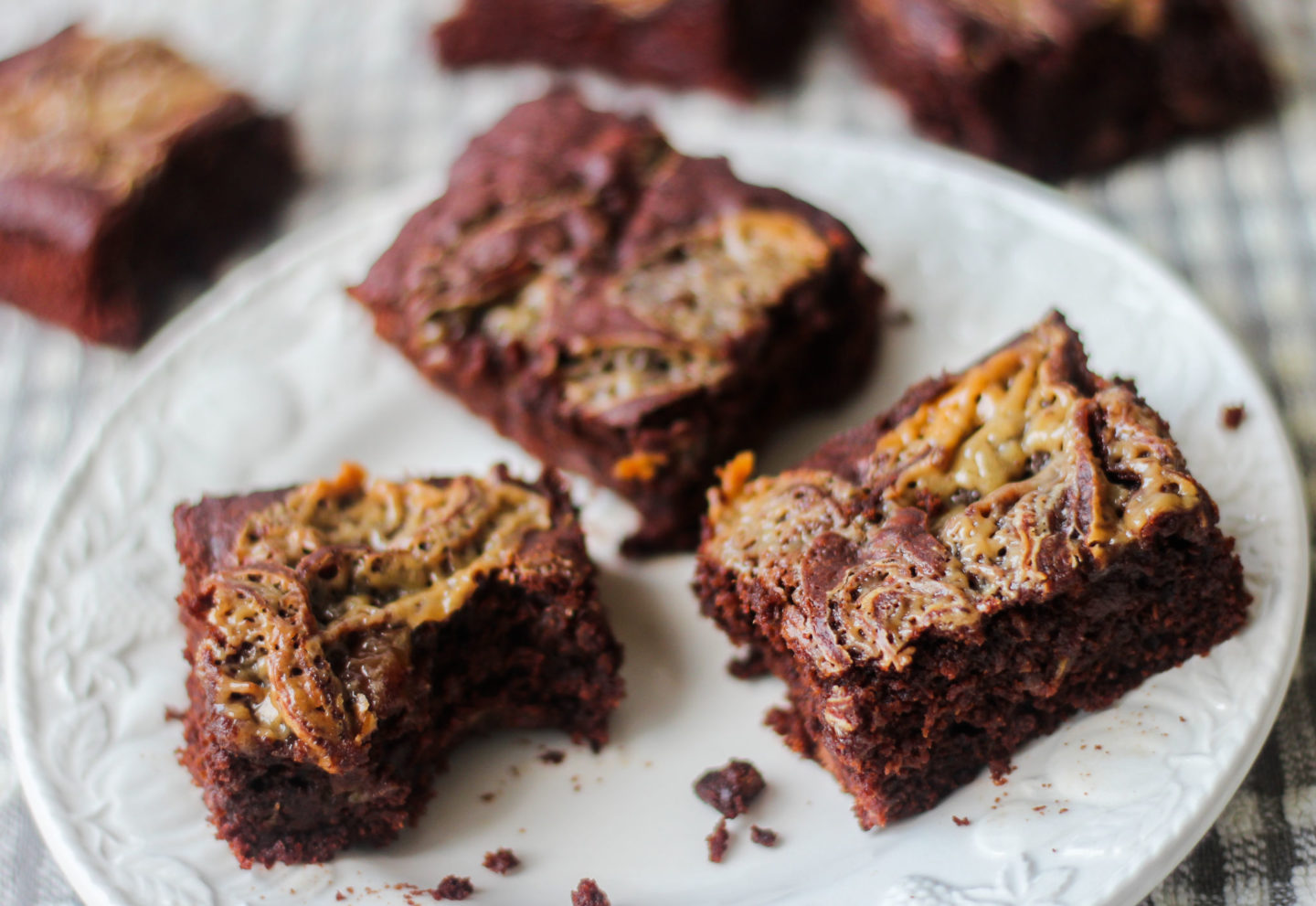 Simple and easy homemade toffee sauce
You may think it's too much hassle to make your own toffee sauce. Or you may be nervous about making it from scratch. Let me reassure you I was surprised at how quick and easy it is to make!
You just need some light brown sugar, butter, double cream and vanilla extract. It really does all come together in a few minutes and even though you could use store-bought toffee sauce, you'll be so happy you didn't! I'll talk you through the steps and timings in more detail in the recipe below.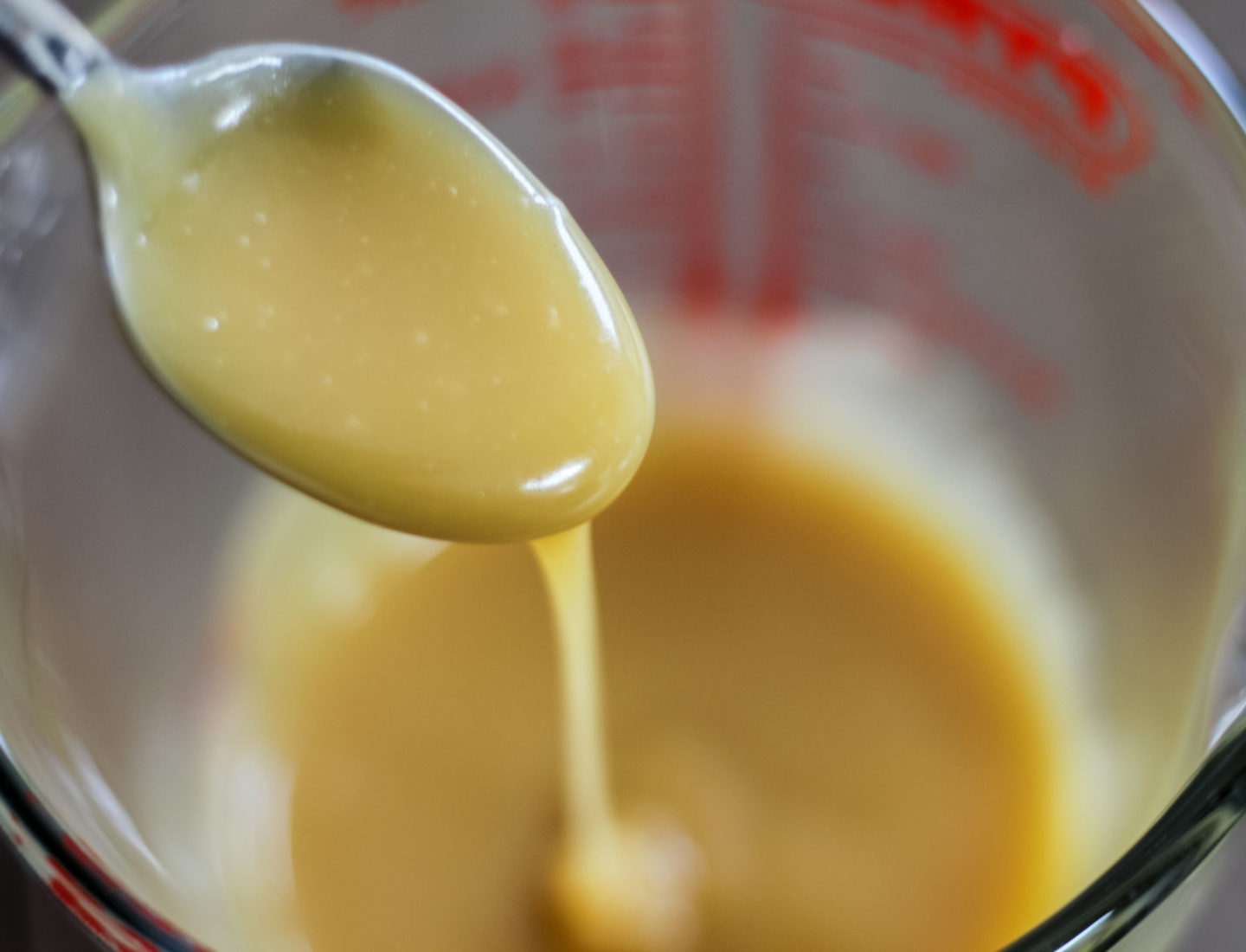 Banoffee Brownies with homemade toffee sauce
Make the toffee sauce first as that gives it time to thicken slightly as it cools. Once your banana-brownie mixture has come together in your pan, spoon or pour the toffee sauce on top. Then swirl it through the mixture with a knife, creating a kind of marbled effect – I love this part!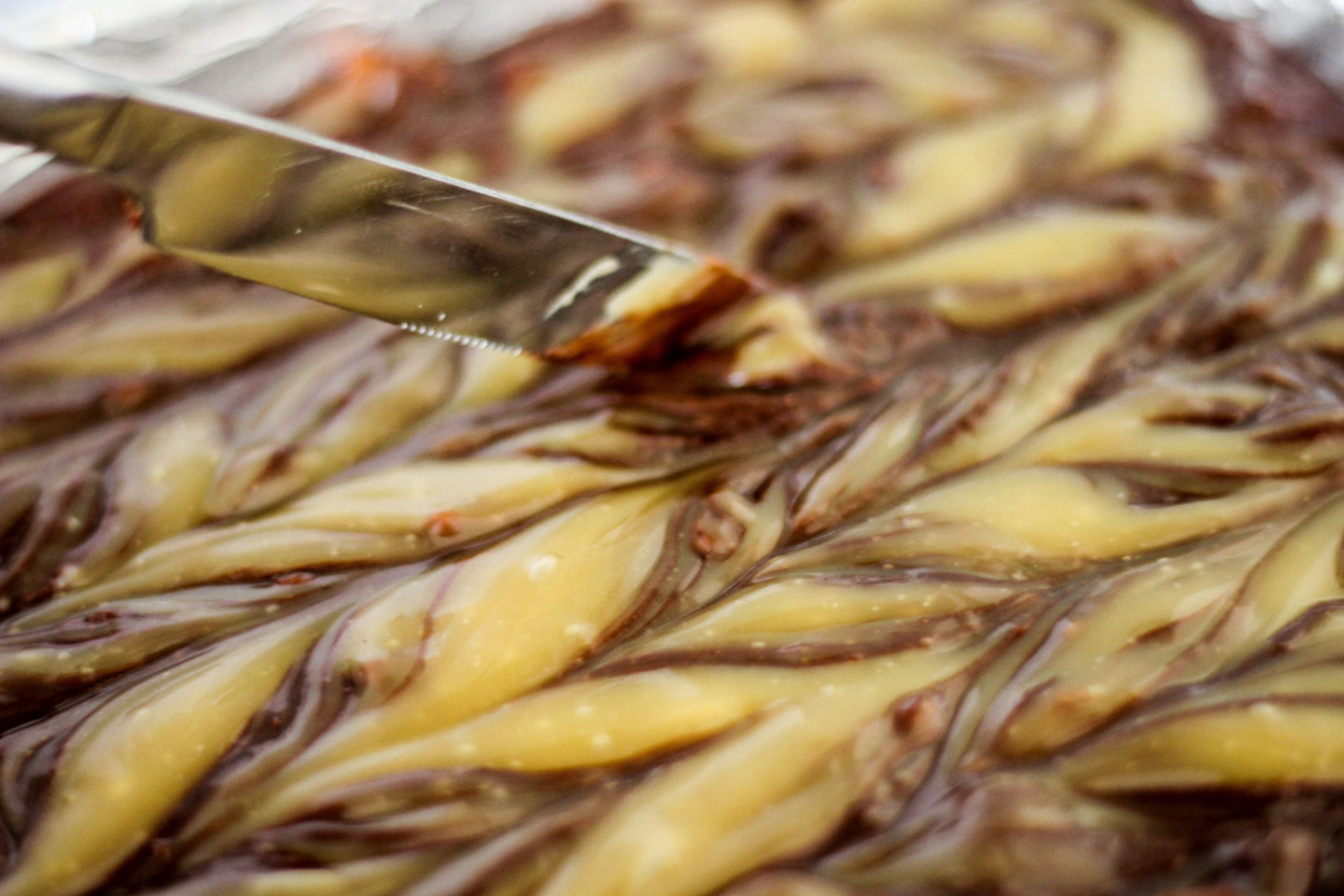 What baking pan do I need for brownies?
I often get asked what equipment and baking tins I personally use. My 12″x9″ traybake pan is a basic non-stick pan which I line with either baking paper or foil, sprayed with a little non-stick pan spray.
A silicone baking pan would be great too, as no lining of the pan is needed and they can allow more even baking! I've already invested in silicone baking trays for my cookie recipes (a game changer for evenly baked cookies!) such as my chewy triple chocolate chip cookies and strawberry white chocolate cookies!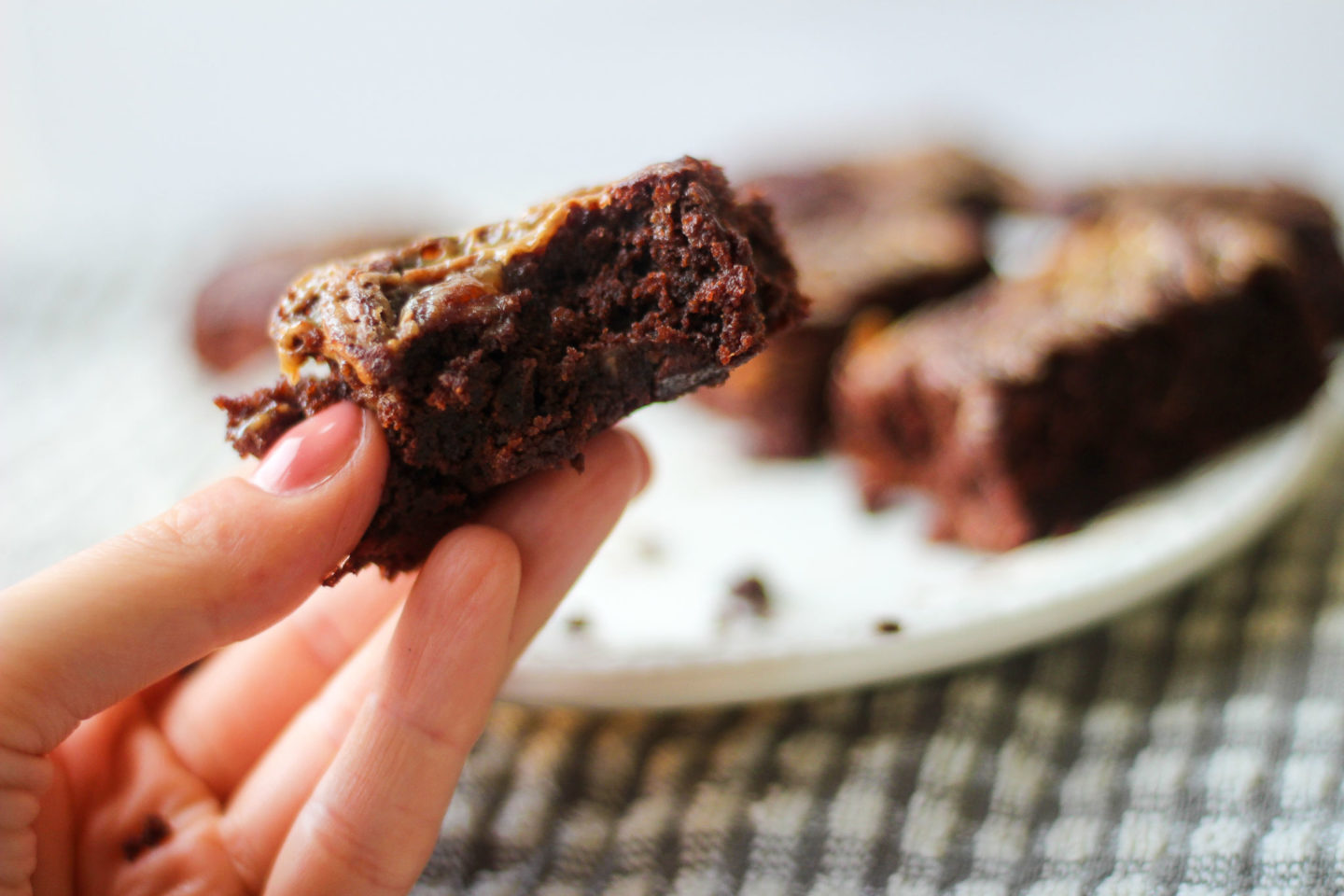 The best banoffee brownie recipe
Once baked, resist the urge to cut a slice until it has cooled completely. If not it'll be too crumbly and will fall apart. I won't judge you for being tempted to though!
My taste testers generally agreed that these brownies have a good balance of flavour between the chocolate, banana and toffee. None overpower – I feel they all complement each other nicely. The chewy toffee blended with the moist banana brownie is a winner for me, and I'm confident you'll agree if you decide to try this recipe!
If you try this recipe I'd love to see! You can show me by tagging me @bakerjoblog or using #bakerjoblog!
Other traybakes to try:
Other chocolate recipes to try:
other cake recipes to try: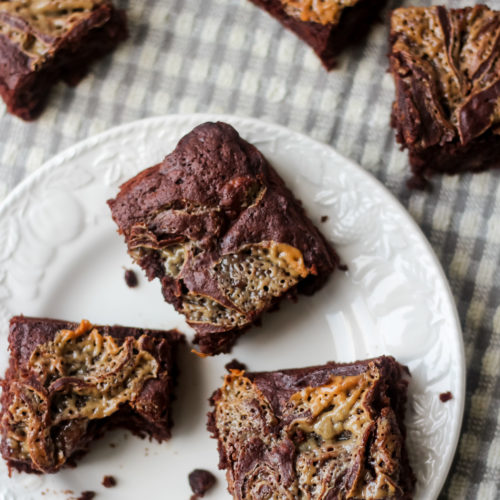 Banoffee Brownies
The perfect balance of chocolate, banana and toffee in brownie form!
Ingredients
Brownie mix
110

g

self raising flour

70

g

cocoa powder

1/2

tsp

salt

100

g

dark chocolate

chopped

130

g

butter

180

g

caster sugar

70

g

light brown sugar

sifted to remove lumps

2

medium

eggs

room temperature

1

tsp

vanilla extract

2

large

over-ripe/spotty bananas

mashed

100

g

milk chocolate chips
Toffee sauce
70

g

light brown sugar

50

g

butter

75

ml

double cream

1/2

tsp

vanilla extract
Instructions
Preheat oven to 180°/160° Fan. Grease a 12″ x 9″ traybake tin with butter or non-stick spray, line with tin foil (with some overhang to lift it out of the tin later) and spray the foil with non-stick spray.

(I prefer to use foil here as I can get it right into the corners of the traybake tin. You can use baking or parchment paper though if you prefer).

First, make the toffee sauce. Place the butter and light brown sugar into a small saucepan and simmer on low-medium heat for around two minutes. You can stir with a heatproof spatula to help incorporate the two.

Once incorporated, increase to medium heat and add all of the double cream. Stir constantly until the sauce thickens slightly – this will take around three minutes. Don't worry if it still seems a little runny at this stage; it will thicken slightly as it cools.

Pour the toffee sauce into a jug or another bowl (to prevent it from continuing to cook in the hot saucepan) and set aside for now.

Sift the flour, cocoa powder and salt into a small bowl and whisk to combine. Set aside.

Place the chopped dark chocolate and butter into a heatproof bowl and microwave in 20 seconds increments, stirring in between, until completely melted.

To a large bowl add the light brown sugar and caster sugar. Pour the melted chocolate mixture to this bowl and mix together with a wooden spoon until combined.

Add the eggs and vanilla extract to this large bowl and mix to combine, followed by the mashed bananas.

Add the dry ingredients to the wet ingredients in the large bowl and fold together until no pockets of flour remain. Add the chocolate chips and mix until evenly incorporated.

Pour the brownie mixture into the prepared traybake tin and spread evenly with a spatula or palette knife.

Drizzle the toffee sauce on top of the brownie mixture – depending on how much the sauce has thickened you can pour it over in a swirling pattern to make sure it is spread evenly, or use a spoon to dollop it around the mixture.

Now use a butter knife to cut through the mixture, in different directions to create a marbled effect with the toffee sauce.

Place in the middle shelf of the oven and bake for around 30 minutes. You can check if it is baked by inserting a cake skewer or cocktail stick into several areas of the brownie to make sure it comes out clean with no wet mixture. It may come out with a few moist crumbs though and this is ok.

Place on a wire cooling rack and leave to cool completely before removing and cutting as it needs time to firm up!

When cool I find it easier to lift the whole brownie from the tin by holding the overhanging edges of tin foil, and then cutting it into slices.

The brownies should stay moist for around 5 days.
Notes
If you've tried this recipe, tag @bakerjoblog on Instagram, Facebook, Pinterest or Twitter and/or use #bakerjoblog!