These chocolate chip cookies are my favourite kind, with chewy centres and slightly crisp edges. Plus, no need to chill the dough before baking!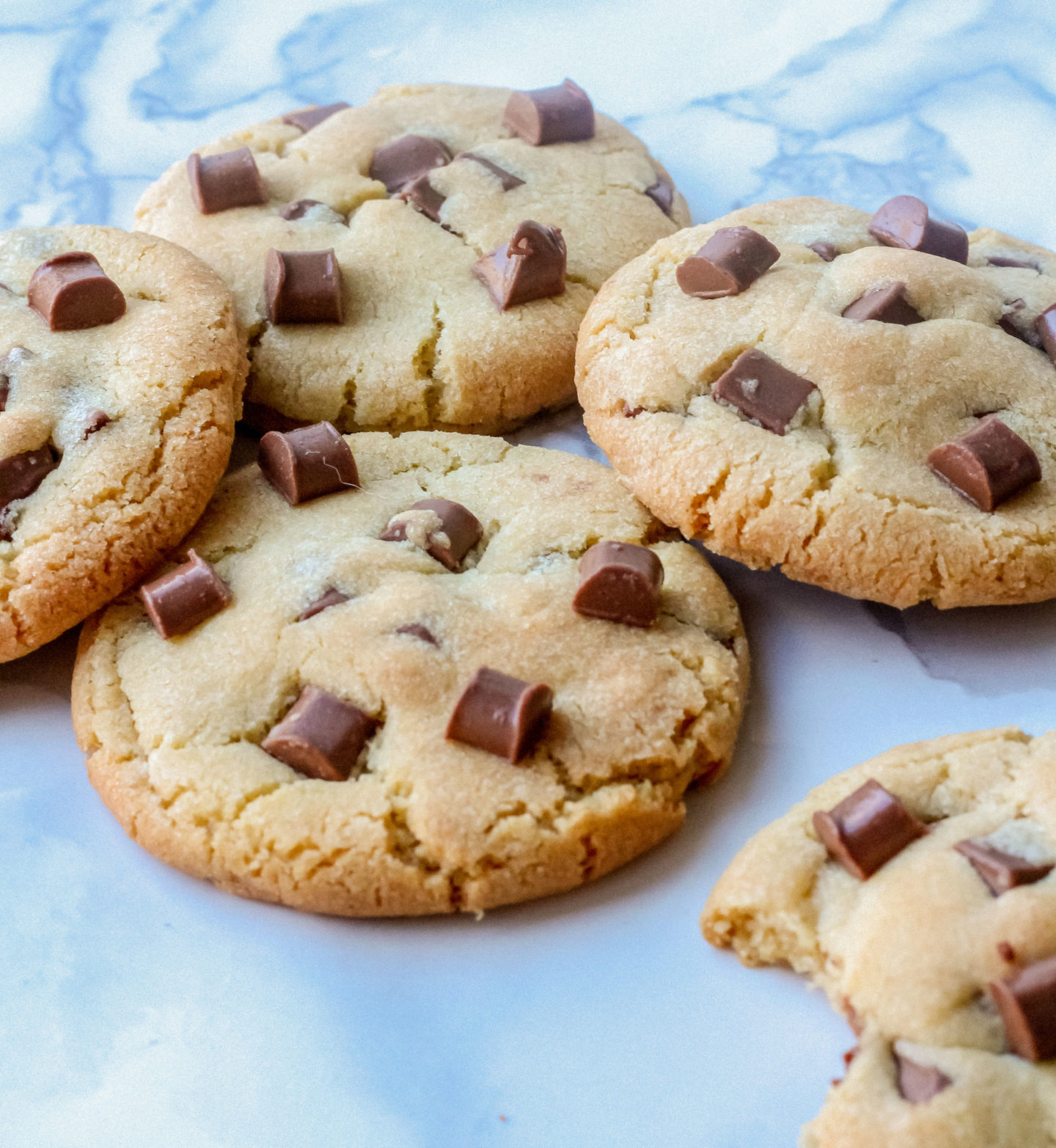 This post may contain affiliate links. For more information, see my Full Disclosure.
---
I genuinely can't tell you how many batches of these chewy chocolate chip cookies I made to get these just right. So please know that these are tried and tested, and I'm really happy with them!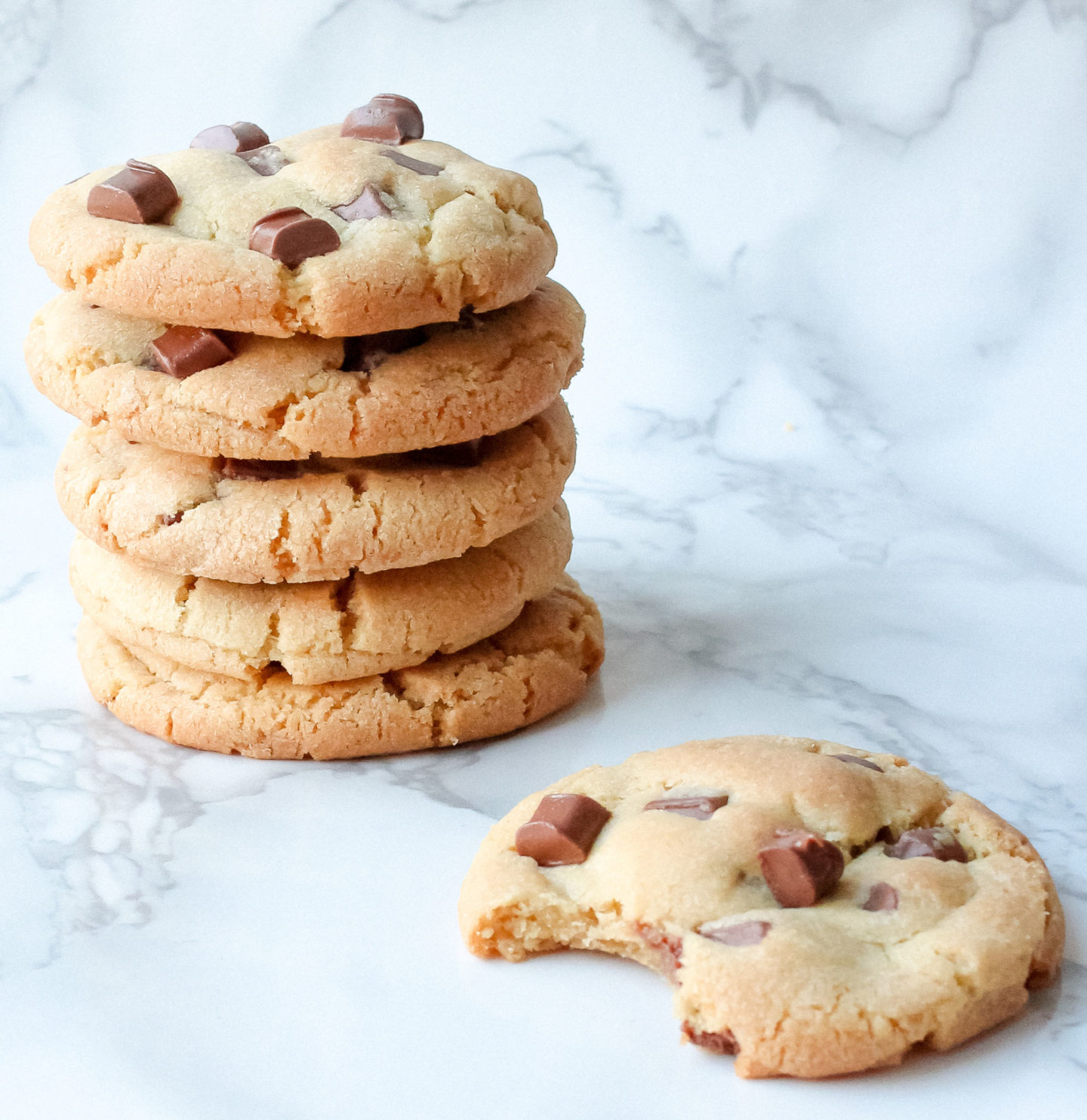 Chewy chocolate chip cookie recipe
I posted my recipe for Strawberry White Chocolate Cookies a few weeks ago. They were actually developed from this recipe, but posted them first as I thought they were perfect for Valentine's Day!
As I discovered the hard way, there is a very fine line between some typical cookie ingredients which can lead to thin cookies, fat cookies, crunchy cookies, under-baked cookies etc! The testing of this recipe really confirmed how important baking ratios are.
Baking truly is a science!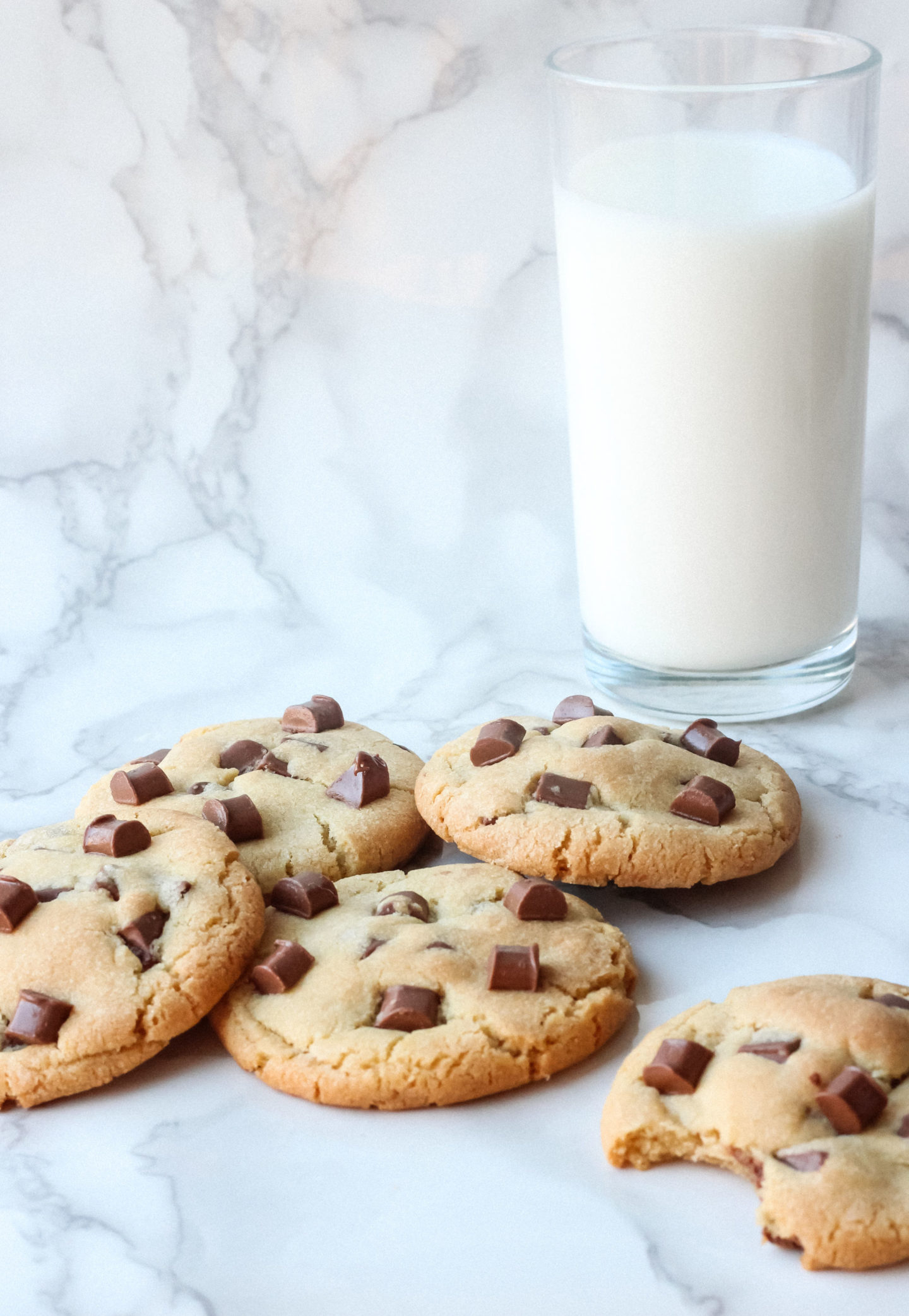 I don't know about you, but I prefer my cookies quite thick and soft, with a slightly crisp edge. I also like them loaded with chocolate chips!
(Want an extra chocolatey cookie? Try my Chewy Triple Chocolate Chip Cookies!)
During the development of these cookies, it amazed me how much difference a slight tweak to one ingredient alters the overall texture and shape of a cookie. Here's a picture of the cookie testing process…

Yes, there were A LOT of cookies in my kitchen that week!
Don't get me wrong, I would happily eat any of these cookies again. They just weren't the right shape, size or texture for my liking. Look how much the first two test batches spread and browned!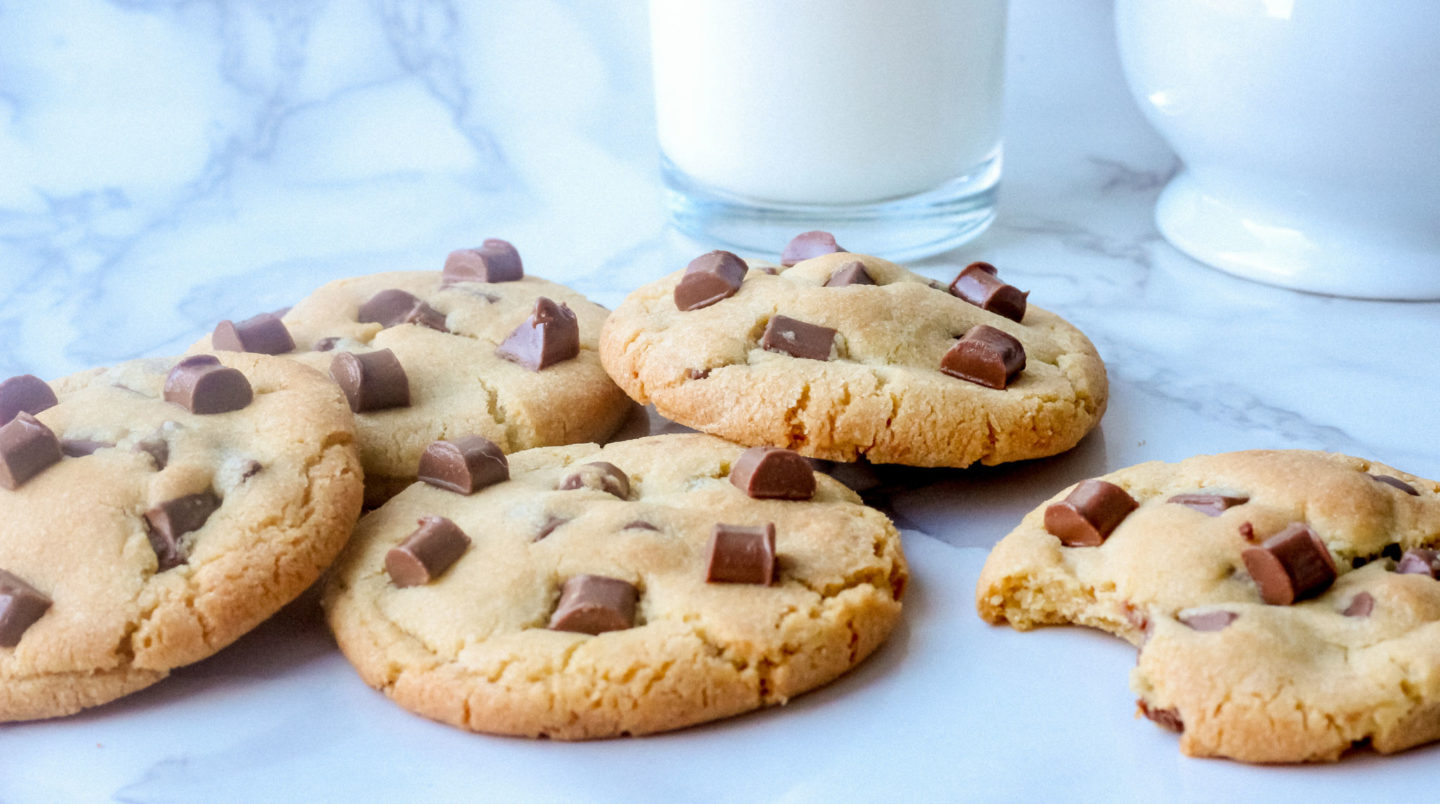 Chewy chocolate chip cookie recipe ingredients
I talked a little about my reasoning behind each ingredient in my Strawberry White Chocolate Cookies post. I wanted a soft cookie, but not so soft that it would spread a lot in the oven. Balancing these ingredients was definitely challenging! I've used just enough flour to prevent too much spreading, plus some cornflour to give a softer texture.
The use of bicarbonate of soda and the creaming of the butter and sugar help to leaven the cookie and again help with the softness. Using only egg yolks and no egg white makes the cookie chewier. Then some vanilla extract for added flavour and lots of chocolate chips because… do I really need to answer that?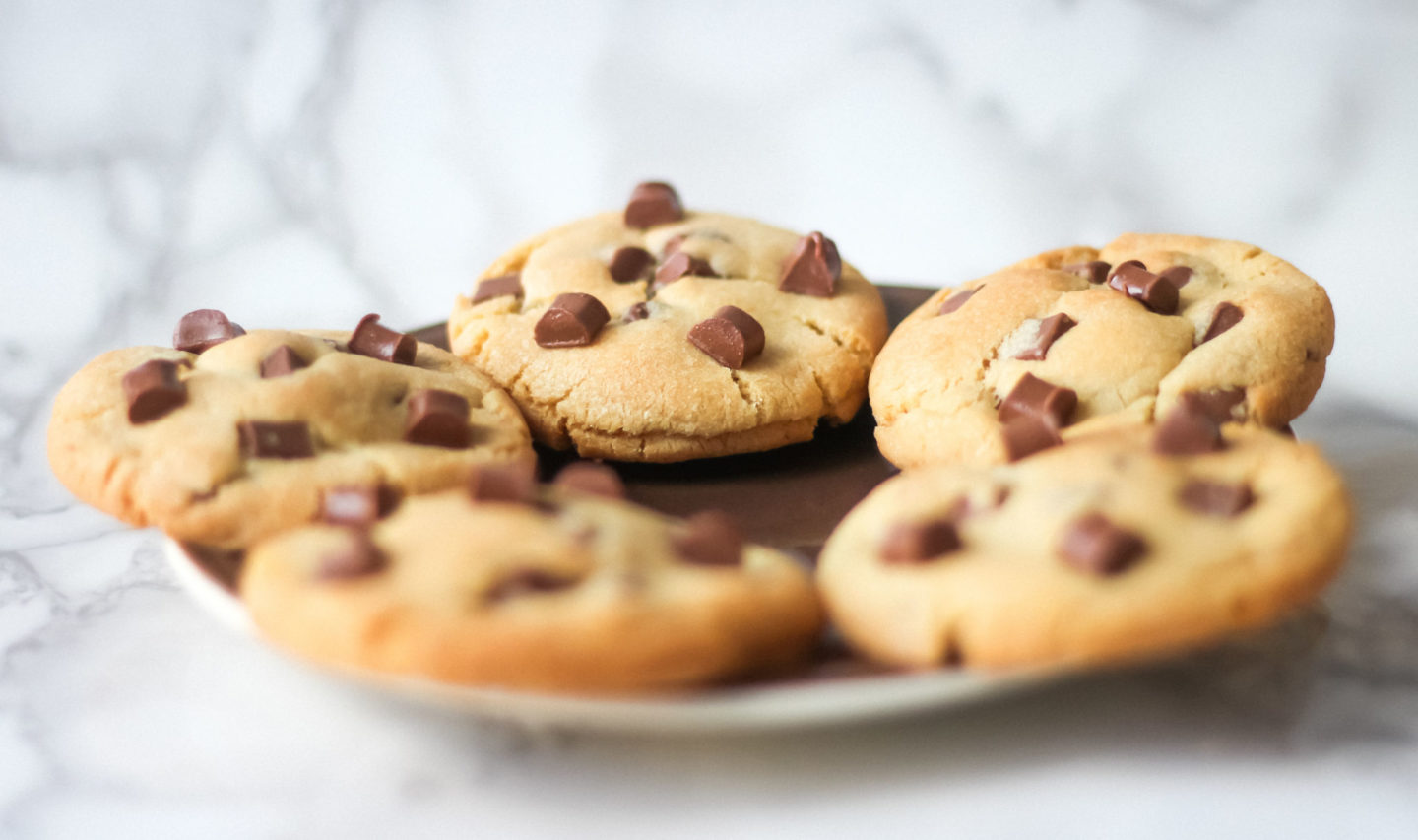 An important note about the butter used in this recipe: I use the soft, spreadable type butter and not block butter (whereas block butter is a must in my Welsh Cake Shortbread recipe!). I'd suggest doing the same, as the cookies may not spread enough in the oven if they contain the firmer block butter!
I also highly recommend using a silicone baking tray for cookies. They spread the heat more evenly, resulting in more evenly baked cookies!
The tray I personally use is almost identical to this one below: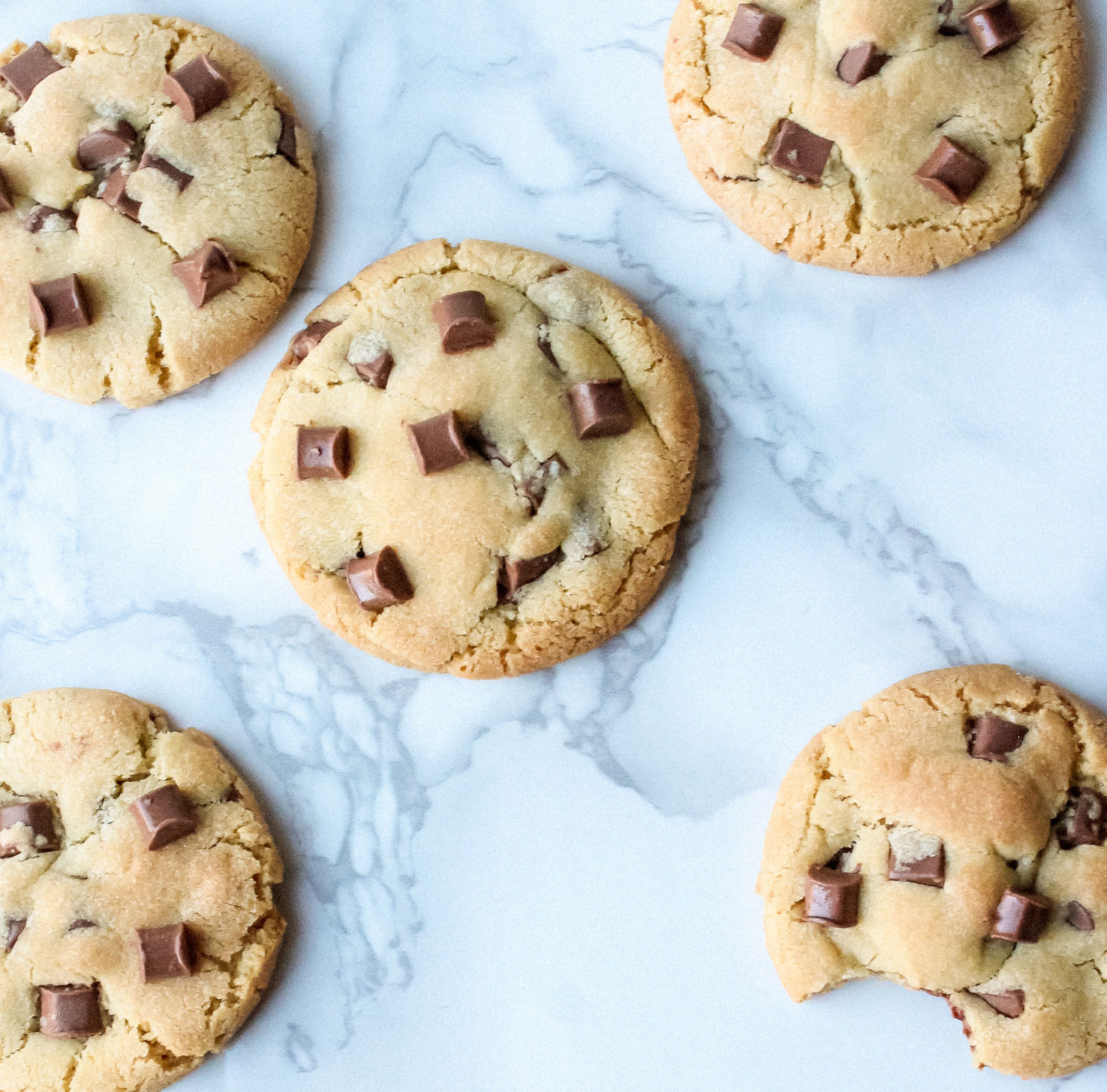 No chill cookie recipe
The great thing about this recipe is that there is no need to chill the dough before baking! So you can whip up a batch in no time at all. You can also freeze the unbaked dough balls in a zip lock bag and just bake what you need at a later date. Just give them an extra minute or so in the oven!
I felt like I could never look at another cookie again after finally getting this recipe right. But who am I kidding, that feeling was definitely short-lived.
If you try this recipe I'd love to see! You can show me by tagging me @bakerjoblog or using #bakerjoblog!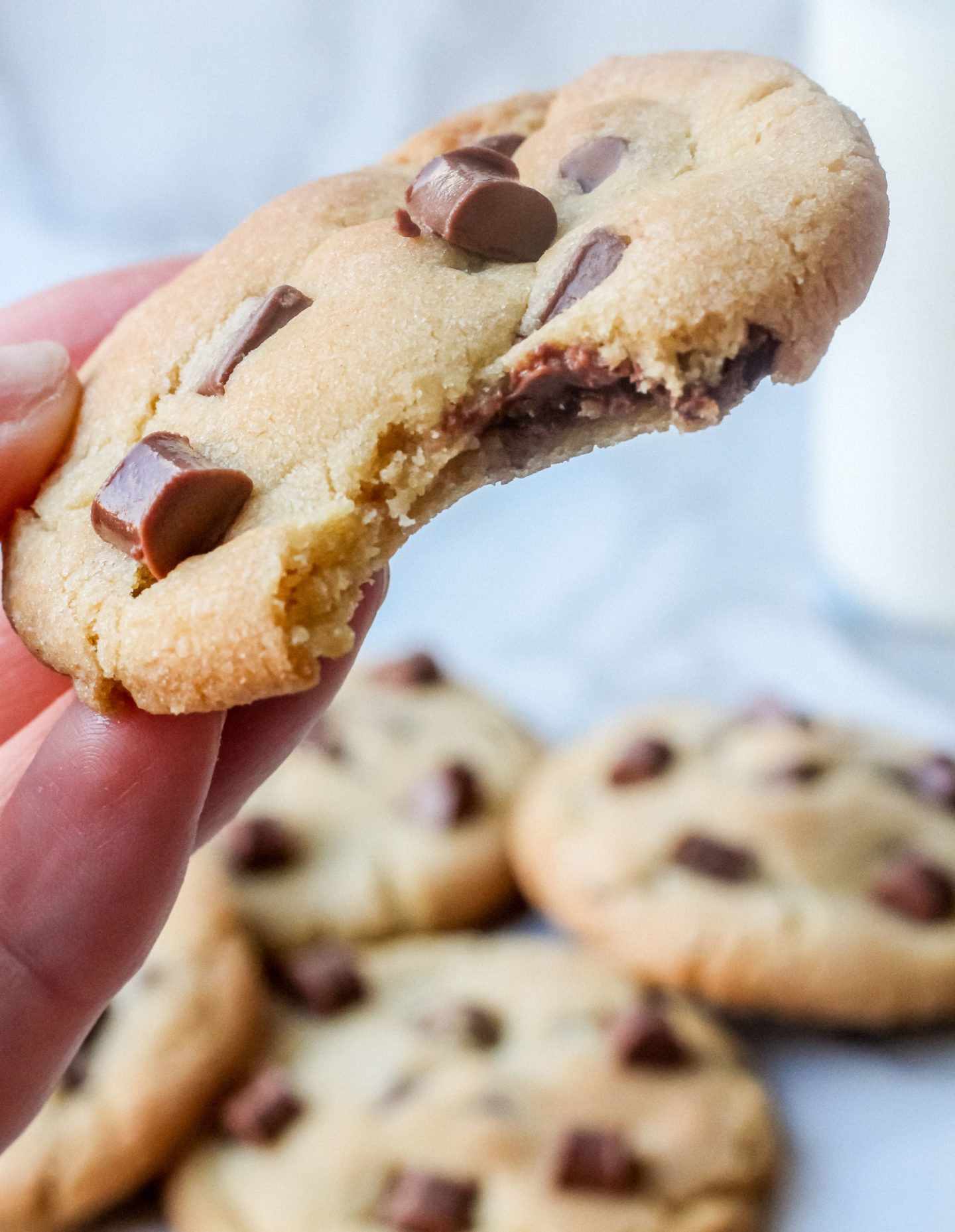 Other cookie and biscuit recipes to try:
Other chocolate recipes to try: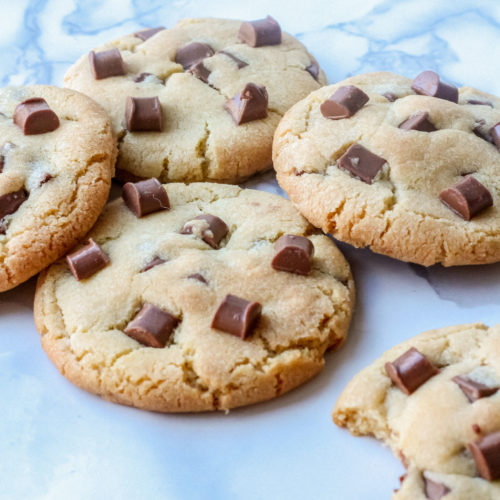 Chewy Chocolate Chip Cookies
These chocolate chip cookies are my favourite kind, with chewy centres and slightly crisp edges. Plus, no need to chill the dough before baking!
Ingredients
290

g

plain flour

2

tsp

cornflour

level

1

tsp

bicarbonate of soda

level

1/4

tsp

salt

level

160

g

butter

softened/room temperature, and use spreadable not block butter

140

g

light brown sugar

90

g

caster sugar

2

medium

egg yolks

room temperature

1

tsp

vanilla extract

160

g

chocolate chips

milk or dark chocolate
Instructions
Preheat oven to 180°/160° fan. If you don't have a silicon baking tray line your baking tray with baking/parchment paper and set aside.

To a medium bowl add the plain flour, cornflour, salt and bicarbonate of soda. Whisk to combine (around 30 seconds) and set aside.

In the bowl of your stand mixer fitted with a paddle attachment (or a large bowl if using an electric hand whisk) beat the butter and both sugars on medium speed for 1 full minute.

To this bowl add egg yolks and vanilla and beat on medium speed until combined (around 10 seconds).

Now add half of the dry ingredients and beat on lowest speed until just combined. Repeat with the remaining half of dry ingredients.

Add the chocolate chips and mix on lowest speed for around 10 seconds to combine evenly.

Measure out 2 level tablespoons of dough, press together firmly then roll them between your hands to form one cookie dough ball. I bake 8 cookie dough balls per baking tray, spacing equally to allow for some spreading.

Place the baking tray in the oven for 10 mins. As my oven has a hot spot I turn my tray halfway through baking so they don't burn on one side.

Remove from the oven and place the tray on your work surface for 5 minutes, to allow the cookies to continue baking from the heat. At this point, I like to lightly press a few extra chocolate chips on top of the cookies while they're still warm. This is mainly for appearance. Oh, and because extra chocolate chips are never a bad thing!

After 5 minutes remove the cookies and place them on a wire cooling rack to cool completely.

Store in an airtight container at room temperature, and best eaten within 3-4 days.
Notes
If you've tried this recipe, tag @bakerjoblog on Instagram, Facebook, Pinterest or Twitter and/or use #bakerjoblog!