These no-bake chewy snack bars are packed with healthy goodies like peanut butter, honey, dark chocolate, nuts… So easy, tasty and guilt-free!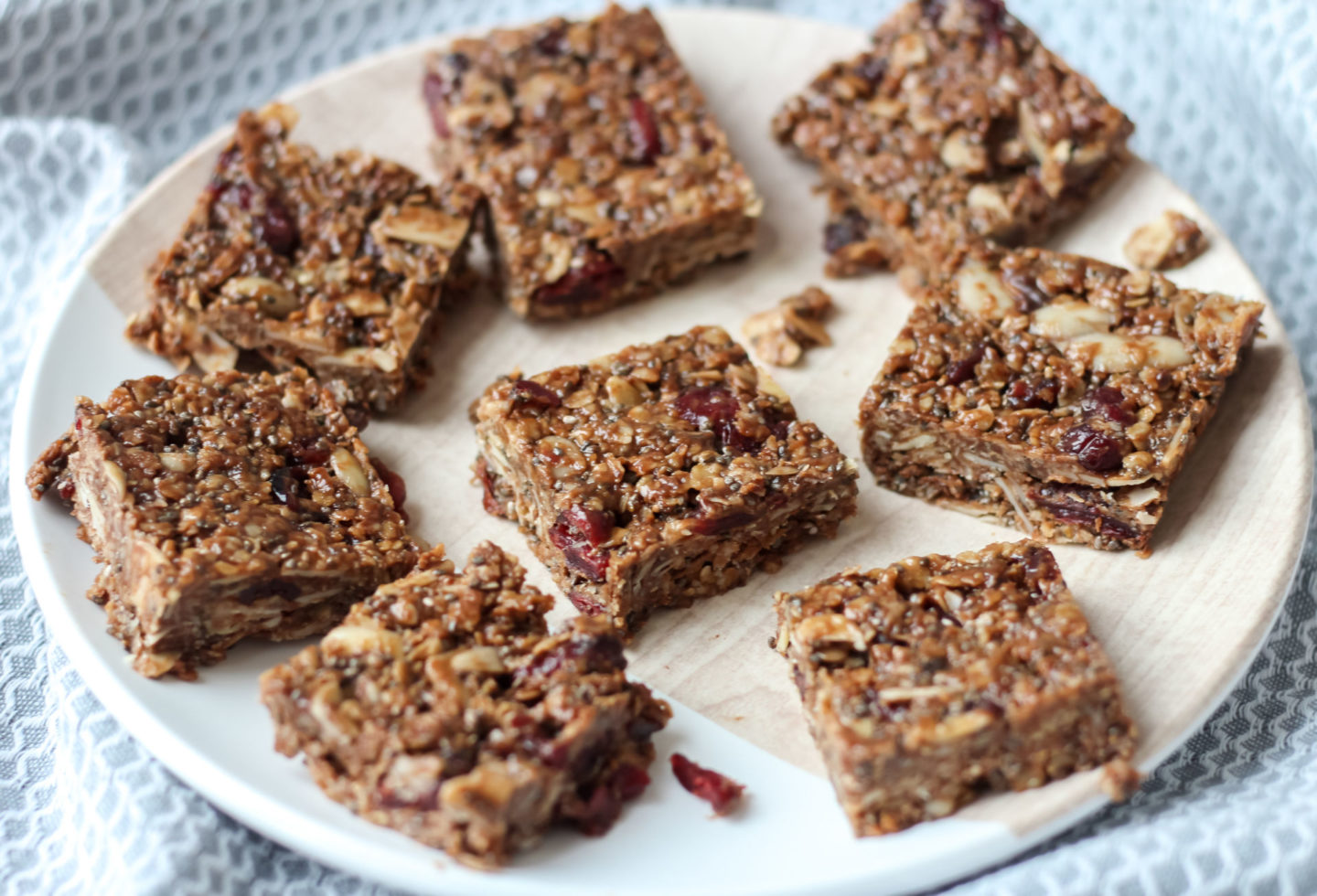 This post may contain affiliate links. For more information, see my Full Disclosure.
---
With the run-up to Christmas and all the deliciously naughty food that comes with it, we could use some of these no-bake healthy chewy snack bars to balance things out a bit.
A guilt-free, easy snack bar recipe was just what was needed for those of us trying to be more conscious of what we're eating!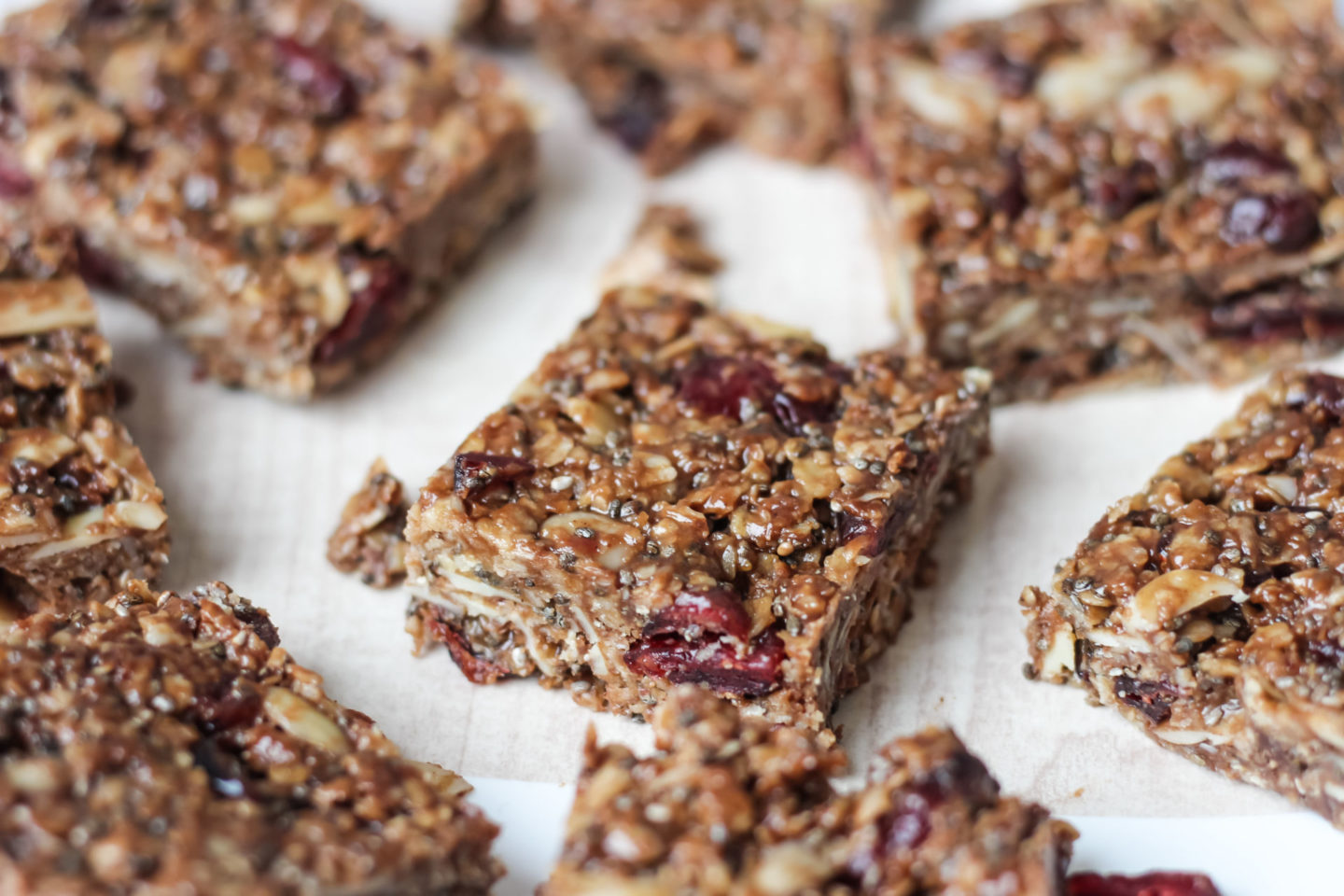 Easy No-Bake Healthy Snack Bar Recipe
After developing my No-Bake Lemon Cheesecake recipe, I wanted to try another no-bake recipe. But there are far fewer calories in these bars than the cheesecake!
I didn't want to compromise on flavour and wanted a mixture of textures to keep them interesting. With ingredients like peanut butter, nuts, honey, fruit and chocolate, there's a good balance of sweet, salty, crunchy and chewy. These can satisfy most cravings!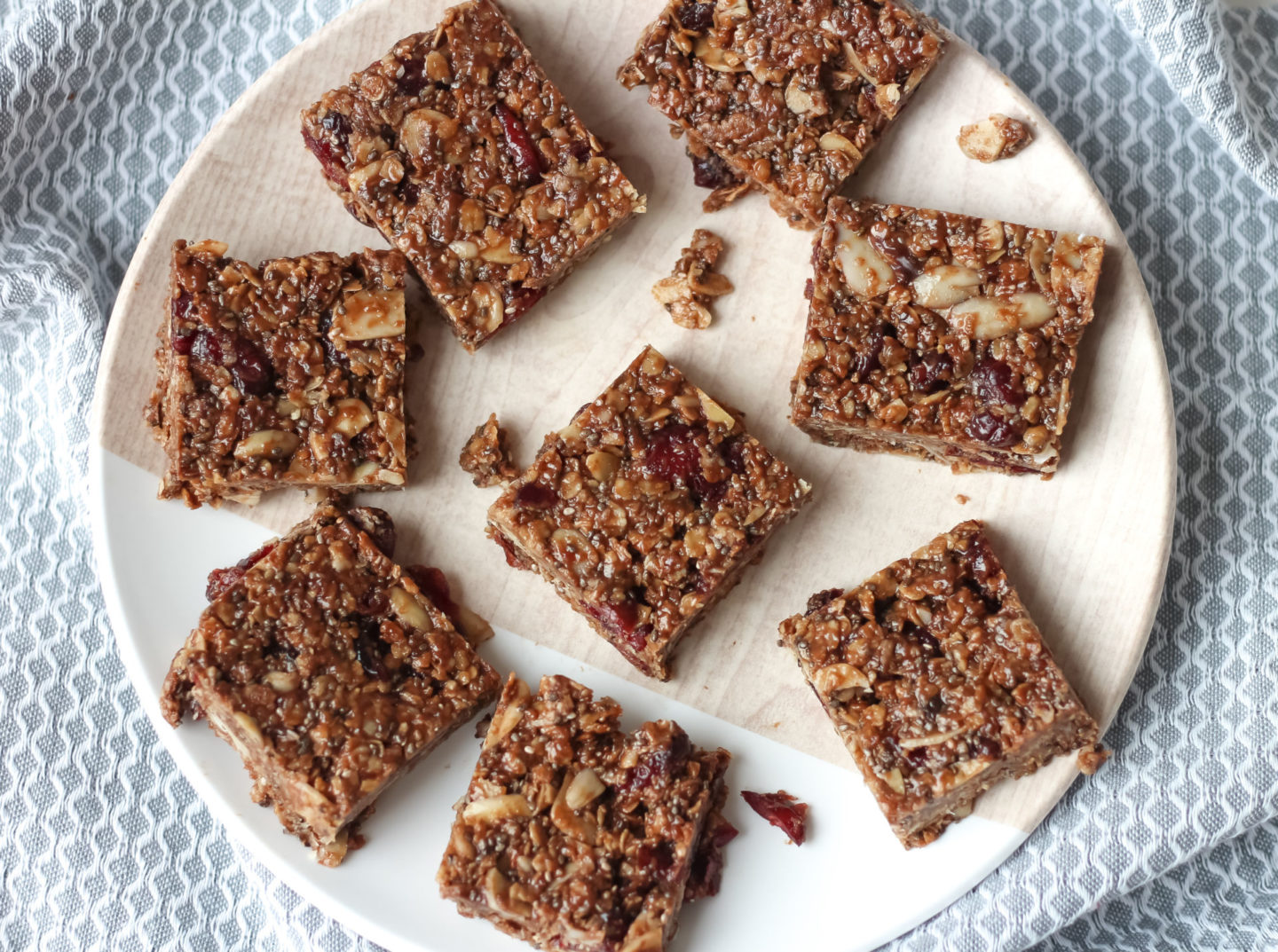 How to make healthy snack bars
They are sweetened with honey instead of refined sugar, which also helps give them that chewy texture. Dark chocolate chips give another level of sweetness. Plus, they melt and help the bars set more firmly in the fridge!
Rolled oats, almonds, chia seeds and peanut butter are great sources of fibre and protein, as well as several vitamins and minerals. Dried cranberries are also high in fibre and coconut oil is thought to contain healthy saturated fats which can give a good energy boost.
For those who are interested, by using an online calculator each bar contains 174 calories, 3.9g protein and 2.6g fibre.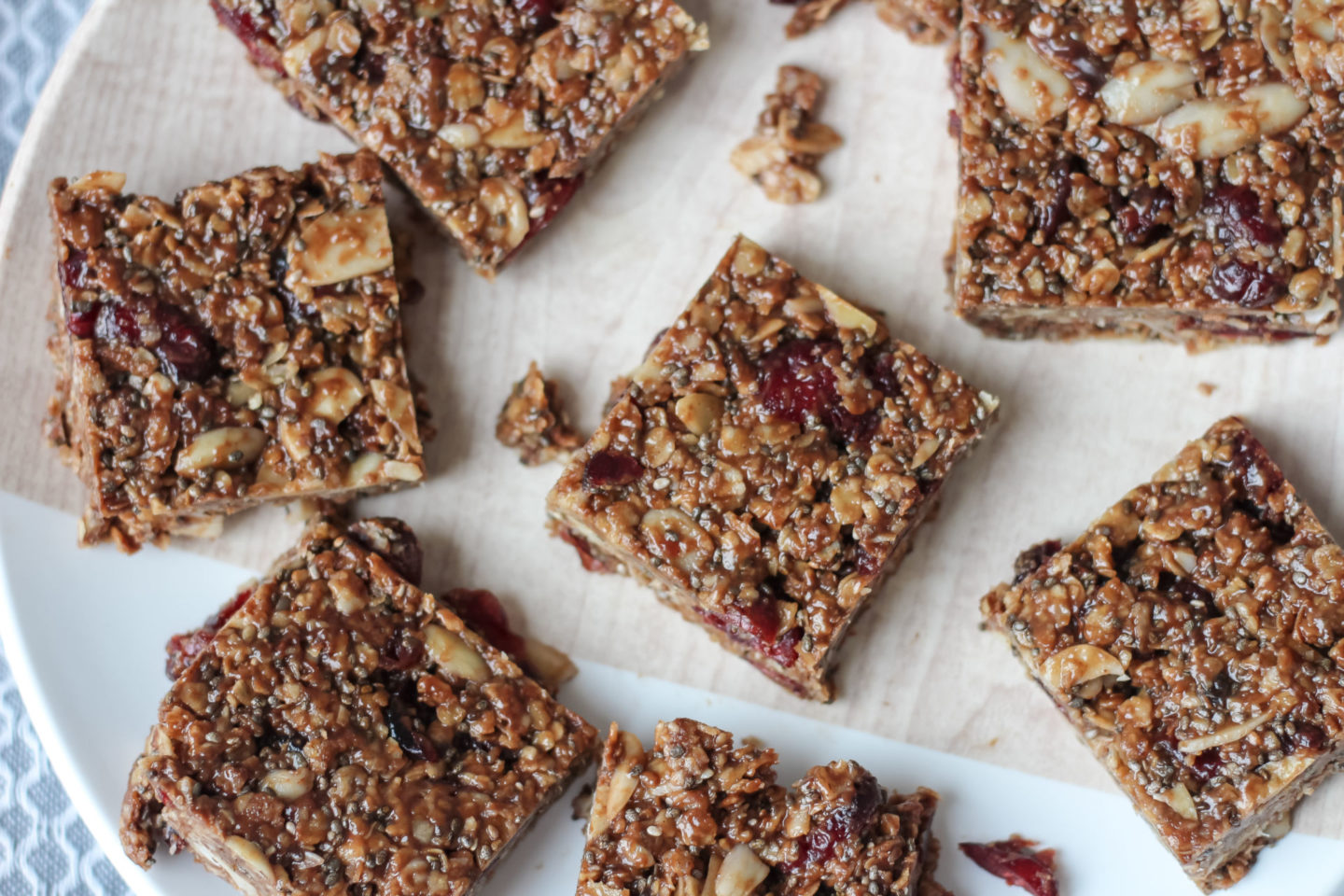 Gluten and dairy-free snack bar recipe
To the best of my knowledge, by using pure rolled oats and swapping to dairy-free chocolate chips/chopped chocolate, I believe these can then be made gluten and dairy-free!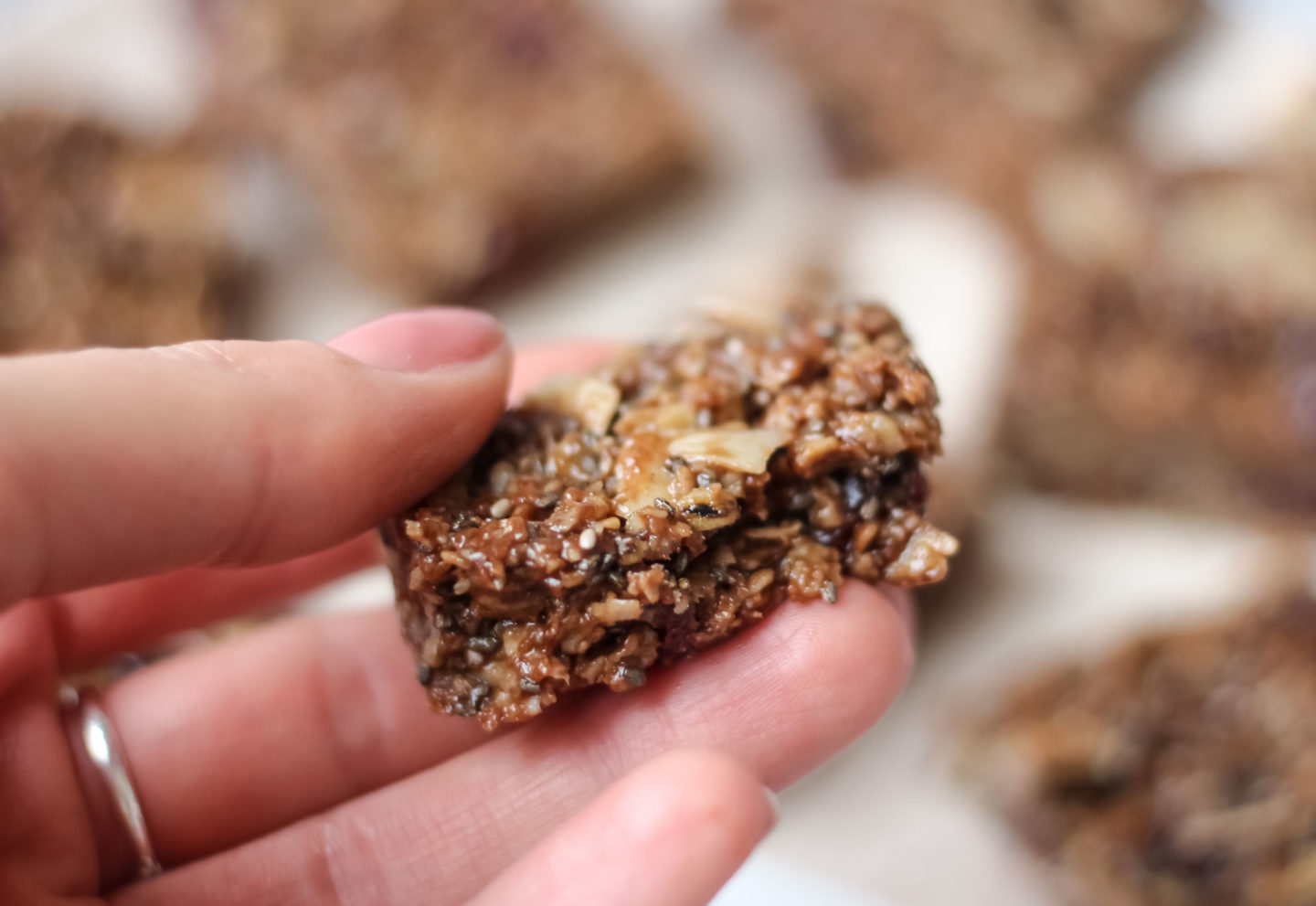 I made these bars in a basic 8 inch square baking pan which you can cut into 16 small squares. If you want a bigger batch, simply double all the ingredients and use a 9 x 3 inch baking pan instead 🙂
These are genuinely so easy to make. The hardest part is waiting for them to set in the fridge! The suggested chill time is a minimum of two hours but ideally overnight. This will ensure they set really well.
They are also great for freezing individually to grab as a quick snack as they don't take very long to defrost!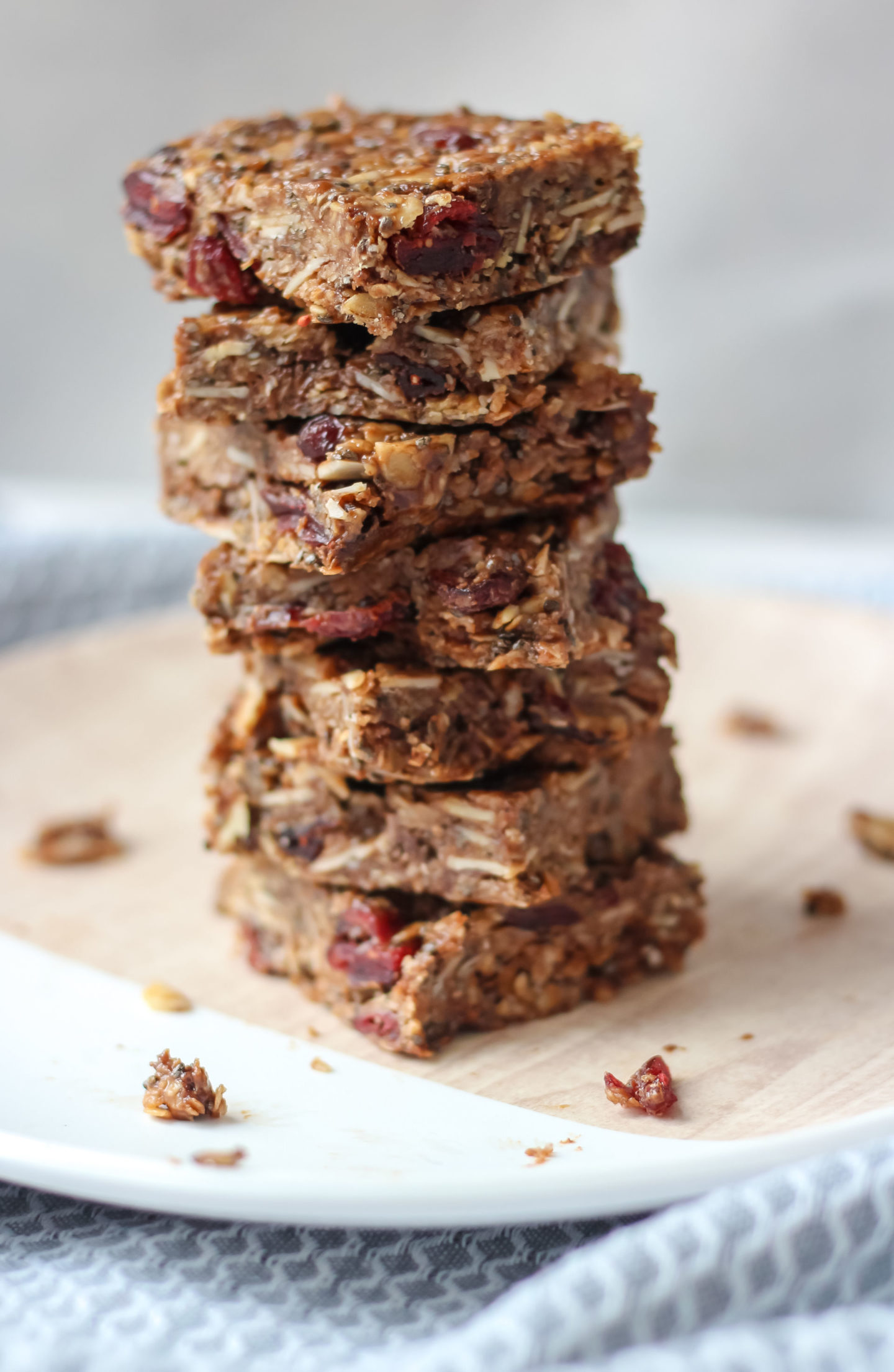 If you try this recipe I'd love to see! You can show me by tagging me @bakerjoblog or using #bakerjoblog!
Other no-bake recipes to try: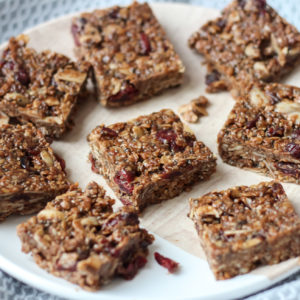 No-Bake Healthy Chewy Snack Bars
These no-bake chewy snack bars are packed with healthy goodies like peanut butter, honey, dark chocolate, nuts… So tasty and guilt-free!
Ingredients
140

g

rolled oats

50

g

flaked almonds

40

g

chia seeds

60

g

dried cranberries

1/4

tsp

salt

1/2

tsp

cinnamon

100

ml

runny honey

100

g

smooth peanut butter

40

ml

coconut oil

1

tsp

vanilla extract

50

g

dark chocolate chips
Instructions
Line a square 8×8 tin with non-stick baking paper or foil lightly greased with cake release spray (I use PMA Release-a-Cake Spray) and set aside.

To a large bowl add the oats, flaked almonds, chia seeds, dried cranberries, salt and cinnamon. Whisk together to combine and set aside.

To a small pan add the honey, peanut butter, coconut oil and vanilla extract. Stir with a heatproof spatula continuously on a medium heat until all melted and combined. This should only take about 1-2 minutes.

Pour this wet mixture into the large bowl of dry ingredients and stir to combine.

Add the chocolate chips and stir to combine. They will melt but this helps the mixture set firmer as it chills in the fridge.

Pour this mixture into your foil-lined tin and spread evenly into the corners. Smooth out the top and press down firmly with your spatula – this is very important as the harder you press down the firmer they will set.

Place the tin in the fridge for at least 2 hours (ideally overnight) to set firmly.

Store in an airtight container in your fridge, or in a cool environment if you like them slightly softer. They will keep well for a couple of weeks.

They're also great to freeze – just wrap individually in cling film and get out of the freezer at least 30 mins before for a great healthy snack!
Notes
If you've tried this recipe, tag @bakerjoblog on Instagram, Facebook, Pinterest or Twitter and/or use #bakerjoblog!