With a buttery biscuit base and a creamy Baileys flavoured filling, this no-bake Baileys cheesecake is an ideal make-ahead festive dessert!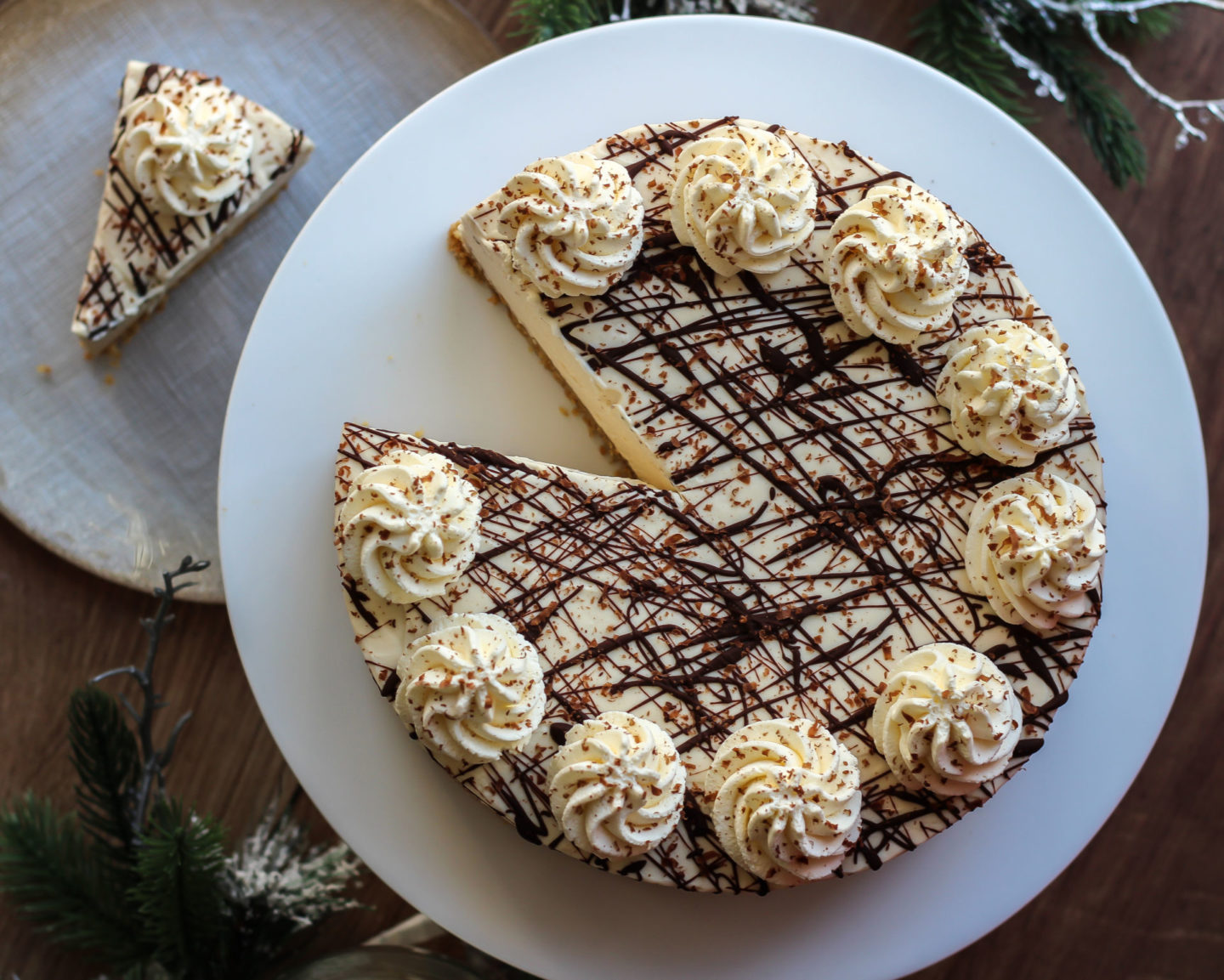 This post may contain affiliate links. For more information, see my Full Disclosure.
---
This is my last festive recipe post of 2020! And although this has been a year truly like no other, I'm hoping I've helped make you feel a little more festive with my recent recipes.
Other festive recipes of mine include my No-Bake Mint Chocolate Cheesecake, No-Churn Mince Pie Ice Cream Chocolate Orange Bundt Cake, Christmas Berry Pavlova Wreath and Gingerbread Latte Cake. I've also created an eBook of Christmas recipes called 12 Treats of Christmas which includes an exclusive selection of baked and no-bake recipes!
This no-bake Baileys cheesecake is one of my most indulgent festive recipes. It's so smooth and creamy with that unmistakable taste of Baileys. It would be the ideal make-ahead dessert for your Christmas or New Year celebrations!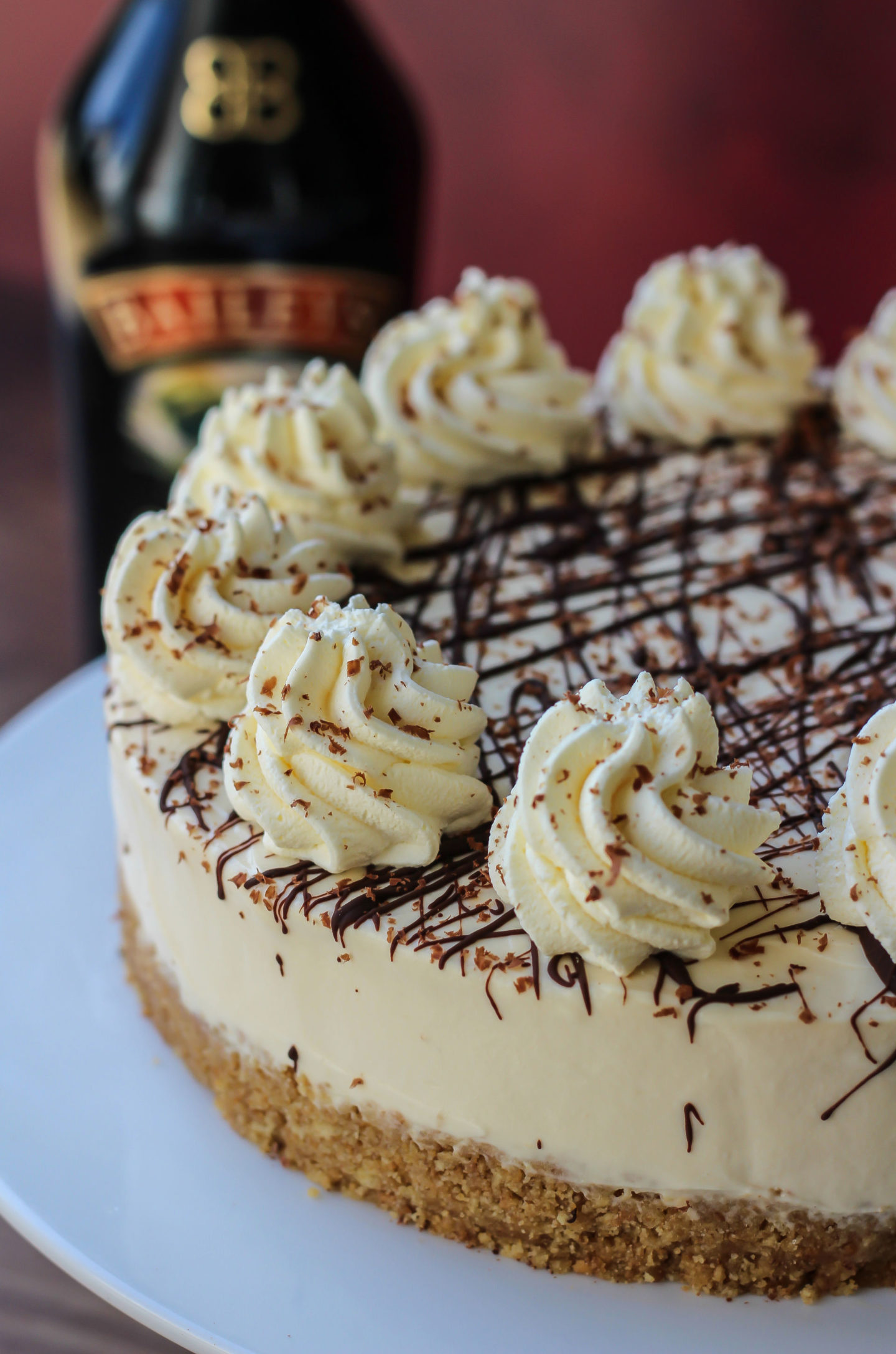 Best no-bake Baileys Cheesecake with no gelatin
I am really proud of this recipe as I feel the flavours and textures are everything you'd want and expect from a Baileys cheesecake recipe!
The biscuit base is slightly crumbly and buttery, and the cheesecake filling is super smooth and creamy. Plus, it sets firmly without the need for gelatin! I've tried to put as much Baileys into the filling as possible without making it too soft. I feel the Baileys taste comes through well without being overpowering!
Drizzled with melted chocolate and topped with whipped cream and chocolate shavings, this easy no-bake Baileys cheesecake recipe will impress any guests and can be made the day before so is a great no-stress dessert option!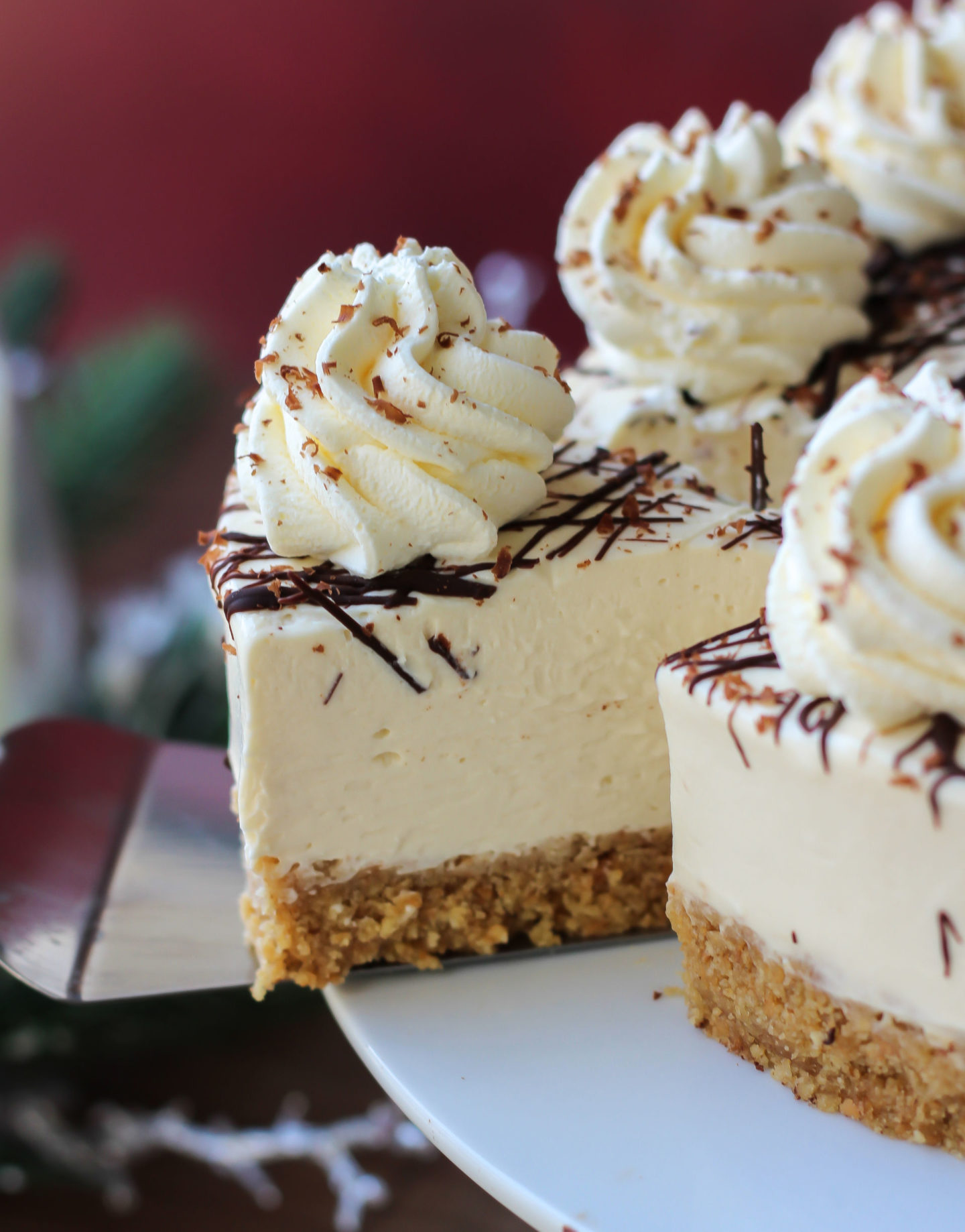 No-Bake Baileys Cheesecake Ingredients
So, what do you need to make this easy no-bake Baileys cheesecake? Full ingredient amounts can be found in the recipe card at the bottom of this post, but to summarise you'll need:
Cheesecake biscuit base
Digestive biscuits (or Graham crackers) crushed to make the biscuit base
Melted butter helps to bind the biscuit base together
Light brown sugar is added to help the base set up firmly in the fridge
Cheesecake Filling
Double cream is whipped to create a firm yet soft cheesecake filling
Full-fat cream cheese gives it that delicious tangy cheesecake flavour
Icing sugar for sweetness and helps a little with thickening the filling
Baileys for that classic Baileys flavour!
Cheesecake Decoration
Double cream is whipped to create swirls around the cheesecake
Dark or milk chocolate is melted to drizzle across the top and grated over the cheesecake to finish!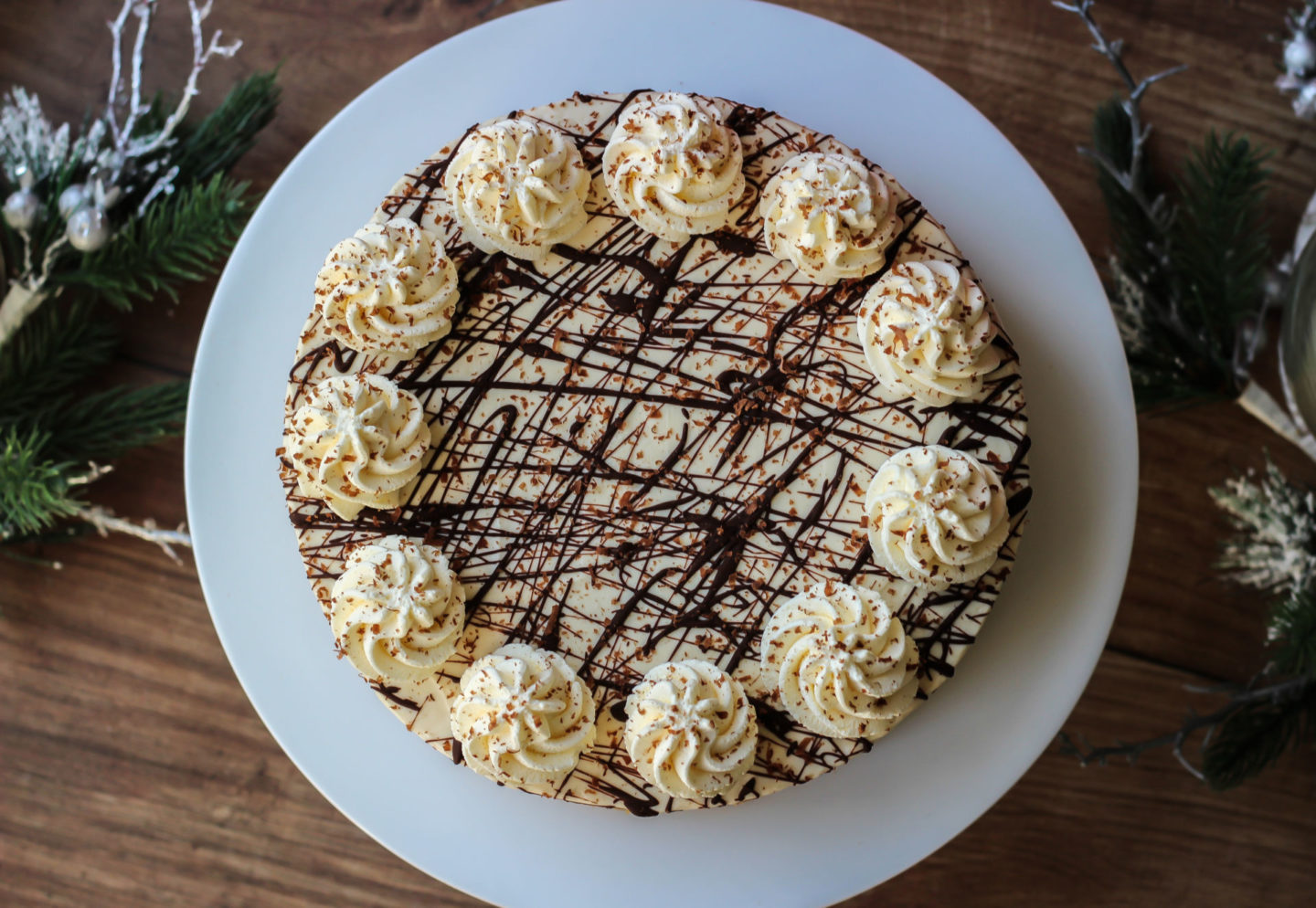 How to make a no-bake Baileys Cheesecake
Full step-by-step instructions with photos can be found in the recipe card below, but in summary:
Set your cream cheese aside first to allow it to come to room temperature. This is important as cold cream cheese can lead to a lumpy cheesecake mixture!
Mix your crushed digestive biscuits/Graham crackers, melted butter and light brown sugar in a medium bowl until well combined
Pour your biscuit mixture into a 20cm/8inch deep springform pan, making sure to press it down as tightly as possible into the base of the pan. Place in the fridge to chill
Using an electric stand mixer or hand mixer, whip the cold double cream until nice and thick; thickly whipped cream creates a firmer base for your cheesecake filling! Pour the whipped cream into a smaller bowl and set aside
Beat the room temperature cream cheese, icing sugar and Baileys until smooth and well combined
Now by hand, fold the whipped cream into this cream cheese mixture with a spatula until well combined
Pour the mixture into your 20cm/8inch deep springform pan and level out the top with your spatula
Place in your fridge to chill for at least 8 hours to set firmly. I always make mine the night before to give it plenty of time to firm up though!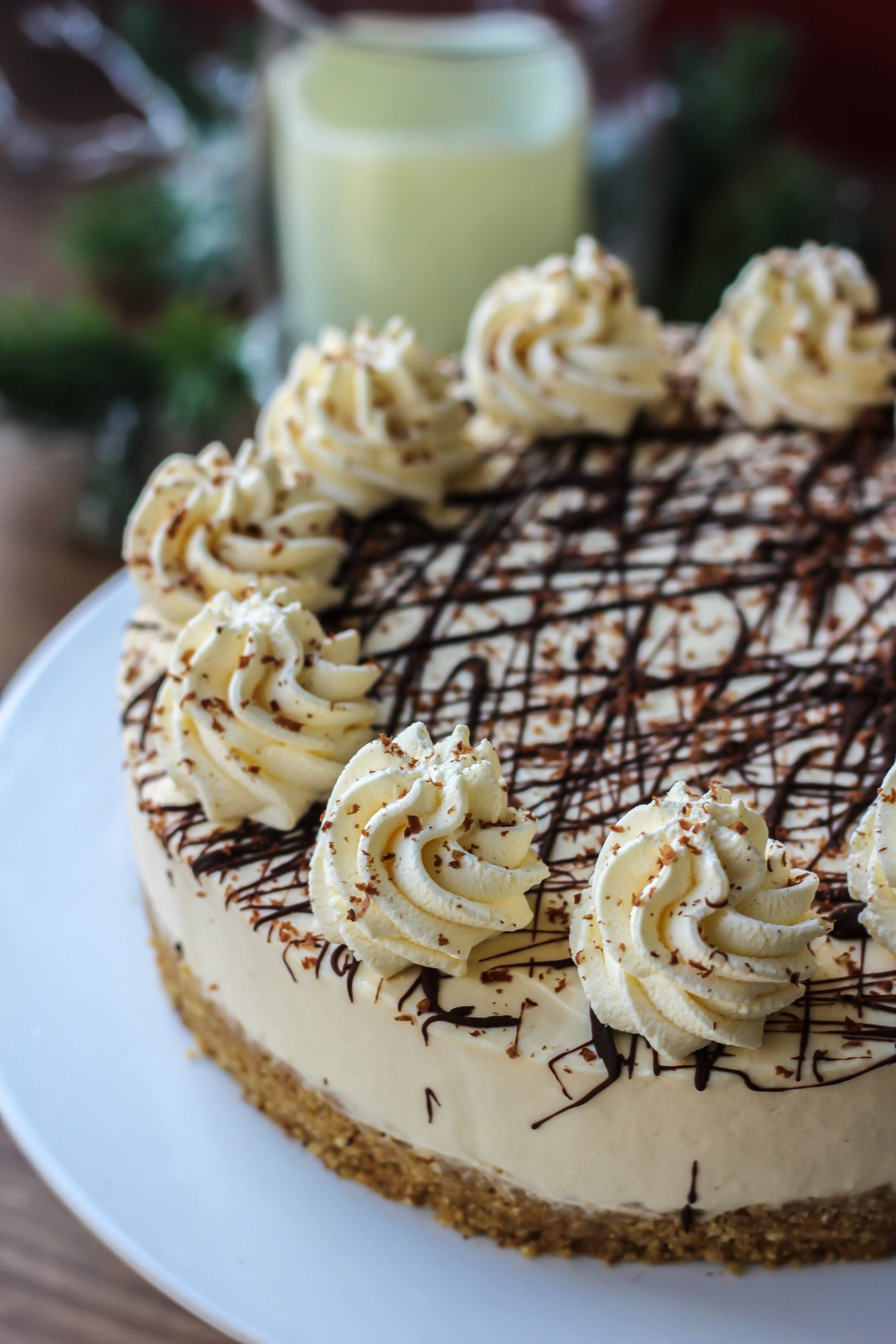 Tips for making the best no-bake Baileys cheesecake
I recommend using a springform cake pan as it can then be removed and placed onto a serving plate or cake stand!
It's best to use cold double cream for whipping as it whips up best at this temperature. This will then lead to a firmer cheesecake filling!
Conversely, your cream cheese should be at room temperature as cold cream cheese can lead to a lumpy cheesecake filling
Be sure to use full-fat cream cheese as the lower fat version won't work the same and you'll end up with a sloppy cheesecake that doesn't set firmly
I recommend chilling the cheesecake for at least 8 hours, but I always make my cheesecake the night before so that it would have chilled for at least 10-12 hours. This way I'm confident it has set up firmly before serving!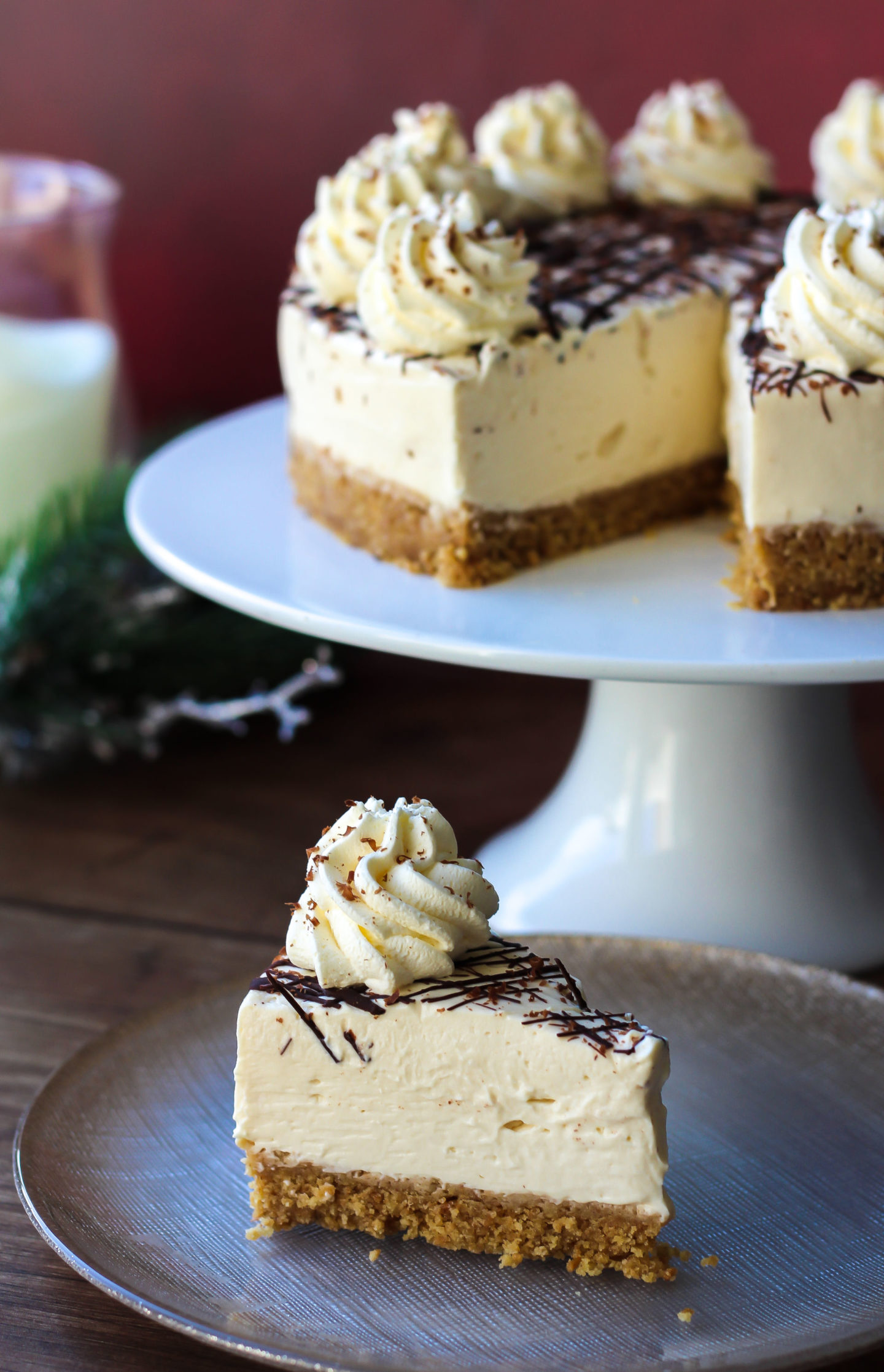 No-Bake Cheesecake Recipe FAQs
Why has my no-bake cheesecake not set firm?
You may not have left it to chill in the fridge long enough; I recommend at least 8 hours to give it plenty of time to firm up!
Other causes include not whipping the double cream until thick or using reduced-fat cream cheese.
How should I store a no-bake cheesecake?
Keep the cheesecake stored in your fridge between servings.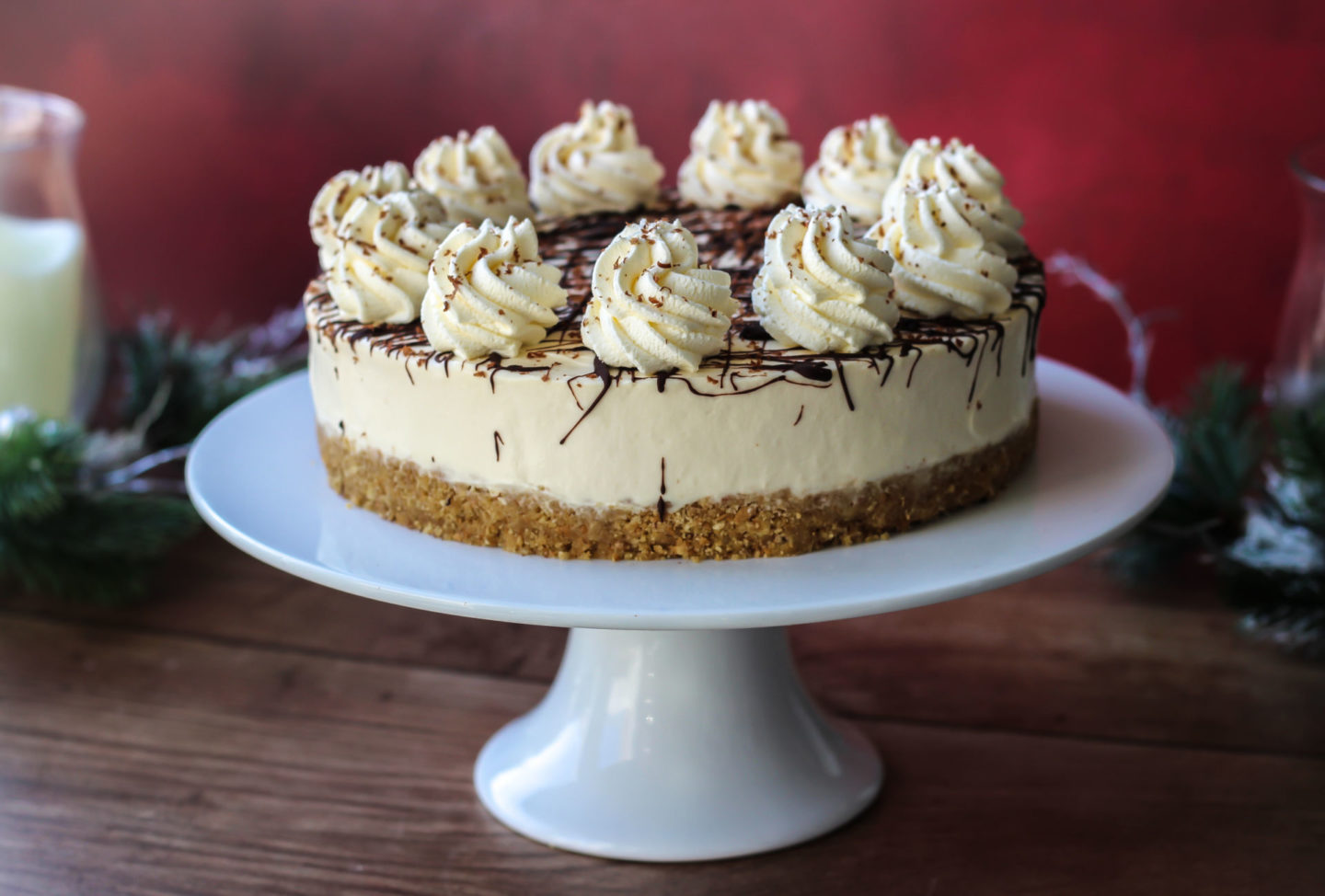 How long will a no-bake cheesecake keep for?
Stored in the fridge your cheesecake can keep well for up to 5 days. However, check the expiry dates on your double cream and cream cheese as if they expire in less than 5 days, so will your cheesecake!
Can I freeze a no-bake cheesecake?
This cheesecake will freeze well once you've allowed it to chill and set firmly in the fridge first. Once set, keep it in your cake pan and double wrap it in film. It should keep well in your freezer for up to 3 months.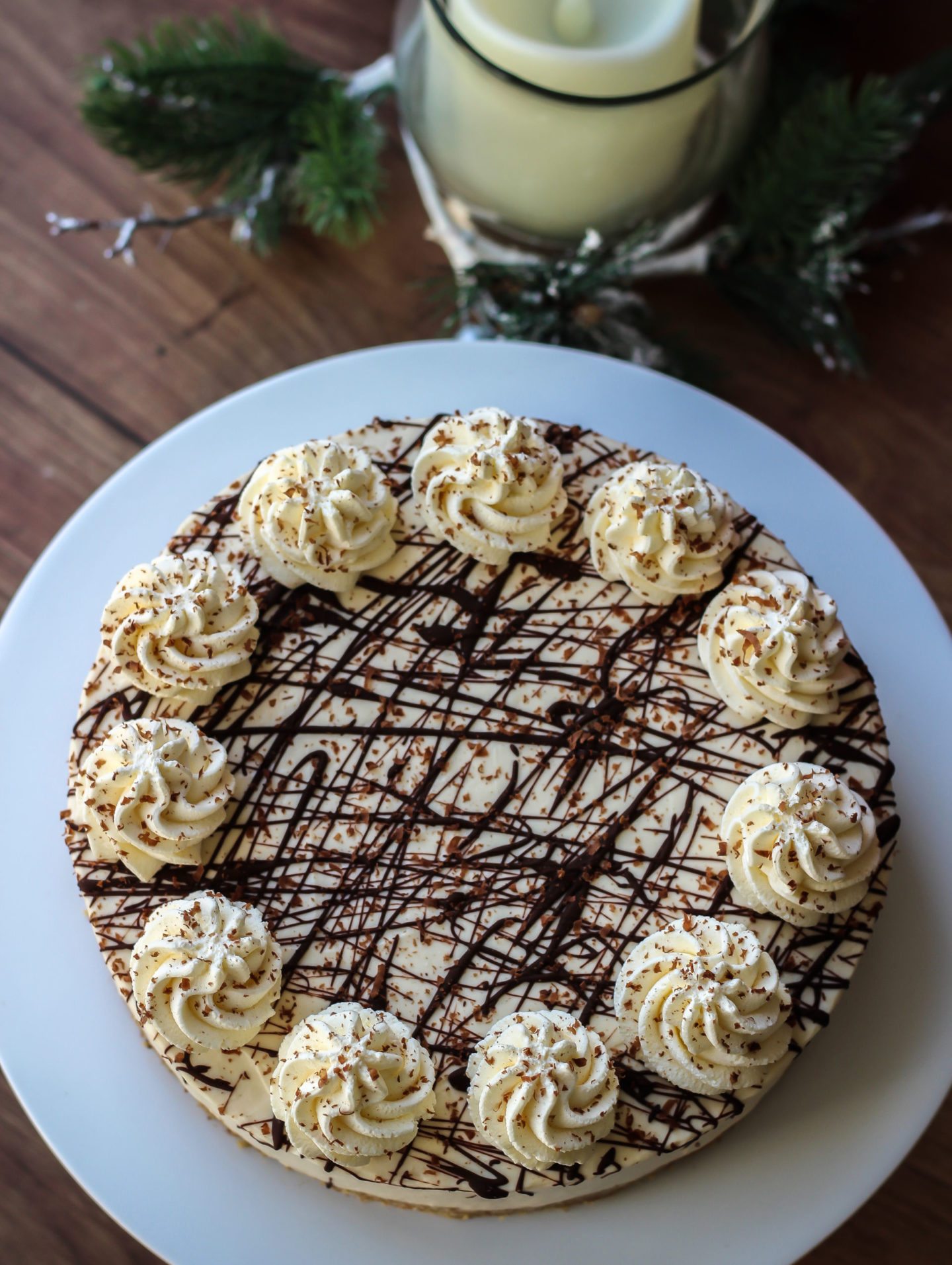 Why is my no-bake cheesecake lumpy?
This might happen if your cream cheese didn't come to room temperature before making the cheesecake filling. Cold cream cheese won't incorporate well into your cheesecake mixture, leading to a lumpy mixture!
Why is my no-bake cheesecake sticking to the pan?
The biscuit base can be a little awkward to lift from the cake pan base after chilling. To help with this, I usually run a sharp knife under warm water, dry it and then run the warmed knife slowly and gently under the cheesecake base all the way around. Then push the cheesecake base onto your serving plate gently and slowly!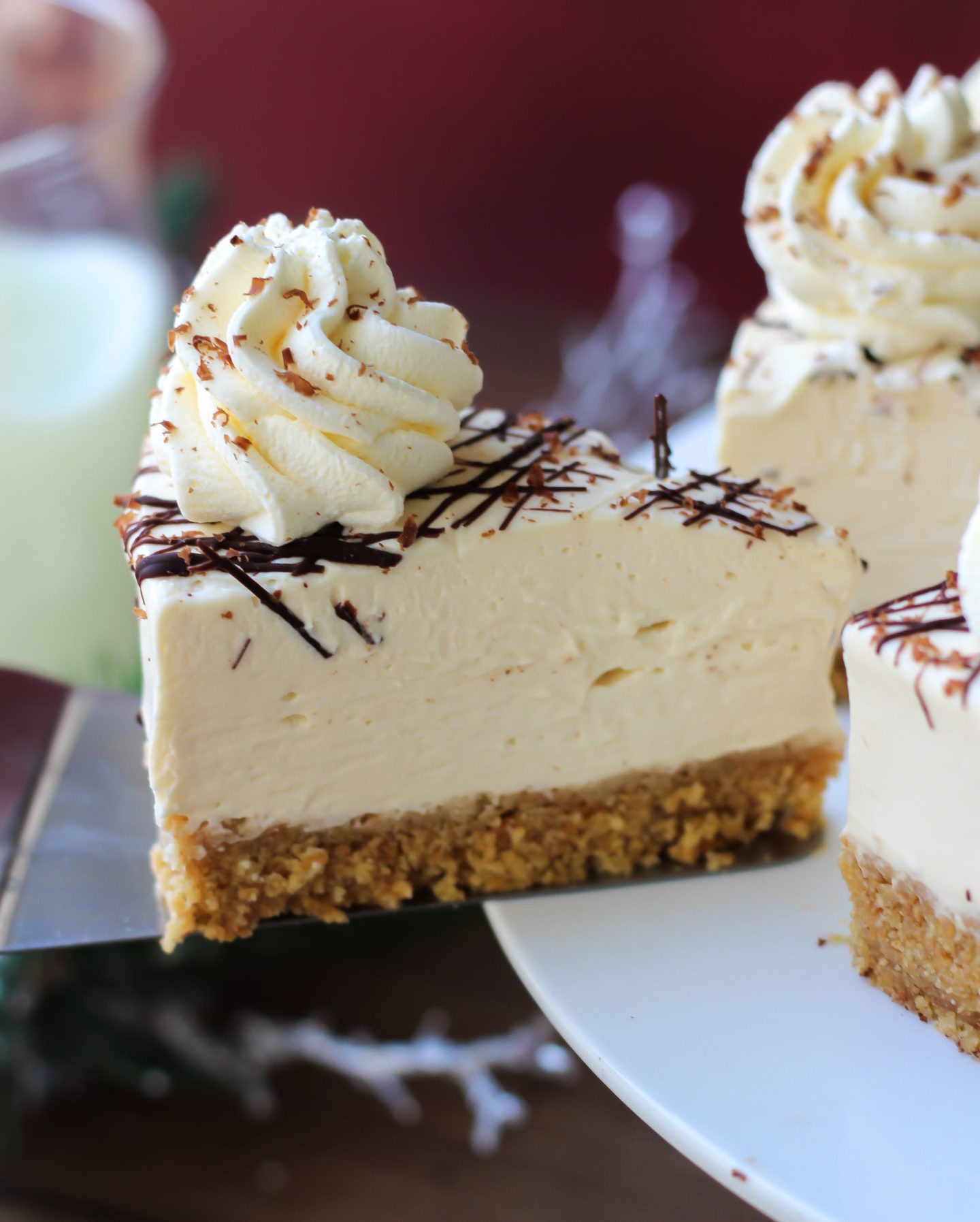 To conclude, this no-bake Baileys cheesecake is:
Made up of a buttery biscuit base and creamy Baileys cheesecake filling
Unbelievably smooth with a crumbly biscuit base
Ideal for making ahead the night before for a stress-free dessert
Very quick and simple to make with no oven needed
The perfect festive dessert for Christmas or New Year celebrations!
If you try this recipe I'd love to see! You can show me by tagging me @bakerjoblog or using #bakerjoblog!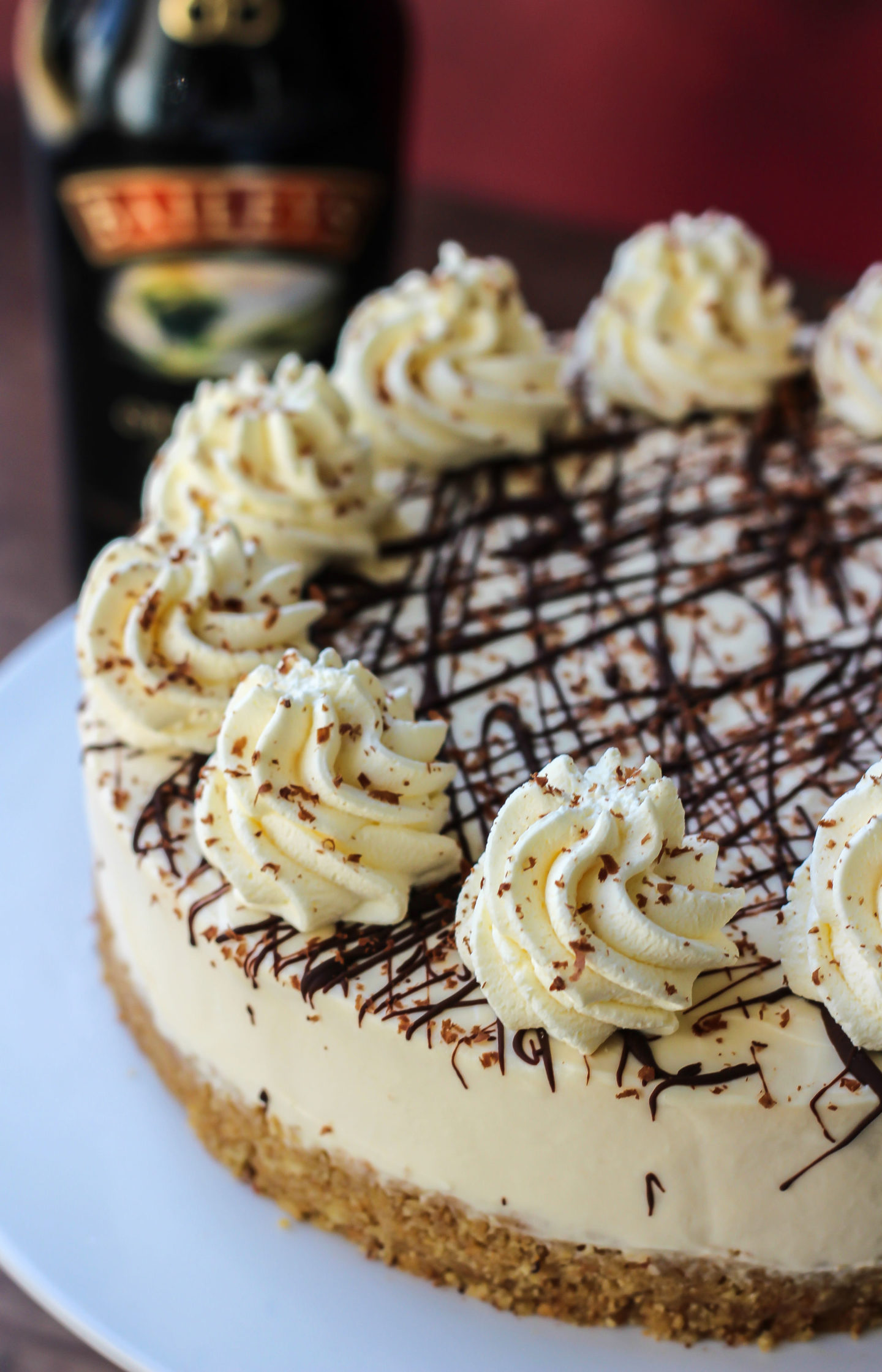 Other festive recipes to try:
Other no-bake cheesecakes to try:
MY CHRISTMAS EBOOK!
An eBook of exclusive Christmas baked and no-bake recipes, with a few extra bonuses included too! Find out more by clicking the image above or clicking here! 😊
MY CHRISTMAS EBOOK!
An eBook of exclusive Christmas baked and no-bake recipes, with a few extra bonuses included too! Find out more by clicking the image above or clicking here! 😊