Filled with juicy blueberries, cinnamon and the crunch of pecans, these muffins are wonderfully tasty and so easy to make!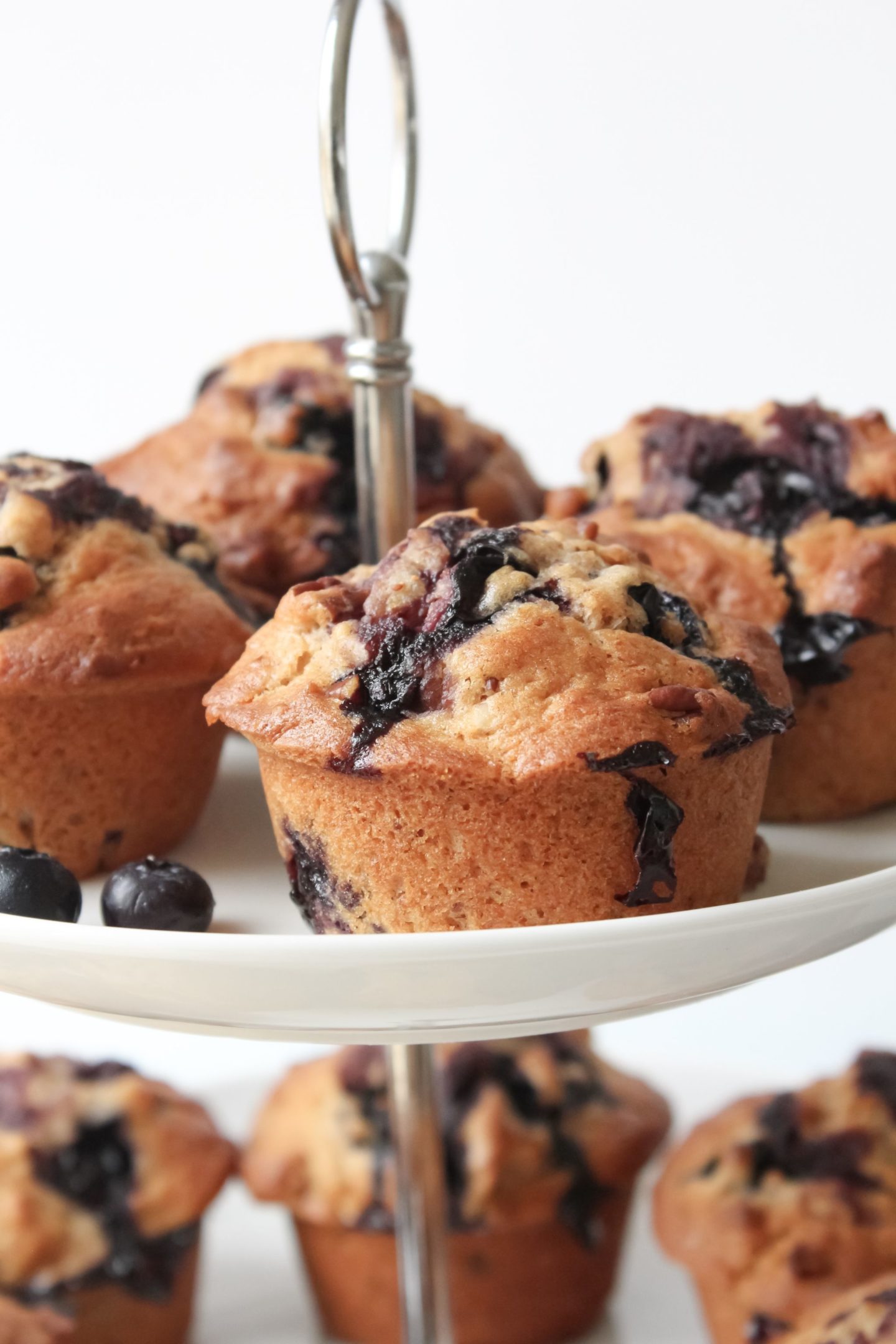 As soon as I could smell these baking in the oven I knew I was on to a winner with this flavour combination.
For this recipe I decided I wanted to make it as user-friendly as possible, with less steps (and dishes!) than my previous two recipes here and here. All you need is a wooden spoon and two bowls. No electric mixers required here, so no excuses!
These muffins are so easy to make and you can whip them up in no time at all. Plus, they're great for freezing so you can make a big batch to keep you going for a few days (hours?)!
I'm so pleased with how moist and fluffy they are, with the sweet juicy blueberries and the subtle crunch of the pecans. The added cinnamon complements them so well I think. I hope you agree! I'll quickly you talk through the development process…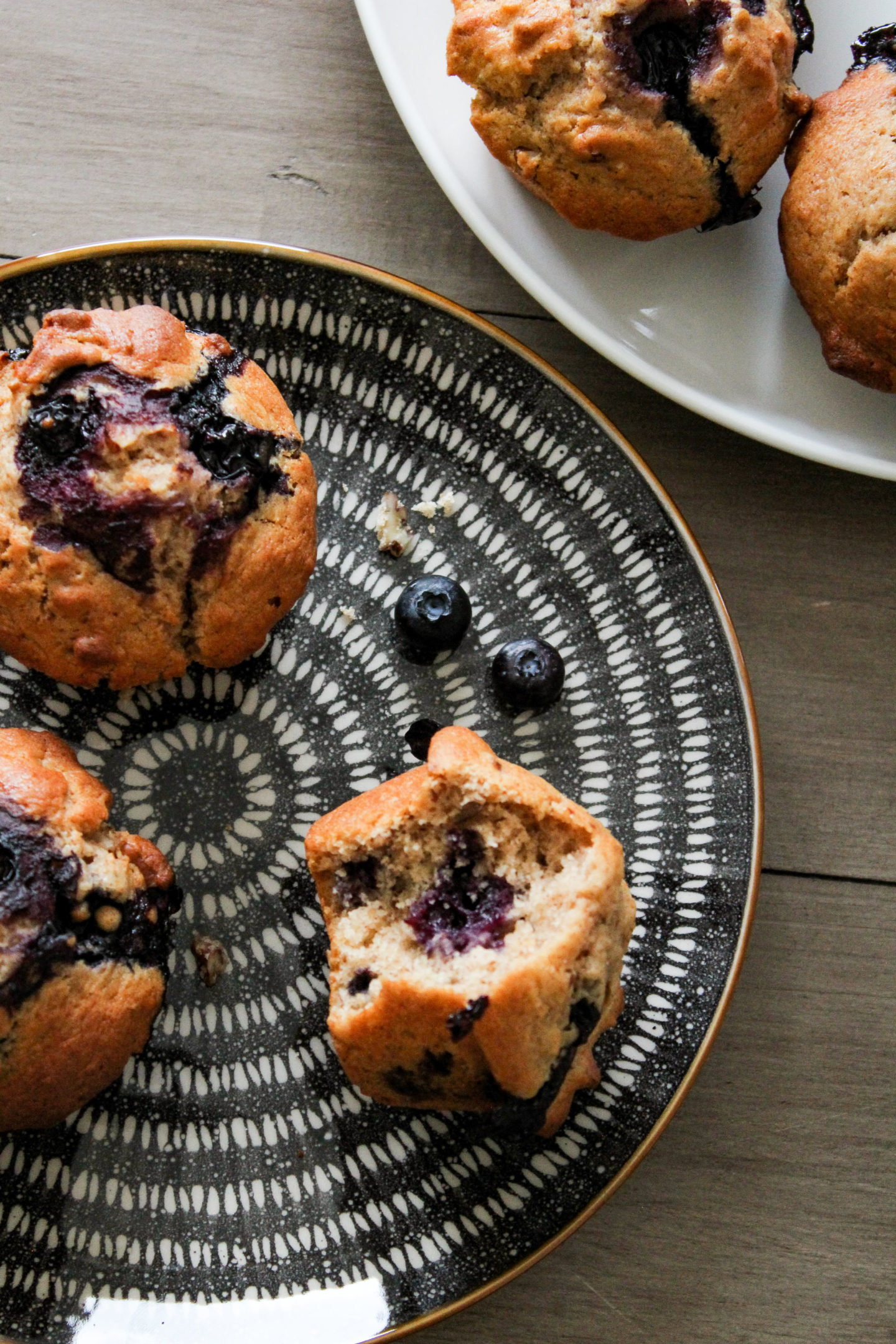 My main focus was to avoid dry muffins. I feel I managed to achieve this by replacing some butter with buttermilk and I also added some sunflower oil. I still used some butter so we won't lose the buttery flavour! Another way of adding more moisture to the muffins was by using some light brown sugar, which also has the added bonus of adding another level of sweetness.
My second goal was to create tall muffins with a good muffin top, and I think I achieved this too! I used self-raising flour as well as an extra two teaspoons of baking powder. Don't worry – there's no bitter aftertaste from the baking powder! A great piece of advice on how to get those sky-high muffin tops I learned from one of my favourite bakers Sally from Sally's Baking Addiction. She advises to bake the muffins on a higher temperature for the first five minutes to get a good initial rise, then drop the temperature to bake the muffins through. This really does make such a difference so I recommend you follow the same advice!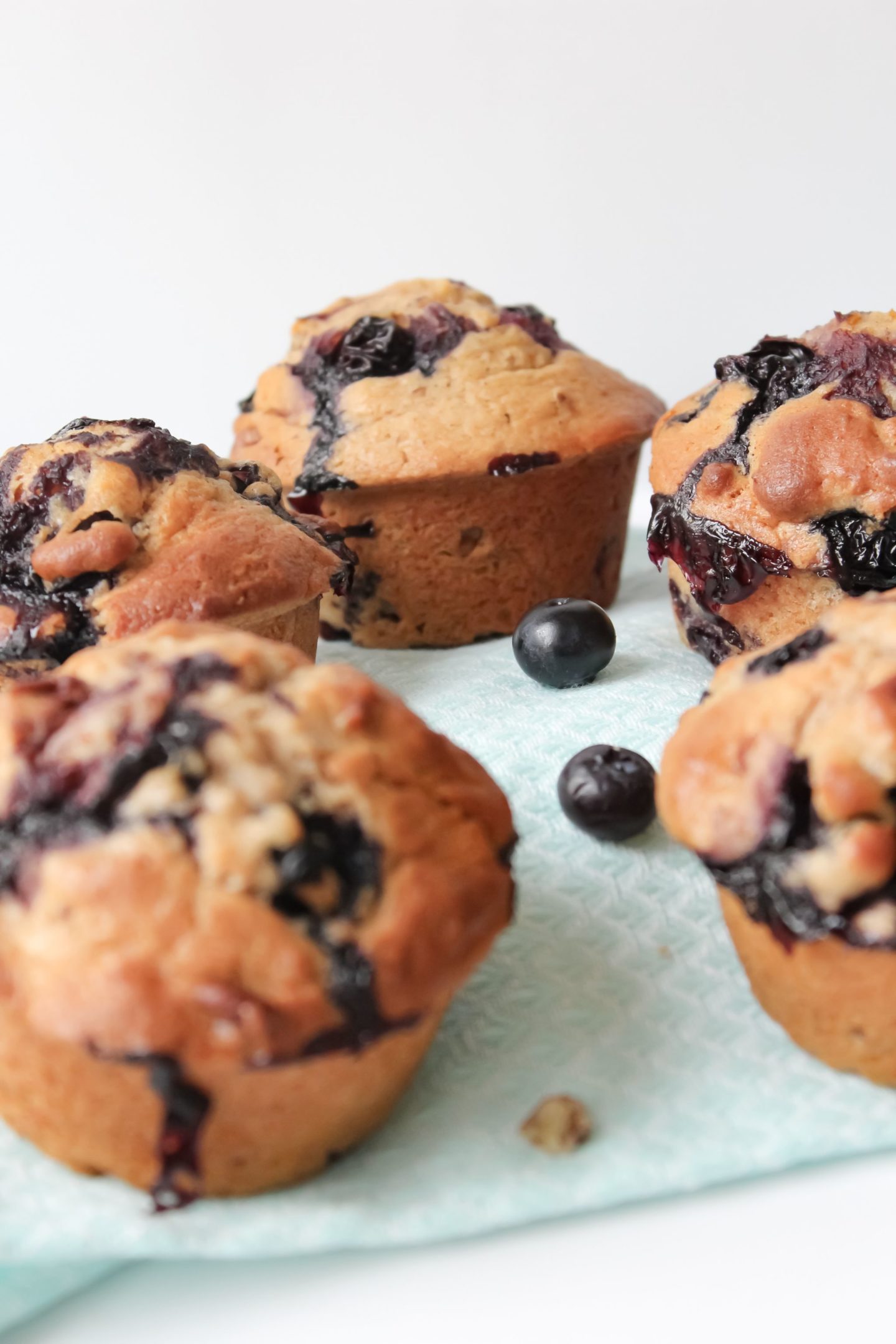 As for the other ingredients, I finely chop the pecans to make sure they're distributed evenly in each muffin. I love the slight crunch they give to these muffins. I think I've added as many blueberries as possible to this recipe so you should have plenty in each muffin! A very important tip with the blueberries is to coat them in a tablespoon of flour before adding to the mixture, as this will stop them sinking to the bottom while baking.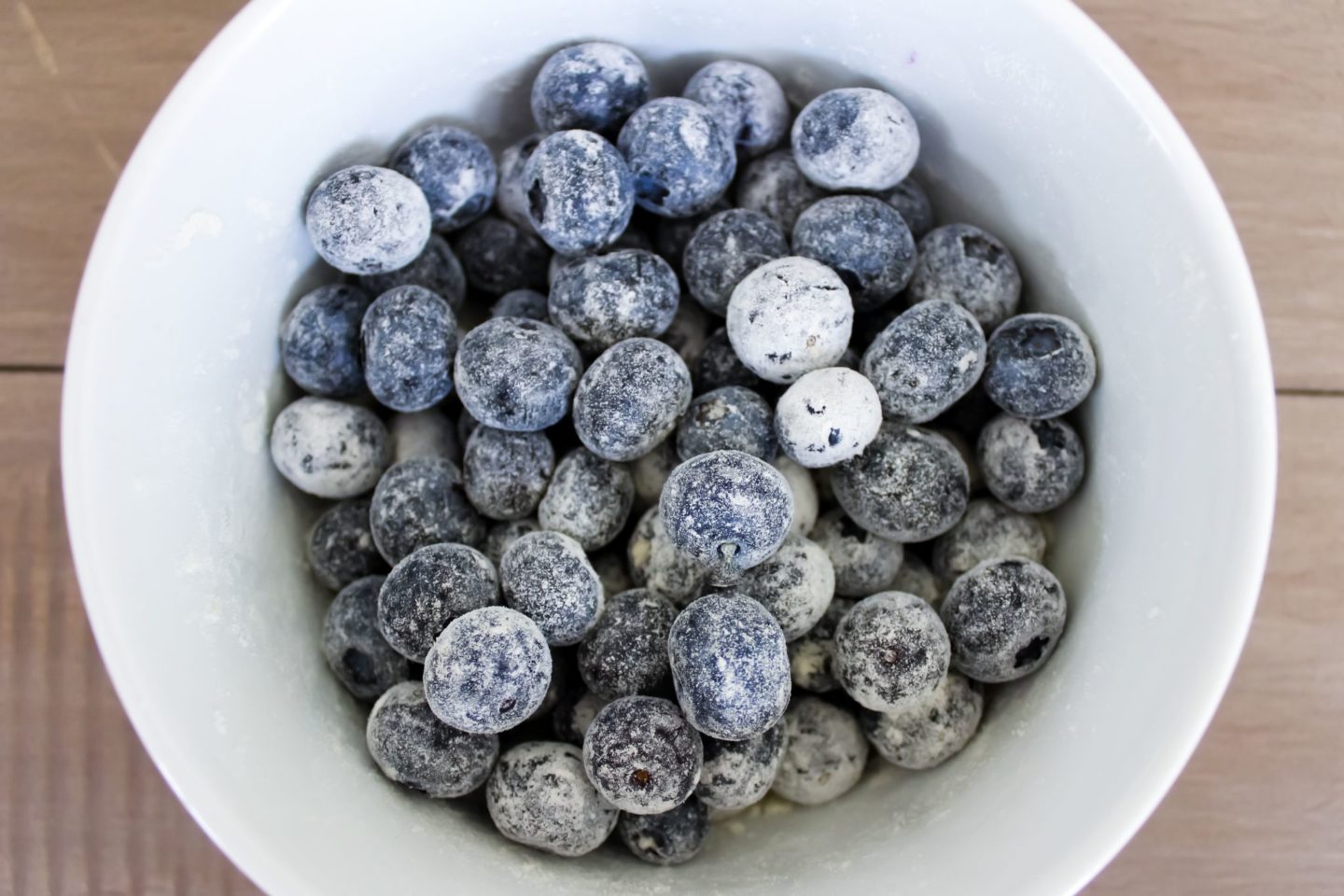 I love the simplicity and ease of this recipe, which means you can make them on a whim with minimal fuss. The dry ingredients are whisked together in one bowl, the wet ingredients in another bowl. Then just add the wet to the dry, fold in the blueberries and pecans and voila! The finished mixture will be quite thick and lumpy which is ok – the thickness helps to keep the blueberries and nuts from sinking!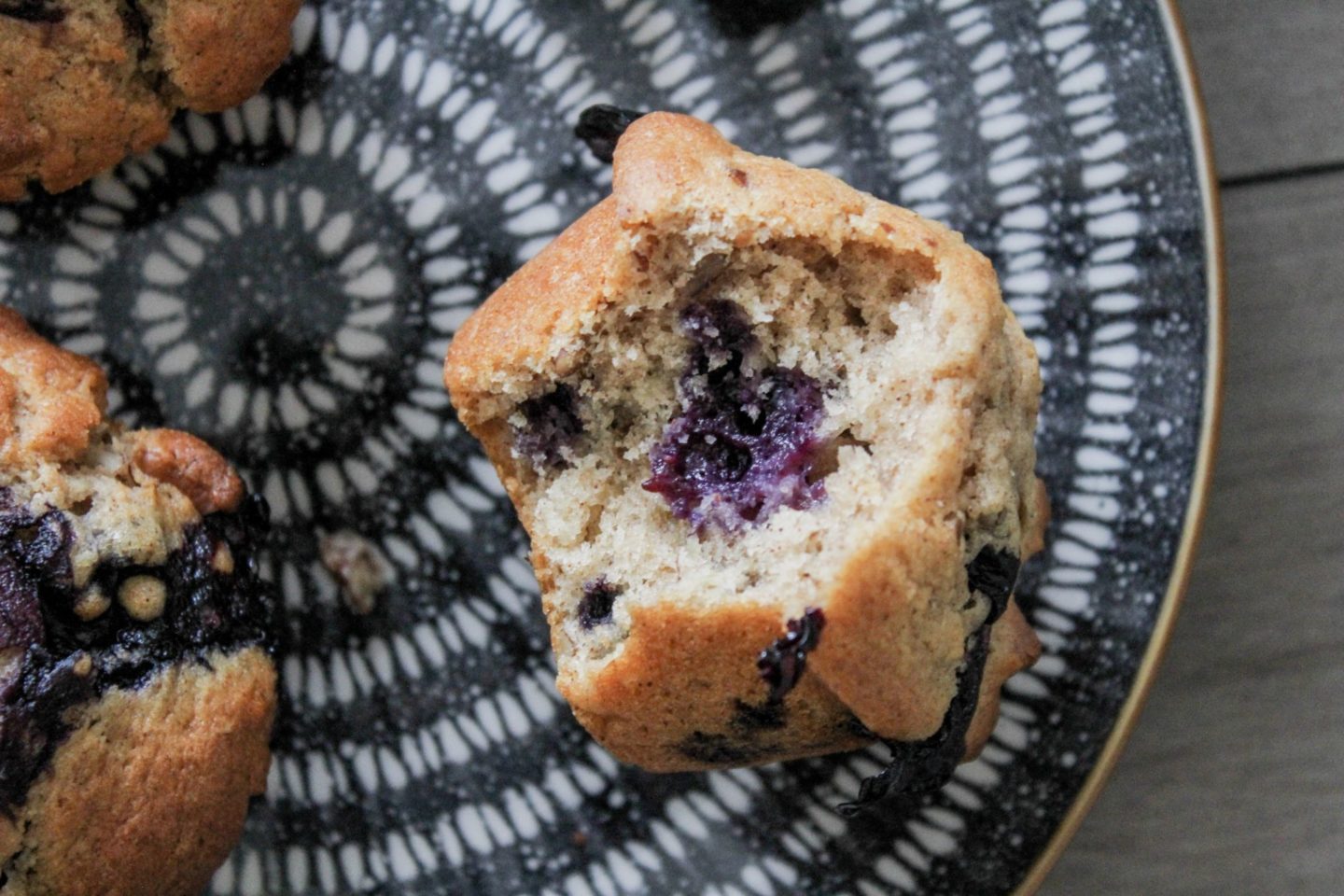 As they are suitable for freezing they are great for grab and go breakfast, lunch boxes and snacking! I won't judge you if you eat more than one in one sitting. Blueberries are healthy so it's allll good, right?
I'm really proud of this recipe and I hope you enjoy making them too!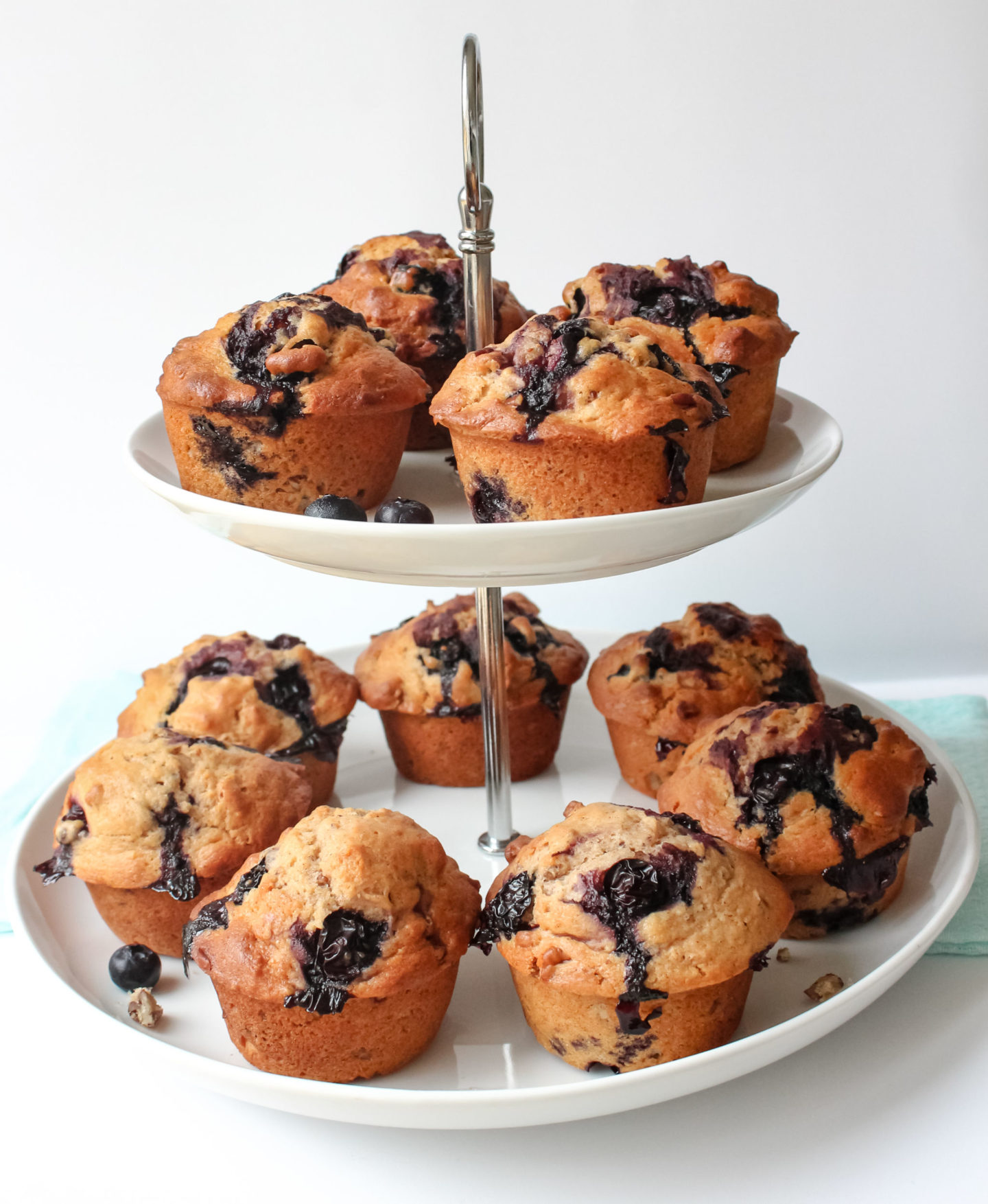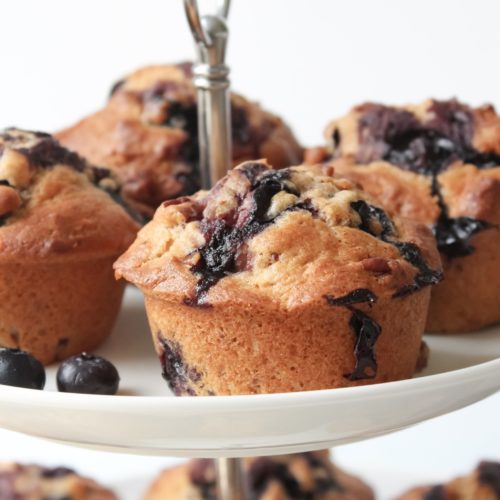 Print Recipe
Blueberry Cinnamon Pecan Muffins
With juicy blueberries, warming cinnamon and a pecan crunch, these muffins are tall, moist and delicious!
Ingredients
300

g

self raising flour

2

tsp

baking powder

1

tbsp

cinnamon

yes, 1 tablespoon!

1/2

tsp

salt

100

g

caster sugar

100

g

light brown sugar

sifted to remove lumps

50

g

unsalted butter

softened to room temperature

2

medium

eggs

room temperature

200

ml

buttermilk*

room temperature

50

ml

sunflower oil

1

tsp

vanilla extract

1

tbsp

self raising flour

to coat the blueberries

180

g

blueberries

fresh or frozen (if frozen use straight from the freezer)

100

g

finely chopped pecans
Instructions
Pre-heat your oven to 220°C/200°C Fan. Spray two 12 hole muffin tins with non-stick spray or use muffin cases/liners. Set aside.

(As this recipe makes 14 muffins, you'll either need two tins or bake the last 2 muffins separately).

In a large bowl, sift in the flour, baking powder, cinnamon and salt. Whisk to combine and then set aside.

To a medium bowl add the butter and both sugars. Beat together with a wooden spoon, mashing and stirring until combined (about 2 minutes). It will have a similar appearance to cookie dough.

Add the eggs to this butter-sugar mixture and stir with the wooden spoon until incorporated.

To the same bowl add the buttermilk, oil and vanilla extract. Mix together with the wooden spoon until combined. The mixture may look like it has split but this is ok.

Pour this bowl of wet ingredients into the bowl of dry ingredients. Fold together with the wooden spoon until just combined – do not over-mix or your muffins will be dense!

Add the tablespoon of flour to the blueberries and stir together to coat them fully. Add the blueberries to the muffin mixture followed by the finely chopped pecans, and stir together until just combined. The mixture will be quite thick and lumpy.

Fill the muffin holes/cases fully, right to the top. I like to make sure at least two blueberries are showing on top of each muffin so that they burst in the oven, but this is just to make them more visually appealing!

Place the muffin tray into the pre-heated oven and set a timer for 5 minutes. At the 5 minute point drop the oven temperature to 180°C/160° Fan but do not open the oven door. Bake for a further 15-18 minutes (mine were baked after a further 16 minutes in my fan oven). Check that they are baked by inserting a cake skewer into the tallest part and ensuring it comes out completely clean.

Remove from the oven and place the muffin tray on a wire cooling rack. After 5 minutes carefully remove the muffins from the tray and place them onto the cooling rack.

You can then either eat one straight away still warm from the oven, or wait until they're cool and store in an airtight container at room temperature. These are best eaten with 3 days.
Notes
* You can replace buttermilk with the same amount of an alternative milk (e.g. full fat, semi-skimmed, almond milk etc.), but they won't be quite as moist.
If you try one of my recipes please use #bakerjoblog or tag me @BakerJoBlog on Instagram or Twitter as I'd love to see!